Today we are talking about the worst dog food brands to avoid that are not good for canines. To be honest, you will be shocked after seeing 3-4 brands in this list. This list is made by reviewing the ingredients present in the food and based on various experiences. 
Note: The Review is based on handful pet volunteers personal experience while feeding various food brands to their dogs and pups and some ratings are also taken from forums, comments and reviews based online. Our Motive is not to hurt or tarnish any brand's image. The review is purely based on the author's personal views and should be treated as such.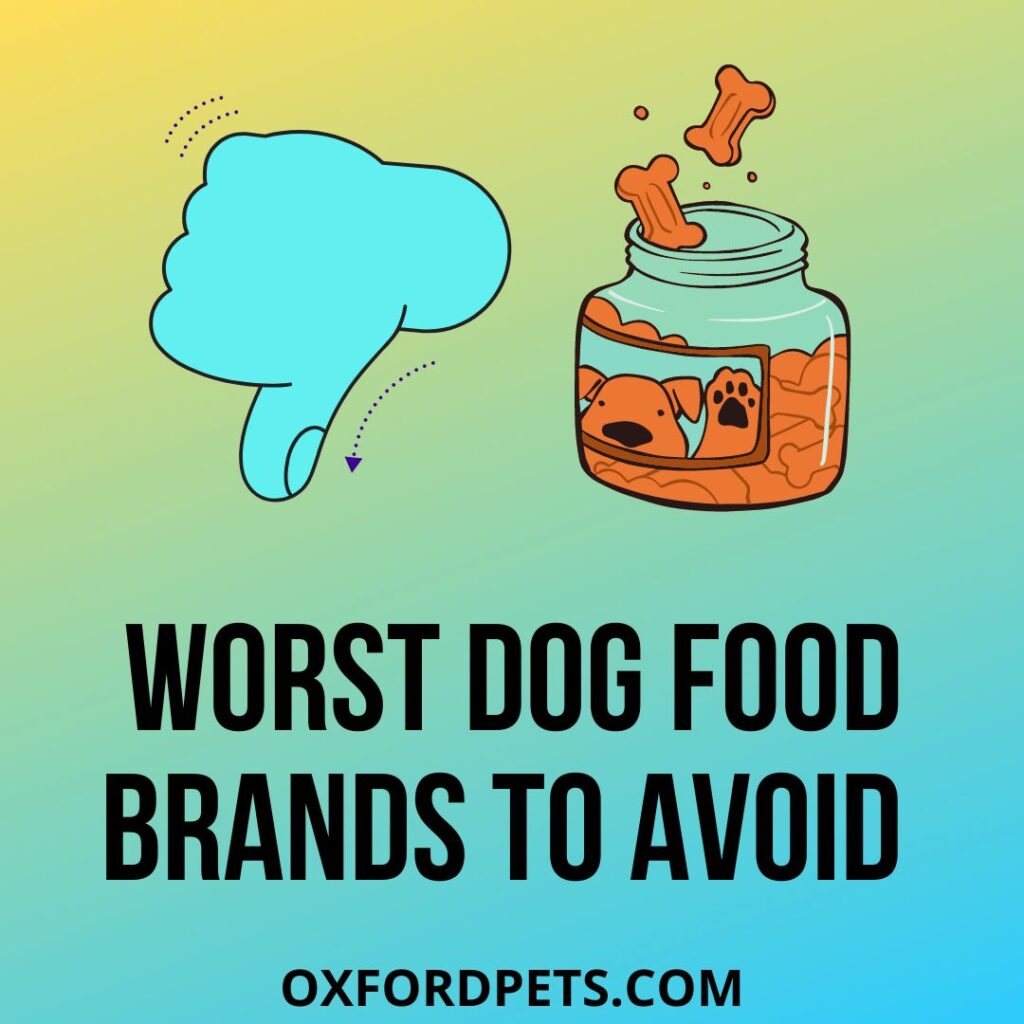 What Characterises Low-Quality Food Brands?
Low-quality canine food can be differentiated by the ingredients present in the food. Here are 3 criteria that you must consider before buying dog food for your canine. 
Fillers
Fillers help your dog feel satiated. However, they do not have nutritional value that can cause adverse effects on your canine's health. Few dog food brands have a high level of fillers. These can cause digestive issues, food sensitivities, tenderness, etc. 
Meat by-products
Meat by-products along with unknown meat sources can have adverse effects on your canine's health. Also, they are not a good substitute for natural protein. Real meat is always a better option. This is because it provides a nutrient-filled diet and makes the food tastier for the dog. 
Artificial Ingredients
Artificial ingredients degrade the food quality. Synthetic dyes, manufactured preservatives, and flavour enhancers are very unnecessary and harmful to your canine. 
Worst dog food brands to avoid
1) Beneful by Purina
Beneful by Purina comes in a grain-free formula, original formula, heavy-weight formula, puppy formula, and small breed formula. It contains ingredients like
Beef fat
Oatmeal
Minerals
Chicken
Vitamins
Rice
Corn gluten meal
Soybean meal
Chicken by-products
Whole grain wheat
The brand contains rendered products and too many soy, wheat, or corn products. 
2) Pedigree
Pedigree has been in the pet food market since 1957. It offers pet food for a variety of animals. However, at present, it is not the best choice that you can have for your canine. The low-quality ingredients include corn, wheat gluten, artificial flavours, and animal by-products. Also, it contains high carbs that are high in fillers. 
3) IAMS Dog Food
It is shown on the packaging that the product is very beneficial. Its core product is chicken- one of the best sources of protein. Along with it, there are many additional additives that are bad for your canine. 
It contains fillers like corn meals and sorghum that are bad for your canine's digestive system and overall health. Also, it does not have any nutritional value. Moreover, IAMS dog food also contains beet pulps that are not good for canines. Your pooch can put on weight.
4) Justmrdog – Gravy train
This is an old canine food venture. Gravy train had a good reputation. However, it is now one of the worst dog food brands to avoid. It was the first brand to make gravy and had a combination of dry kibble with water to make it more flavourful. 
However, it has a lot of negative feedback from the customers. It contains soy, maize, bone meal, beef, and wheat middlings. These things are bad for your canine's health. 
5) Kal Kan Complete Adult
The primary ingredient in this dog food brand is corn. This is the immediate red flag for your canine.
Corn does not carry high nutritional content. There is also the risk of having any chemicals used during harvesting. 
Other than corn, bone meal is another harmful ingredient in this dog food brand.
This is animal cartilage and bones and it may provide some protein count. Still, there is no match for real meat. 
As fillers, wheat and soybean are used and carry the same issue as corn.
6) Diamond Dog Food
Diamond dog food is not as bad as others. Still, some of the products are not good enough to provide the required health benefits.
The top reason for Diamond dog Food being bad is that it does not contain real meat in the dry food. This is an issue because it is marked as the best food and does not contain the main ingredient. 
7) Twin Pet Dog Food
Twin Pet Dog Food has ground corn as the primary ingredient. It shows the substandard quality of this brand. Other than corn, it also contains wheat middling. It is the by-product of cereal. Altogether, these things make Twin Pet Dog Food less nutritional than other brands. 
Other ingredients in this dog food include bone meal and meat. Also, it contains high amounts of salt and animal fat which are bad for your canine's health. 
8) Wegmans Bruiser kibble
Wegmans Bruiser Kibble contains a lot of fillers. This is one of the worst brands on this list. It contains soybeans, carbohydrate-rich meals, yellow maize, and chicken byproducts. There are many cases where dogs became ill due to digestive problems after consuming this product. 
9) Kibbles 'n Bits Original Savoury Beef & Chicken Flavours Dry Dog Food
Kibbles 'n Bits use Butylated Hydroxyanisole to preserve the food. This additive can damage your canine's kidneys if he consumes it in large amounts.
Moreover, this dog food is high in carbohydrates, uses artificial food dyes, uses plant-based protein, and is low in moisture. 
10) Blackwood 1000 Dog Food
This dog food brand contains ingredients that do not serve any health advantages to the canine.
Moreover, in some cases, it can be harmful to the dog's health. In addition, it contains a lot of GMO- containing elements. 
What is the most trusted dog food brand?
Here are the top 4 brands that provide exceptional dog food and are recommended by many vets.
Hills Science Diet
Royal Canin
Eukanuba
Purina ProPlan
What dog food is not recommended by vets?
Here are the top 8 brands that are recommended by vets.
Fromm
Taste of the Wild
Acana
Nature's Domain
4Health
Blue Buffalo
Zignature
Earthborn Holistic
What are the five most toxic foods for dogs?
Here is the list of the 10 most toxic foods for dogs –
Corn
Chocolate
Garlic
Onions
Chives
Academia nuts
Cooked bones
Alcohol
Avocado
Xylitol
What should a dog eat daily?
According to iadopt.in, it is ok to feed your canine pure kibble diet daily. Else, you can also mix the diet with raw/cooked meat, rice, vegetables, and fish. Many humans usually feed a raw meat diet to their canines. Here you have to see if your canine's body is ok after consuming it. Else, you will need to change your diet. 
Will a dog starve itself to death if it doesn't like its food?
The answer to this question is no. Canines can't purposely starve themselves and die. However, they can purposely refuse to eat a particular food and various meals. Still, they will not starve themselves to death. This is because they have ancestral survival instincts that make them stay alive.
Final words
In conclusion, I would say that it is important to know what your dog is eating. Your pooch has a special place in your heart and your house. It is your duty to give them the care and love they deserve. 
Just like us, they also have their food needs. There is no single dog food that every dog likes. Every dog has its own favourite food. Therefore, you have to be careful while choosing the right canine food for your canine. 
Different breeds and different aged canines need differently formulated food to achieve a healthy life. Therefore, it is best to have a conversation with your vet before buying any dog food for your pooch.
I hope you enjoyed the article. I will be back soon with more interesting and informative pieces of writing. Till then, stay connected. Thank you.
References: 
https://en.wikipedia.org/wiki/Dog_food
Dael, Peter Van. "Trace Element Speciation in Food: A Tool to Assure Food Safety and Nutritional Quality." Trace Element Speciation for Environment, Food and Health, pp. 232–240., doi:10.1039/9781847552204-00232.