Do Labradors get Cold during winters? Labradors are popular across the globe, and therefore you can find them surviving in different climatic/ weather conditions. From the hot and steaming city life to the chilly mountain journey, these dogs are made up for it all. And since Labradors are large dogs, many people keep them outside, in the backyard or garden. But the concern is, Do Labradors get cold when left out in Winter? Do Labradors Get Cold Easily? Come, let's learn about it.
Labradors are dogs with a water-resistant double-layered coat, and that's what makes them capable of handling winters naturally. Labs are bred to withstand harsh winter weather since they can easily handle a decline in temperature. They can get out in the snow and handle it quite well. However, that doesn't mean winters can't be harsh on Labradors. Regardless of how thick or waterproof their coat is, Labradors also have a limit to cold. These dogs can't handle temperatures below 20 degrees Fahrenheit or -7 degrees Celsius. Over-exposure to snow and excessive temperature drop can lead Labs to develop frostbite or Hypothermia. And in worst-case conditions, it can also prove fatal.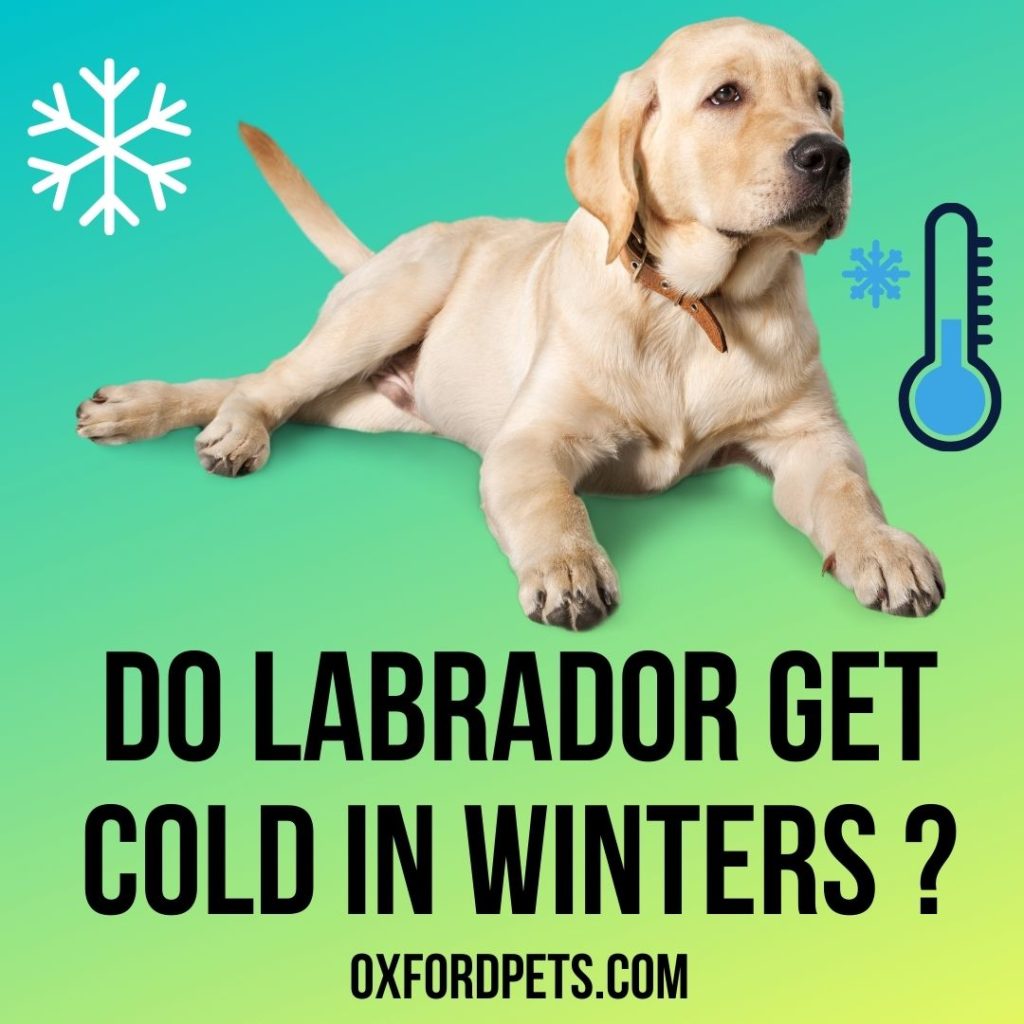 How Cold Is Too Cold For A Labrador?
Labradors are dogs and not super creatures. They can handle cold climatic conditions quite well, but it also comes with a limit. As the temperature drops below 20 degrees Fahrenheit/ -7 degrees Celsius, it becomes too cold for an adult Labrador. In contrast, Lab puppies need quick aid and protection when the temperature drop below 35 degrees Fahrenheit/ 1.6 degree Celsius.
That was a generalized answer. Now coming to the real-time scenario. All Labradors are not the same; therefore, their cold handling abilities can also differ. A Lab that is habitual of living in hot or temperature regions might not be able to handle cold very well. Temperature below 40 degrees Fahrenheit, too, can make these dogs feel extra cold. However, simultaneously, a Lab that has spent all his life in the mountain region and colder areas can handle temperature decline much better. 
In addition, winters aren't just about low temperatures but also chilly winds. Snowy winds can make it too cold for your Labrador on days when the temperature is even moderate and chilly. Winds directly hit the dog's skin and make him feel colder, even how it actually is. 
NOTE: As a thumb rule, if it is too cold for you, it's too cold for your Labrador as well.
How Can I Tell If My Labrador Is Cold? Hypothermia in Labs
The warm furry Labradors, too, can get cold. Though they do not react to cold very early, there is a lower limit for them as well. Cold weather brings a lot of danger, and therefore, never leave your dog unattended in excessively cold conditions. In the absence of warmth, he may develop frostbite or, for the worst, Hypothermia.
When your Labrador is cold, he may show some signs, including,
Shivering or Shaking
Barking, Whining, Crying
Cold Ears
Limping
Curling up and excessive sleepiness/ lethargy
Hunched posture with a tucked tail
Reluctance to keep walking or excessively slow movements
Seeking shelter
Lifting paw from the ground
Labradors who are exposed to cold for too long can develop Hypothermia. It is when Lab's body temperature falls far below then their normal body temperature (from 101 to 102.5 degrees Fahrenheit to 95 to 99 degrees Fahrenheit). Depending upon mild to severe Hypothermia, it can lead to
Muscle stiffness and physical weakness
Excessive and prolonged shivering
Confusion in behavior
Slow and shallow breathing
Pale gums
Or ultimately, Unconsciousness
NOTE: If your dog is suffering from Hypothermia, bring him to a warm place as soon as possible. Dry him off, wrap him in a blanket and use heating pads along. Offer something warm to drink (comfortable temperature). Keep monitoring the temperature; if it is below 99 degrees Fahrenheit, call a Vet immediately. 
Do Labradors Get Cold At Night? 10 Ways To Keep Them Warm?
Yes, Labradors get cold at night, and they, too, need protection from harsh weather. Especially if your dog lives in the backyard or garden, the chances of cold-related health conditions become prominent. To fight that, you can either arrange to keep the dog inside or prepare the outdoors for them. 
Here are 10 ways that explain 'How Can I Keep My Labrador Warm In The Winter"?
Line the dog house with blankets.
Use heating pads or a dog house heater (if required).
Give them constant access to warm food.
Offer warm water instead of cold.
Increase their exercise/ play time as it will help them keep active and warm internally.
Make your dog wear a layer of protection during chilly weather. Go for good quality dog coat and boots. 
Invest in regular brushing and grooming since it improves blood circulation and distributes the natural oils, which result in regulating the body temperature. 
Do not allow the dogs to stay in snow and breezy weather for long.
And when it is extremely chilly, bring them inside. 
Why do Labs Love The Cold Weather? Do Labradors Like Snow?
Labradors love cold weather, given they are rightfully built for the same. Their double-layered thick coat helps them comfortably withstand low temperatures and cold. They are well adapted to cold climates and love spending time in the snow.
Labs are naturally too much into snow time that getting them inside can become tricky. Once they are enjoying the snow, there is no looking back.
However, too much exposure to extremely low temperatures and long snow hours can also lead to health complications. These may include Hypothermia and frostbite. 
Do Labs Paws Get Cold? Do Labs Need Snow Boots?
Labrador's paw pads have tougher and thicker skin than on their entire body. They can handle cold floors easily. However, their paws can still get cold if the temperature is really low/ freezing. Over 15 minutes of exposure to excessive cold can dehydrate your Lab's skin or can cause dryness, itchiness, cracking, and soreness.
In the worst-case scenario, it can also lead to limping, swelling, discharge, or a bad paw infection. Therefore, your Labrador needs snow boots if it is cold or snowing. Snow not only brings the danger of cold but upon sticking to the crevices of their paws, it can cause discomfort. And if the snow turns into ice, it may even injure the dog. 
Snowshoes also help dogs from slipping and skidding on ice. While you are buying snow shoes for your Lab, prioritize some features over others. You need to pay special attention, from choosing the right size to the most comfortable material.
Also, make sure that the shoes are easy to get on and off, but they must still fit snuggly. And above all, pick one that provides maximum protection from cold and snow. 
Quick recommendations for you if the process is still confusing.
QUMY Dog Boots Paw Protectors for Large Dog
XSY&G Dog Boots, Waterproof Dog Shoes
PIHAPPY Little Pet Waterproof Winter Dog Boots Skidproof
Dog Boots Breathable Dog Shoes for Small Medium Large Dogs
QUMY Dog Boots Paw Protectors for Large Dog Shoes with Reflective Strips Rugged Anti-Slip Sole Black 4PCS (Size 6: 2.6''x3.0''(W*L) for 52-65 lbs, Black)
Please be sure to measure the width of your dog's paws carefully, it is key to choosing the correct size for your dog, weight can only be used as an additional reference; Size 1: 1.7''x2.2''(W*L) for 12-23 lbs; size 2: 1.8''x2.4''(W*L) for 18-27 lbs; size 3: 2.0''x2.5''(W*L) for 23-33 lb; size 4: 2.2''x2.6''(W*L) for 31-40 lbs; size 5: 2.4''x2.8''(W*L) for 40-55 lbs; size 6: 2.6''x3.0''(W*L) for 52-65 lbs; size 7: 2.8''x3.2"(W*L) for 63-75 lbs; size 8: 3.0''x3.3"(W*L) for 74-88 lbs.
SECURE and ADJUSTABLE: Easy to put on / off. These dog shoes expands with a wide split seam opening and two adjustable and reflective straps to ensure a tight fit, also make your dog safe at night.
RUGGED: Tough anti-slip sole of dog boots provides stability and traction, protection from sharp thorns and hot pavement.
QUALITY: The dog boots have a rugged sole and high quality fabrics that are then sewn together to ensure they are ready for your adventure.
FASHIONABLE: QUMY dog boots are with cute pet paw embroidery, paws side is the outside, soft and hand washable.
XSY&G Dog Boots,Waterproof Dog Shoes,Dog Booties with Reflective Rugged Anti-Slip Sole and Skid-Proof,Outdoor Dog Shoes for Medium Dogs 4Pcs-Size8
【Size】Size 8:(3.3''x2.9'')(L*W) for 75-95lbs.Great for Large Golden Retriever;German Shepherd,Rottweiler;Old English Sheepdog;Alaska Malamute;Bulldog etc.Please refer to the picture size chart,You can choose the right size for your dog for the most comfortable fit.
【High-quality materials:】 High quality fabrics,wear resistant,to bear or endure dirty, Have cute pet paw embroidery, soft and hand washable, fashionable yet durable.Durable soles,tough anti-slip sole provides stability and traction,Helps dogs with mobility and stability on tile and the sand .
【Comfortable:】Soft and breathable to paws,so allows the boots to be used indoors or outdoors, hot and cold in wet and dry conditions.Protection from sharp thorns and hot pavement.Effectively protect dog claws from heat, stones, glass, etc. It protect the weak paw from snow, ice, salt during winter.
【Safe and Adjustable:】Easy to put on / off ,the dog shoes are fastened firmly by 2 straps, which are long and adjustable , capable to prevent slipping off and supply a customized tightness for secure closure and have reflective straps,reflective lines enhance visibility all the night ,also make your love dog safe .Please try to tighten the straps after wearing,which can effectively prevent the shoes from falling off the dog's claws.
【Friendly customer service:】Our size is based on the inner diameter of the shoe and is measured by hand,Please allow a little size error.You are welcomed to contact us for any questions about the products and services at any time.We will response within 24 hours,you can purchase with confidence.
Hcpet Dog Boots Breathable Dog Shoes for Medium Large Dogs, Anti-Slip Dog Booties Paw Protector for for Hot Pavement Winter Snow Hiking with Reflective Straps 4PCS
Size 4 : Width 2.16 inch for 36-43 lbs. Great for Japanese Akita; Collie; American Cooker Spaniel; French Bulldog etc. Please refer to the picture size chart, choose the right size for your puppy.
Anti-Slip Boots for Dogs : Dog booties are soft to paws, doggy shoes effectively protect dog claws from sharp thorns, hot pavement and glass. The paw wear can help dogs to stand up on hardwood floors easier
Adjustable Dog Hiking Boots : Easy to put on / off, Hcpet dog shoes are fastened firmly by 3M reflective straps, which enhance visibility helping your pet dog walk safely at night
Breathable Paw Protection For Dogs : Prevent damage done from your dog's nails to your home, hardwood floor, vehicles and visitors. Great for wound and injury protection during activity and rest time. Prevent chewing and licking without overheating
New Friend Dog Paw Shoes : Don't worry when your dogs start to walk with new shoes but not in a normal pace even prance. You can try to encourage and guide your love dog to adapt to Hcpet dog boots
Some More FAQ
Can I Put Socks On My Dog?
Dogs do need shoes/ boots, but socks aren't necessary. Socks can make the dog skid since he can't make a grip on the ground using his paw and toenails. Even dog shoes and boots, for that matter, interfere with the grip, but they are necessary for snowy outdoors. 
Should Labradors Be Kept Outside?
Yes, Labradors can be kept outside, and they will enjoy life outdoors. Labs are active, social, and friendly dogs who make in well houses with big yards and gardens instead of apartments. They only prefer indoors because Labs are extremely affectionate and want their humans around all the time. However, if you have a big outdoor space and can provide for your Lab's comfort and safety, allow them to stay outside. 
NOTE: If you keep your dog outside, make sure your area is well covered with fences. Also, ensure a weather-appropriate pet home so that the dog can stay safe and comfortable during extreme weather conditions.
Can Labradors Sleep Outside in Winter?
Yes, if they have a warm, secure kennel, Labradors can sleep outside in Winter. However, if the temperature during Winter is terribly low, your Lab will suffer his time outside and is prone to hypothermia. Consider bringing your Lab inside during the season with excessive snow, rain, thunderstorm, and chilly winds. In fact, maintain the indoor temperature warm enough so that the dog doesn't suffer from Hypothermia or other cold-initiated health conditions.
Do Labradors Get Cold Easily?
Labradors are historically outdoor winter dogs; due to their genetic performance, they don't get cold easily. However, puppy and senior Labs aren't the best when it comes to handling colds. Their age and physical condition can easily get cold or even develop health issues like frostbite and hypertension. 
Do Labs Have Winter Coats?
Yes, this may surprise many people, but Labradors have a winter coat. Labs experience a heightened shedding time during the autumn/ fall season. It is when they shed all their summer hair, replace their top fur, and get a brand new winter coat. This winter coat allows Labs to withstand chilly temperatures, wind, and snowfall. And as and when the Spring season arrives, Labs begin and complete shedding their winter coat.
Wrapping up…
Lab owners with adult and healthy dogs do not need to worry much about Winter. However, if you have a puppy or a senior Labrador, you might need to pay some special attention during chilly days. 
Stay calm but make sure you pay special attention when the temperature drops too low. Remember, when humans feel it's too cold, dogs too feel the same.