Labrador isn't typically a very high-maintenance breed. However, given their thick, water-repellent coat, bathing your Labrador regularly is very important. If not, their coat may become oily and greasy, eventually attracting and accumulating dirt and dust from the environment. Do Labrador Need A Bath Daily? Or Coming to the actual question. How Often Should You Bathe A Labrador?
This article offers a complete guide consisting of all the details concerning Labrador bathing. We hope you will make the most out of it.
Do Labradors Need Baths? How Often Can You Bathe A Lab?
Labradors are dogs meant for an active lifestyle. If you have one, you will find your Labrador playing in the dirt, rubbing and rolling on your lawn, or making their way in and out of the swimming pool. Labradors enjoy a wide range of activities which majorly includes exploring the outdoor world. These dogs don't suit sedentary lifestyles at all. And therefore, given that, Labradors get dirty quite often, which means, Yes, they do need regular baths.
A good schedule for bathing your Labrador Retriever is 'Once per Month'. Though if your dog is less active, his bathing schedule can be postponed for a longer extent as well. Similarly, with extra active Labradors, Vets and expert owners suggest bathing twice a month for the maximum, and only when it is extremely necessary. Labradors are dogs with thick coats that naturally insulate them, considering the season's demand. According to American Kennel Club, if you are bathing your dog too often, you will end up stripping up their natural body oil and interrupting the insulation process.
Let's dive into more details.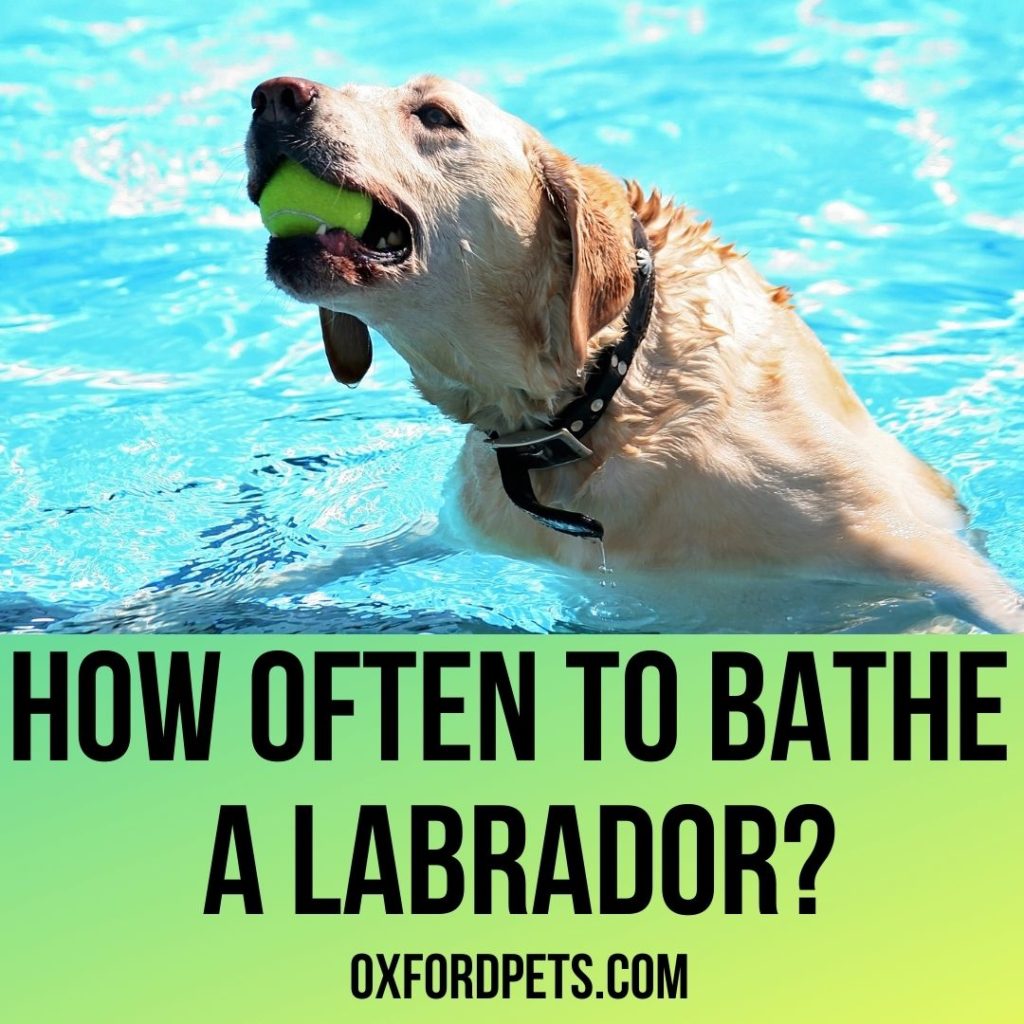 A Word About The Special Labrador Coat
One of the most exciting things about Labradors is their extraordinary coat. A Labrador's coat which is also referred to as a 'Double Coat', has two fur layers. The lower layer or the undercoat consists of short hairs. At the same time, the top layer, which is also known as the outer coat or guard layer, consists of long fur that keeps anything from reaching Labrador's undercoat or skin. 
However, regardless of their coat type, Labradors need bathing at least once or twice a month. Why? Well, since their fur grows long, it is common for them to develop painful knots and tangles. To keep it clean and remove knots and dead fur, it is important to groom and bathe your Labrador regularly.
Another fact about the Labrador coat is that it will be shed throughout the year. Labradors are heavy shedders, and therefore bathing them more frequently while they are shedding is essential from a healthy grooming perspective. What makes Labrador's coat more special is the fact that it is water-resistant. The natural oil secretion at their undercoat keeps excess water from reaching their skin. This, though, is a special and beneficial factor, but one needs to think about it while bathing a Labrador. 
Bathing And Grooming Your Labrador- The Process
Bathing and Grooming a dog is such a hefty task since there are very few of them who enjoy the process. Dogs, including Labradors, usually have a fear of bathing. However, it is important to most even the infrequent schedules because you won't be bathing your Labrador very often. 
Here is the step-by-step Labrador Bathing and Grooming Guide. 
Prepare your Labrador Mentally. Before any physical efforts, first, prepare your Labrador mentally for the bathing and grooming session. Sudden water splashes can make some dogs anxious, and they can prove a nuisance to handle in that state. Some dogs may even become aggressive and attack their owner simply because they want to run away from the process. Therefore, calm down your dog, talk to him and prepare him to take a bath. For a relaxing experience, make your dog tired by a long play or run session. By the time you will reach the bathroom, your Lab will be already tired of creating a nuisance.
Next, decide on a location at your home where you will bathe your dog. Remember, Labradors are giant dogs, and you will need plenty of space for the dog and yourself both. If your shower area isn't big enough, you can choose to bathe the dog outside. NOTE: Wear something that you are willing to get dirty and wet.
Now since you have finalized the location, gather all the products for bathing. You will need a range of things from a bucket and bathing jug, an external hose or outdoor water source, dog shampoo, a dog comb, plenty of towels, and a hair dryer.
It is now time to begin the process. (It is advisable to brush your dog's coat before bathing. Doing so will make the process easier and more fruitful).
Start with wetting your dog thoroughly. Since Labradors have a double coat with thick fur, this process will take extra time and effort. Move your fingers through their coat while you pour in water, which will help wet the dog nicely. TIP: Take lukewarm water (neither hot nor cold) to bathe the dog. 
Further, take a jug or bowl, pour in some dog shampoo, add a little water and give it a good mix. The idea here is to lather the shampoo with water first. Now pour the shampoo-water mixture all over your dog's back and massage it with your fingers. If required, pour in some more water and ensure shampoo reaches every part of your dog's body except the face, eyes, and ears. 
Once you have spread the shampoo evenly, it is now time to rinse it all. This would prove the most time taking and laborious step. Keep rinsing in and out your dog's fur until and unless the last drop of shampoo is flown down.
Next, take a towel and dry your dog nicely. The dog will try to jerk and get rid of extra water from his fur, thus allowing them to do so. However, you will still need a lot of towels to dry them nicely. Simultaneously, take a hair dryer, operate slightly hot/moderate air, hold it away from the dog's skin and treat the fur. Make sure you keep the dryer away from the dog's eyes, nose, and ear.
Now use earbuds for cleaning your dog's ear and pet-friendly wet wipes for cleaning their eyes and nose. If their nails ask for a trim, do that when they are slightly wet, and it will make the process easier. 
Lastly, brush your dog's coat again to end the bathing and grooming process. 
Labrador Bathing Tips- Everything you need to know about Bathing a Dog
Start giving baths when your Labrador is still a puppy, and it will make him habitual of bathing in the long run.
Wetting and shampooing the Labrador in sections will make the bathing process easier.
Ask for someone's help, if possible.
A shower with a detachable hand-held showerhead or a pipe hose will help with the process.
Avoid getting water or shampoo in your dog's canal. 
Do not use too much shampoo; it will rip off oil from your dog's inner coat.
Bathing and drying a Labrador is a time taking task; thus, be prepared.
Do not allow the dog directly into an air conditioner room after bathing. This can make them sick.
Offer food and water and allow the dog to sleep after taking a bath.
Always use a dog-specific shampoo when bathing a Labrador or any dog.
Talk to your Labrador in a calm and reassuring voice, no matter how violent and anxious he is getting.
For washing your dog's face, take a soft cloth, dip it in lukewarm water and carefully wipe his entire face. 
Can I Wash My Labrador Once A Week?
Labradors are fairly low-maintenance dogs, and they do not need a weekly bath. However, if your dog is extra active and gets dirty very frequently, you can bathe him once a week. However, do not make it a process, and avoid getting your dog so dirty very often. 
To avoid very frequent baths, you can give your dog a sponge bath or use wet wipes.
Are Labradors Smelly? Why Do Labs Smell?
Yes, Labradors are smelly; they are one of the smellier breeds in the entire dog world. Why? It is because Labradors have a double-layer coat that can hold odor easily and for quite a long time. Their coat, even when holding water, can later make it smell bad. However, Labradors don't smell very bad, but one can still notice the odor while the dog is around. 
Reasons Why Your Labrador Smells
If your Labrador is wet, it will come out with a scent that, at times, might feel awful. 
Gas and Bloating are no exception for dogs, and they might smell due to the same.
Dogs smell after a long outdoor session, especially if they have rolled up on the grass.
Pheromones, hormones that secret or excrete outside of your dog's body, can make them smell foul.
Labradors leave a bad odor if they are suffering from some kind of skin infection or allergy.
Bad dietary habits, too, can make the dog smell bad.
Labradors with clogged anal glands, too, can smell bad.
How To Make Your Labrador Smell Better?  
It is natural for dogs to smell bad but leaving them on their own is not ideal for pet owners. Here are a few things you can do to make your Labrador smell fresh and nice.
Groom your dog daily. Ensure cleaning their ears, eyes, paws, and nose regularly. 
If you have a hairy dog, make sure you get him a haircut soon. Though until then, ensure to wipe your Labrador's face with a wet cloth after every meal.
Trim the coat near your Labrador's mouth and paw.
Have a bathing routine as advised by your vet.
Invest in the right kind of pet food and a proper dog diet plan.
Pay special attention to Labrador's dental hygiene.
Wash and Sanitize your pet's laundry often. Make sure you keep it under the sun at least once a week.
Make a regular schedule of health checkups for preventative vet care.
7 Best Dog Shampoo for Labradors 2022
Honest Paws Dog Shampoo and Conditioner
Dog Shampoo with Oatmeal and Aloe. Shea Butter
Burt's Bees for Dogs Oatmeal Dog Shampoo | With Colloidal Oat Flour & Honey
The Coat Handler Undercoat Control deShedding Dog Shampoo
Arm & Hammer Super Deodorizing Shampoo For Dogs
Veterinary Formula Clinical Care Antiparasitic & Antiseborrheic Medicated Dog Shampoo
Wahl Dry Skin & Itch Relief Pet Shampoo for Dogs
Honest Paws 5-in-1 Oatmeal Shampoo and Conditioner for Allergies and Dry, Itchy, Moisturizing for Sensitive Skin - Sulfate Free, Plant Based, All Natural, with Aloe and Oatmeal -16 Fl Oz
Five Benefits In One Wash - Cleans, deodorizes, conditions and detangles coat, moisturizes skin-- Honest Paws Skin and Coat 5-in-1 Dog Wash is a one-step and easy to use premium dog wash. It is all you need to keep your dog's fur and skin soft, moisturized and clean.
Safe, Non-irritating, Natural Ingredients - Other brands claim to be natural but only have less than 1% of natural ingredients! Unlike other industry-standard dog shampoos that may contain harmful synthetic chemicals, Well has 98.25% of its ingredients derived from a natural source, like coconut and palm. Our eco-friendly formula is plant based, but still works wonders at cleaning and conditioning the coat.
So Soft, Clean, And Shiny - This wash uses the hydrating properties of soothing oats and aloe that replenishes the skin's natural moisture while conditioning the fur. Prevent matting and irritation, and keep your pup happy with each bath.
Good For All Breeds And Ages - This formula can be used on all breeds and on puppies over 12 weeks of age. It is dye-free, and it does not contain MEA, DEA, sulfates, or parabens.
Honest Paws Guarantee - We hold ourselves to the highest of standards when it comes to your satisfaction. If you are not satisfied with your product, let us know, so we can make it right. No if's, no but's, no disappointed pups.
Dog Shampoo with Oatmeal and Aloe. Shea Butter for Smelly Dogs, Puppy Shampoo by Oliver's Choice 14 oz
Specifically designed to deodorize and leave your dog smelling amazing and their coat restored!
Infused with a blend of Oatmeal, Aloe, and Shea Butter fragrance, this pet shampoo is safe for all dogs and puppies! This formula is also biodegradable for less pollution.
Oliver's Choice clinically designed formula is made in the USA, is biodegradable, paraben free, cruelty free, and naturally derived
Safe and effective for any breed and color of dog. Leaves your pup feeling and looking incredible! You'll love their coat after they get their bath!
Manufacturer's Guarantee - If for whatever reason you are unsatisfied with our product, let us know and we'll gladly give you your money back. No questions asked.
Burt's Bees for Dogs Oatmeal Dog Shampoo | With Colloidal Oat Flour & Honey | Moisturizing & Nourishing, Cruelty Free, Sulfate & Paraben Free, pH Balanced for Dogs - Made in USA, 16 Oz
DID YOU KNOW DOG SKIN DIFFERS FROM HUMAN'S - Dogs' skin is less acidic than human skin, so human shampoos destroy a dog's skin protective barrier, leaving your pet vulnerable to itchy flaking
SOOTHES AND SOFTENS - Burt's Bees Oatmeal Shampoo cleans, soothes, softens, and conditions your dog's dry skin and coat
MADE WITH THE HIGHEST QUALITY INGREDIENTS - This gentle formula includes ingredients like colloidal oatmeal, honey, and beeswax for sensitive skin
SUITABLE FOR ALL DOGS AND PUPPIES - This mild tearless shampoo is pH balanced especially for all dogs and puppies
100% SAFE - Veterinarian recommended formula, free of fragrances, sulfates, colorants, and harsh chemicals
The Coat Handler Undercoat Control deShedding Dog Shampoo, 1 Gallon - Combats and Reduces Shedding, Undercoat Removal, Omega 3 & 6 Rich, Vitamin E Strengthens The Hair Follicle, Natural Ingredients
Gentle Clean - Achieves a excellent clean and adds moisture, dramatically reduces shedding when used on a regular basis. Gives hair a fresh start by deeply cleaning, purifying, conditioning, and deodorizing with our tried and true premium formula.
Crafted With Omega 3 & 6 Fatty Acids - Vitamin E helps to loosen undercoat and combat shedding by adding strength to the hair root. Soothes and nourishes sensitive dry skin.
Made With All Natural Ingredients - 100% Biodegradable, Soap and Cruelty Free. Will not wash off topical flea and tick treatments if used per instructions.
Makes 32 Gallons of Shampoo - 32:1 Ultra Concentrated, Dilute 32 parts water to 1 part shampoo or use at full strength if desired
Used By Grooming Dog Professionals - Used by professional pet stylists and groomers worldwide. This product is also safe for use on cats.
Sale
Arm & Hammer Super Deodorizing Shampoo For Dogs - Odor Eliminating Dog Shampoo For Smelly Dogs & Puppies With Arm & Hammer Baking Soda -- Kiwi Blossom Scent, 20 Fl Oz
DID YOU KNOW DOG SKIN DIFFERS FROM HUMAN'S - Dogs' skin is less acidic than human skin, so human shampoos destroy a dog's skin protective barrier, leaving your pet vulnerable to itchy flaking
ODOR CONTROL WITH BAKING SODA - This dog deodorizer shampoo includes the signature Arm and Hammer baking soda to naturally control and remove dog odors
NATURAL DOG SHAMPOO - The natural ingredients in this dog shampoo - cucumber mint & baking soda - effectively work together to tackle odors and keep your pet's coat clean while moisturizing dog dry skin
KIWI BLOSSOM SCENTED DOG ODOR SHAMPOO - This pet odor remover is naturally derived and adds a hint of kiwi blossom scent after every wash
USE REGULARLY FOR BEST DOG DEODORIZING RESULTS - This dog shampoo for strong odor is safe to use with topical products
Sale
Veterinary Formula Clinical Care Antiparasitic & Antiseborrheic Medicated Dog Shampoo, 16 oz – Paraben, Dye, Soap Free – Hydrating and Antifungal Shampoo for Dogs, White
GENTLE HEALING – Veterinary Formula Clinical Care Antiparasitic and Antiseborrheic Medicated Shampoo for Dogs contains coal tar, salicylic acid & micronized sulfur to help relieve skin scaling caused by seborrhea and relieve mange and parasitic infections
FAST ACTING – This medicated dog shampoo works fast to relieve symptoms including inflamed scalp, greasy or waxy skin, red skin rashes, bald spots, itch, and flaky skin associated with seborrhea, mange, parasitic, and infections
VETERINARY RECOMMENDED – This paraben, dye & soap free pet shampoo will not remove topical spot-on flea & tick treatments and helps safely treat skin infections or skin scaling caused by seborrhea, mange and other parasitic infections
FORMULATED FOR DOGS – Medicated antiparasitic and antiseborrheic shampoo is specifically formulated for dogs over 12 weeks of age. This pH balanced shampoo is ideal for your dog's skin as human shampoos are formulated at a lower pH level (more acidic)
EFFECTIVE & AFFORDABLE – Veterinary Formula Clinical Care premium medicated products are created with veterinary-grade ingredients but available at a price that pet parents can afford We know dogs are more than just pets because we are pet parents too
Sale
Wahl Dry Skin & Itch Relief Pet Shampoo for Dogs – Oatmeal Formula with Coconut Lime Verbena & Pet Friendly Formula, 24 Oz - Model 820004A
Made in the USA - Our oatmeal formula pet shampoo is pH balanced, alcohol free, paraben free, PEG-80 free and is highly recommended for moisturizing dry skin & providing itch relief
Oatmeal Formula – This coconut lime verbena scented pet shampoo is great for moisturizing dry skin, cleaning dirty coats, & itch relief. The thick lather rinses off clean & keeps your pet looking and smelling clean
Less is More - Wahl has a higher concentrate of coconut derived sodding agent, which means you don't have to use as much as other dog shampoos. A little bit of shampoo goes a long way and provides a rich lather that's easy to rinse off
Allergy Friendly - Our dog icon, Rocket, was designed in the image of our family dog Cooper – a golden doodle, who has severe allergies. This is the only shampoo we have found safe and effective. He loves the smell too!
The Brand Used by Professionals - Wahl has been serving professional vets and groomers for over 50 years. clean, condition fur & hair for a smooth, soft coat. We are a company of animal lovers that want the best for your family member
Wrapping up…
Labradors are luckily easy to manage and maintain at home. Since they are low maintenance, you do not need to bathe them very often. Maintain a 'Once in a month' bathing schedule or increase it to twice (maximum) for extra-active dogs. 
Bath time can be exciting and joyful for you and your dog if you have made them habitual from a young age.