As a Birman owner, I've seen the horrors a cat's claws can do on a piece of furniture. Their sharp nails can cause serious damages to your couch, bedside table, or just about any surface that they find appealing to shred.
Instead of paying the hefty price of repairs or replacements, you better get the best scratching post for kittens. This will give your little feline a spot to file its nails, among other benefits.
Are you in a rush? Here are my top five picks for the best scratching posts for your little kitty, tested and approved by my own Birman!
---
Does a kitten need a scratching post right away?
One question I commonly receive is whether a Birman kitten needs a scratching post right away. My answer is always yes.
Regardless of the breed, cats have the instinct to scratch. It's a hard-wired instinct that dates back to their ancestors' lives in the wild.
It's also a cat's way of marking their territory, especially if you just brought another kitty to accompany the Birman at home.
Also, by getting a scratching post, you can train your young Birman cat not to place its claws on your valuables. It will save you from the headache of damages once your kitty is all grown.
---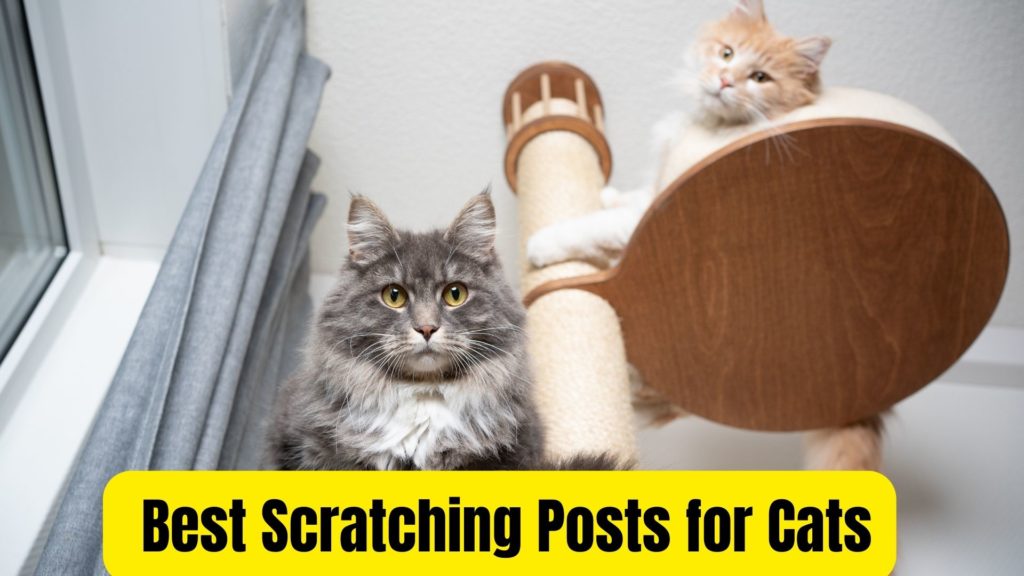 Types of a cat scratching post
To find the best scratching post for kittens, you have to know its type first and its purpose. The following are the major types of scratching and their characteristics:
Carpet
A carpet scratching post has a pole and platform that's wrapped in carpet material. This is a good choice for small and young cats with fragile claws. Depending on the quality of the carpet, this one can last pretty long.
The only challenge with carpet posts is that some cats won't find them appealing. It doesn't have the same rough surface of rope posts. It's best to check the preferences of your cat and where it scratches often.
The problem with carpet posts is that not all cats know the difference between the post and your floor carpet. It might cause more problems in the long run.
Rope
Rope scratching posts are the most common option among Birman owners. It's often made of sisal rope, which is resistant to scratches and will last long.
Some opt for sisal fabric for kittens because it tends to soften over time, which will encourage further use.
Cardboard
Another cheaper alternative to rope and carpet scratching posts is cardboard. The good thing about this scratching post is it can come in different shapes.
I once bought a cardboard scratching post for my Birman that comes with mounting hardware for the wall. It's effective, but the only downside is that the cardboard material will soon disintegrate and become messy.
Just an added tip when buying cardboard scratching posts: make sure that the material is non-toxic. In my experience, a cat will play with it and ingest some along the way.
Wood
Lastly, there are wood scratching posts. I usually prefer this type of scratching post for older and bigger cats.
You should also check the type of wood used to ensure that it's safe and long-lasting. If your cat loves scratching the feet of your chairs (same with my 3-year-old Birman), this might be the right choice.
---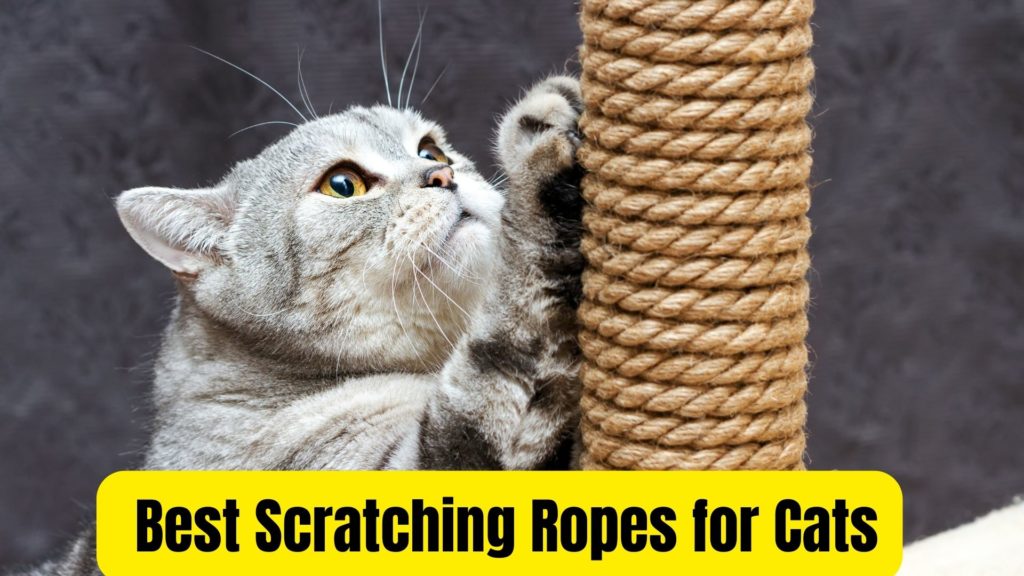 Benefits of a scratching post for kittens
What are the benefits of a cat scratching post, you ask? The following are just some of the perks of having one in your home:
Keep the claws short. When I adopted Onyx, my 3-year-old Birman, he has sharp and overgrown claws. It's harmful to the people around them, but it also hurts the cat. Overgrown fingernails dig through the skin, which will hurt really badly. Aside from regular clipping, a scratching post will help keep your kitty's nails short and dull.
Divert the scratching. Another benefit of scratching posts is it helps you divert the behavior into something else. In just a matter of five weeks, my cat Onyx was able to scrape off the paint of the antique chair I kept in the attic. What I did is I purchased a wood scratching post to help diver the behavior – no punishment, no yelling.
Keeps your cat happy. Cats are natural groomers, so they will find a way to keep their claws short. Unfortunately, the solution might be your precious furniture. So to keep your cat (and you!) happy, purchase a sturdy scratching post instead.
---
Scratching post buying guide
Get a tall post
But it's for a kitten, right? Yes, but like babies, cats grow fast. Instead of purchasing a new scratching post in a few months, you might as well invest in a post suitable for your feline's adult size.
Also, a tall post will let the cat stretch its body while scratching.
Choose the right design
Cat scratching posts are no longer just 'posts' per se. You can now find scratching pads, scratching walls, or scratching boxes all made with larger surfaces.
My cat Onyx prefers the traditional scratching post, but it always varies per cat. My brother's tabby tends to scratch on the floor, so he bought a pad instead.
Always match it with the behavior of your cat for the scratching item to be effective.
Sturdiness is king
Cats will punish the scratching post, so make sure that it can put up with the abuse. A wobbling post isn't just annoying; it's also unsafe for your cat.
Remember that the taller the post is, the more durable it has to be. Always look for a thick and solid base to keep the post standing no matter how hard your cat claws it.
---
5 Best Scratching Posts for Kittens
---
Pet Fusion Ultimate Climbing Tower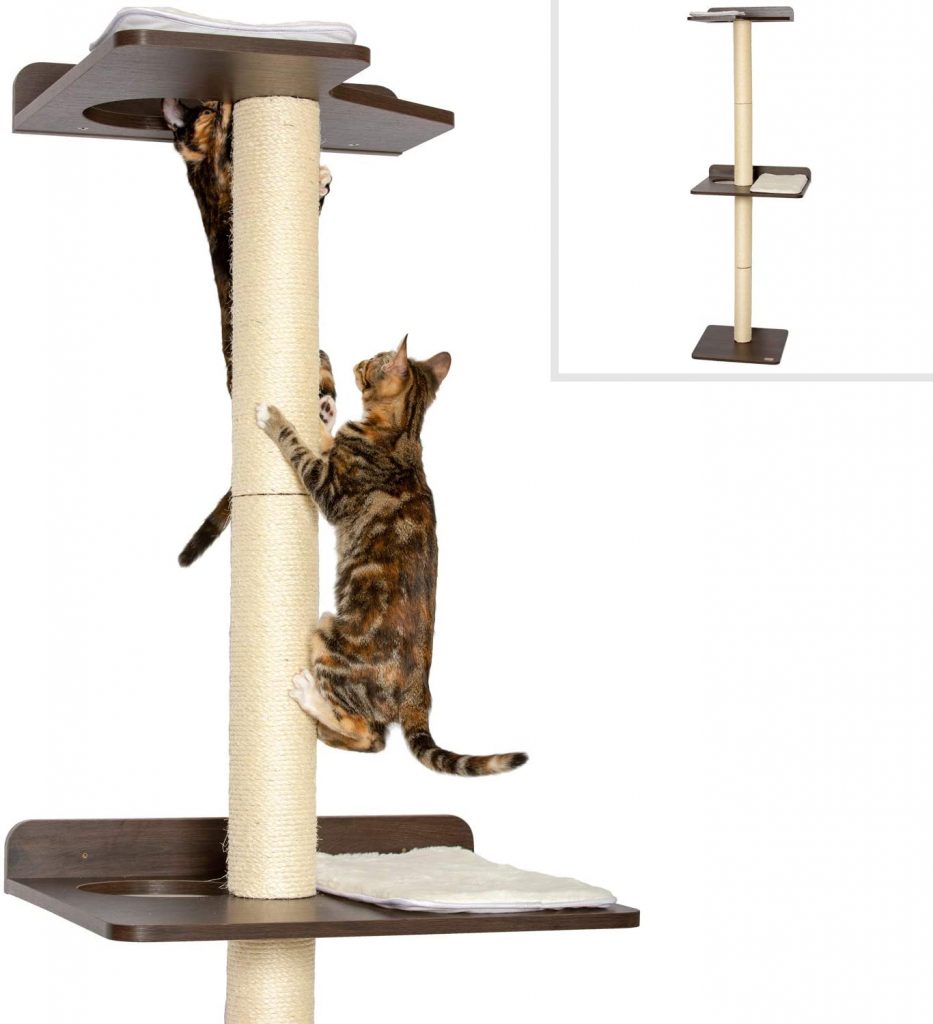 If you're looking for a taller scratching post you can place on the floor, the Pet Fusion tower will not disappoint. This 78-inch tall post is wrapped in sisal rope with three tiers. Aside from the floor platform, there are also two elevated platforms that you can drill to the wall.
This is a well-engineered cat scratching tree that can accommodate two cats at a time. It's complete with zinc drywall anchors so you can install it right away. In my estimate, the installation would take 15 minutes if you have the tools ready.
Each platform on this scratching tower has a hole where you Birman can climb easily. There are also cushioned pads to keep your feline cozy on the perches.
If the current wears out, you can purchase a replacement post from Pet Fusion, so you no longer have to get an entire post set again. The original scratching post is covered by a two-year warranty to protect your purchase.
Lastly, I like that this post doesn't have a smell to it upon opening the package. I've purchased several scratching posts before with a chemical scent, which can be harmful to cats. This one from Pet Fusion made sure that it wouldn't be a problem.
---
Ware Manufacturing Kitty Cactus Scratching Post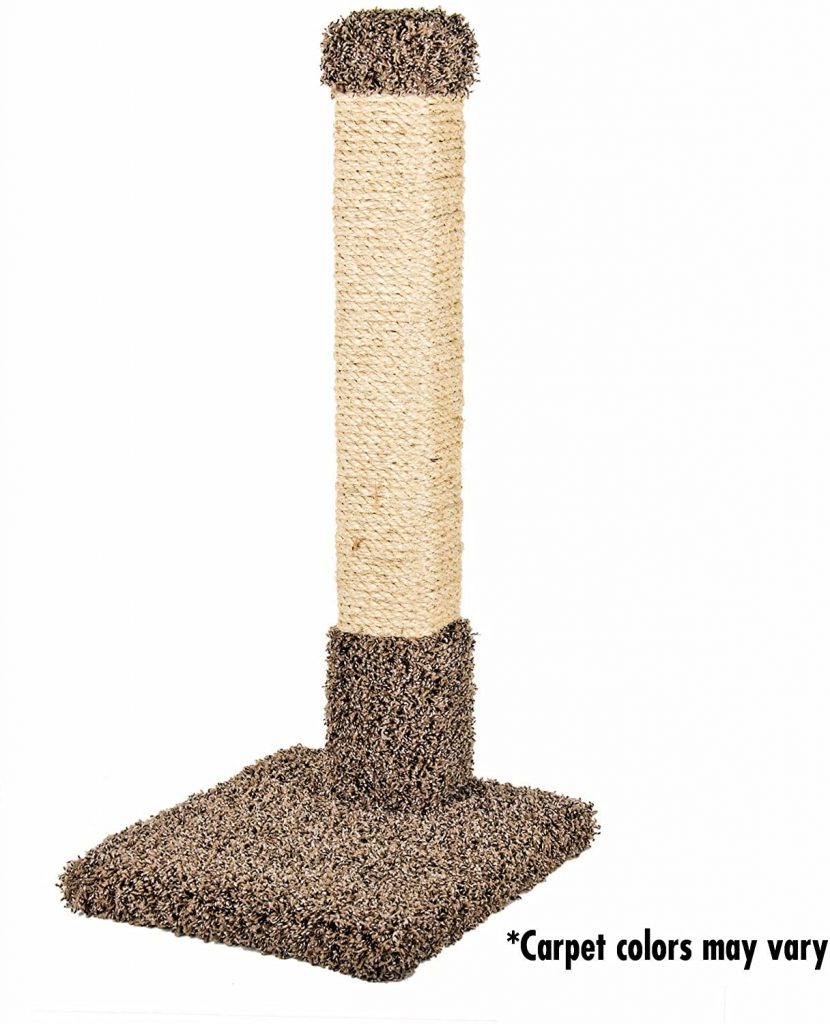 If you find multi-tiered cat scratching posts intimidating, you can start with something smaller, like the Ware Manufacturing Scratching Post. This is a 32-inch all post, which is a combination of sisal and carpet scratching surfaces.
The frame of this scratching post is made of durable wood that can withstand long months of use. And if you're not sure which surface your kitty would like, this combo post is an ideal choice.
What I also love about this cat scratching post is it comes fully assembled. Just open the package, take it out, and your cat can file its nails right away. This post is compact for just 14 x 16 inches, which is perfect for small rooms and apartments.
This scratching post doesn't have a shag carpet, which prevents cats from ripping the faux fur easily. Overall, it's suitable for both young and adult Birmans.
Anyway, expect that the sisal rope will get worn out in a few months. This is normal for such material, but you can always purchase a replacement rope online.
---
SmartCat Ultimate Scratching Post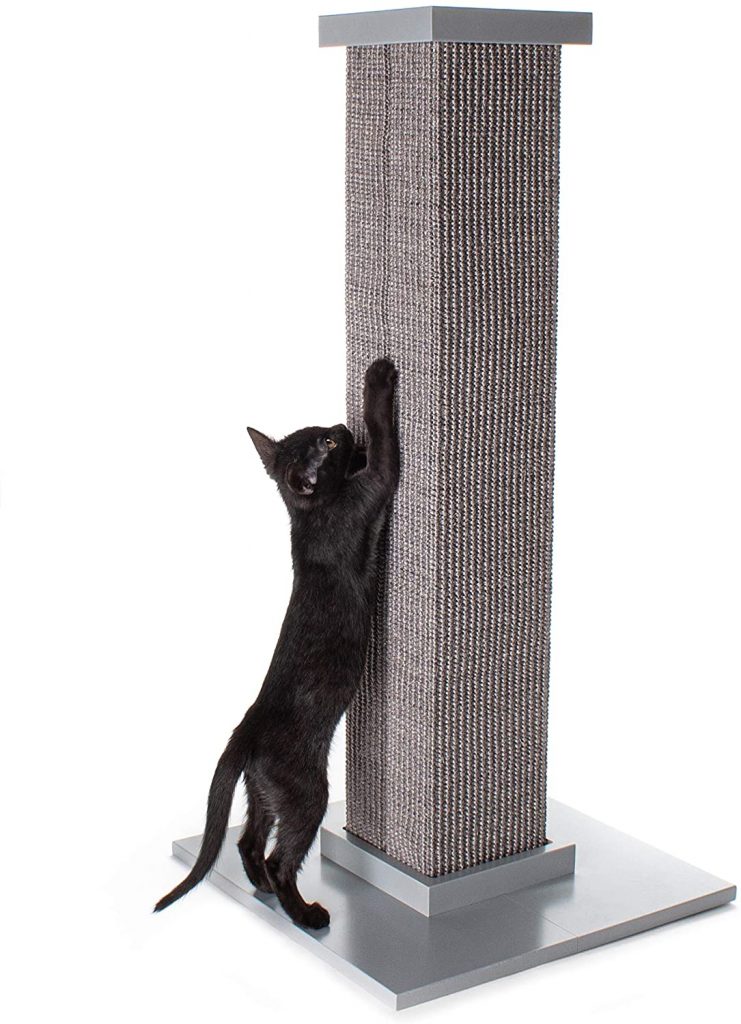 When my cat Onyx turned two, he could topple almost every freestanding scratching post until I got the SmartCat model. This has a 16 x 16-inch sturdy base that can take the beating of scratching and climbing. Its post stands 32 inches tall and is wrapped in woven sisal.
Unlike typical sisal ropes, the woven version is much tougher and more long-lasting. It's more fibrous and will encourage your cat to scratch more. It's also superior to any carpet posts, which poses a risk of snagging your feline pet's nails.
Moreover, this scratching post arrives almost fully assembled. I only had to put in two screws and it's ready to use. So far, this scratching post is Onyx's favorite, which is a big plus, considering its low price.
If you want, you can also get the SmartCat perch which you can place on top of the post. I added this on my purchase, and my cat has officially abandoned his bed for the quilted pad.
Overall, this SmartCat scratching post is big enough for almost every cat at home. However, if you have multiple cats, you should watch out for catfights of who can lounge at the top.
Sale
---
Trixie Pets Rope Scratching Post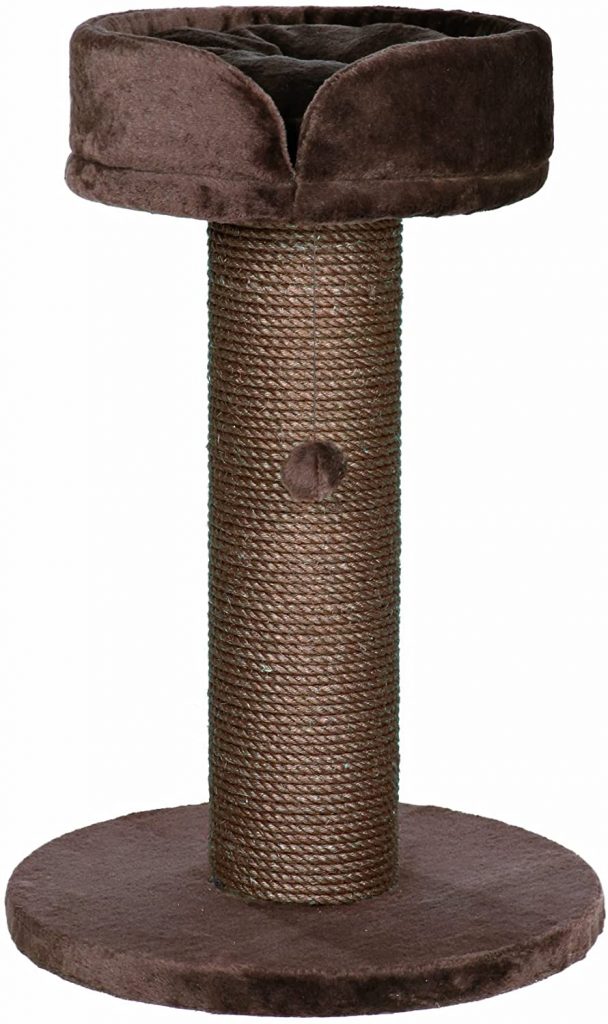 Another cat-scratching post I recommend is the Trixie Pets Rope Scratching Post. This one is made of thick sisal rope that can endure the sharpest cat claws. It also has a removable ring-shaped cushion at the top, which you can use as a separate cat bed.
This post also comes with a dangling pom toy, which makes it more appealing to cats, especially kittens. It's a healthy outlet where your pet can scratch, stretch, and just take a good nap.
Overall, this scratching post is 23 x 23 inches wide and 35 inches tall. I also like that it has a thicker post, which adds to the stability of the platform. The bonus part is that it comes in a classy Pepino brown color, which will add aesthetic value to your living room.
If you have a strong kitty, the pulling and scratching wouldn't be a problem with the bigger base of this post. However, it will consume a much larger floor area, which isn't really a problem.
---
Check Out More Best Scratching Posts for Cats Under $100 Today
Bestseller No. 1
MS!MAKE SURE Cat Scratching Post, Three Modes Cat Scratcher, Cat Scratch Furniture Protector, Vertical /Horizontal /Side Table, Replaceable Sisal Scratch Pad for Indoor Cats - Yellow
🐈[Towards a Home for Both Human & Pets] - With a creative 2-in-1 design, MAKE SURE cat scratcher gives your cat total freedom of scratching, be placed on the floor to protect the furniture. Or it can easily be turned into a practical side table and become a piece of furniture for you. Discover more tricks with a simple flip of 90°
🐈[Protect Your Furniture Well] - Placing MAKE SURE Cat Scratcher next to the couch will help divert your cat's attention from the furniture to the scratching pad. The non-tearing feature of natural sisal scratching pads will allow cats to spend more time on them. After spending a lot of energy, they will no longer focus on the furniture
🐈[Premium Quality] - Sturdy metal construction ensures long-term use. Replaceable natural sisal scratch pad for your cat's healthy paws, a place to release stress and exercise. More durable than regular cardboard and easy to clean
🐈[Scratching is Always Fun] - Three ways to use it, easy to set up hanging/horizontal floor/side table mode. There is a Velcro on the back, which can fix the pad on the floor or table. Different touching experience makes it more irresistible for the pets
🐈[Super Easy to Assemble] - The Package includes all needed accessories, as well as step-by-step visual and written instructions for easy assembly. Also comes with silicone stickers, anti-slip, and protect your floor
Bestseller No. 2
FEANDREA Cat Tree, Cat Tower, Cat Condo with Scratching Posts, Hammock, Plush Perch, Cat Activity Center, Smoky Gray UPCT161G01
Cloud Nine Comfort: We love soft beds, and cats do too. The top perch of this tall cat tree — including the raised edges — is filled to the brim with soft padding so your cats can rest in sweet, sweet bliss all day long
All Types of Play: Whether young or old, spry or laid-back, this cat activity tree has it all. With multiple levels and different areas to relax, old cats and young kittens alike can climb up or down with ease
Relax the Day Away: The soft hammock of this multi-level cat condo joins the top perch as a great place to spend a lazy morning or have an afternoon catnap
A Pompom to Spare: If your cats get a little too frisky with the pompom on this fun cat tower, there's another to spare (and if you're not a fan of noise, the spare comes without a bell)
Quality That Matters: For jumping, playing, and scratching, quality is important. This stable cat tree supports up to 154 lb (static load)—making it great for up to 4 cats (max. 15.4 lb each) to play together
Bestseller No. 3
PAWZ Road 32" Cats Ultimate Scratching Post
STURDY CHOICE: 16"X16" Wooden base covered with plush cloth ensure the safety and sturdy that eliminate tipping and wobbling. Even your big cats jump on it, it won't move.
MAXIMUM STRETCH: This elegant cat scratching post stand 32" tall, designed for all kinds of sizes cats from kitten to adults and large adult cats to have a full and vertical stretch.
IDEAL SCRATCHER: Made with 100% NATURAL durable sisal that can with stand even toughest claws encourage them to sharpen and trim their nails that keeps them away from scratching or clawing your expensive couch and furniture.
EXTRA BONUS: Designed with cats in mind. It is equipped with hanging toy of bird stimulate their prey-like behavior like pouncing and swatting. While the top cover plank provide a higher place to sit and observe their surrounding.
EASY ASSEMBLE: Simple construction with 2 included screws requires minor assembling. The step by step instruction make it more easy you will set it up in minutes.
Bestseller No. 4
FURHOME COLLECTIVE Cat Scratcher Wall Mounted Cat Scratching Post Extra Large - Wall Floor or Window Mount Cat Wall Furniture - Catnip Ball and Self Groomer Brushes, Cat Scratch Pad for Indoor Cats
ALL NATURAL CATNIP BALL - A healthy fun way for cats to clean their teeth and improve their digestion. A catnip ball is made of 100% natural plants and promotes fun for your cat, while also stimulating their appetite. Best of all, our edible catnip ball will help ease anxiety, stress and boredom!
SOFT BOAR BRISTLE BRUSHES FOR GROOMING HEAVEN - Cats love to rub themselves on things and these 2 natural boar bristle brushes will promote a healthy shine. The natural boar bristles will massage your kitty while stimulating natural oil production. These beautiful soft brushes will reduce excess shedding and allow your cat to leave their scent for others
SISAL MAT SECURED UNDER TIMBER FRAME - Safe & non toxic, the extra large sisal cat scratching mat is secured between 2 layers of natural timber. This ensures a safe scratch for your cat and also longevity of the cat scratcher. Other scratchers have their sisal mat only glued to the timber which pulls off easily and causes stress to cats. 23"L x 11" W x .9" H PATENT PENDING
VERSATILE - USE ON THE WALL + FLOOR + WINDOW - Being able to suit your cats scratching preference is essential. Some cats enjoy scratching down on the floor and also sleeping on the scratcher after. Others scratch up on the wall or window for a true stretch. All tools included for an easy installation - wall plugs, screws, suction cups and foam pads.
SCRATCH, RUB, PLAY & STRETCH - Things cats can spend hours doing and our scratcher will help promote this off your furniture! Our unique design cat scratcher will look fantastic in any home and help promote happy healthy cats across the world.
Sale
Bestseller No. 5
Hey-brother Cat Tree with Sisal Scratching Posts, Cat Tower with Scratching Board,Multi-Level Cat Condo with Basket,Smoky Grey MPJ014G
Sturdy and Safe:Stability is always priority.This is a small but stable and multifunctional cat tower. Thanks to its anti-toppling fittings, strong P2-grade particle wood and the reinforced base plate, this cat condo will be a great companion during your cat's growth.
Climbing and Scratching:Multiple reinforced scratching posts with natural sisal ropes is perfect for your cats to scratch and grind their claws,. A scratching board works as a ramp to help your kitten climb on the cat cave as well as a replacement of your sofa for the endless scratching fun.
Comfy Home for Entertaining: 1 roomy condos offer luxurious napping experience; 1 big plush perches with raised edge allow more safety for cats to enjoy the feeling of the top of the world while resting; 1 interactive jingly balls to play with, several layers layout for climbing up and down, sisal-covered slope adds so much more fun for playtime.
Easy Assemble: The cat furniture equipped with all the hardware, tools and detailed instructions for quick and easy installation. Overall Size: 17.7 x 17.7 x 36.6inch. Suitable for 2-3 cats of different ages to climb and play.
Still Hesitating? If you have any problems about our cat tower, please feel free to contact us. Hey-brother will provide you with professional customer service both before and after your purchas. Don't wait any longer, add this to your home today!
Bestseller No. 6
Bestseller No. 7
Catry Cat Bed with Scratching Post - Minimalist Style Design of Cat Tree with Cozy Cat Bed and Teasing Scratching Post, Allure Kitten to Stay Around This Sturdy and Easy to Assemble Cat Furniture
LOUNGE IN CAT BED - What does a cat most often do? The answer is always chilling. Our Catry cat bed with scratching post is a cat tree for your cute kitten to lazily recline. The well-designed cat bed tenderly holds cat like a lover's hug. And the cat tower offers cat an option to chill out from a higher view with their endless curiosities from ground.
PLAY BY CLAWS - What else does a cat do other than sleep? Of course, it's PLAY, by their Claws! Catry cat scratching post always provides a mate-like attraction to cats. This Catry cat tree is meant to designed as an all-size product for purposes. By the "XXL" size of scratching mat post with high quality sisal materials, kittens will enjoy their play by their "hunter's" claws. We make sure that our Catry scratch posts always draw pets attention ASAP.
LESS IS MORE - Catry Design is always aiming at the principle that making the products nicer and easier. By putting the idea of minimalism, we have successfully brought this simple and cool looking cat tree product to all the kitten owners. It will never get disappointing by matching your home style. It's simple. It matches.
DESIGN FOR A CAT LOUNGE - As a kitty bed, Catry cat beds for indoor cats always see the cat's demands as priority. With all tools and instructions included, Catry devote all design purposes to sturdier cat shelves structure, easier cat furniture installation and cleaning.
PREMIUM QUALITY CONTROL - With more than 20 years manufacture experience in the pet-supply industry, Catry has kept challenging to break any limitations of the best quality products. 100% guaranteed return with your satisfaction, you have our words.
Bestseller No. 8
Bestseller No. 9
PetFusion 3-Sided Vertical Cat Scratching Post | Available in 18" & 24" | Multiple Angle Cat Scratching Pad, 6 Usable Sides. Scratch, Play, & Perch | 100% Recyclable Cardboard Cat Lounge. 1 Yr Warr
CATS LOVE IT: (I) A scratcher, play area, & SO MUCH MORE. (II) Incl premium USA organic catnip leaf. (III) Natural scratching, healthy claws, great exercise, & stress reliever, better overall wellness
YOU'LL LOVE IT: (I) Made of recycled cardboard & corn starch glue. (II) Attractive design, neutral colors. (III) Recommended to save your furniture as cats prefer the feel of cardboard. Happy cat, happy you
THOUGHTFUL DESIGN: (I) Vertical based on your cat's preference or to compliment horizontal scratching, also features a cubby hole for exploration & play. (II) Curves provide numerous stretching & scratching angles. (III) Naturally attracts cats
GREAT VALUE: (I) Rotate for 6 times the use. (II) Superior quality cardboard & construction lasts longer than other scratchers. (IV) 1 Year Warranty
WHAT YOU SHOULD KNOW: (I) 24 X 10.5 X 21 Inches. (II) Fully recyclable (III) 1 Year Warranty
Bestseller No. 10
Yaheetech 54in Multi-Level Cat Tree with Sisal-Covered Scratching Posts, Plush Perches, Double Condos and Replaceable Dangling Balls Light Gray - for Kittens, Cats and Pets
🌱[GIVES THEM PERSONAL SPACE] - Cats are not as sociable as dogs are. A sense of safety can be created when you provide your kitty with a cat tree. Our cat tree has 2 spacious hideaway houses that offer super soft and warm lounging spots, sisal rope coiled posts help develop positive scratching habit, 3 top perches platform to enjoy the feeling of being at the top of the world and sit on to look out the window.
🌱[PROVIDE A SENSE OF SECURITY & COZINESS] - Kitties can jump from perch to perch and play with attached toys. The 19.5x19.5'' baseboard and robust posts give strong support and better stability to this cat tree. Comes with a safety strap to help prevent damage and injury from intensive jumping and leaping by securing the cat tree to the wall.
🌱[SAVE YOUR FURNITURE] - This kitten tree provides a vertical territory for your cats to climb, play, scratch, establish authority, get away, or feel safe. And having the scratching post included in the cat tree can save a little space, keeps your kittens away from your delicate furniture.
🌱[SIZE AND MATERIALS] - This cat tree size is 19.5 x 19.5 x 54.5'' (LxWxH), specially designed for kittens or small/medium cats. Made of CARB Phase 2 particleboard and skin-friendly plush covering, this cat tower is designed to offer a safe, sturdy and stable home and entertaining center for your little angels.
🌱[EASY ASSEMBLY] - Don't worry about the assembly of our cat condo! It comes with a step-by-step instruction manual and tools to help. If you have any questions about our cat tower, please feel free to contact us!
Final words
The best scratching post for kittens will keep your pet's claws away from your furniture. It's a healthier option, which will not damage your kitty's claws.
Just make sure that you choose the right type and material for a long-lasting piece.