How to Plan the Perfect Road Trip with a Senior Dog? Well, For many adventurous pet owners, taking their four-legged companion with them on their next trip is ideal. Taking your pup with you on your next road trip will certainly make the journey more memorable.
Not only that, but it also eliminates the need to look for a pet sitter or pet boarding service. Travelling with your best dog friend definitely has its ups and downs, but one thing is for sure — it can get a little tricky once your pup enters its golden years.
In addition to the usual preparations you need to make when going on a long car ride with any dog, there are several other factors you need to consider.
As your dog advances in age, it may have some special needs that require extra care and attention to ensure comfort and safety during your journey.
There are some dog breeds that have predispositions to certain health problems as they age. For instance, Beagles and Dachshunds are known to inherit idiopathic epilepsy.
Meanwhile, cross-breeds like the Mini Groodle are known to inherit genetic conditions common to both Golden Retrievers and Poodles. Although it is generally a healthy breed, it is at a higher risk for developing ear infections and hip dysplasia.
It's important to read comprehensive guides on your dog to see what kind of problems you can expect with your particular breed. Some Responsible pet breeders will also be able to give you some information on what to expect. More than that, here are a few tips that will help you prepare for your next road trip with your furry companion: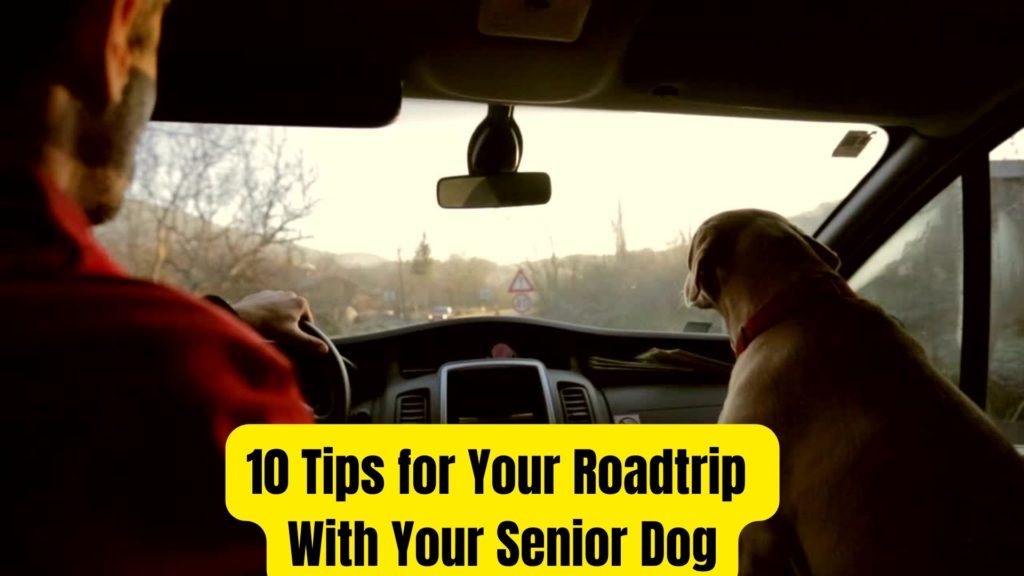 10 Must Follow Tips on Roadtrip With Your Senior Dog
Bring Your Dogs Familiar and Favourites Items. ( Toys, Food, Drinks Etc.)
Get Your Senior Dog Health checked by Vet before Travel.
Avoids Long Travels, Always Take Breaks.
Bring Along Stairs or Portable Ramp to Help dogs in Mobility.
Make Prior Boookings For Stays to Avoid last minutes Rush or Confusions.
Always Brings Basic Medical Aids, Dog Litter Bags and Poop Solutions.
Keep Your Dog Updated with Microchips and Proper Vaccinations.
Make Sure Dog Doesn't Suffers from Motion Sickness Or Similar Issues Bring Vet Recommened Medicines to control it.
Protect The canine Joints, Aged dogs are prone to ligament damage due to jerks.
Keep you Nerves Low and Calm, And Always Have a backup plan
Planning the Perfect Road Trip with an Older Dog
Tip #1 – Schedule pit stops on your dog's schedule.
As you begin mapping out which route to take, you may be taking note of gas stations and rest stops where you can make a pit stop to stretch your legs and go for potty breaks every few hours.
However, this may not be the best way to keep your older pup comfortable. As they advance in age, dogs may take longer to find a comfortable position to rest their bones and fall asleep.
Even if your dog usually enjoys car rides, waking them up too often can make them anxious and uncomfortable, especially if your senior dog has arthritis.
Instead, it's best to look out for signs that indicate a need for the bathroom or stretch their legs.
Having an idea of locations where you can pull over will still be useful to accommodate your dog's schedule.
Tip #2 – Pack all the essential items.
Packing the right supplies and senior dog care products is crucial to planning a senior dog-friendly road trip.
Having certain items on board will help make your older pup feel more comfortable and relaxed. Here are a few examples:
Water Bowl and Water –
Our four-legged companions need to rehydrate regularly and as they get older, they may need to drink water more frequently.
This is an aspect to consider if you are driving somewhere with a warm, humid temperature. A handy travel water bowl will help ensure your pup stays hydrated.
Blanket Pads –
A high-quality blanket pad can add more cushion for added comfort while absorbing moisture.
This item is a must-have for your road trip if your older dog has incontinence, as it can be a really handy way to keep your car seats clean and dry.
Familiar Items –
Aside from more functional pet care items, it also helps to pack familiar items that your dog simply adores.
Your senior dog's favorite blanket, toys, or bedding with familiar scents can add a touch of home.
This can be a great source of comfort for your senior dog, especially if it tends to get anxious when plucked from its normal routine.
Tip #3 – Find pet-friendly accommodations.
It goes without saying that while traveling with your dog, be sure to find a place that accommodates pets.
Unless you will be traveling in a recreational vehicle, you may need to book a place to stay for a night or two if you are going to be on the road for a few days.
Another factor to consider is your senior dog's mobility. If your older pup has arthritis, opt for a place with an elevator or ramp to avoid placing pressure on its joints. Unless you can carry your dog, going up and down the stairs may be a problem.
Tip #4 – Install travel safety products for your senior dog.
If your senior pup loves to go on car rides, it may have a tendency of sticking its head up in the front seat or climbing from the back seat to the front.
If your dog tends to jump around, consider installing a car barrier. Most car barriers can be attached to car seats and will keep your senior dog safely behind them.
A car barrier can prevent your dog from blocking your field of vision or distracting you as you drive.
For larger dog breeds, you may also want to bring a dog ramp with you. Dog ramps can be incredibly useful for helping your senior pup enter and exit your vehicle safely.
This is especially helpful if your dog has arthritis or mobility issues that may make it uncomfortable to jump.
Tip #5 – Create a backup plan.
You may have followed the above tips and prepared for your upcoming trip. However, plans can sometimes fall apart while you are on the road. In case there are changes in accommodation and other factors, it helps to be prepared.
Most hotels, restaurants, and other establishments have restrictions regarding pets, so be sure to add a few more pet-friendly places to your list just in case.
Takeaway
Travelling with an older dog is quite a different experience than with a younger pup. As your dog gets older, its needs may change and become more complex.
By preparing adequately, you ensure a safe, comfortable, and memorable journey ahead.