Do Pomeranians Shed? The shortest answer is yes. All dogs shed. It's just some dogs shed too much and some shed moderately; Pomeranians are known for the profuse and fluffy coats they have. So it is quite obvious that they shed a lot. This is a thoughtful consideration when you are bringing a dog into your home. In this article, we will see everything about pomeranian shedding. Also, we will discuss 4 tips to manage excessive shedding.
Do Pomeranians shed too much?
Pomeranians shed in moderation. However, this 'moderation' is indefinite. So, let us compare pom with other breeds to understand the level of shedding.
Shih Tzu and Poodle shed very little. It is almost rare to see their hair floating around in the home. Talking about American Eskimo Dog and Akita Inu, they shed a lot. They are the shedding machines. And the time they shed excessively is during fall and spring. 
Pomeranian fits in the middle of these two scenarios. Hence, you will get hair around your home consistently the whole year. 
It is very true that small dogs can shed a lot. But the dogs weighing 7 pounds or below has much fur to lose. Hence, you will have to take care of the grooming routine to manage the shedding.
Why is my pom shedding so much?
Pomeranians shed in four stages –
#1 Anagen phase: Fur starts growing
#2 Catagen phase: Fur reaches a transitional state
#3 Telogen phase: Fur growth stops
#4 Exogenous phase: Old fur falls off
The reasons include –
Pom has a double coat
Pomeranians have a double coat and the double-coated dogs are in minority. But, this coat also helps the dog to survive in cold temperatures and other environmental things.
The coat is made up of two layers of hair. The first one is the topcoat and the second one is the undercoat. Both of them protect the pooch's skin. To justify this – pom's undercoat has a wool-like feel. It keeps your pooch warm.
Also, it is one of the best insulators that a dog has. Talking about the topcoat, it has longer hair called "guard hair". This hair guards your canine's skin against environmental hazards like snow.
According to a study, there are only 78 dog breeds that have a double coat. And this list includes pomeranian. So, you can expect double shedding from your pom.
Seasonal shedding: do pomeranians shed all year?
Most of the breeds shed during the seasonal change. To be honest, seasonal shedding is bad for a pomeranian and other breeds with a double coat. During fall and spring, your pom pooch can experience excessive or heavy shedding. 
The shedding of lighter coats starts when the year approaches the winter. This makes the space of the thick coat that helps them to fight the heavy winter. Since the whole coat is replaced, you must be ready for some major shedding. Similarly, Pomeranians shed their winter coats during spring.
Shedding due to malnutrition
Poor nutrition leads to shedding. Just like us, a poor and unhealthy diet can lead to health issues including excessive shedding. 
Hence, when you are picking up food for your pooch, make sure to select the highest quality food. Boosting the dog's coat with minerals can also help. Omega-6 can make your fido's coat healthy.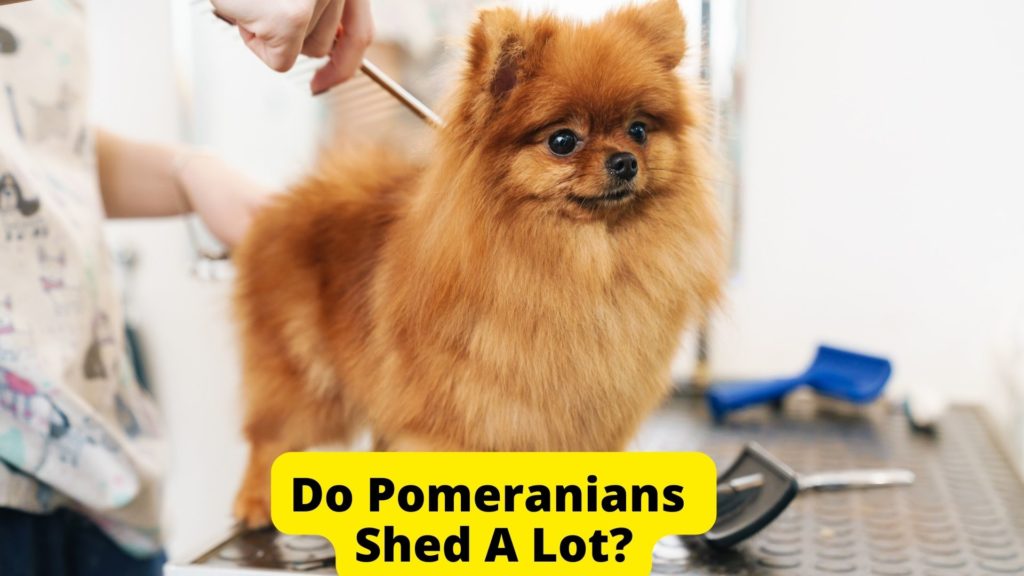 Are Pomeranians hypoallergenic?
Many people ask the same question. But to be honest there is no such thing as called hypoallergenic dog. A pet allergy occurs when someone is unmasked near the animal's saliva or dander. This is also attached to the shedding hair. 
According to the American Kennel Club, the most hypoallergenic dogs are
Bedlington Terrier,
Chinese Crested,
Coton de Tulear,
Kerry Blue Terrier,
Irish Water Spaniel,
Poodle,
Maltese,
Portuguese Water Dog,
Giant Schnauzer,
Standard Schnauzer,
Soft Coated Wheaten Terrier,
American Hairless Terrier,
Xoloitzcuintli,
Lagotto Romagnolo,eruvian Inca Orchid
and Afghan Hound.
Since pomeranian does not fall into the category, they are not hypoallergenic.
How do I stop my Pomeranian's shedding hair?
Feed nutritious food
Make sure you are feeding your pooch some nutritious food. High-quality food has a good effect on your fido's health as well as his coat. It can also minimize shedding. 
You must always consult your vet before feeding any food or supplements to your canine. 
Brush the fur regularly
It is a fact that you cannot stop shedding completely, especially of a double-coated canine. It is a natural process that cannot be stopped but can be mitigated. 
Hence, to mitigate the problem of shedding, you should brush your pooch's fur regularly. There are a variety of brushes and de-shedding tools available online and in the market. You can try different tools and brushes and decide which one is the best. 
Use home remedies
Fish oil – Fish oil is beneficial for your fido's skin. It contains omega-3 and omega-6 fatty acids that help to improve the skin. 
Coconut oil – Coconut oil is also beneficial for your canine's skin health. For 10 pounds of weight, give one teaspoon of coconut oil.
Yogurt – yeast infection can also cause shedding. Hence, you must give a small amount of yogurt to your fido. It helps to cure yeast infection as well as provide different nutrients.
Olive oil – olive oil is good for humans as well as dogs. It promotes shiny and healthy coats in pomeranian. 
Vitamin E – Vitamin E is best for your fido's skin health. You can apply vitamin E directly to your canine's skin
Vinegar – Vinegar helps to control fungal infection in pomeranian. It is also a great remedy for skin issues in dogs.
Shed-X Shed Control Shampoo for Cats, 8 oz – Reduce Shedding – Shedding Shampoo Infuses Skin and Coat with Vitamins and Antioxidants to Clean, Release Excess Hair and Exfoliate
STOP EXCESSIVE SHEDDING – Excessive shedding can result from an unhealthy skin and coat. Shed-X Shed Control Shampoo for cats gently cleans, releases excess hair and exfoliates to reduce shedding.
NOURISHES THE SKIN – Shed Control Shampoo infuses your pet's skin and coat with essential amino acids, Omega 3 and 6 fatty acids, Vitamins A, D and E and antioxidants. This cat shampoo promotes healthy skin and leaves the coat clean, soft and shiny.
LONG-LASTING FRAGRANCE – The pleasant white ginger and nectarine fragrance of this shampoo for shedding will leave your cat clean, soft and smelling amazing long after bath time is over.
FOR BEST RESULTS – Wet coat thoroughly with warm water and massage cat shedding shampoo into coat and skin. Allow the lather to remain for several minutes and then rinse thoroughly. Suitable for frequent use.
EFFECTIVE AND AFFORDABLE – SynergyLab's Shed-X products are created with premium ingredients and available at a price that pet parents can afford. We know your dogs and cats are more than just pets, because we are pet parents too.
Sale
Nordic Naturals Omega-3 Pet, Unflavored - 2 oz - 304 mg Omega-3 Per One mL - Fish Oil for Small Dogs & Cats with EPA & DHA - Promotes Heart, Skin, Coat, Joint, & Immune Health
WHY OMEGA-3 PET - This Nordic Naturals pet product is made with the same exceptional quality oil as our human products, but has been specially formulated for your cat or small breed dog. Omega-3 Pet features omega-3 fish oil in liquid form.
PROACTIVE PROTECTION FOR YOUR PUP - Research shows that the essential fatty acids EPA & DHA in fish oil help support your pet's heart, skin & coat, immune & joint health.
GIVE THEM THE BEST - All of our omega-3 fish oils are in the triglyceride molecular form (the form naturally found in fish) for optimal absorption. Please use only our pet products for your dog or cat, not our human products.
PURITY GUARANTEED - Every batch of Nordic Naturals fish oil is crafted from fresh, wild-caught, omega-rich fish. We are committed to using only non-GMO, gluten- & dairy-free ingredients with no artificial colors, flavors, or preservatives.
ETHICAL INNOVATION - Nordic Naturals has always been at the forefront of sustainable & ethical practices in the natural products industry. Our fish oils are Friend of the Sea certified & sustainably made in a zero waste facility powered by biofuel.
Sale
Pet Naturals Hairball for Cats with Omega 3, Chicken Flavor, 160 Chews - Can Help Eliminate Hairballs and Manage Excess Shedding - No Corn or Wheat
Cat Hairball Control at the Source: Pet Naturals Hairball uses a gentle formula to address hairballs in cats by supporting digestive health, skin health, and regular shedding.
No Messy Side Effects: Unlike conventional pastes & gels, this cat hairball remedy contains NO mineral oils, herbs, or laxatives, so you can control hairballs without messy digestive side effects.
Tasty, Tempting Flavor: Delicious chicken-liver-flavored cat hairball treats are recommended for all cats and can help with cat hairball control at any age. Preferred by even picky eaters!
Quality Ingredients You Trust: Omega fatty acids, cranberry, zinc, and biotin help prevent, reduce, control, or even eliminate hairballs while supporting healthy skin. Pet Naturals Hairball contains no corn, wheat, or artificial ingredients.
Cat Hairball Treatment at Home: Give 1-2 treats daily for hairball prevention, or as-needed for treatment or elimination of hairballs in indoor cats
SleekEZ Original Deshedding Grooming Tool for Dogs, Cats & Horses - Undercoat Brush for Short & Long Hair - Painlessly Remove 95% of Loose Hair, Fur & Dirt - Easy to Clean - USA Made (5 inch)
[WORLD'S #1 PATENTED DESHEDDING TOOL] - The ORIGINAL by SleekEZ (5inch - Medium) is the World's #1 Patented Deshedding Tool for Dogs. Our Patented Wave Pattern Blade is perfectly constructed to gently brush away loose fur, dirt, and dander without snagging! It's so simple!!! Nothing else even comes close.
[PAINLESS & ENJOYABLE FOR YOUR PET] - Take the headache and frustration out of deshedding your pet once and for all! Comprised of teeny, tiny teeth configured in a unique tooth and wave pattern, SleekEZ works by grabbing at the tips of the hair to extract from the skin without painful tugging. You'll be amazed how much your pet loves SleekEZ!
[EASY TO CLEAN & ERGONOMIC HANDLE] - Hair collects along the blade of teeth in tidy rows before falling to the ground for later cleanup. No need to pull hair from the tool. It just falls into neat little piles to the ground. So simple, so effective!
[WIDE APPLICATION & USA MADE] - Not only does SleekEZ work on pets but also furniture, pet bedding, saddle pads, cars and carpeting. Works on any animal year round for removing all expired hair from the coat.*
[TAKE GOOD CARE!] - Many thanks to so many wonderful customers! Animals are so important to our lives. In this crazy world, nature and animals remain real and true. This and the love they give represents the true spirit behind SleekEZ. Take good care!
Pomeranian hair care tips
Wet the coat with conditioner or water  before brushing or combing.
Comb in the direction of hair grain. 
Remove the untangles matted fur and dead hair.
Rather than cutting the knots, try to untangle the fur.
Brush your pooch thrice a week.
Dry the fur after bathing.
Trip your canine in every three months. Cut the hair from the tips of ears.
Use thinning shears or scissors for trimming.
Shampoo your pooch once in a week to shed extra body cells. It also encourages the hair regrowth.
Use conditioner. It helps to resolve the tangled and matted hair.
Final words
Pomeranian is one of the most famous breeds. They are cute, adorable, full of line, and great companions. Also, they do not shed heavily. And they are not hypoallergenic!
Hence if you decide to bring a pom home, then be ready to groom him regularly to mitigate shedding. If you are okay with it then you must definitely bring a pom home. You need to have patience and time to deal with the hair.
Hope you enjoyed the article. Stay connected for more informative and interesting articles. Thank You.
Frequently asked questions