Do dog joint supplements really work? Well, Joint supplements can do wonders for your dog. They not only relieve the pain, but they also have minimum side effects. Also, they may decrease the need for other medicines for inflammation. 
Walking is the best and most natural way to strengthen your GSD's back legs. If you walk your canine, keep it short and slow. This is because long walks may end up harming your canine's back legs. Apart from walking, you can also take your canine for a swim session for strengthening your canine's back legs. 
Here's the list of the best hip and joint supplements for German Shepherds-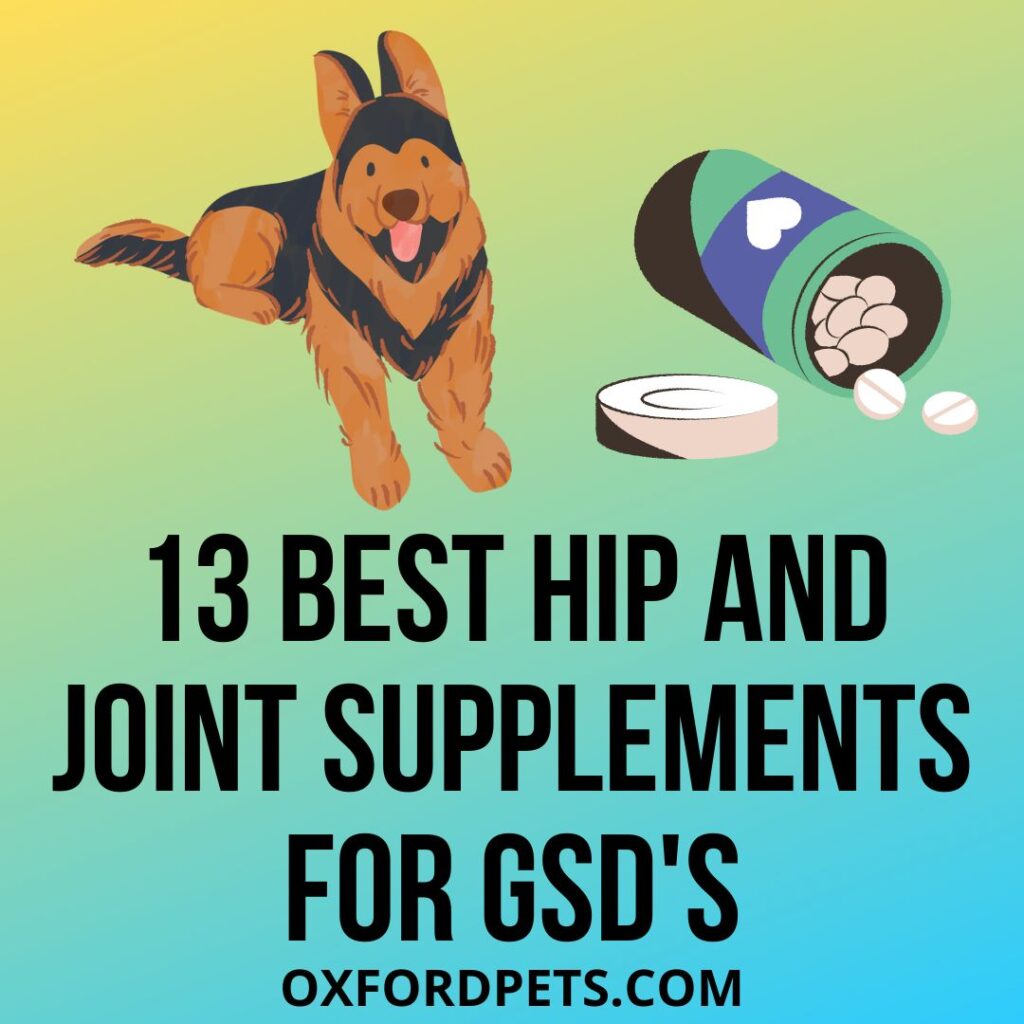 13 Best Hip And Joint Supplement For German Shepherd Dogs
ElleVet Hemp CBD Chews
ElleVet Hemp CBD Chews are a bit more expensive than other hip and joint supplements on the market. However, it is very tasty and efficient for your German Shepherd. Moreover, ElleVet Hemp CBD Chews are peanut butter flavoured. That is why most canines love its taste. Additionally, it is efficient in providing relief to joint pain, cognitive problems, shaking, and stress control in German Shepherds
NuLife Hip & Joint Advanced Glucosamine powder
Advanced glucosamine powder contains 6oz powder, coral calcium, chondroitin, and glucosamine. It comes in powder form. Moreover, it is tasteless, odourless, and an easy-to-feed supplement for the hip and joints. 
Glucosamine helps to repair broken joint tissues and reduce joint inflammation and stiffness. It helps in replenishing the synovial fluid in the joints which promotes flexibility. 
Vets mostly recommend it for diseases like arthritis, hip dysplasia, and other degenerative illnesses. The best part is, it contains more than 74 natural minerals.
YuMOVE hip and joint supplement
YuMOVE is a magical supplement for your GSD's hips and joints. It contains Hyaluronic Acid, Green Lipped mussels, and Chondroitin.
This is a triple-action supplement that promotes active joints and supports your GSD's joints by keeping them healthy. YuMOVE is considered to be the best joint supplement brand for German Shepherds in the UK.
Moreover, this is the official joint supplement of AKCs that helps GSDs to remain active. 
Healthy Breeds Z-Flex Max
Z-flex Max contains – Perna canaliculus, Omega-3 fatty acids, Chondroitin, and, Glucosamine.
Glucosamine and Chondroitin work on worn-out joint tissues and synovial fluids respectively. Also, the supplement reduces inflammation and pain and makes your GSD joints strong. 
Nutramax Dasuquin Chewable Tablets
These chewable tablets are well-suited for canines weighing above 60 pounds. The tablets strengthen your German shepherd's hip and joints. To be precise, it contains 800 mg of MSM, 350 mg of CS, and 900 mg of Glucosamine. 
Many canines do not like it because of its taste. However, it is mostly recommended by vets. Also, it is very cost-effective.
Vet's Best Aches and Pains Joint Supplement Chew Tablets for German Shepherds
These chewable tablets help to minimise the stiffness and soreness in joints. It contains all-natural products like white willow bark and pineapple bromelain. Most importantly, it does not include any aspirin. 
The best part is the supplements are formulated by vets and boast an NASC seal of approval. Also, it is very affordable to buy.
Zesty Paws' multifunctional bites 
Zesty paws' multifunctional bites are efficient in providing various health benefits to your German shepherd. It provides health benefits like the gut, hip and joint care, skin, heart, and liver, and increased immunity. Also, it is very rich in antioxidants.
Moreover, it contains vitamin E and cod liver fish oil. It helps to nourish and moisturise the skin and coat of your canine's skin.
This supplement also contains Chondroitin and glucosamine that helps to strengthen the joints, stop the tissues from self-damage, and keep the joints and hip in good condition. 
Doggie Dailies – Advanced Hip & Joint Supplement
This supplement is a treat-like chewable tablet for ensuring the optimum health of your GSD's hip and joint health. It also reduces pain and increases mobility in aged canines. 
These tablets contain MSM, chondroitin, and glucosamine along with other beneficial ingredients like coQ10, hyaluronic acid, and yucca schidigera.  
Fera Pet Organics Hip and Joint Soft Chew Supplements
This is a gluten-free hip and joint supplement for German shepherds. These vet-formulated chewable tablets do not contain preservatives and are best if your GSD has a food-related allergy. It includes ingredients like Glucosamine and MSM that promote healthy hips and joints. 
Solid Gold Glucosamine & Joint Health Chews 
Solid gold glucosamine & joint health chews are natural and made with MSM, chondroitin, and glucosamine. It is a grain-free supplement for German Shepherds of all ages. It keeps the joints healthy. 
Additionally, it contains green-lipped mussels that help to reduce inflammation in older dogs. The yucca schidigera is a great antioxidant and Boswellia serrata makes the joints flexible. The supplement also contains vitamins E and C. This mitigates cell damage and makes your GSD healthier from within.
Nutramax Laboratories – Cosequin DS Plus MSM
Cosequin is one of the best joint health supplements by Nutramax Laboratories. This supplement does not contain ASUS and otherwise is similar to Dasuquin's ingredients like MSM, glucosamine, chondroitin, etc. additionally, it contains manganese ascorbate. This ingredient keeps the bones healthy.
WoofWell Health Supplements
This supplement is specially made for German Shepherds. It is a bacon-flavoured chew that balances your GSD's specific health needs. The supplements promote healthy hips, joints, and elbows. It also has Omega 3 which promotes healthy skin and fur. 
Vetericyn All-in Life-stage supplements
It is very important to note that German shepherd pups can face joint and hip issues. Therefore, to mitigate this problem, it is best to provide this supplement for healthy hips and joints. It is tasty, affordable, and easily available.
reasons for providing supplements to GSD's
GSDs need to be physically very active to maintain their health. Still, there are many factors that can affect the hips and joints. These factors include –
Weight
Lifestyle
Genetic disposition
Diet
Age, etc
Because of these factors, your German Shepherd may face the following diseases.
Hip dysplasia
It starts developing in the puppy stage
This mostly happens due to the unusual development of joint and hip ones
This is an unusual situation where the bones start colliding with each other.
Eventually, it results in bone grinding
This exerts pressure on the bones and the dog feels pain sensation and has limited mobility. 
Osteoarthritis
According to Researchgate, this is a chronic disease that affects the joints.
Therefore, there is a loss of mobility
The canine suffers from severe pain and joint inflammation
Osteochondritis Dissecans (OCD)
In this issue, the cartilage gets separated from the joint bone.
It results in inflammation, pain, limping, etc.
The issue can be solved with surgery.
When Should I Begin Using a Joint Care Supplement (Glucosamine, Chondroitin) for My German Shepherd?
The larger the breed you have, the earlier you should provide supplements. GSDs are very much prone to severe hip and joint issues. In fact, many vets recommend supplements for GSD once they stop growing. 
Joint pain is a bad thing to see in your German Shepherd therefore, it is better to talk to your vet and start finalising the treatment. 
At what age do German Shepherds start having health problems?
GSDs can start having issues with hips and joints from 4 months of age. Moreover, it is important to see the signs of issues like hip dysplasia to find the correct treatment for your canine. 
Some of the common symptoms of hip dysplasia are:
Loss of muscle
Limping
Pain and stiffness after rest
Decreased activity
Final words
These were some of the best hip and joint supplements for your German Shepherd. Same as us, canines also suffer from bone issues as they grow old. Moreover, as they are highly active, it makes them more prone to various types of illnesses. 
Therefore, you should start any of these supplements after consulting your vet. 
I hope you enjoyed the article. I will be back soon with more informative and interesting pieces of writing. Till then, stay connected. Thank you.
Frequently asked questions
Do German shepherds need hip and joint supplements?
Yes, German Shepherds do need hip and joint supplements as soon as they stop growing. Therefore, it is better if you start giving supplements to your German Shepherd as soon as possible. You should consult your vet before giving your canine any supplements. 
What can I give my German Shepherd for his hips?
For treating hip dysplasia in canines, you can do the following things-
Joint fluid modifiers
Physical therapy
Anti-inflammatory medicines
Joint supplements
Exercise restriction
Weight reduction
How can I keep my German Shepherd joint healthy?
Here are 8 easy ways to keep your German Shepherd's joint healthy-
Laser therapy
Provide an orthopaedic dog bed
Massage therapy
Maintain a healthy weight
Prevent slipping
Canine acupuncture
Keep moving