Pitbulls are special dog breeds known for their lousy and aggressive nature and that is why they are mostly used as guards. Despite being aggressive, they can also be gentle and playful with their owners.
For these reasons, they are special breeds that show different attitudes under different situations.
It is important to find the best chew bones for Pitbulls for a number of reasons. Pitbulls have strong dentition ad they can be very aggressive with chewing.
You need chew bones that are durable, allergen-free, and contain no harmful ingredients that can harm the health of the dog.
Things To Know To Really Purchase Right Bones For Pitbulls
There are several factors you must consider before purchasing the best bones for Pitbulls, the most important ones are;
Strength of chew.
Ingredients.
Natural or other materials
Health and age of the pet
Size and shape of the bone
Strength Of Chew:
The strength of the chew is one of the most important factors to consider here. Even at the same age, not all Pitbulls chew the same.
For this reason, your Pitbull will be a soft chewer, power chewer, or something in-between.
You should observe your dog and see how it chews on just anything before making your final choice.
Avoid hard chew bones for soft chewers, and give hard chew bones to the power chewers.
Ingredients:
The type of ingredient used in making a chew bone perhaps is the most important factor to consider.
Since the health of your Pitbull is paramount here, you should stay away from any chew bone containing preservatives, additives, and other chemicals. Make sure edible chew bones have 100% natural and digestible ingredients.
Make sure the non-edible chew bones are non-toxic and highly durable. Most importantly, you must pay attention to the labels on the chew toy before making your final decision.
Natural Or Other Materials:
There are two types of chew bones for Pitbulls, these are natural and non-natural. Most dog owners will say natural is better but that is not always the case.
If you are going for a non-natural chew bone, make sure it does not contain chemicals that can harm your dog.
The nylon material chew bone is one of the most preferred. For natural bone chews made from calf beef, pig, cow, deer, and antler, make sure they are processed naturally.
The animals from where the bone chews were made must not be injected with antibiotics.
Natural bone chews must come from organically raised animals with no hormones injected, and with no bleach used in cleaning the meat and bone.
Health And Age Of The Pet:
The health and age of the pet is another factor you must consider. Fortunately, most manufacturers of chew bones do specify the age and weight of the pet that their products are made for.
Don't choose a pet chew meant for 50 lbs. dog for a puppy, the animal will find it difficult to chew and handle it. Some underlying health conditions may also affect the chewing strength of your dog.
If a dog is suffering from an allergy or digestive problem, she may shy away from certain types of chew toys even if they are completely safe. You need to keep updated on vaccines and other health checks on your Pitbull.
Size And Shape Of The Bone:
The size and shape of a chew toy for your Pitbull also matter. You need to keep in mind that dogs don't have thumbs, hence they rely on their paws to grab objects.
Curved dog chews are particularly easier for the Pitbull to grab; hence you should keep that in mind. The size of the chew toy also matters.
Ideally, a chewable bone should weigh less than a pound, but for some bigger dogs, it can be easy to handle dog bones that weigh more than 1 lb.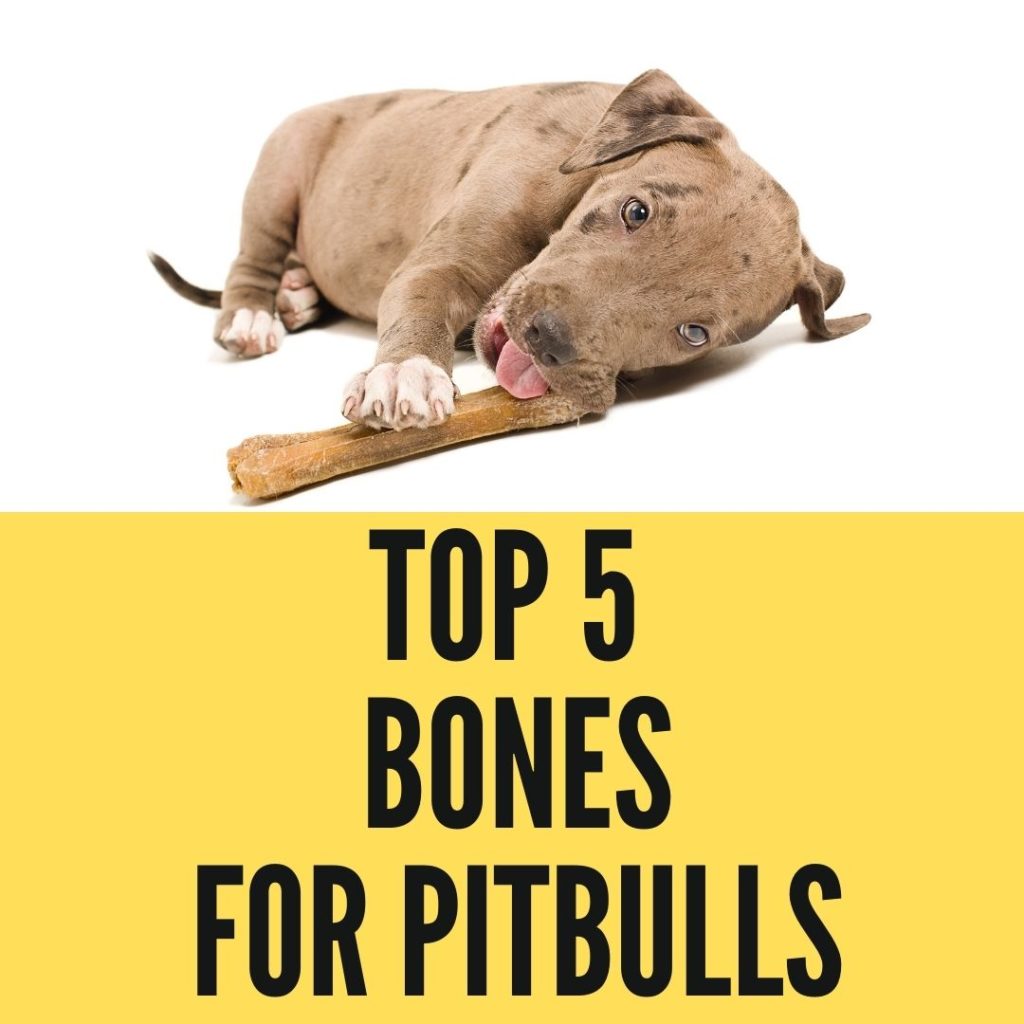 Best Bones For Pitbulls Reviewed
1. Nylabone Power Chew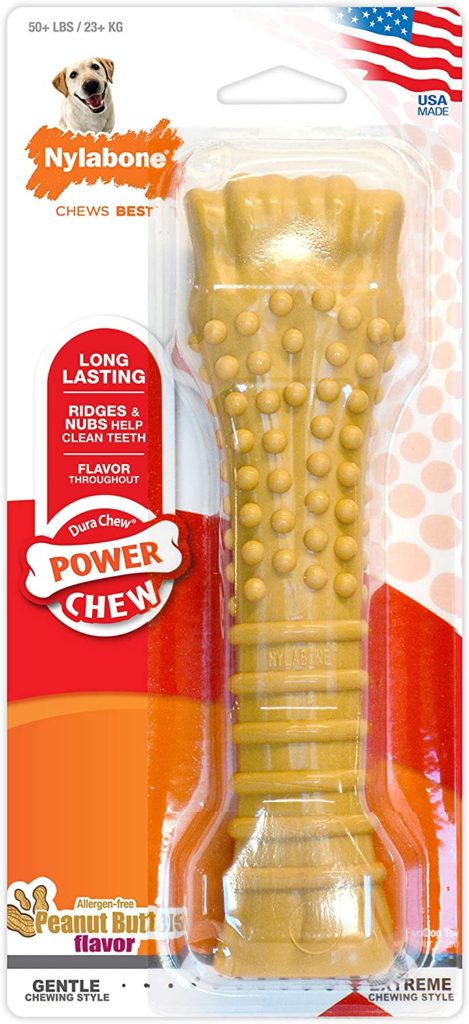 This is an extra-large dog chew bone specifically designed for aggressive breeds like Pitbulls. The big bone comes in chicken flavor and is most suitable for adult Pitbulls. It is one of the best chew bones for Pitbulls indulging in destructive chewing as a result of anxiety or boredom.
In addition to the string chew bone, you can also find this product in other ranges. There are nylabone chew bones for teething dogs, moderate chew for moderate chewing dogs, and power chew for extreme chewing. This product is mostly recommended for dogs weighing above 55 lbs.
As one of the good bones for Pitbulls, this amazing dog chew bone is made from tough and durable nylon. It can be cleaned and stored quickly.
The textured surface supports the grinding power of the teeth of the Pitbulls. The dog chew has been certified to be safe for chewing.
Pros
Very strong
Made from long-lasting nylon material.
Chicken flavor attracts Pitbulls easily.
It cleans teeth and eliminates tartar buildup.
Easy to clean and store.
Cons
Only suitable for dogs weighing more than 55 lbs.
2. 123 Treats – Dog Bones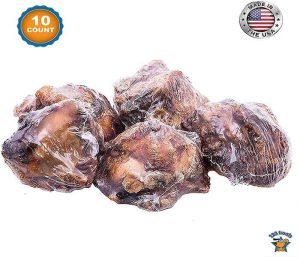 This is one of the best dog bones for Pitbulls because it is made from 100% the natural knee cap of a beef animal. It comes with beef flavor and it is designed for all dog breed sizes, though it is more suitable for larger Pitbulls.
This is one of your best options because it comes in a pack of 10 chew bones, thus saving you more money.
This is also one of the most natural dog chew bones you can find because it is sourced from grass-fed animals. It does not contain fillers, preservatives, additives, or other chemicals.
These chew bones are very high in natural protein and vitamins. It is also ideal for improved oral care because it promotes chewing while removing tartar buildup and plaque.
It is important to have adequate supervision of the Pitbull when feeding her this dog chew bone.
Pros
100% natural.
Counts of 10 mean more savings on costs.
Contains nutrients like essential vitamins and minerals.
Promotes clean dentition by reducing tartar buildup.
It lasts longer than many artificial bones.
Cons
Slightly costlier than many of its competitors.
3. Benebone Real Bacon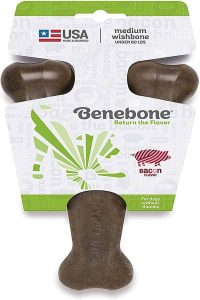 This is one durable wishbone dog chew your Pitbull can chew on, all day. They were built to be tougher than the real bones. It is made from100% real bacon where it gets its flavor from.
This dog bone chew is designed in a curvy way that makes it easy to grip and paw-friendly. Since your dog doesn't have thumbs it can be difficult for her to pick up the bones. The curvy design of bones provides great convenience for chewing too.
The chew bone is mostly suited for Pitbulls of small to the medium size range. Dogs will find the smell of bacon highly irresistible so the Pitbull will get used to it quickly.
Regular chewing of these bones can help your dog maintain high oral hygiene. The chewable bones steadily remove tartar buildup that can lead to plaque formation.
The genuine chewable bones come with a manufacturer warranty.
Pros
One chew bone will last for weeks.
Very easy to pick up by the dog and chew.
It is quite affordable
Does not contain harmful chemicals.
Helps clean your dog's teeth and prevents Tartar.
Cons
It is not the most suitable option for larger dogs.
4. Nylabone Flavored Durable Dog Chew Toy
This is one of the best dog bones for Pitbulls, especially the extra-large ones that weigh more than 50 lbs. It is made up of bacon flavor that your dog will never resist.
This is a long-lasting chew that is specially made for powerful chewers like Pitbulls. When chewing these bones, bristles are raised on the surface, and these help in cleaning the dog's teeth.
With the power chew, the dog's natural urge for chewing is satisfied. The texture is great for the dental composition of the dog. The flavored dog chewed is naturally flavored without additives, preservatives, and any other chemicals.
This chewable bone is designed to help your dog deal with destructive chewing, loneliness, stress, and anxiety. If your dog is suffering from some type of pain in the teeth, chewing this bone can alleviate such.
Pros
It lasts long.
Bristles help maintain good oral hygiene.
The natural bacon aroma stimulates the dog's interest.
It helps correct some bad behavior like destructive chewing.
Texturized to safe usage.
Cons
Not designed for puppies and other smaller dogs.
5. Pet Qwerks Dinosaur BarkBone Chew Toy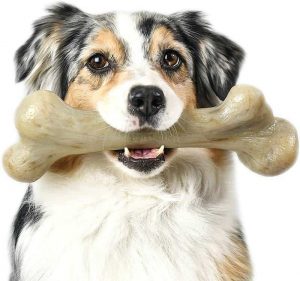 It is referred to as the "indestructible bone designed for the most aggressive breeds like Pitbulls.
Pet Qwerks chew toy is made from durable and safe nylon material and it is FDA approved for dog health.
They use real bacon which attracts the attention of the dog. The long-lasting dog bone withstands long periods of constant chewing.
The dog chew is designed to help your dog get over boredom, anxiety, and destructive behavior.
It has no additive, preservative, and any chemical detrimental to your dog's health. It is molded from the real rawhide hence it looks like the original hide.
They weigh less than 1 lb. and measure 9.75 x 3.25 in length and width respectively. Its curvy shape makes pickup and chewing very easy.
Pros
High durable against prolonged chewing.
It helps eliminate destructive chewing behavior.
Safe for dog's health.
It stores easily and safely without absorbing moisture.
More affordable than its main competitors.
Cons
It is recommended for big dogs only.
6. Benebone Real Bacon Durable Dental Dog Chew Toy (Updated Design)
One of the reasons why this bone chew is regarded as one of the good bones for Pitbulls is because it stimulates dentition.
The bone comes with stimulating ridges that will drive your dog's interest in chewing and at the same time keep the teeth clean.
It is a highly durable and long-lasting dog chew product and it is tougher than real bones. It is made from the real 100% bacon flavor and the dog can always tell the difference.
They are curved to provide a paw-grip that ensures proper dog handling. It is made from genuine products only with no preservatives and additives.
This will ensure that your dog remains healthy always. The chew toy is mostly recommended for dogs within the average and extra-large sizes.
Pros
Stimulate and keep the dog's teeth clean.
It lasts for weeks, thus saving you money.
The real bacon flavor stimulates the dog's interest.
The curvy design ensures an adequate one-time grip
It comes with a manufacturer's warranty.
Cons
It is very hard and may be difficult for puppies with softer teeth.
7. Pet 'n Shape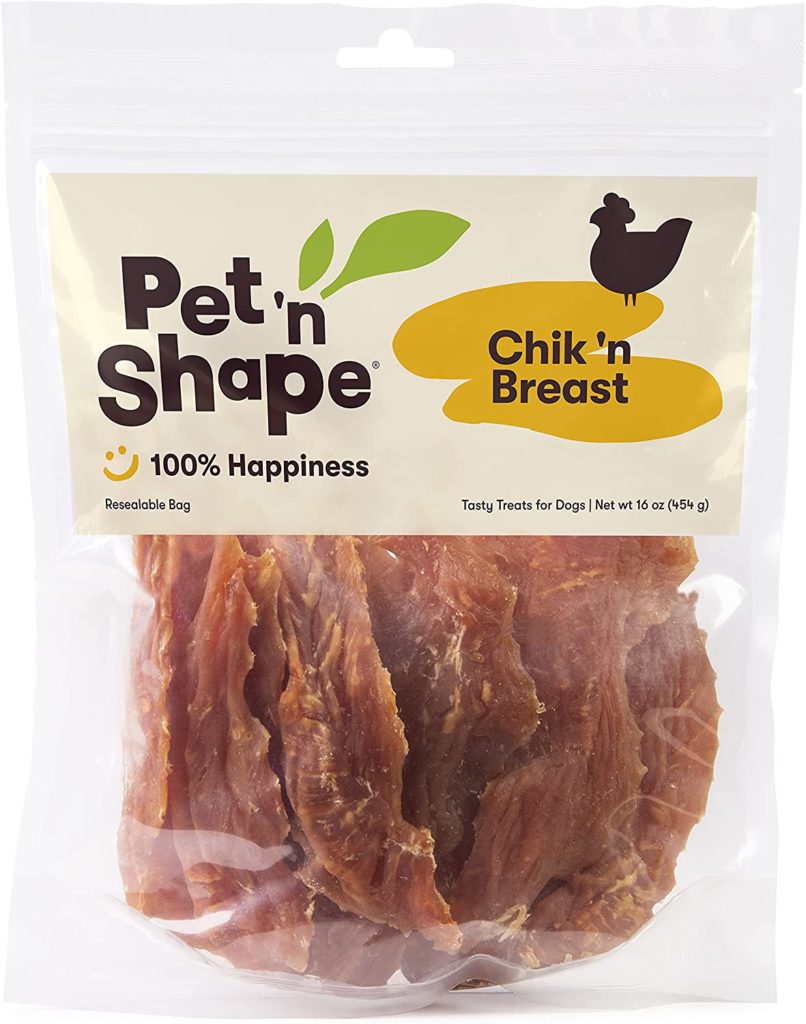 Made from natural beef bone materials, this is one natural chew bone your Pitbull will love. It comes in a pack of 2 hence you pay the price of 1 for 2. It is also designed for large size and extra-large size Pitbulls.
This item weighs just 0.03 lb. hence it can be easily picked up and enjoyed by your dog. Each bone in the pack has been roasted to the desired temperature to bring out the beef flavor. There are no artificial colors, additives, or preservatives included.
This is one chew bone that offers numerous benefits. It cleans the dog's teeth and strengthens the jaw muscles. Easily digestible chew bone with lots of nutritious benefits that will make your Pitbull healthy.
Pros
The natural beef scent attracts your dog quickly.
The pack of 2 bones saves money.
No chemical additives mean your dog's health is protected.
It cleans teeth and exercises your dog's jaw muscles.
Easy to digest.
Cons
Designed for large-size Pitbulls only.
What Are The Benefits Of Purchasing The Best Bones For Pitbulls?
There are several benefits of dog bones you should consider; the most important ones are;
They provide a lot of dental benefits
It provides relief against boredom
Helps to strengthen the bond between you and your Pitbull
They strengthen dental components
They prevent destructive chewing behavior in dogs.
Bones for Pitbulls can help prevent the buildup of tartar that can cause plague in dogs. The texture of the chew bones helps in removing such components leaving your dog with white teeth and fresh breath.
Similarly, boredom can make your Pitbull become so destructive. The dog can chew just anything in sight, including furniture, clothing, and shoes. Giving your Pitbull a companion she can chew on is the best way of helping her get over boredom.
The ideal chew bones can help stimulate adult teeth, especially in teething puppies and that is one of the benefits of such chewable toys.
Chewable dog bones are also known to strengthen many other components of the dental system. It can strengthen the enamel and gum, likewise, it can help in strengthening the jawbones.
Disadvantages Of Bones For Pitbulls
There are quite a several disadvantages that come with buying chewable bones for your Pitbull.
One such disadvantage is that choosing the wrong option can create certain complications. If you choose a chewable natural bone for your Pitbull, her body may react negatively because it is her first time chewing that.
Some natural bones that can be swallowed can cause diarrhea or any other digestive problem.
Beef or bacon that is not processed properly, bleached, or comes with additives and preservatives may cause stomach upset. You must introduce bones to your Pitbull in smaller quantities to avoid problems like this.
Another disadvantage that may occur as a result of excessive use of bones for your Pitbull is that the animal may get addicted to chewing bones and may start ignoring the proper diet.
Younger dogs are mostly addicted to chewing bones than adult dogs, that is the reason why they should be sparingly fed with such toys.
It may also take some time for the Pitbull to eventually stop destructive chewing behavior, hence you should now expect an instant transformation.
Frequently Asked Questions (FAQs) On Chew Bones For Pitbulls
The following are answers to frequently asked questions on bones for Pitbulls;
Can I clean the dog chew in a dishwasher?
No. You must avoid autoclaving or using boiling water to clean a chew bone for your Pitbull.
You must also avoid the use of a washing machine, dishwasher, or microwave oven to clean the chewable toy.
To clean the bone, simply scrub the non-natural bone with a brush under warm water, with a non-toxic detergent, and rinse properly after cleaning. Make sure you inspect the toy for signs of wear before drying.
How long will edible chew bone last?
Edible chew bones are designed to be consumed and different dogs consume them at different rates. The chewing style and jaw strength of a Pitbull will determine how long the chew bone will last.
The lifespan of the chewable bone toy will also depend on the intensity of chewing from your dog. You should feed chewable natural, edible bones once or twice a week to make them last longer.
I bought the wrong chew for my Pitt bull what should I do?
Most genuine chew bone manufacturers offer up to 30 days to return a product if you are not satisfied. Make sure you check this before purchasing any.
You May Like These Posts As Well:
Conclusion
This content has given you an insight into what you should know about choosing the best bones for Pitbulls.
It has also enlightened you on the top products that you should consider right now based on their integrity and popularity. You must always make quality your priority ahead of price.
Though it is important to set out a budget, you need to monitor the chewing behavior of your Pitbull when making your final choice.
You may want to consider more than one product in the beginning until you arrive at the best chewable bone. Please follow this guide to achieve the best possible results.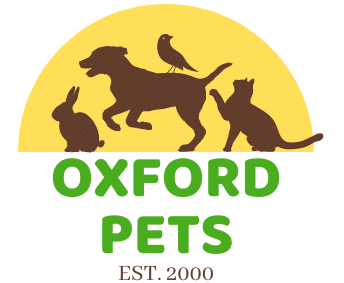 Welcome To The Oxford Family! The Website Is Run And Managed By A Community Of Pet Enthusiasts Who Are Informative About Pets. OLHS Was Initially Founded In 1982 As A Community Dedicated To Animal Welfare. We Are Simply Trying To Keep Their Vision Alive.