Bone broth is good for humans as well as dogs because of its nutritional benefits. It contains collagen that acts as a glue for your canine's healthy body. Therefore, you must know the best bone broth for dogs. As a pet parent, it is your duty to provide the best to your canine. The diet must go beyond the taste and must be nutrient-rich. 
What to Consider When Purchasing Bone Broth for Your Dog?
Here are a few things to consider while purchasing bone broth for your dog-
Health benefits
Bone broth is the result of cooked bones
It is very effective in increasing your canine's appetite.
Bone broth has various health benefits like boosting hydration, good source of calcium, etc.
It can also take care of itchy skin, dull coat, and digestion.
Moreover, it is beneficial for joint health.
Consistency
Consistency of bone broth is also an important thing to consider
It comes in liquid or powder form
Therefore, select the one that suits your lifestyle.
Once you open a liquid broth, you need to frigate or freeze it. You can keep it for 3 days.
You need to rehydrate the powdered broth with water before use
Sensitivity
Most bone broths have limited ingredients. 
Therefore, look for broth that contains ingredients that are non-allergic to your canine
Do not consider it a meal
Bone broth is nutritious and is a good thing in your canine's diet.
However, you must not replace regular meals with them.
We know bone broth has many health benefits but it is not a meal.
It just adds flavour to your canine's regular meal.
11 Best bone broth for dogs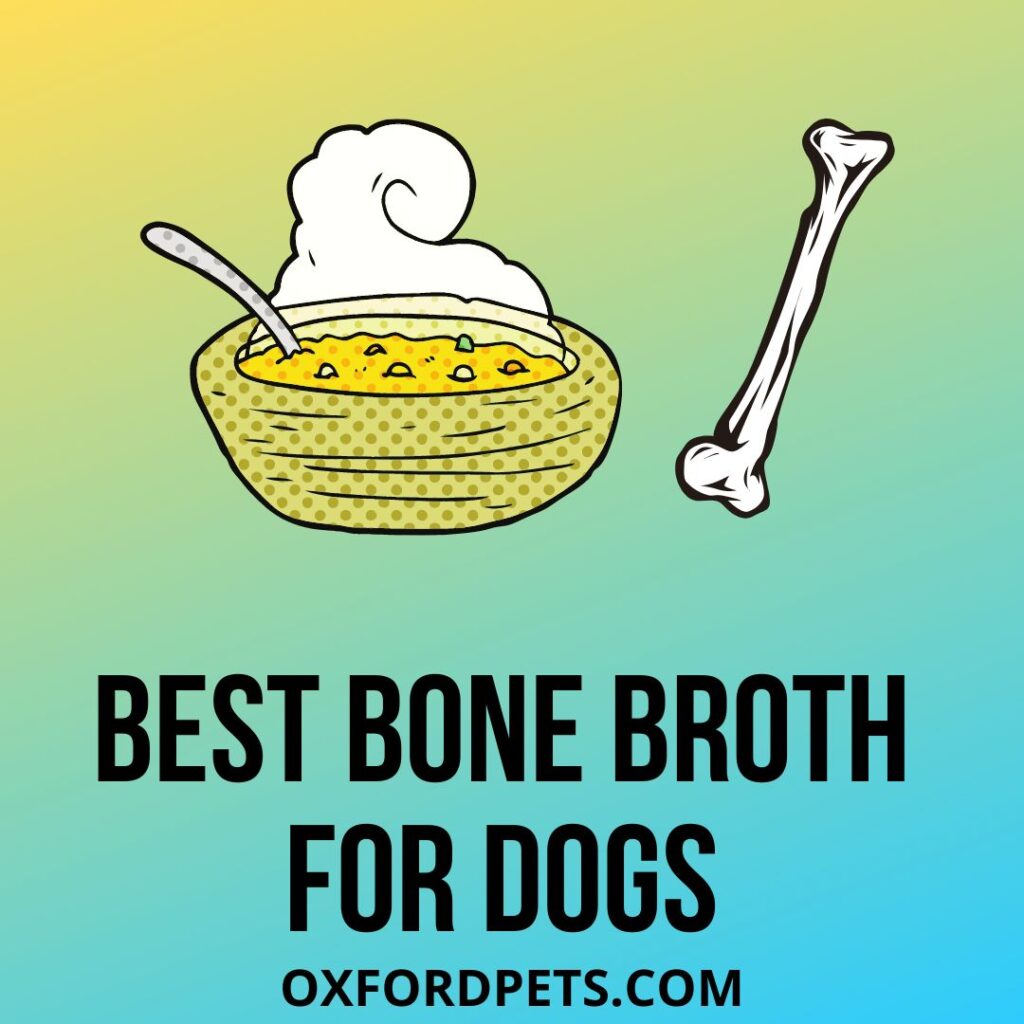 Brutus bone broth for dogs
Brutus bone broth has glucosamine and chondroitin. Both components are good for your canine's hips and joint health of your canine. Therefore, this bone broth is the best for that matter.
Additionally, it contains carrots, sweet potatoes, and turmeric to boost your canine's overall health. This bone broth is dairy-free, gluten-free, wheat-free, and soy-free. Therefore, it is safe for canines with allergies or stomach sensitivities. 
Open farm bone broth
The open farm offers various bone broths for dry food. These broths are collagen-rich and support a healthy immune system, skin, coat, and digestion. Moreover, it is made from 100% human-grade ingredients has no antibiotics, and is global animal partnership certified. 
Castor & Pollux pristine beef bone broth
This brand offers various flavoured bone broths with different grain-free and protein options like turkey, chicken, and beef. It is made from grass-fed beef. It is also one of the bone broths that goes on the fewest calories. This helps you to maximise liquid intake.
The Honest Kitchen Daily Boosters bone broth
This powdered bone broth is perfect if you do not have much storage in your fridge. You just have to mix it with warm water and serve your canine. The turkey and beef option contains meat, pumpkin, and dehydrated bone broth. Moreover, it includes turmeric and dried parsley.
Caru Beef Bone Broth
This is one of the best liquid bone broth options you will find in the market. It includes Water, Organic Carrots, Beef Bones, Organic Celery, Bay Leaves, Apple Cider Vinegar,  Organic Parsley, Black Peppercorns, and Thyme.
Caru beef bone broth is fat-free and contains 97.5% liquid. Additionally, it is very low in calories
Nature's Diet Pet Original Bone Broth
This bone broth contains chia seed, omega fatty acids, collagen, and flax seed. These ingredients help with itchy and dry skin. Moreover, they can make your canine's coat shiner and reduce inflammation in dogs. 
Thai powdered bone broth is made by simmering beef bones and adding human-grade supplements. The best thing is that it does not contain sodium.
Pet MD Bone Broth Powder
You can call Pet MD bone broth powder perfection. It contains glucosamine, and chondroitin, and is gluten and grain-free. Moreover, it is nutrient-rich and is good for canines prone to allergic reactions. 
Solid Gold Human-Grade Bone Broth for Dogs
This bone broth is rich in collagen and helps your canine's joints, tissues, cartilage, tendons, and bones.
Adding it to your canine's diet boosts your canine's tummy health and is the best way to ward off mobility issues. 
Merrick Grain-Free Chicken Broth Topper
Merrick grain-free chicken broth topper contains sweet potato, parsley, turmeric, apple, and bone broth. This makes it easy for canines with food sensitivities. It comes in beef, turkey, and chicken variants. 
Purina Beyond Mixers Chicken Bone Broth
This is a liquid bone broth with vitamins A, E, D, and B-complex. Purina bone broth is made from natural ingredients with no by-products, no wheat, soy, or corn. 
Nulo FreeStyle Bone Broth
Nulo freestyles bone broth provides nourishment and you can serve it directly from the pouch and mixed with your canine. It has collagen and chondroitin sulphate which takes care of your canine's health very well. Moreover, it also contains turmeric, thyme, and basil. 
How Can I Serve Bone Broth to My Dog?
You can serve bone broth in many different ways-
Add a bit to the canine's water to encourage drinking more. 
Serve it as a meal topping for picky eaters. It also adds more nutrition to our canine's meal.
You can pour it on your canine's treat and freeze it for further use.
Use it as a substitute for water in dog food to add additional flavour.
Let it gel and serve a dollar as a side dish
What Experts Say about Bone broth?
Experts in the field give a thumbs up to this highly nutritious and healthy food/treat/mix. Additionally, they say it is safe to add bone broth as a supplementary diet. 
Moreover, the bone broth helps with –
Picking eating
Coat health
Joint health
Liver detox
Skin health
GI upset
Final words
Finally, I would like to say that bone broth can be magical for your canine's health. Therefore, you must feed to your dog with food, treats, water supplements, etc. 
However, it is important to note that bone broth is just a supplement, not a meal. Therefore, it is a bad idea to replace the meal with bone broth. 
I hope you enjoyed the article. I will be back soon with more interesting and informative pieces of writing. Till then stay connected. Thank you. 
Frequently asked questions
What kind of bone broth is best for dogs?
Pork, beef, turkey, and chicken bones are good for canines. However, do not feed anything that is allergic to your canine. If you are making bone broth at home, ask the butcher what cuts of meat have the best bones for broth. Moreover, you can save the bones from meat and use them in the broth. 
Can dogs eat bone broth every day?
Yes, dogs can eat bone broth every day. It is a nutritious and delicious supplement for your canine. Moreover, you should never replace your canine's meal with bone broth. It must be used just as a topper and supplement. 
What is better for dog beef or chicken broth?
I think the chicken broth is better. Providing chicken broth is the best way to feed protein-rich elements to your dog, along with other nutrients. As canines need protein, chicken broth provides all the necessary nutrients.
Can I give my dog any bone broth?
No, all broths are not safe for canines. Specifically, the bone broth that has garlic and onions. Therefore, the first step while choosing a good bone broth is to see the ingredients list.