Wondering, How to Get Rid of Worms in your shower drain? Discovering unwanted visitors at home is definitely not a pleasant experience. However, it is common in many households that every once in a while, you might observe drain flies in your kitchen or bathroom sinks.
Regardless of how disgusted you might feel, these tiny creatures will feed on the decomposing organic matter of your drain and make it their permanent home. However, if you will interrupt, you can control their presence to a great extent. 
Getting rid of drain Worms and Flies is tricky but not at all impossible. There are many easy DIYs and product-based methods that transform your drains into a squeaky clean, and hygienic place all over again.
Prevent Worms and Flies in the Shower or Sink Drain
The only good news about Drain worms and flies is that they can get fixed. Once you discover them at your home, tighten your belt, gather some essentials and get into the mission of eliminating all the gunk from your drain and sink.
The step-by-step guide includes more than 15 tips/ tricks/ methods aiding in eliminating Drain worms and flies.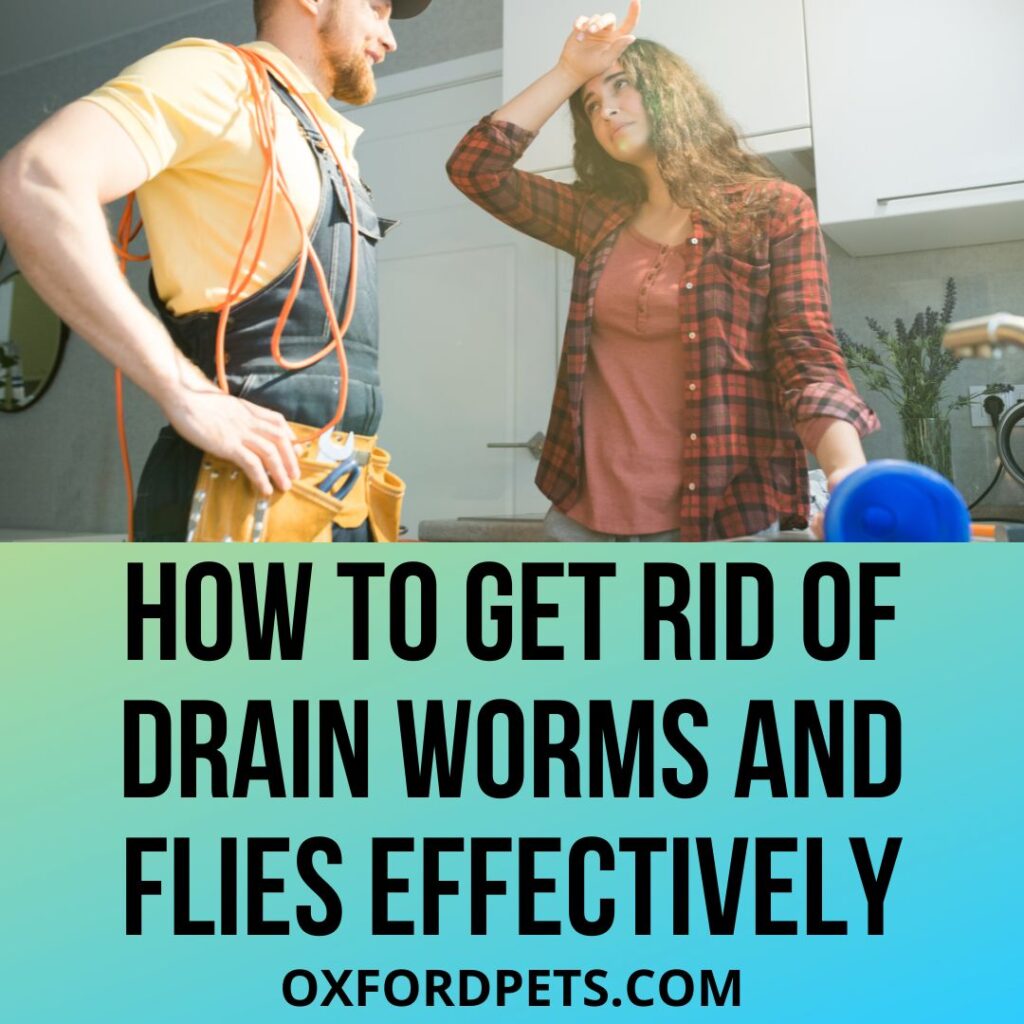 How do I get rid of drain worms (Steps and Process)
Step 1:
Before you begin to control, identify the source of worm and fly breeding in your drain. Such creatures inside pipes and drains often breed/ gather over water and food residue. The fundamental here is identifying and terminating the food and water source.
Step 2:
Next, remove and unclog your drain filters.
Drain filters are the breeding ground for worms, adult flies, fleas, gnats, fruit flies, and seemingly many more house pests. Therefore, you must regularly unclog your drain filters to eliminate their presence. Every 2 to 3 days while you are cleaning your sinks, consider going for a little deep cleaning and save yourself from the crucial gunk build-up.
Step 3:
Clean the U-trap of your drain since it is where maximum gnats congregate quite commonly. Locate it underneath the sink, open it, and clean it thoroughly. 
Step 4:
Take a long stiff brush with harsh bristles and clean down all the gunk inside your drain. A good scrubbing will potentially remove any build-up or hidden worms and flies from every nook and corner.
Step 5:
Next, take a bowl and mix products that make for a great cleaning combination. Products like Borax, Baking Soda/Power, Vinegar, Lemon Juice, Cornstarch, Castile Soap, Salt, Toothpaste, Hydrogen Peroxide, and even Isopropyl Alcohols make up standalone or combination cleaning products. Now, for instance, mix Baking Soda with Vinegar/ Lemon juice or pour alone Hydrogen Peroxide inside the drain.
Leave it for about 3 to 4 hours or even overnight. Next morning, pour boiling hot water all over the drain, and you will observe some kind of chemical reaction happening there. This, though, will probably clean your clogged drain from worms, flies, and all kinds of gunk.
(TIP: Repeat this step every 4 to 5 days to maintain a clean and unclogged drain).
Step 6:
Invest in a Plumbing snake, and it will help you remove all the grime and gunk even from the deepest of your drain pipe. Several Plumbing Snakes are available both online and offline, and these devices are extremely handy.
For quick cleaning action, simply insert the coil into the drain pipe, twist it around and pull it out. Doing so will not only destroy all the breeding grounds but will also remove all the clogged hair and debris efficiently. 
Step 6:
Use a plunger and unclog your drain, especially if you commonly notice worms and flies. Quick action with a toilet plunger will ensure dismissing all those organic matters that support the breeding of worms and grime. 
Step 7:
Use duct tape to seal the drain and trap those unwanted flies. While you leave duct tape over your drain for a night, it will catch all those flies who would try to merge during the duration. Ensure drying the sink before you stick the tape to the drain mouth. Follow this trick during dark hours and at least for a week.
Step 8:
For drains that are less under use, pour in some oil, and it will prevent the infestation of worms and flies. Mineral oil, by covering the drains' surfaces, makes it difficult for adult flies to lay eggs. 
Step 9:
Remove excess moisture from your drain and ensure keeping it dry most of the time. Household pests commonly thrive in damp environments, and therefore ensuring a dry and clean surface/ drain will remove worms and flies. Apart from cleaning, you can also use products like dehumidifiers or ensure a ventilation system.
Step 10:
Try using Insect Growth Regulator. It is basically a pesticide that mimics hormones in young insects and disrupts their reproduction and growth process. They can prevent egg-hatch and molting and thus helps in getting rid of worms and flies from the drain. 
Instead of products like Insect Growth Regulator, you can also choose from the number of Insecticides available on the market.
Step 11:
Use liquid dish soap spray, especially if they contain Borax. Since such products have insecticidal properties, they will probably kill flies after 1 to 2 tries.
Step 12:
Pour in some Drain cleaner or clod remover, and it will eliminate traces of worms and flies as well.
Diluted liquid castile soap and pour it into your kitchen drain every other day. 
Step 13:
Pour some essential oils mixed with lukewarm water into your drain. Pick oils from a range of options, including Peppermint oil, Lemongrass oil, Citronella Oil, Eucalyptus Oil, Tea Tree Oil, etc.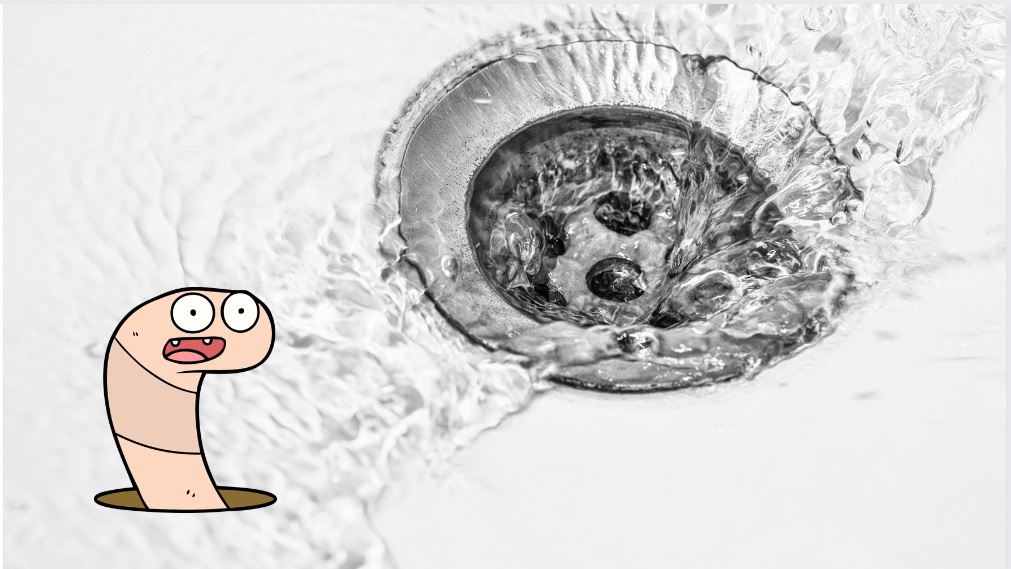 How to identify drain worms?
Drain worms are flies' larvae and are easily seen in your sink, filter, sewer, and other areas where water is often clogged.
They aren't usually longer than 1/6 inches and have dark grey or black, fuzzy bodies with long antennas. 
You will find drain organisms in your kitchen or bathroom if you haven't cleaned your house in a while.
Further, these worms and flies will grow in the gelatinous slime and eventually accumulate in wet spots like drains, pipes, etc.
What Kind of Black Worms Would Invade Sink?
Black worms are the larvae of the drain fly that survive off organic matter, mineral residue, and soap scum.
They are initially birth in dark cream or brown color but eventually transform into black. 
Do drain worms smell?
Yes, if there are multiple flies and worms in your drain, they will smell puckish. In the beginning, you won't notice their presence or smell when pests are less in quantity.
However, eventually, as their number grows, there would ouze out a very foul smell that even many room fresheners can't overpower.
Do drain worms bite? Can drain worms get in your body?
Drain worms are completely harmless, no matter how good or bad they look.
Unlike other pests, drain worms would neither bite nor they will transmit blood-borne diseases to humans.
Drain worms are simply annoying, would smell weird, and can even clog pipelines and drains.
Why do I have little worms in my shower?
If you have little worms in your shower, it is because there's either standing water or any food source nearby. 
Wrapping up…
This was all about tips and tricks that will help you eliminate worms and flies from your drain.
However, if none of them helps, it is time to induct a pest control operation at your home.
Doing so will clean not only your drain and pipes but also other areas of your home with common household pests.