Tylan is a powerful macrolide antibiotic and bacteriostatic feed additive approved and accepted by poultry owners and experts all across the world. It belongs to the same family as Erythromycin and is commonly used for treating inflammation of the gastrointestinal tract and diarrhoea. 
Tylan 200 is a versatile drug and comes in handy for a range of house pets and farm animals. It promotes the growth of beneficial bacteria and stagnates the harmful/deadly ones.
Tylosin (Tylan), however, keep the immune system strong by not eliminating it but stagnating for different reasons.
The medicine comes in various forms, including powder, injectable, oral liquid, and pills. However, if not used the right way, it is an antibiotic, and that can cause more harm than good. 
Farm animal owners must use Tylosin (Tylan) in a very specified amount. However, it may come in handy for multiple preventative medical measures, given one picks the right mg base and the correct dose.
Dosage For Tylan 200
Tylosin is an effective antibiotic that comes under the brand name Tylan. This broad-spectrum macrolide possesses a similar mechanism of action to Erythromycin. However, the dosage for the same depends on how Tylosin is medically administrated.  
For instance,
Suppose you use Tylosin orally, taking 22.6mg/lb. once every day is recommended.
If you inject Tylosin via a needle, then 6.8-13.6mg/lb that too every 8 to 12 hours is recommended.
Similarly, while using it with drinking water, consider 50mg/lb once every day.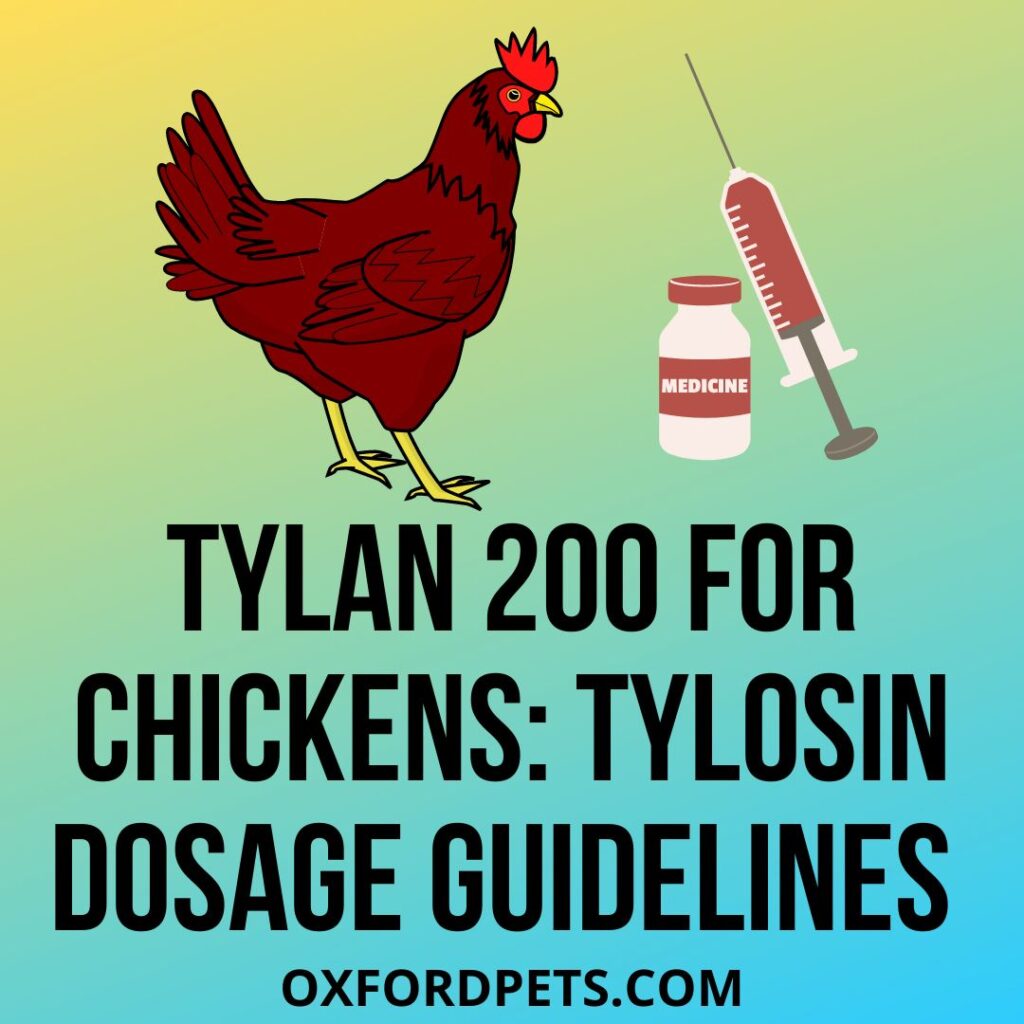 Tylan 200 Injections- How Much?
Tylan 200 is primarily given best through a soluble injection. Injecting the medicine might not be the best choice economically, depending upon the number of chickens one has on their farm.
However, injecting is always a better choice since, if given orally, Tylosin passes through the digestive system too quickly, becoming slightly less effective.
While injecting the Tylan 200 medicine, pierce the injection into the muscle and not under the skin or any blood source.
Moreover, Moving the site of injection daily is essential since Tylan regularly at one specific place can lead to muscle burn.
Especially never repeat the shot at the same place for the following 2 to 3 days. Amongst meat birds, you might even notice a blue or black mark after continuously injecting medicine at the same place.
Recommended Dosage for Tylosin Injectable- 6.8-13.6mg/lb.
Tylan 200 For Chickens Oral Dosage
The right amount of Tylan 200 dosage for your chicken depends upon the stage of infection and flock size. 
The Oral recommended dosage of Tylan 200 Chicken is 22.6mg per lb of body weight (50 mg per kg of body weight) once daily.
The dose may increase to 30 or even 40 mg/lb depending upon the acuteness of infection/ disease. 
How often should Tylan 200 be used?
Tylan 200 is a preventive antibiotic and must be used periodically for chickens.
However, this medication can simultaneously be used for treatment if the infection is already administrated inside the body.
However, keeping the dosage according to veterinarian prescription is highly recommended. 
Benefits of using Tylan 200
Tylan 200 is a cost-effective antibiotic medicine used for treating pneumonia, foot rot, calf diphtheria, bacterial infection, respiratory disease, metritis, and many other common issues. It comes in the ready-to-use dose and is supplied in different ml vials. 
Tylon 200 not only treats the infection but also builds bacterial antibodies, which further help in preventing infections from emerging and spreading. It helps in preventing mass mortality events.
When farmers ignore bacterial infections and respiratory diseases, these conditions can lead to health complications.
This situation even leads to health complications amongst humans, ideally when they consume infected meat.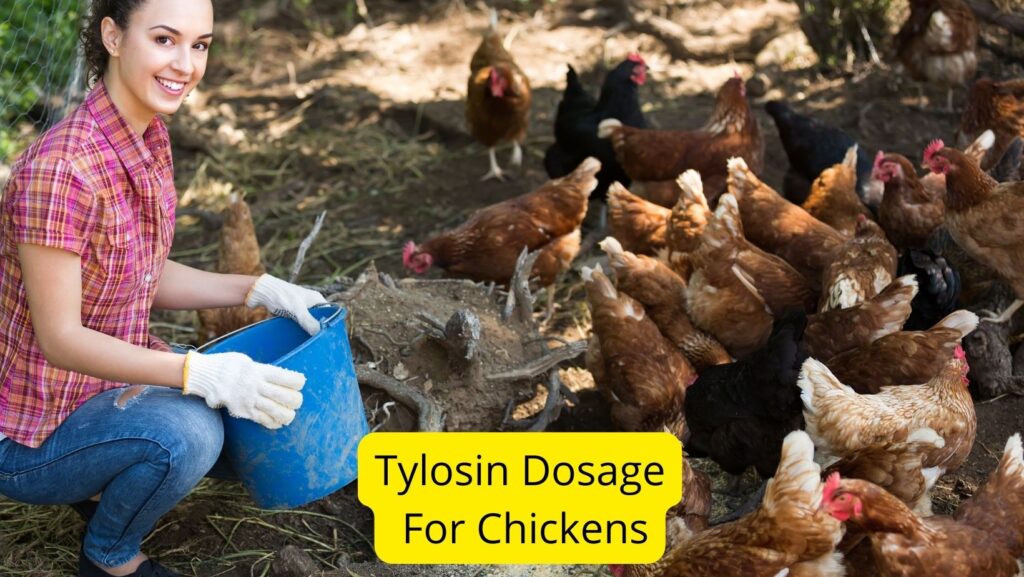 Tylan 200 For Chickens Egg Withdrawal
As a thumb rule, it is better to avoid eating or selling any eggs for 7 to 10 days after you give Tylan 200 to your Chickens.
Though the manufacturers do not restrict egg usage or there's nothing severe about the case, it still isn't worth taking a chance. 
Chicken farm owners usually boil/ cook and feed those initial eggs back to the flock only.
Until the trace of medication is present there, the birds can benefit from extra protein and calcium present in the eggs and its shell.
And since the birds are sick (as they are injected/ given Tylosin), they will receive a higher (the required) amount of protein. 
Amoxicillin + Tylosin For Chickens
Amoxicillin + Tylosin is a super strong combination and a trusted antibiotic for gamefowls. It is available under a trusted antibiotic brand, AMTYL 500.
The medicine contains components that are effective against the integumentary system, urogenital system, and respiratory system of gamefowl birds. 
Tylan 50 For Chickens Dosage
Tylan 50 is an FDA-approved antibiotic medicine that helps in the treatment of various diseases in chickens and cattle.
In chickens, it is often used to treat Respiratory problems that appear with common symptoms like bubbly and swollen eyes, breathing, mucus, and raspy voice. 
The recommended dosage of Tylon 50 for chickens is ½ ml for a small chicken under 5 lb, 1 ml for a chicken 5 lb, and ¼ ml for a bantam once or twice a day for up to at least 3 days.
Tylan 200 For Turkeys Dosage
Tylan 200 is a popular antibiotic medicine that comes in handy for Mycoplasma gallisepticum S6 in Turkeys.
It also aids in reducing the level of infection and any stress related to it. 
The recommended dose of Tylan 200 for Chicken and Turkey is 0.5 g per litre.
Tylan 200 For Pigeons Dosage| Tylan 200 For Ducks Dosage
The recommended dose of Tylan 200 for Pigeons and Ducks is 0.5 g per litre.
Though for injecting the medicine via a syringe, the ideal dose for pigeons should be 0.35g per kilo of bird's weight. 
Difference Between Tylan 50 And Tylan 200
The only difference between Tylan 50 And Tylan 200 is the proportion of medicine. 
1ml of the 50 (50mg Tylosin per 1ml) = 0.25ml of the 200 (200mg Tylosin per 1ml).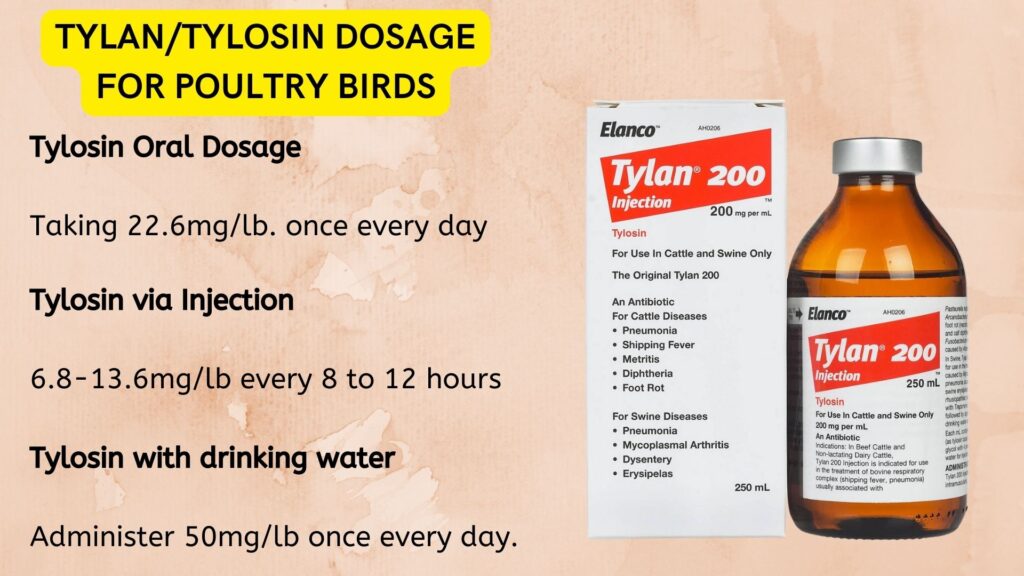 Hen died after Tylan 200- Is Tylosin Risky?
Tylosin is an antibiotic that, if given in the wrong dosage, can prove risky. However, it is less likely that a Chicken Hen could die right after ingesting Tylan 200.
It is only possible in circumstances of overdose, misdiagnosis, or if the bird is already suffering from some kind of serious illness. Wrong medication or the wrong amount of medication can rupture a heart base aneurysm at any time.
Wrapping up…
Tylosin (Tylan 200) is an effective and frequently used antibiotic medicine for Chickens and other poultry and cattle animals.
However, since it is allopathic medicine, it is important to use it only under expert prescription. Overdose of Tylosin or usage for the wrong diagnosis can lead to various irreversible damage to your farm birds.