Do Dogs Really Need Their Nails Trimmed? Well, Trimming Nails isn't just important for humans but for dogs as well. To protect both the owner and the animal, it is important to clip/ trim the nails of your pet dogs regularly. Not just that, but small nails amongst dogs also lead to pet's health and hygiene.
Furthermore, the procedure is simple and hassle-free if done correctly. Though with aggressive and sensitive dogs, nail trimming/ clipping can come out as a big challenge.
This article today isn't just about how to cut your dog's nails, but it also explains those positive reinforcement and desensitization techniques that every dog owner might need to know. Especially with dogs who show signs of serious distress or aggression, the information below might help you.
Why do Dogs Need Their Nails Trimmed Regularly?
Today in the culture of suburban and urban apartment pets, nail trimming is an essential responsibility for dog owners.
Apartment dogs who walk mostly on soft surfaces or have seen les
s outdoors except lawns need regular nail trimming.
Such dogs have an absence of floor friction in their daily schedule, which otherwise would have trimmed their nails naturally.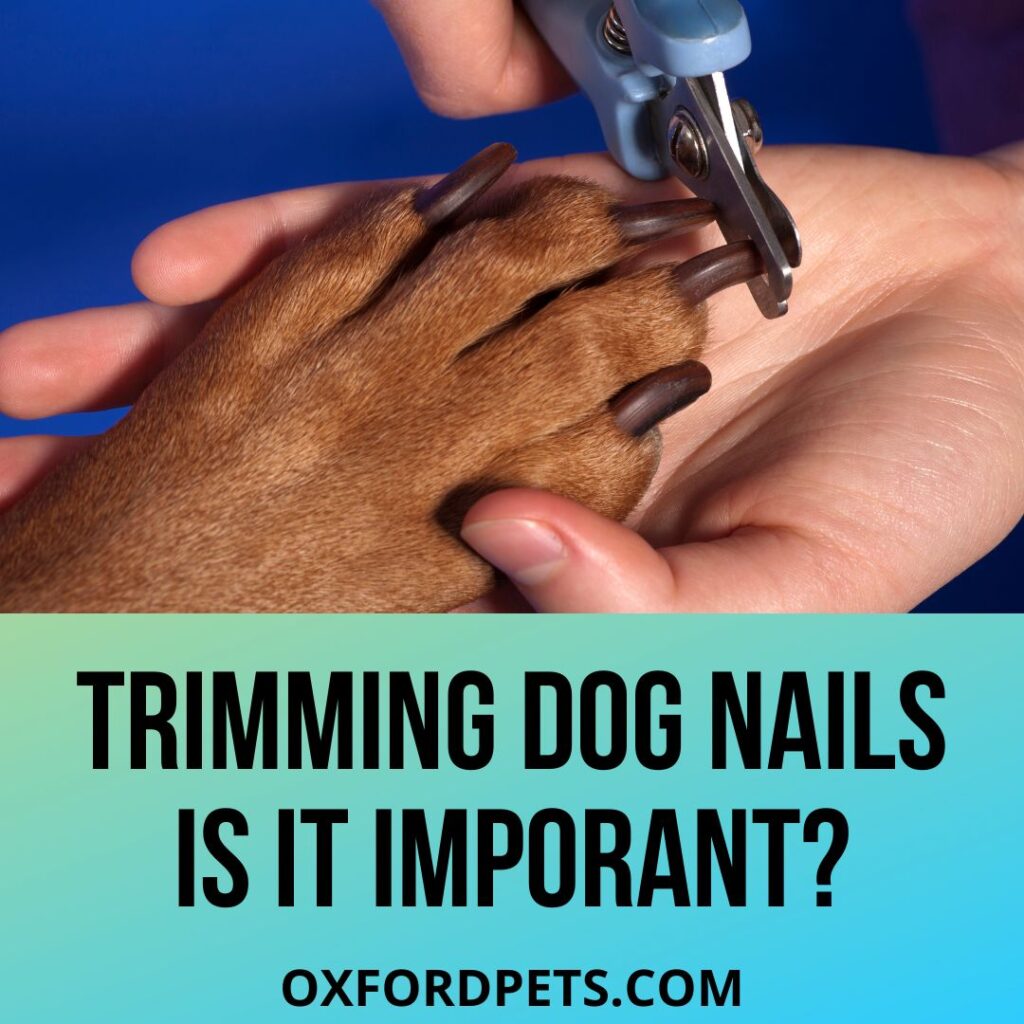 The Importance of Trimming Dog Nails
Do I Need To Clip My Dogs Nails Regularly? What if I don't?
Yes, Dogs need their nails clipped/ trimmed regularly, every 3 to 4 weeks on average. However, clipping should be done even more frequently or slightly later, depending upon the need of the hour.
Once you find your dog's nails making noise on the floor, remember it's time to trim them right away. When the dog is standing, his/her nails should barely or not at all touch the ground.
Long, unkempt nails not only look unattractive, but they can also damage your dog's physical fitness and floor, of course. 
But what if you don't trim your dog's nails regularly?
Most dogs trim their nails naturally due to friction while walking, some need regular grooming. 
When dogs' nails aren't clipped for a long time, they will curl and grow into their skin and paw pads. This can further result in infection and pain.
Long nails upon hanging on something can also damage the object and injure the dog. 
Long uncut nails of dogs can harm humans while handling. Since long nails have pointy tips, they may cut the skin, and bleeding can prove difficult to stop.
Long dog nails can damage major kinds of furniture, floor, and upholstery.
Long nails lead to collecting bacteria and fungi from their environment and transferring it to the dog's mouth.
Does Walking Your Dog Naturally Trim Their Nails?  
Yes, walking your dogs on rough surfaces, for instance, Asphalt, can cut down the number of trimmings they need. However, it won't necessarily trim a dog's nails, just like what is done manually while grooming. 
Does Walking Your Dog On Asphalt or Rough Surfaces Trim Their Nails? Walking on harsh surfaces like concrete and pavement can naturally wear down a dog's nails. The friction on these created while walking manages to clip the overgrown tips.
That is why dogs who spend more time outdoors have nails that are short and blunt. In contrast, dogs who spend more time indoors have long pointy nails instead.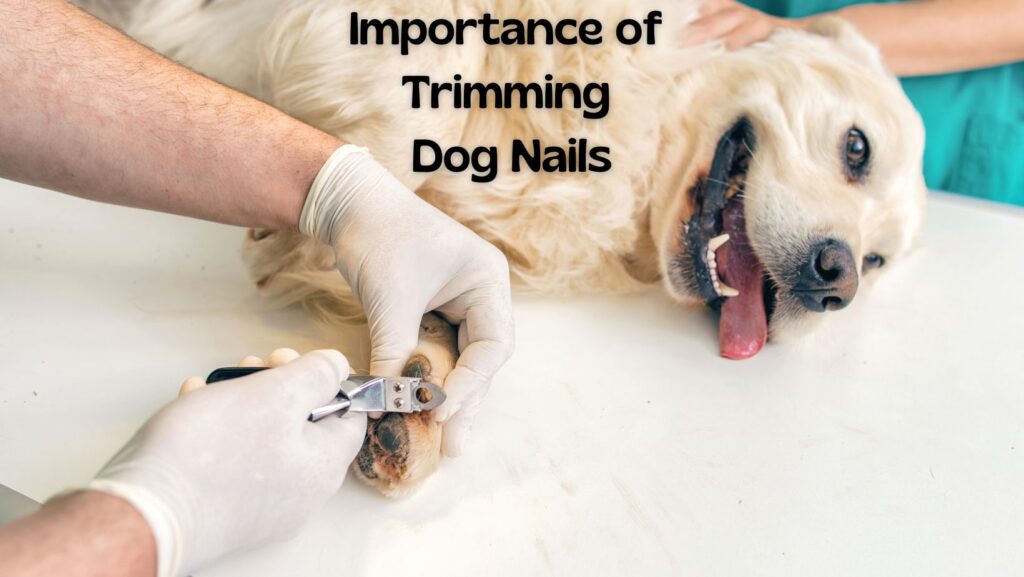 Do You Have To Cut Dogs Nails If You Walk Them?
Yes, walking on rough surfaces isn't just enough, and cutting/ clipping a dog's nails regularly are, therefore, important. Walking doesn't perform the job sufficiently or rightfully.
Also, if your dog is often on wet soil and sidewalks, there are fewer chances that concrete-based friction is contributing to any friction. That is why you check your dog's nails every 2 to 3 weeks and trim them as and when required.
The Basics of Trimming Dog Nails
Dogs who have been getting their nails trimmed from the first or second week become habitual of the process.
However, a lot of them who begin it, later on, might develop an aggressive attitude while getting their nails clipped. However, since your goal is right, do not despair.
Dogs' nails, which are technically called Claws, are made of a tough protein called keratin.
Dogs nails are different from humans since they consist of two layers, unguis, and subunguis.
The former is a hard outer covering made up of keratin fibre. It runs perpendicularly towards the nail growth direction over the soft and flaky subunguis. Unguis gives a dog's nail a characteristic that develops that unique curl later. 
Step-by-step process of ' Trimming your dog's nails perfectly'?
When your dog is in a relaxed mood, pick his paw softly but firmly and remove all the fur from the way of the nails. 
Now using a nail clipper, trim the tip of the nail straight across and make sure you include the declaws.
However, avoid trimming the curve of the nail, which is also the pink area of the nail, or you will end up punching the blood vessel. 
Trimming Dog's Nails- 9 Helpful Tips and Tricks
Introduce your dog to the nail trimmer/ clipper and allow him to sniff it properly first. 
Try clipping the tiniest part of their nail and give the dog a treat. Even if the dog is behaving comfortably, do not go through all nails in one single day. 
Always hold the nail clippers at a 45-degree angle.
Form a positive association with your dog before you begin with the nail trimming process.
If your dog has white nails, stop before reaching the nail's pink part.
However, if your dog has black nails, clip/ trim until you no longer see a whitish interior, though again, stop before the pink part.
Always start nail clipping at a very young age, and it will reward you once your dog grows older.
Choose the right nail trimming tool.
Make sure you have a bright light source, or you will end up hurting the dog. Also, be patient during the process.
Always keep blood clutter at home if you trim your dog's nails by yourself.
Extremely Overgrown Dog Nails Problem
Extremely overgrown dog nails will curl into the paw. No matter how scared you are, you can't leave your dog's nails to grow more than a certain length.
Not only is it unhygienic, but overgrown nails can also lead to different physical problems and discomfort among dogs.
For instance,
Extremely Overgrown Dog Nails can lead to instability while walking. It may also result in sliding into the ground and injuries such as joint luxation or a hairline fracture. 
Big overgrown nails can result in gingerly or limping while walking.
Overgrown nails can lead to multiple infections and fungal deposits.
With long nails, your dog's walk will look as if he is tip-toeing.
Extremely Overgrown nails of dogs can also lead to sounds of screeching and floor damage.
Nails that are too long will possibly scratch you as well.
How To Dremel And Grind Overgrown Dog Nails?
For Dremel or Grinding overgrown dog nails, firstly, pick the right tool. 
Now hold the dog's toe firmly, remove all the hairs and lead them towards the back, and begin grinding with the smallest part. 
Next, keep grinding across the edges of the nail and ensure you are smoothing them. 
TIP: Holding the nail grinder higher will allow you to attain better results.
What Happens If A Dog's Nails Are Never Cut?
Neglecting nail trimming and grooming in dogs can lead to some serious health problems.
For example, when your dog's nail begins overgrowing, they can cause deformed feet.
Or over an extended interval, overgrown nails can also lead to injuries and cracks. 
Best Nail Clippers for Dogs 2022
Gonicc Dog & Cat Pets Nail Clippers and Trimmers
Dudi Dog Nail Clippers and Trimmer – with Quick Safety Guard
HAWATOUR Dog Nail Clippers
 Allstar Innovations PetiCare LED Light Pet Nail Clipper
Sale
Sale
Dudi Dog Nail Clippers and Trimmers- with Quick Safety Guard to Avoid Over-Cutting Toenail- Grooming Razor Sharp Blades & Nail File for Small Medium Large Breeds
🐕 RECOMMENDED BY PROFESSIONALS: The Dudi pet nail clipper is an ergonomically designed Powerful and easy-to-use pet grooming tool, the nail trimmer is recommended by animal trainers, veterinarians, professional pet groomers and thousands of satisfied customers as the best pet nail clippers on amazon to use for small, medium and large dogs.
🐕 SAFETY STOP SERVES AS QUICK SENSOR: The dog grooming clippers is provided with a safety stop blade that greatly reduces the risk of cutting nails too short and injuring your dog by cutting in to the quick. These dog and cat nail clippers are safe, sturdy & strong.
🐕 LOCKS CLOSED WHEN NOT IN USE: Your know your clippers are always in safety mode when you aren't using them - just squeeze the handle and slide the lock into the safe position. Curious kids stay safe.
🐕 USER FRIENDLY DESIGN: The professional dog nail clipper is designed to keep you comfortable while grooming your pet at home, it features comfortable, easy grip, non-slip, ergonomic handles which stay safely in place in your hands to ensure ease of use and prevent accidental nicks and cuts.
🐕 100% LIFETIME WARRANTY: You and your pets are going to appreciate how easily nail trimming goes now - No More Struggles. And the best part is the full lifetime warranty that comes with it.
HAWATOUR Dog Nail Clippers, Professional Pet Nail Clipper & Trimmers with Safety Guard to Avoid Over Cutting, Grooming Razor with Nail File for Medium and Large Dog and Cat, Red
Sharp Blade Edges: It only takes a gentle squeeze to cut the nail. This promotes precise cutting for comfort and health. It also makes you trim faster with little effort and produce smooth edges, therefore, preventing damage to your furniture and floors. With its high-grade stainless steel holding the sharp edge, clipping your dog's nails is effortless and never scary for you as well as your pet. It also comes with a nail file in the package to allow you to polish sharp nails to perfection
Safety Lock Mechanism: You can close its locks when not in use for safety purposes. This mechanism enables these clippers to lock with its blades closed. This is a safety feature prevents accidental cuts and damage to the blades by other items kept together with. In order to keep it safe with curious kids, you just need to squeeze the handle then slide its lock for safe positioning
Secure Grip Rubber-Coated Handles: One does not need excessive hand strength to operate these clippers. This is because of its handles which are well shaped to comfortably fit your fingers. The anti-slip rubber coating makes a super-tight and tiring holding grip not necessary. What you need is simply a normal grasp as you add apply pressure worrying not about sliding, slipping or hurting your dog
High-Quality Stainless Steel: It is made of top grade stainless steel therefore very durable. It is for this reason that these clippers don't rust, scratch or bend. These blades stay sharp always
Trims your dog's nails safely: Its semi-circular blades enable you to make safe and precise cuts. When your dog's nail rests in these blades, you precisely see where you are cutting. No guesswork. It's design for medium and large dogs and cats.
Sale
Allstar Innovations PetiCare LED Light Pet Nail Clipper- Great for Trimming Cats & Dogs Nails & Claws, 5X Magnification That Doubles as a Nail Trapper, Quick-Clip, Steal Blades
NEW & IMPROVED PETICARE NAIL CLIPPER – The illuminated nail clipper. The safe & easy way to trim your pet's nails! The original As Seen on TV now with improvements! Improvements to the handles, lights, & nail magnifier/trapper.
4 SUPER-BRIGHT LED LIGHTS- Illuminates light colored nails' delicate bloodline, so you can trim in the right spot! Lights have been relocated to increase visibility of your pets quick in their nail. For dark nails, be sure to look at the dark nail head-on, once you see a small dark circle, this is as far as you should go.
MAGNIFICATION & NAIL TRAPPER - 5X the magnification & doubles as a nail trapper. Nail trapper helps catch nail clippings for easy cleanup!
PRECISION CUTTING BLADE – Made of hardened steel, the blade cuts nails QUICKLY & ELIMINATES the struggle! Super comfortable grip on the unit makes it easy to hold.
GREAT FOR CATS & DOGS! Invented by pet lovers with the help of veterinarians! Bonus- Extra blade included
Best Nail Grinder for Dogs 2022
Casfuy Dog Nail Grinder Upgraded – Professional 2
Wnoke Dog Nail Grinder – Pet Nail Grinder
Dremel 7300-PT 4.8V Cordless Pet Dog Nail Grooming & Grinding Tool
Bonve Pet Dog Nail Grinder, Upgraded Cat Dog Nail Trimmers
LuckyTail Dog Nail Grinder Trimmer – Professional Quiet 2-Speed Rechargeable
Sale
Casfuy Dog Nail Grinder Upgraded - Professional 2-Speed Electric Rechargeable Pet Nail Trimmer Painless Paws Grooming & Smoothing for Small Medium Large Dogs & Cats (Dark Blue)
Safe, Effective & Precise Trimming: This dog nail grinder uses an advanced diamond drum bit grinder to deliver the safest, most comfortable pet claw grinding. Recommended by veterinarians and pet grooming professionals, painlessly and precisely trim your pet's nails anywhere.
Advanced 2-Speed Switch & 3 Grinding Ports: The trimmer features an adjustable, low-high speed design powerful enough support heavy grinding. And with 3 ports to match small, medium, or large pets, simply choose the appropriate port and speed depending on your pet's size and nail hardness.
Super Low Noise & Vibration: Many pets get stressed by the sound and vibration of pet nail grinder. However, our electric pet nail grinder uses a superior motor with super-quiet technology that produces a very low vibration. Help sand pets claws faster and easier.
Rechargeable & Portable: The cordless dog grinder is rechargeable and has an indicator light on the bottom that turns on when charging. Each grinder has a built-in battery that lasts 2 hours after a 3-hour charge. The lightweight and ergonomic body design also makes it easier to handle in your right or left hand.
Considerate Customer Care: Our products experts teams are available 7 days a week. Response in less than 24 hours. Contact us at any time. We will help you at our best. Casfuy hopes pets and their people live happily together.
Wnoke Dog Nail Grinder – Pet Nail Grinder for Small, Medium, and Large Dogs with Nail Clippers Set – Low-Noise Dog/Cat Nail Grinder with LED Light – Rechargeable Cordless Pet Nail Grinder, Black
Professional Pet Nail Grooming: Whether you are a professional pet groomer or you prefer to trim your pet's nails at home, the WNOKE electric dog nail trimmer is what you need! Our dog grooming supplies are professional-grade tools that ensures a quick, safe and effective nail trimming without causing any discomfort for your pet!
User-Friendly Design: This pet nail grinder for dogs features a LED light for easy and precise trimming as well as 3 speed gears that can adapt to small, medium and large pets nail trimming needs. Our dog nail grinder is also equipped with a dust collection cap to capture the debris and ensure safe trimming for you and your pet.
Comfortable and Safe for Pets: The cat nail grinder is designed with your pet's comfort in mind, featuring a quiet operation and low-vibration levels that won't startle the pets, so they can remain calm and seated while you perform your trimming undisturbed.
Portable Rechargeable Design: The WNOKE dog nail grinder quiet has a compact, ergonomic design for better control and precise trimming. Also, it is equipped with an USB rechargeable battery and has a cordless, portable design that provides complete flexibility.
What You Get: The dog trimmer for grooming is made with high-quality ABS material and a high-grade diamond grinding wheel for safe and effective grinding. This professional set also includes dog nail clippers and a dust collecting cap, USB charging cable and user manual.
Dremel 7300-PT 4.8V Cordless Pet Dog Nail Grooming & Grinding Tool, Easy to Use, Rechargeable, Safely Trim Pet & Dog Nails , Grey , Medium
Pet nail groomer and grinder - This rotary tool is a pet nail groomer and grinder that offers a safe, effective, less stressful alternative to using clippers on your dog's nails. Material: High density plastic. Battery chemistry: Nickel-Cadmium (NiCd).
Variable speed - Two rotation speeds let you safely and carefully grind the nails of your dog or pet in stages. Battery-powered device uses a 60-grit sanding drum to comfortably trim nails in a manner that is designed to be harmless and humane.
Lightweight - The lightweight, cordless rotary tool works with two speed settings 6,500 and 13,000 RPM and an array of Dremel sanding drums and bands to give you full control even at the fastest speed.
Accessory change - In order to insert the bit into the tool, the user must first unscrew the top in order for the collect to expand, and once the bit is inserted, the user would then tighten the top to secure the bit.
Sale
Bonve Pet Dog Nail Grinder, Upgraded Cat Dog Nail Trimmers Super Quiet Dog Nail Clipper with 2 Grinding Wheels, USB Rechargeable Pet Nail Clippers for Small Large Cats Dogs Breed Nails
✨【Low Noise & Safe】: As a high quality dog grooming supplies, this electric dog nail grinder uses a superior motor with whisper-quiet technology, the noise when operating is within the 50db, it will not scare your pets when trimming their nails, to keep pets calm then help sand pets claws faster and easier. The dog nail clipper is safer, reducing the risk of clipping the claws too short or hurt pets.
✨【2-Speed Switch & 3 Grinding Ports】: This dog nail trimmer comes with advanced 2 adjustable speed (7000-8000RPM) & 3 grinding ports, nail grinder is widely applied to small, medium, large pets, simply choose the appropriate port and speed depending on your pet's size and nail hardness. Ensure smooth & quick grinding for your cats dogs nails.
✨【USB Rechargeable & Long Lasting Operation】: The cordless dog nail grinder recharge by USB with indicator light, make it more convenient. 4 hours charging time with up to 8 hours using time, the new stable charging system greatly improves nail files's lifetime, Bonve Pet dog nail clipper is perfect for pet grooming store or home using, horses grooming supplies.
✨【Effective & Precise Trimming】: Powerful dog nail files with advanced diamond bit grinder and motor, it can provide faster, more precise, and more comfortable pet claw grinding than manual dog nail clippers, horses clipper. Recommended by veterinarians and pet grooming professionals, painlessly and precisely trim your pet's nails anywhere, is a superior pet supplies.
✨【Easy to Use & Portable】: This pet nail grinder is easy to grip in your hand, and it creates a smoother, rounder nail tip than other dog nail clippers without any particular effort. The light weight and ergonomic body design also make it easier to handle in your hand, dog nail trimmer also allows you to carry it with you, which is very convenient.
Sale
LuckyTail - Dog Nail Grinder - Small & Large Dogs - Silent Operation (30-50 dB) - Powerful 2-Speed Motor (8,000 & 10,000 RPM) - LED Light - Rechargeable - Pet Grooming Kit - Dog Nail Trimmers
Patented Design: Innovative and unique grinding device for painless and smooth claw care. The only product that pets aren't afraid of. Built with an advanced diamond bit grinder that delivers superior control and precision thru 3-way grinding. A Portable and lightweight design makes it easy to handle.
Powerful 2-Speed Switch: Two-Speed Power offering 8,000 RPM and 10,000 RPM makes it one of the most powerful motors in the market that can be adjusted from low to high speed to suit your pet's needs.
Whisper Quiet: Our dog nail grinder is ultra-quiet, ensuring that your dog stays calm and relaxed during the grooming process. With the help of our silent and powerful motor, you can quickly grind down your dog's nails with ease.
Ultralight Vibration: The cordless grinder does not produce any significant buzzing or vibration, creating a smooth and stress-free experience for your pet.
Portable & Ergonomic: LuckyTail fits comfortably in your hand and is easily rechargeable via a USB port. Each grinder has a built-in battery that lasts up to 4-hours on a single charge.
Wrapping up…
Trimming your dog's nails at home takes a lot of patience and a bit of practice.
Some dogs wear their nails down and won't require such regular clipping, but pet owners have to be very frequent with some of them. 
Now since you know how important it is to trim your dog's nails, we hope you will continue regularly with the process.
However, if it is still a difficult task for you, options for taking help from a professional dog groomer are always available.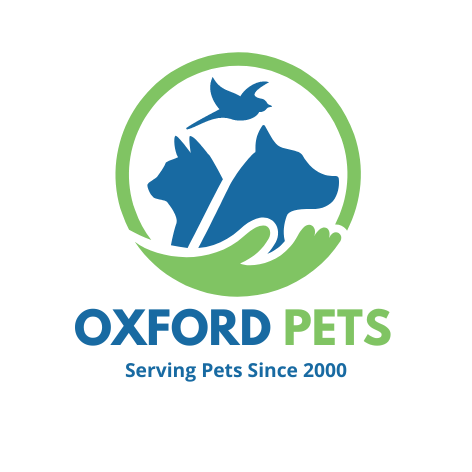 Welcome To The Oxford Family! The Website Is Run And Managed By A Community Of Enthusiasts Informative About Pets. We Hope You Find It Useful.