Sheepadoodles are friendly and playful dogs who are a crossbreed of the Old English Sheepdog and the Standard Poodle. Everyone wants this stunning dog breed in their living room but have you done your research right?
You may be a hardcore dog enthusiast, but before bringing a Sheepadoodle home, you need to prepare well. A thorough research and a detailed checklist will help you with keeping this gorgeous designer dog for life. Here we have a little advance preparation ensuring everything is in place before your Sheepadoodle is home. Below you'll find a list of must-haves; make sure you follow this Checklist for a no-fuss dog bring-in experience.
But before that, let's shed some light on Sheepadoodle, a beautiful crossbreed.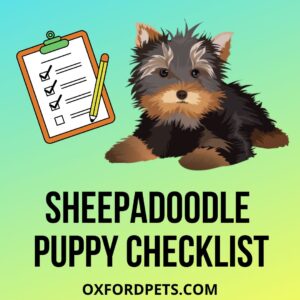 Preparing For Sheepadoodle Puppy- Sheepadoodle Introduction
A Sheepadoodle is a cuddly, fluffy designer mix breed. It is a result of crossbreeding a purebred Old English Sheepdog and a purebred English Poodle. Several names, including Sheep-a-poo, Sheepdoodle, Sheepdogpoo, and Sheeppoo, know these dogs.
Sheepadoodles were originally designed as hypoallergenic dogs, and they inherit this trait from their Poodle genetics. Inheriting more qualities from both their parents, Sheepadoodles are playful, active, smart, lovable, and even-tempered. They are ideal for large households and not apartments since Sheepadoodles don't like to be left alone. Sheepadoodles may look like stuffed animals, but when left alone at home for a long, they can prove destructive.
The teddy bear-like Sheepadoodles aren't purebred; therefore, there's no hard and fast rule on how long they will last. Their weight, height, coat style, color, and appearance can differ depending upon the dominating genetics of either of their parent breed.
Sheepadoodles, however, aren't recognized by American Kennel Club as a dedicated breed. AKC does not consider Sheepadoodles as their own breed. And since it takes a lot of paperwork and a long process before AKC considers a dog breed as 'One,' there are no possibilities that Sheepadoodles will get recognition anytime soon. However, many breeders register their Sheepadoodles at Continental Kennel Club.
What Do You Need Before Bringing A Puppy Home?
When bringing home designer dogs like Sheepadoodles, advanced preparation is very much in need. Not just the designer breed, but even the basic pet, especially at first-time pet parent houses, need some or other kind of pet-proofing and arrangements done before.
Here is the Checklist explaining all the planning and arrangements you need to do before bringing home your Sheepadoodle pet.
Sheepadoodle Puppy Necessities
Prepare Yourself Mentally: Dogs are a lot of work, and having them can prove exhausting for the initial few months. For first-time pet parents, having even the easiest dog breed can bring several challenges. You are getting home a full-time responsibility, and the experience is no less than having a child. Some days having a Sheepadoodle may make you feel like a mistake. That is why it is important to prepare yourself mentally for all the challenges and changes a dog can bring.
Research about Sheepadoodles both online and offline: Unlike many popular dog breeds, Sheepadoodles have not yet gained that fame. While you have likely shortlisted Sheepadoodle, it is important for you to learn about them. Browse google, watch YouTube videos, meet Sheepadoodle owners already, and contact breeders. Gain as much knowledge about the breed so that you can make sure Sheepadoodles are good for you and vice-versa.
Pet Proof Your House: Having a dog at home is a very lovely experience though it needs a lot of planning. You need to puppy-proof your house, ensuring no accidents occur. A little bit of destruction is always uncalled for, and you have to manage that. Move all the small and breakable items, keep all chemicals and any such liquid at a higher rack, keep food items out of reach, remove poisonous plants, secure wires nicely, and so on.
Choose a Veterinarian: You can never overlook the importance (or necessity) of a Veterinarian for your Sheepadoodle. Look for a reputed vet, preferably one who has already worked with Sheepadoodles. You will be going to need them for Flea, ticks, vaccinations, and multiple other purposes some day or another.
NOTE: No matter how keenly you care, Sheepadoodles have a higher chance for bloat than other breeds, and you will have to deal with it. Therefore, before bringing the dog home, consult the Veterinarian about preventive measures and quick remedies.
Gather all the Puppy/ Dog Necessities:
Dogs aren't very demanding, but as a loving guardian, you should always try to provide them with the best of comfort. If you look keenly, you can add multiple items to make your house a warm and cosy home for your dog. Here are a few things you can consider:
Dog toothbrush
Puppy food and water bowl
A lease, collar, and harness
Puppy crate (for the house + car travel)
ID tags for their collar
Poop scoop, bags, and a bin
Puppy/ dog food.
Basic dog medicines along with a pet first aid kit
Toys, chews, and balls
Puppy mattress and blanket
ID tags for their collar
Comb, Nail clippers, Shampoo, and Conditioner (Dog appropriate)
A few towels
Puppy Go-Bag (Backpack)
Child Gate (For blocking off stairs, kitchen, and more).
Ultimate Guide To Caring For Sheepadoodle Puppies
While you are planning to bring your Sheepadoodle home, don't rush. Experts recommend adopting puppies when they are at least six to seven weeks old. By this stage, they are fit to wean and can transfer to having solids. However, until six to seven weeks, the puppy needs the mother's warmth and care and some quality time with his siblings that will later help in their proper development.
Not separating the Sheepadoodle puppy too early from his mother is the first step of 'CARE' you can provide.
Sheepadoodles are big commitments, and they are best suited for families with an active lifestyle. They need time, attention, and large spaces to play and ensure their daily physical stimulation. In cases when Sheepadoodles don't get enough hours of exercise and playtime, they can become boisterous. Any kind of physical task, be it walking, running, playing, or so for around 90 minutes, is a must for them on a daily basis.
Another big commitment with Sheepadoodles is their 'Coat Care.' Given they are a cross breed, you cannot learn about what coat type they have until they are fully grown up. Though these dogs don't shed much, coat care is necessary for them.
Experts suggest brushing Sheepadoodle coats twice a week to avoid tangles and matting and maintain the softness of their fur.
In addition, brushing their teeth regularly, trimming the hair around their eyes, and cleaning their ear wax should be part of their daily grooming.
Sheepadoodles are easy to train, given both their purebred parents are active and well-trainable. However, a positive approach and no punishment is the key. In addition, make sure you socialize your pooches early, or else you may face undesirable behaviours as they grow. Also, Sheepadoodles are prone to biting and chasing; therefore, focusing on both these habits early in life is necessary.
What's essential while caring for a Sheepadoodle is ensuring a healthy, well-balanced, nutritious diet for them. These dogs should be fed 3-4 times a day. Their daily diet should contain enough Proteins, Amino acids, and Dietary fats.
Sheepadoodles are prone to gastric torsion and bloating, and therefore caring for their diet is necessary.
Things You Have To Know Before Owning A Sheepadoodle
Sheepadoodles are undoubtedly loving dogs, but they aren't the right pets for everyone. Before getting your guardianship over them, there are a lot of things you must consider and learn about. For example:
Sheepadoodles are of three types: Toy, Miniature, and Standard.
Sheepadoodles are part Old English Sheepdog and part Poodle, and therefore you are always a handful.
Sheepadoodle demands a lot of attention along with a large expense.
Sheepadoodles demand attention, affection, and family love. They are very prone to separation anxiety, and therefore leaving them home alone isn't recommended.
They are as friendly as they look and would do well with other friendly pets.
Sheepadoodles don't shed much, but their coat needs good enough attention and regular brushing.
Sheepadoodles can get pretty big; therefore, be ready.
Sheepadoodles are prone to ear infections, and therefore you will need to care for their floppy ears.
They have a very pretty coat but be ready to learn some dog-friendly hairstyles to manage the same.
Best Dog Products for Sheepadoodles 2022
Sheepadoodle Harness
Sheepadoodle Dog Coat
Sheepadoodle Chew Toy
Sheepadoodle Food
Sheepadoodle Muzzle
Sheepadoodle Brush and Clipper
Sheepadoodle Shampoo
Sheepadoodle Bed
Sale
tobeDRI No Pull Dog Harness Adjustable Reflective Oxford Easy Control Medium Large Dog Harness with A Free Heavy Duty 5ft Dog Leash (L (Neck: 18"-25.5", Chest: 24.5"-33"), Blue Harness+Leash)
【 NO PULL & NO CHOKE 】tobeDRI dog harness featured with 2 strong metal delta shape-rings on front and back for leash attaching, front clip prevent pulling and back for relaxed walking. The 2 rings are sewn with durable thick nylon webbing and enforced box stitches and bartacks that preventing ripped off even pulling hardly. Pulling pressure is evenly distributed to the body to prevent choking
【 EASY TO USE AND LOCKING SECURITY 】The dog harness with simple design and quick snap buckles which make it easy to put on and take off. Locking feature on both snaps makes it more secure, 100% ensures no accidentally detachment. 4 easy size adjustors at neck and chest for easy adjusting to fit your dog perfectly, even with some room of growth. Perfect for daily walking, running, hiking, training, hunting, outdoor adventure and more!
【 DURABILITY 】Made of durable nylon webbing, enhanced high density nylon oxford, breathable mesh lining and strong accessories including buckle, size adjustors
【 EASY CLEANING 】Machine washable is easy for daily use. All metal accessories are rust-proof
【 REFLECTIVE 】Reflective stitching maintains high visibility at night for safety
Sale
Royal Canin Poodle Adult Breed Specific Dry Dog Food, 10 lb bag
FORMULATED FOR PUREBRED POODLES: Royal Canin Poodle Adult Dry Dog Food is designed to meet the nutritional needs of purebred Poodles 10 months and older
SPECIALIZED KIBBLE: Unique kibble design helps Poodles easily pick up and chew their food
HEALTHY COAT: Helps provide skin support and coat care with EPA and DHA fatty acids from fish oil and precise protein levels for healthy skin and coat
MUSCLE SUPPORT: Precise protein content maintains muscle tone and supports a mid size breed's strong build
HEALTHY AGING: Adult dog food formulated with exclusive blend of nutrients supports vitality and healthy aging during their long life span
Dog Muzzle, Breathable Basket Muzzles for Small, Medium, Large and X-Large Dogs, Stop Biting, Barking and Chewing, Best for Aggressive Dogs (Small, Black)
Tough yet Soft: Made of a pliable Non-toxic rubber, The Basket Muzzle is extremely tough, durable, and soft to touch, and it can be widened or narrowed if needed.
Secure and Adjustable Fit: Adjustable nylon neck strap allows you to quickly adjust fit size for your dog.
Breathable Hollow-out Design: Your dog can pant, drink and even be fed treats through the Muzzle due to the wide holes of the basket muzzle. This design allows for maximum ventilation to prevent your dog from overheating, and make it possible for you to feed treats.
Soft and Comfortable: Rubber basket design gives all-around mouth protection,Does not discomfort the dog's mouth and hurt to the skin.
Satisfaction Guarantee: We offer 12 Months Warranty and 60 Days Money Back Guarantee. When you receive your muzzle, make sure that it is large enough to allow your dog to pant and that it is secure. We are happy to take returns on muzzles that are in like-new condition. Just buy with confidence.
Sale
Ruff 'N Ruffus Self-Cleaning Slicker Brush With PAIN-FREE Bristles | Gently Removes Loose Undercoat, & Tangled Hair | For Cats & Dogs | Reduces Shedding by 95% + FREE Pet Nail Clipper included (Aqua Slicker Brush + Free Bonus)
★ GROOMING MADE EASY ★ Get essential grooming tools for dogs and cats in one swoop. This set includes a slicker de-matting brush,and heavy-duty pet nail clippers. Save money by giving your furry buddy a good groom from the comfort of home.
★ SELF-CLEANING SLICKER BRUSH ★ Removing knots, dander, and loose hair from your pet s fur just got easier. Press the button on the slicker brush after you're done and watch the bristles retract and the hair fall right off. Ideal for all sizes of dogs and cats and all hair types.
★FREE Bonus PET NAIL CLIPPERS ★ Give your pet s nails a nice trim the safe way. Our cat and dog nail trimmers stand out with their sharpness, durability, and a safety stop that prevents cutting nails too short. You ll love the high-quality stainless steel and the comfortable ergonomic handle.
★ COMFORTABLE, STRONG, AND DURABLE ★ Our Slicker Brush is especially designed with a COMFORT-GRIP and ANTI-SLIP HANDLE, which prevents hand and wrist strain no matter how long you brush your pet!
★ BUY WITH CONFIDENCE ★ We ve got your back with a 100% satisfaction guarantee. Reach out to us in case of any issues with your pet grooming accessories and we ll do all we can to make it right. Click Add to Cart now and get your kit completely risk-free!
The Dog's Bed Sound Sleep Original Donut Dog Bed, Large Dog Biscuit Beige Plush Removable Cover Calming Nest Bed
Large Dog Biscuit Beige Plush 36 inch diameter round deluxe plush dog bed. 1.5 inch vegan fur contours into a deep & luxurious comforter for your cherished best friend as well as a charming room accessory, injecting style into your lounge or bedroom interior
Ideal puppy receiver bed - welcome your puppy home with luxurious vegan fur which replicates the warmth of mum's fur & of being in a puppy pile, easing the transition to a new home. Unsurpassed comfort due to unique dual-layer base mattress cushion design - the top layer forms around your dog's body, while the solid base pad supports your dog's weight. Generously filled bolsters surround your dog making them feel secure while providing a comfortable headrest
Satisfies the nesting instinct of dogs who tend to curl up when they sleep - high sides & long vegan fur pile hugs your dog's body, reducing feelings of vulnerability & anxiety by inducing a sense of security & serenity. Improved sleep - soft texture, self-warming materials & superior body support reduces night pacing associated with anxiety, discomfort & cold
Bed can be used for years - it comes with stylish, removable covers that are easy to wash & are quick-drying. Replacement covers can be purchased separately for a fraction of the cost of replacing the whole bed
Produced by global experts in sleep-solutions for dogs & who have been featured in publications such as The Sun, the largest newspaper in the UK, & in Buzzfeed in the US for excellence. Covered by a 1-year limited warranty for manufacturing defects. Customer Support available for the life of your dog's bed
Wrapping up…
Getting a pet dog is a big event, and it will bring you so joy and enjoyment.
Sheepadoodles are just like any other dog, but a few care tips with them may differ. They will take some time to adjust to the new environment, and that's when you need to be very calm and corporative. Just be patient, provide them with a loving and comforting environment, and ensure good dietary and medical care.