So, Can You Use Liquid Bandage On Dogs? The answer to this question is yes. You can definitely use a liquid bandage on your canine's small wounds and cuts. To be honest, liquid bandages work instantly. Moreover, it does not hinder and can be applied on nails, nose, ears, tail, and paws. In fact, it can be a lifesaver for the canines that are fussy and chew off normal dog bandages.
What You Should Know About Liquid Bandage?
Liquid bandages have existed for decades as a better alternative for wound treatment. They are more popular for quick wound solutions for a short time.
A liquid bandage has less harsh chemicals and no alcohol that promotes fast healing and reduces skin irritation. Moreover, they act faster than other medications. This is because they need to dry as quickly as possible.
Can You Use a Liquid Bandage for Humans on Your Dog?
Basically, it depends on the brand you are using. There are a few brands of human liquid bandages that you can use for your dog. However, many brands contain a lot of irritants and alcohol that can cause irritation to your canine's skin. Moreover, they can also make the wound worse.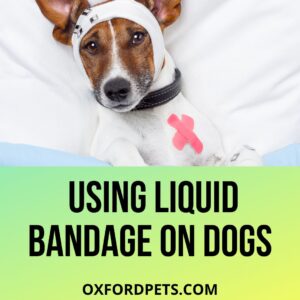 Is There A Liquid Bandage For Dogs?
Yes, there is a liquid bandage for dogs. For instance, if your canine does not like canine bandages and tries to take them off. In this case, you can use a liquid bandage specially made for dogs.
The liquid bandage for dogs covers the whole wound, bound its edges, and protects the wound from harmful bacteria. According to research gate, creating a moisture balance in the wound is very important. And liquid bandage for dogs helps to maintain moisture balance for wound healing.
The best advantage of a liquid bandage on a canine is the convenience and fact action it does. When you apply it to a dog wound, it turns into a flexible seal quickly without causing any discomfort. This is impossible for a human liquid bandage.
4 Best Liquid Bandage Spray and Ointments For Dogs
Here is a list of the best liquid bandages for dogs.
1) Sulfodene Wound Care Ointment.
This liquid bandage is great for canines. It helps to heal wounds faster and acts as a barrier against flies, bacteria, and germs. Moreover, you can use it for fungal infections and topical bacterial infections.
This means that it is great for your canine's skin. It treats the wound and soothes the skin irritation caused by ticks or fleas.
Sale
2) Vetericyn Plus Wound and Skin Care
You must always have this product with you. Always keep it in your canine's first aid kit. This liquid bandage cleans the wound without stinging your canine.
You can also use it on parrots, horses, cats, livestock, etc. Moreover, it treats wounds, cuts, spots, and abrasions. It will keep providing moisture to the wound and allow it to heal faster.
Vetericyn Plus All Animal Wound and Skin Care Spray. Cleans and Relieves Cuts, Abrasions, Irritations, and Sores. Non-Toxic, No Sting Formula. (3 oz)
Used for cleaning your pet's cuts, scrapes, hot spots, and more
Provides relief for symptoms of allergies, such as, dry, sensitive, or itchy skin
No stinging or irritation with application. Will not stain furniture or clothes
Completely safe and non-toxic: can be used on all animal species and is safe if licked or ingested
Promotes healing process by keeping the pet's wound clean
3) Nutri-Vet Liquid Bandage Spray for Dogs
If your canine loves to run around trees, and bushes then he might get hurt. This is where he may get hurt.
This product is a liquid bandage spray that instantly seals and disinfects the wounded area.
It tastes a bit bitter. Therefore, if your canine tries to lick it, he may stop himself after tasting it.
Sale
4) 3M Vetbond Tissue Adhesive
This is a vet-grade product that closes minor wounds. It acts as glue for wounds and cuts.
This liquid bandage comes with a reusable application tip and blue dye. Therefore, you can precisely and quickly help your canine.
The best thing about it is that it polymerizes within a few seconds. This is very convenient for blocking bacteria and debris from entering the affected area.
3M Vetbond Vetbond Tissue Adhesive 1469c
Strong bond, polymerizes in seconds
Economical 3ml bottle with four "reusable" applicator tips
Blue dye for easy-to-see drop application
This product is intended for use for pets
Difference Between Liquid Bandages For Humans And For Dogs?
Liquid bandages that are made for dogs contain:
Less alcohol
Less harmful chemicals
Fewer ingredients that reduce the chance of skin irritation
Promotes faster healing of the wound
Sale
xiweeui Self Adhesive Bandage Wrap, 6 Pcs Vet Wrap Cohesive Bandages for Dogs Horses Pet Animals for Wrist Healing Ankle Sprain and Swelling
Easy to use: Each roll of self adhesive bandage is individually wrapped in transparent cellophane, clean and hygienic; In the absence of auxiliary tools such as scissors, it can be torn directly by hand
Soft and Breathable: This kind of self adherent bandage is soft, breathable and ventilated, has good perspiration effect, and the injured area can breathe; it is light in weight and waterproof, can keep the skin comfortable, and is conducive to wound healing
Self-adhesive and High Elastic: The bandage is self-adhesive, so it does not need clips or fasteners, it will not be scattered due to sweat and moisture, will not stick to the skin and hair, it is elastic, very flexible, and it is easy to tear off
Versatile Bandage Multifunctional Uses: Cohesive bandages help to fix the gauze, reduce the swelling caused by strains and sprains and promote healing; And it can also be used for pet wound dressing, suitable for any part of the animal body
There are four 5 cm self-adhesive bandages in the package, two yellow and two green, and two 2.5 cm blue bandages, which can meet the needs of different people in different scenes
NEW-SKIN Liquid Bandage, Waterproof for Scrapes and Minor Cuts, 1 Ounce
Liquid Bandage: This liquid bandage seals wounds and forms a tough protective barrier, an all-in-one treatment and waterproof bandage for scrapes and minor cuts; Apply it, let it quickly seal and let your wound heal
Wound Care Solution: Think of it as a skin glue for wounds, a liquid bandage, or liquid skin to help you heal; New-Skin provides flexible, waterproof coverage for minor cuts, scrapes, wounds, and abrasions
A Different First Aid Experience: This wound sealing aid is unlike regular adhesive bandages; It's waterproof, flexible, and protects your wound, staying in place and keeping it clean, even in hard to reach places
Waterproof Protection: New-Skin dries rapidly to form a tough waterproof protective cover; Dries clear to match any skin tone; Perfect for blisters, calluses, painful hangnails and chapped, dry, cracked skin
Protect, Heal and Seal: Using New Skin Liquid Bandage is a different wound healing experience; The ultimate solution when you need a flexible seal that protects cuts and scrapes and lets your skin breathe
How To Find The Best Liquid Bandage For Your Dog?
Here are a few things to look at when choosing a liquid bandage for your canine:
Fast-drying – it is very difficult for your canine to control himself from licking the medicine from wounds. If you have a fussy dog, then choose a liquid bandage that does not take much time to dry. At present, there are a few liquid bandages that dry within 30 seconds.
Alcohol-free – While choosing a liquid bandage for your canine, ensure that it does not contain alcohol. It can stress out your canine.
Safe to lick – Choose a liquid bandage that has no petroleum, preservation, or harsh chemicals that may cause stomach issues or allergies.
Anaesthetic – Even small wounds and cuts can be painful for your canine. Therefore, a local anaesthetic like benzocaine must be in your chosen product.
When Should I Use Liquid Bandages on My Pet?
There are many instances when you must use these liquid bandages on your canine.
Dry cuts
Small cuts
Clean cuts
You can use it to take care of the injury that keeps on reopening because of body movements.
When Not to use Liquid Bandages on My Pet?
Some injuries need extra vet attention. Therefore, the liquid bandage is not the best solution for it. These wounds include
Irritated skin
Minor cuts
Wounds with any type of discharge
Deep wounds
Final words
In conclusion, I would say that you can use a liquid bandage on your canine. It helps to promote the healing of the wound. Moreover, you can use pet-specific liquid bandages as they are more pet-friendly, and non-toxic for your pet.
You must also ensure that your canine does not lick it as it can induce bacteria in the wound and reduce the pace of speedy recovery.
I hope you enjoyed the article. I will be back with more interesting and informative pieces of writing. Till then, stay connected. Thank you.
Frequently asked questions
Can dogs lick liquid bandages?
Yes, dogs lick liquid bandages. However, there are liquid bandages for canines. This will not harm your canine if he licks it. Still, it is better not to let your canine lick it. Moreover, it is important that the liquid bandage dries, absorbs, and starts soothing the irritation before the dog starts to lick it.
Is dog liquid bandage the same as a human liquid bandage?
No, both are different. However, you can use a human liquid bandage on your canine but it is not recommended to use it. This is because human liquid bandages contain harsh chemicals. You will need to keep your canine away from chewing or licking the wound.
Can I put a liquid bandage on my dog's spay incision?
Yes, you can. You just need to dab the affected area to remove discharge and afterwards squeeze all the edges together. Now you can apply the liquid bandage. Just make sure you are not applying it on the deep incision. Just apply it on the skin's edges.
How do you seal a dog's wound?
You can apply a small quantity of antibacterial ointment to it. Then, cover the affected area with sterile gauze or any other bandage available in the market. Moreover, you can use elastic tape to hold the bandage properly in place.
Never use hydrogen peroxide or rubbing alcohol on your canine's wounds. These things can damage the tissue of the affected area and delay the healing process.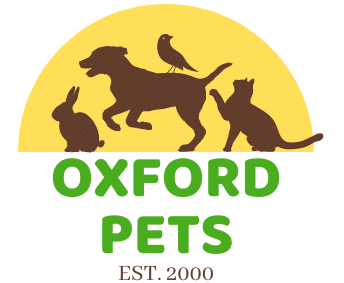 Welcome To The Oxford Family! The Website Is Run And Managed By A Community Of Pet Enthusiasts Who Are Informative About Pets. OLHS Was Initially Founded In 1982 As A Community Dedicated To Animal Welfare. We Are Simply Trying To Keep Their Vision Alive.