Today we will talk about why do dogs lick their paws. Actually, licking paws is a way of self-grooming. However, if your dog licks his paws excessively, then you must get serious about it. Dogs lick their paws for various reasons. Your dog may be having a problem or irritation in his paws. The problems include cyst formation, injury, or infection. If you catch your dog licking his paws aggressively and frequently, then you will have to take some action.
We have made a list of possibilities why your dog licks his paws frequently. Go through it and find out which problem your doggy is facing.
10 reasons Why dogs lick their paws?
Dogs normally lick their paws for self-grooming. But when he is constantly licking his paws, there may be some other reason. 
Dogs lick their paws for many reasons. Some of them are mentioned below-
1) Hot Spots
Hot sports are formed by repetitive and aggressive licking. It is formed due to itchiness. Your dogy may be having some kind of itchiness in his paws which makes him lick it rigorously. An antimicrobial and anti-inflammatory spray can help treat the hot spots. 
Products that can help-
Douxo Chlorhexidine Micro-Emulsion Spray
Veterinary Formula Clinical Care Hot Spot and Itch Relief Medicated Spray
Sale
Veterinary Formula Clinical Care Hot Spot & Itch Relief Medicated Spray 8 oz
HEAL & SOOTHE – Veterinary Formula Clinical Care Hot Spot and Itch Relief Spray provides dogs and cats with medicated analgesic and anti-inflammatory relief of itchy skin and hot spots commonly caused by allergies, insect bites, matted dirty coats & more
FAST ACTING – This itch relief spray works fast to help relieve your pet's symptoms including biting, licking, scratching, and swollen, pink-to-red, warm-to-hot, moist-to-wet, irritated-to-bloody issues associated with skin irritations
VETERINARY RECOMMENDED – This anti-itch spray for dogs and cats is paraben & dye-free. It will not remove topical spot-on flea and tick treatments. Lidocaine and Hydrocortisone reduce itching, redness and swelling while Allantoin stimulates wound healing
FOR DOGS AND CATS – This pet hot spot treatment is for topical use on both dogs and cats over 12 weeks of age. It has a pleasant smell and does not burn when applied
EFFECTIVE & AFFORDABLE – Veterinary Formula Clinical Care premium medicated products are created with veterinary-grade ingredients, available at an affordable price. We know dogs and cats are more than just pets because we are pet parents too
Vetericyn Plus Antimicrobial Wound & Skin Hydrogel Pet Spray
Vetericyn Plus All Animal Wound and Skin Care Spray. Cleans and Relieves Cuts, Abrasions, Irritations, and Sores. Non-Toxic, No Sting Formula. (3 oz)
Used for cleaning your pet's cuts, scrapes, hot spots, and more
Provides relief for symptoms of allergies, such as, dry, sensitive, or itchy skin
No stinging or irritation with application. Will not stain furniture or clothes
Completely safe and non-toxic: can be used on all animal species and is safe if licked or ingested
Promotes healing process by keeping the pet's wound clean
2) Yeast
Yeast also contributes to odor, itchiness, and a greasy feel. To treat yeast in your dog's paws, you can use medicated shampoos and wipes. These products have antifungal properties that help to control yeast.
Products that can help-
TrizCHLOR 4HC Shampoo
Sale
Dechra TrizCHLOR 4 Shampoo for Dogs, Cats & Horses (8oz)
PERFECT TO CLEANSE perfect to cleanse and treat skin
POWERFUL MEDICATED PRODUCT available without the need for a prescription
CONTAINS CHLORHEXIDINE, TrizEDTA, and BETAINE to soothe your pets skin
WATER-BASED NON-IRRITATING FORMULA does not contain alcohol
USA MADE
Vetoquinol Universal Medicated Shampoo for cats and dogs
Vetoquinol 411608 Sebozole™ Shampoo,16 oz
Powerful shampoo with ingredients designed to help provide relief for dogs, cats & horses
Formulated with 2 active ingredients: Miconazole Nitrate 2% & Chloroxylenol 1%
May be effective against skin conditions associated with issues like itchy skin, mange & dermatitis
Gentle formula allows for regular use; ask a vet before use on pets with sensitive skin or allergies
Effective ingredients formulated for your dog and cat & recommended by veterinary experts in the USA
TrizCHLOR 4 Wipes for Dogs and Cats
Sale
Dechra TrizCHLOR 4 Shampoo for Dogs, Cats & Horses (8oz)
PERFECT TO CLEANSE perfect to cleanse and treat skin
POWERFUL MEDICATED PRODUCT available without the need for a prescription
CONTAINS CHLORHEXIDINE, TrizEDTA, and BETAINE to soothe your pets skin
WATER-BASED NON-IRRITATING FORMULA does not contain alcohol
USA MADE
3) Bacterial infection
Bacterial infection can happen when the skin is damaged. The scabs present may cause flaky skin, hair loss, and redness.
A good medicated shampoo or wipe used daily can help regain healthy skin.
Products that can help-
Douxo Chlorhexidine Shampoo for Dogs and Cats
TrizCHLOR 4HC Shampoo
TrizCHLOR 4 Wipes for Dogs and Cats
4) Dog paw allergies
Allergies can cause itching in your doggy's paws. It is very common and can be caused by food or the environment.
The most common signs of allergies are dark pigmentation, brown staining, or redness. Wiping or bathing your furry friend after coming back from outside reduces the allergy chances.
Topical sprays or creams containing hydrocortisone can temporarily reduce the itchiness. 
Products that can help-
Zymox Topical Spray with Hydrocortisone 1.0% for Dogs and Cats
Zymox Enzymatic Topical Cream with Hydrocortisone 0.5% for Dogs and Cats
5) Toenail Injuries
If your canine continues licking his paw, he may have an injured toenail or a nail that is partially torn off. This can occur through getting stuck in fabric, carpet, or grass. There is generally bleeding from the canine's nail, in addition to swollen canine paws and discomfort.
The toe will be cured when the torn part is cautiously removed. Medications for contamination and irritation also can help your dog to get relief. In the worst cases, see your vet for assistance to cast off the torn part of the nail.
6) Ringworm
It is a fungal infection spread through infected animals or soil. Ringworm is usually detected on the paws, limbs, ears, and heads of dogs.
The common symptoms include red skin and hair loss. But in some cases, animals have ringworm but there are no related signs. Topical shampoos, dips, and creams can help to clear the ringworm.
Products that can help-
Miconazole Nitrate Lotion for Dogs and Cats 
KETOCHLOR Medicated Shampoo for Dogs and Cats
Miconazole Spray
Vet Basics Lime Sulfur Dip Antimicrobial for Dogs, Cats, and Horses 
7) Overgrown nails
Irregular grown nails can also be the reason behind soreness when your furry friend walks, leading to immoderate licking of the affected paws.
Overgrown nails will capture the lowest of the toe pads and every now and then curl again towards your dog's paw pads.
Regular trimming of the nails can prove helpful. If you're uncomfortable slicing your canine's nails, or the nails are already overgrown, see your vet for assistance.
8) Burns
Burns can arise on the paws while walking on surfaces like pavement, or from different undiluted chemicals.
You may also see pink or cracked paws which might be peeling or blistering. Medicine for secondary pain or infection remedy can be needed. You can ask your vet for help
9) Ticks and Parasites
Ticks live in wooded and brushy areas. They can easily live between your dog's footpads and toes. Hence, their presence can cause discomfort to your dog and result in excessive licking.
You must carefully pull out all the ticks present with the help of a tick-removal tool.
10) Boredom
As we've mentioned, dogs might also additionally lick their paws to make themselves feel better (e.g. deal with anxiety).
This could provide an explanation for why a canine might lick their paws if they're bored! Boredom definitely will increase the degrees of the stress hormone, and paw and cortisol licking reduce that stress hormone.
As with humans, a canine's enjoyment of boredom is subjective. It will rely on the breed and the degree of energy they have. A shrewd dog (e.g. Puggle), would require a way greater attention and mental stimulation.
Ensure you're meeting their everyday exercising quota. Spend time operating on training and play a few mind games.
Is licking mentally stimulating for dogs?
When a canine licks himself because of boredom or anxiety he could frequently bring about lick granulomas.
The more the canine licks it, the larger it gets. Certain breeds are extra predisposed to lick granulomas including the German Shepherd, Doberman, the Irish Setter, Labrador Retriever, and Weimaraner. 
What is your furry friend trying to warn you about licking the paws?
While it is totally ok for your dog to lick his paws, just pay attention to how often he is doing it.
Dogs generally lick their paws to clean them. If he starts licking his paws aggressively and frequently, you must consult a vet.
As we have mentioned above, there are several reasons for this repetitive licking of paws.
Hence, it is better to track your doggo's paw licking activities to save him from serious issues.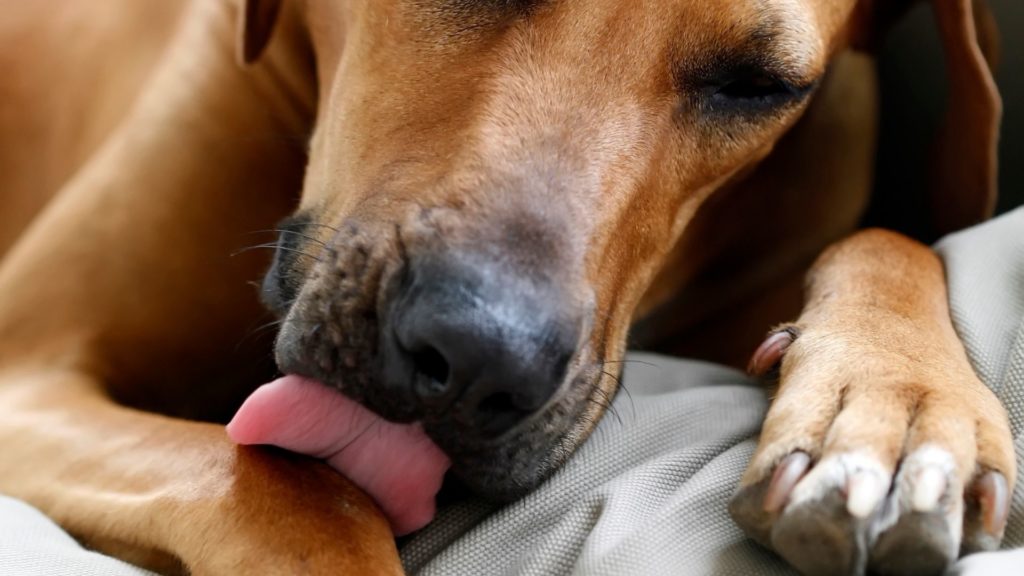 How can I stop my dog from licking his paws?
An easy and powerful way to cope with your canine's paw-licking behavior is to genuinely distract them.
Some of the things you may do encompass taking them for a walk, providing them mentally-stimulating toys, playing with them, or giving them a snack. 
Remember to no longer scold them for licking, however, to rather divert their attention.
If you're nevertheless having a problem preventing your canine from licking, head to your nearby vet. It will be an underlying problem of something more serious.
What can I put on the dog to stop licking?
Wash your hands properly
Our hands pick different scents that can attract your dog. Due to this your doggo may lick the germs in your hands. Hence, it can be harmful. Therefore, it is better to wash your hands properly. 
Change the toiletries
It is a possibility that your doggy licks you because he finds you tasty. If you use some strongly scented lotion like cocoa butter, then your dog might consider you as a treat. Other sweet-smelling thighs can also make the same effect. Hence, try to use orange, grapefruit, or lemon scents. Dogs do not like citrus smells.
Distract them
If your dog starts licking his paw, distract their attention to somewhere else. Walk around, throw a toy towards him, or give him a treat.
Ignore them
Your dog may be licking his paws just to get your attention. Just ignore them until they stop by themselves. If they don't stop after 10 seconds, just move away from them.
Final words
Dogs licking their paws is not as simple as we think. There are various reasons why a dog is licking its paws.
Though licking is a way of self-grooming, it can also indicate some serious causes. Paw licking can be a signal of anxiety, pain, boredom, allergy, hormone imbalance, fleas, ticks, dry skin, etc. 
If you are concerned about your doggy licking his paw excessively, take the help of a vet.
Your dog may be trying to tell you something he is suffering from. The longer you wait, the worse the situation may get. 
Your vet can find out the real problem and give your dog the medicines to relieve his pain.
Hope you enjoyed the article. Stay connected for more such pieces of informative and entertaining writing. Thank you. 
Frequently asked questions