Are your pet cat and dog suffering from a parasitic infection? Curious how to deworm a cat or dog at home? Worry no further since we have sorted it all for you.
Despite how badly you don't want it to happen, your pet dog and cat will still suffer from worm infection once in a while. One of the most common health issues that most pets suffer from is a worm or parasite infection. Even if it is a house pet, the chances of him suffering from a worm infection are still high.
While your dog or cat is suffering from worm infection, deworming should be your primary step. However, what concerns most people are the side effects of conventional worming products. Since there are quite a few, pet parents keep looking for alternative deworming methods.
With that concern on hand, it is good to know that there are endless natural alternatives or home remedies for deworming dogs and cats. In addition, these methods allow you to use food items from your kitchen in the simplest way for deworming dogs and cats.
Wondering about the home remedies for deworming a cat or dog? Then, join us to learn about all the tips and hacks.
10 DIY Ways for Deworming a Cat or Dog at Home
Natural Remedies for Deworming of Cats and Natural Remedies for Deworming of Dogs
1) Use Turmeric/Curcumin
Turmeric is a human superfood known for its antioxidants, anti-fungal, and anti-inflammatory properties. In addition, certain compounds found in turmeric are known for eliminating worms and repairing the internal damage done by them. It is also a super spice known for removing harmful toxins and cleansing the liver.
However, since turmeric contains a compound known as curcumin which dogs find hard to absorb, they always feed it by mixing it with something. For instance, mix two pinches of turmeric with a spoon of coconut oil. You can also mix turmeric with dog food and allow the pet to eat.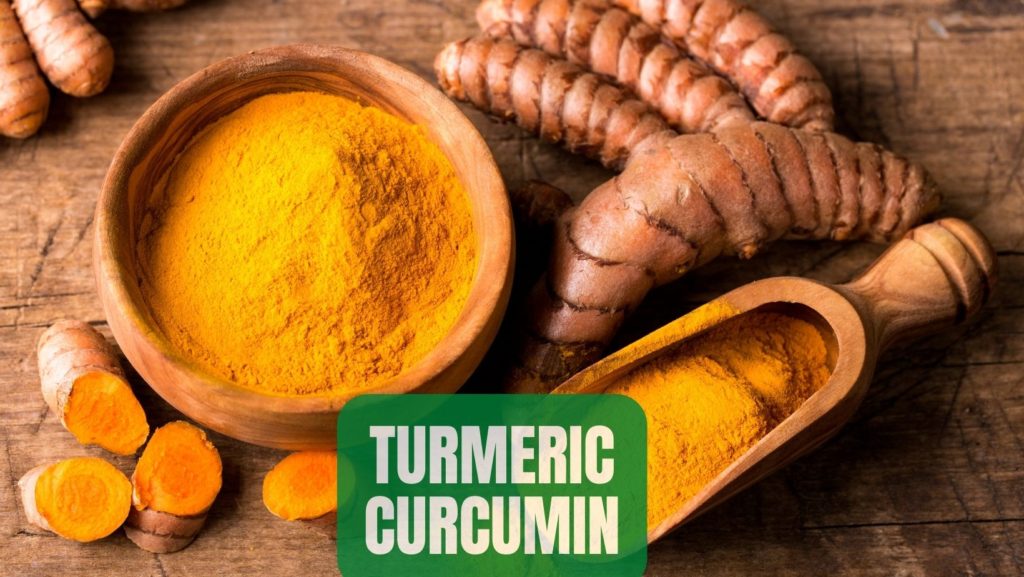 2) Apple Cider Vinegar
You must be familiar with the health benefits Apple Cider Vinegar posses for humans. However, do you know it also helps in eliminating worms from dogs and cats? Fermented Apple Cider increases the alkaline level inside a dog's intestines.
This alkaline environment further becomes inhospitable for worms and parasites to thrive, making them pass away via stools. Usage of Apple Cider Vinegar also helps in improving a dog's coat shine and health.
For best results, mix 1/4th of Apple Cider Vinegar once every day in your dog's meal and allow them to eat. You will start noticing results maximum by one week. However, avoid feeding ACV alone or undiluted since its taste and smell can make the pet vomit.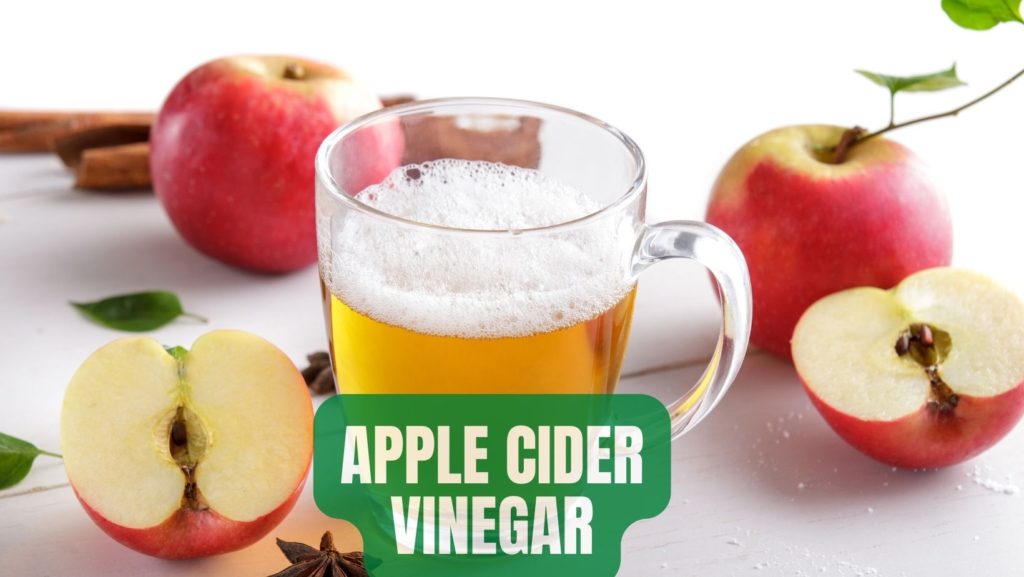 3) Fermented Vegetables
Fermented Vegetables are known for their positive effect on gut health. The enzymes in these veggies make digestion easier and helps in smoothening the stool movement. Unfortunately, these benefits also make worms pass out easily.
Feed a tablespoon of fermented vegetables daily to your dog for best results. It is ideal to use homemade fermented veggies with low seasonings.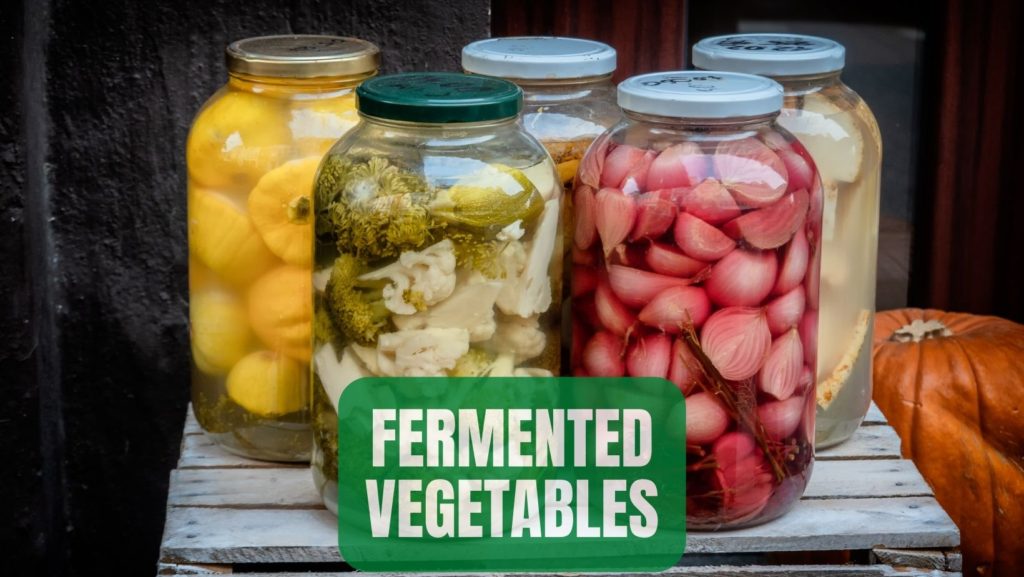 4) Garlic
Another human superfood, Garlic, has all abilities to fight against disease-causing microorganisms. It contains an enzyme known as Allicin which is proven to affect parasites, worms, bacteria, viruses, and fungi.
However, since Garlic can also prove toxic for both cats and dogs, it is essential to be extra cautious while feeding them the same.
For best results, take a garlic clove, peel and crush it, mix it with dog food and allow them to eat. Half a garlic clove is enough for puppies and young dogs for a day. Whereas for adult and larger dogs, feed one garlic clove.
Feed garlic twice a day for about 3 to 4 days, and you will notice its effectiveness. Though if not, stop the usage right away and choose another home remedy or deworming drug.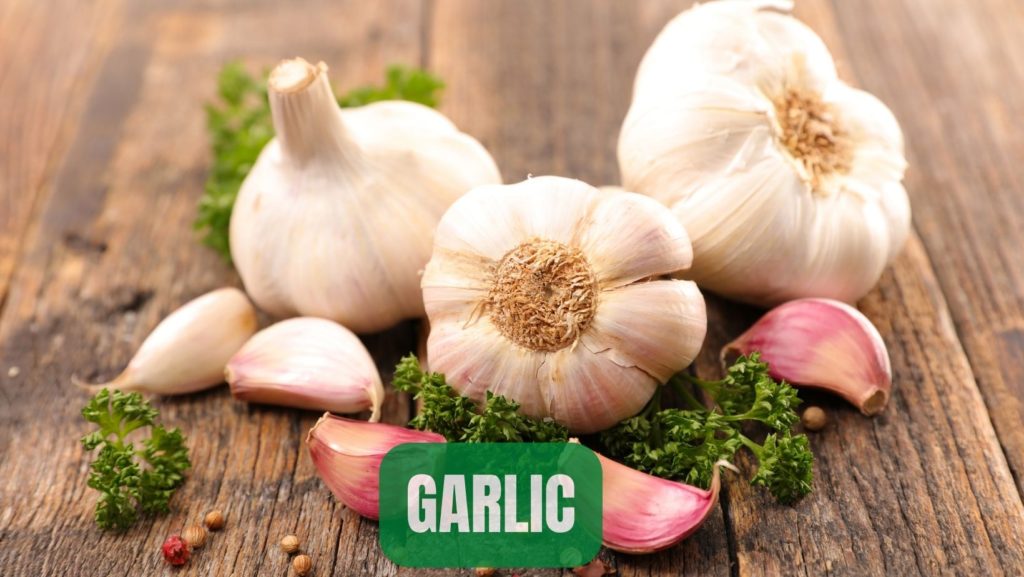 5) Carrots
Daily usage of carrots helps in eliminating parasitic intestinal worms in dogs and cats. Once carrots reach your dog's intestine, they will scrap the wall there, easily removing all the parasites and worms. The Vitamin A presence in carrots also aids with other health benefits in pets.
For best results, feed one whole carrot every day to your dog. Cut it into small strips, refrigerate and later allow the pet to eat. Since dogs love carrots, you won't get a high time in this process.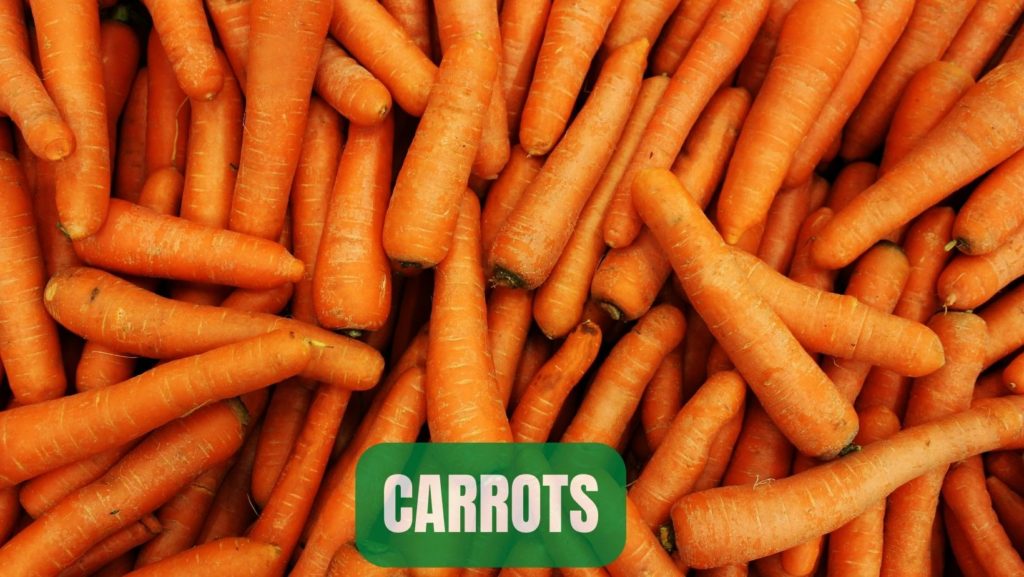 6) Chamomile
Pet owners who include Chamomile in their pets daily observe less worm infection in their dogs and cats. Chamomile is a super ingredient that is known for its excellent effect on a dog's digestive system.
This ingredient also helps in getting rid of roundworms and whipworms in the long run. Its usage will naturally remove parasites and worms, besides making your dog's skin, eyes, and gut health.
For best results, feed 0.25 ml to 0.50 ml per 20 lbs of your dog's weight twice a day. Since it is slow medicine, it may take 2 to 3 weeks to show any effectiveness.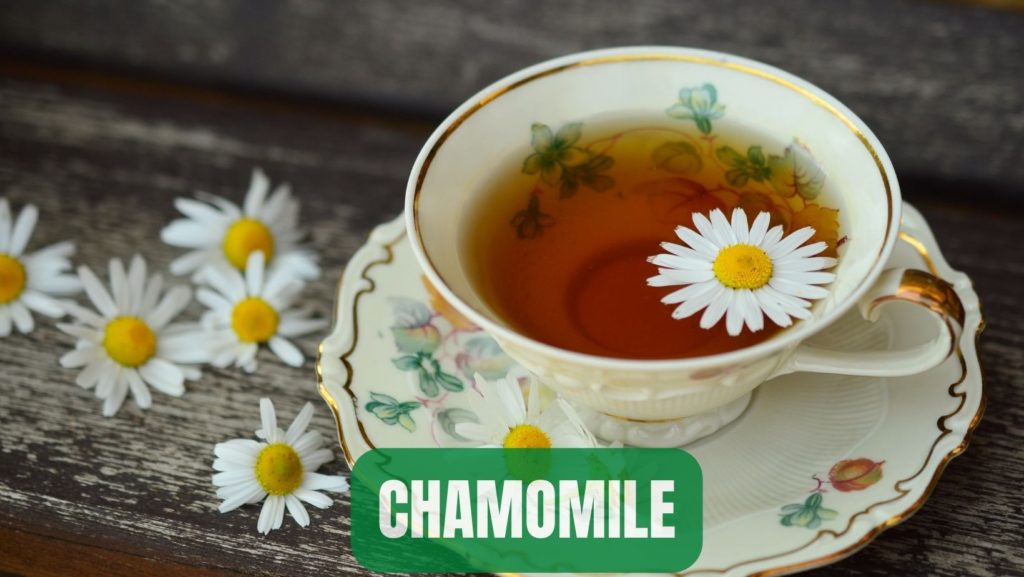 7) Pumpkin Seeds
Pumpkin Seeds are another superb ingredient in your pantry that helps eliminate worms in dogs and cats. The seeds basically contain a compound known as cucurbitacin that, by paralyzing worms and losing their hold, helps in the elimination.
For best results, either feed whole pumpkin seeds or grind them into powder and mix them with pet food. Use only one tablespoon of pumpkin seed for every 10lbs of bodyweight of the pet. Avoid using salted or seasoned seeds at any cost.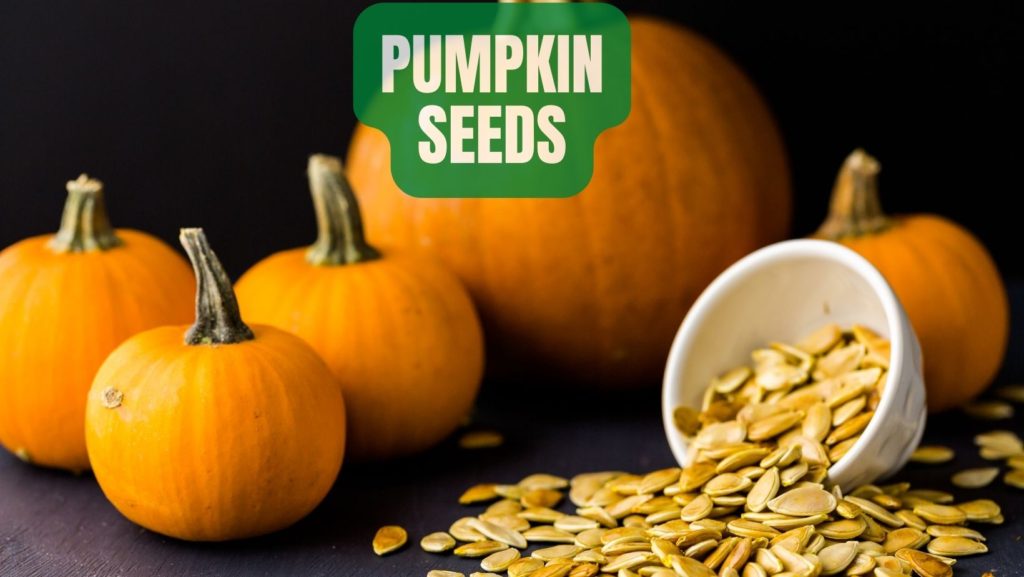 8) Papaya Seeds
Similarly, like Pumpkin seeds, Papaya seeds also are anti-amoebic and anti-parasitic. Feeding them to your dog and cat helps in eliminating amoeba and parasites from their system.
Crush papaya seeds and feed a spoonful to your dog/ cat for best results. Follow it for a week, and you will start noticing the effectiveness.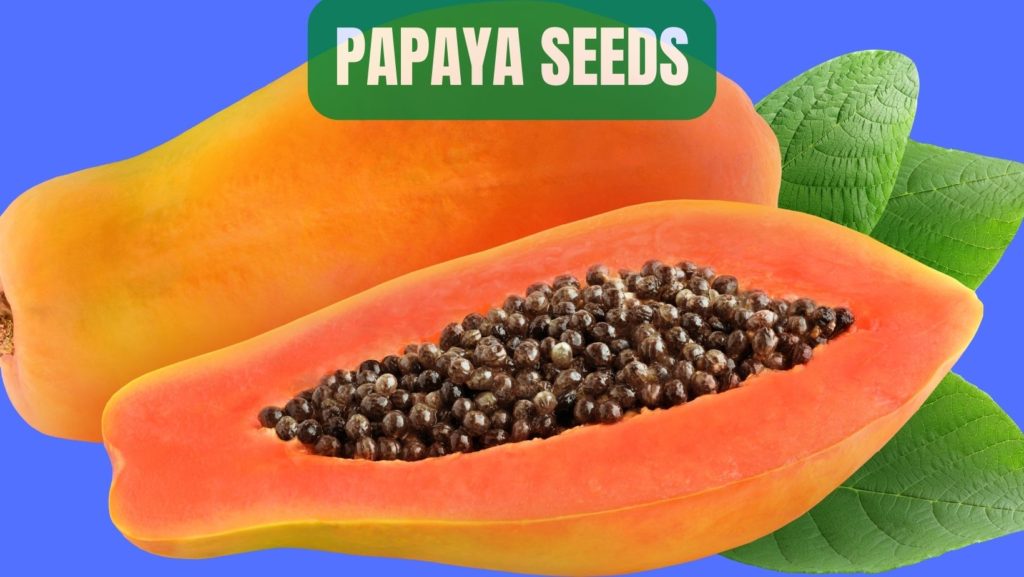 9) Oregon Grape
Oregon Grape offers one of the most effective parasitical treatments for dogs and cats. These fruits are known for eliminating intestinal parasites, gastritis, and other digestive problems.
In addition, its regular usage means your pet is free from all kinds of bacteria, fungi, viruses, protozoans & parasitic worms. Besides that, Oregon Grapes also help in strengthening pet immunity.
For best results, either feed 5 to 7 Oregon Grapes to your pet daily. Or use Oregon Grapes tincture and feed 12 drops a day per 20 lbs of pet's weight.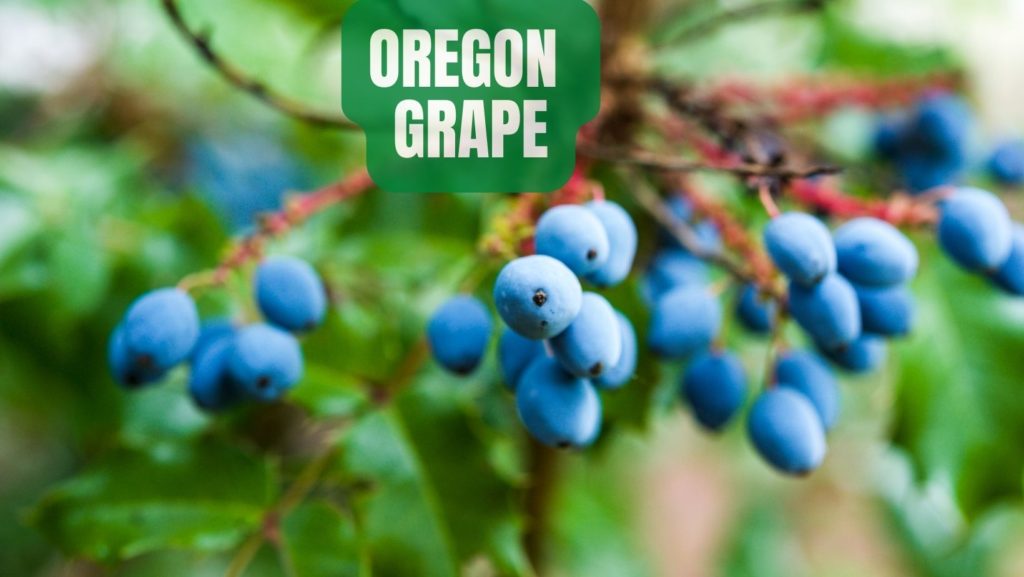 10) Bone Broth
Bone Broth is an excellent meal for detoxifying the dog and cat's liver and kidneys. In addition, it promotes gut health and even prevents worm infection in pets.
For best results, begin with adding just 2 to 3 tablespoons of Bone Broth to your pet's meal. Later, once your pet likes and digests it easily, increase the quantity. You may start seeing effectiveness within a week or so.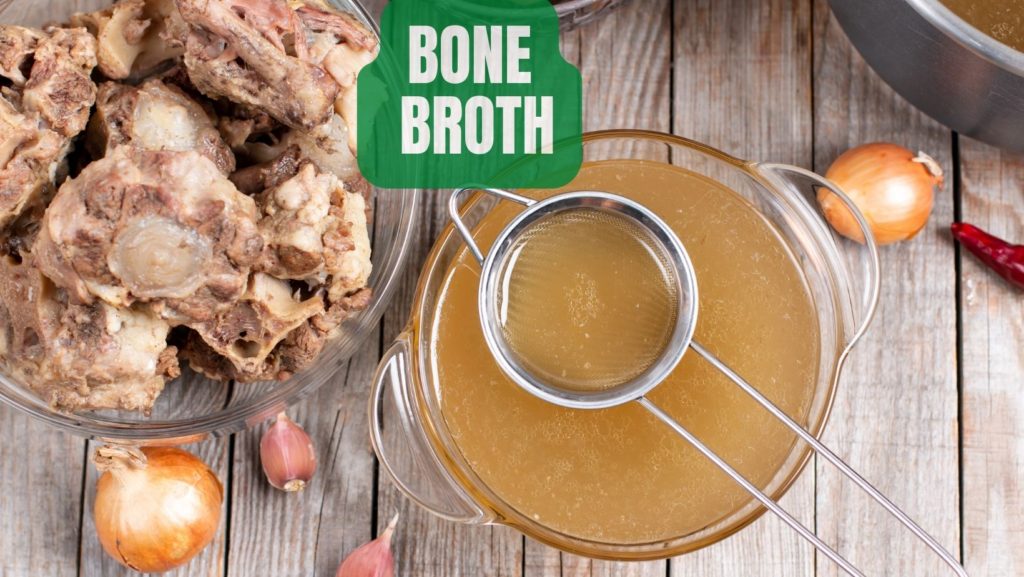 Cautionary Note:
The above home remedies and DIYs might help certain dogs and cats and maybe not all of them.
Also, introduce any of these DIYs slowly, ensuring your pet doesn't show any allergic reaction to the same. In case he does, discontinue the usage right away and reach the Vet immediately.
Also, avoid using any of these remedies with pregnant/ lactating dogs and cats.
How can I deworm my cat without a vet?
How can I deworm a Cat myself? As a pet parent, deworming is something that might frighten you. However, it isn't something that must bother your peace.
Deworming a cat with home remedies is something you can easily follow. And since most of the home remedies don't have heavy side effects, it's easy to go this way.
However, since worm infections can become critical, we suggest taking vet recommendations always. Even when you are going with natural ways, do make a phone call with your Vet to discuss the same. A green flag from Vet is something you should always wait for.
What can I give my cat to deworm?
Several types of worms can infect your cat, creating a lot of pain and discomfort for the poor kitty.
However, since worm infections are a very common issue among pets, there are multiple ways to treat them.
Natural ways to deworm cats: Feed food items like Apple Cider Vinegar, Turmeric, Papaya and Pumpkin seeds, Vegetables and Fruits, Chamomile, Coconut, etc., to your cats.
Medicinal ways to deworm cats: Some of the options may include pyrantel pamoate, milbemycin oxime, and selamectin.
The 5 Best Cat Dewormers in 2022
As a responsible and curious cat parent, one question popping in your mind right now is, what is the deworming medicine for cats? And here we have the quick product reference guide.
All of these products are based on efficiency and safety. Also, the major idea behind shortlisting them is the number and types of parasites it targets.
Elanco Tapeworm Dewormer (praziquantel tablets)
LifeLink's Zobaline for Felines 3mg x 60 Tablets
TevraPet Actispot II Flea Treatment for Cats
Bayer Expert Care Tapeworm Dewormer for Cats and Kittens
Capstar Fast-Acting Oral Flea Treatment for Cats
Best cat deworming syrup- deworming syrup for kittens
Durvet Wormeze Feline Liquid Wormer for Cats & Kittens 
Beloved Pets Supplement for Dogs and Cats – Natural Drops for Daily Use with Food
5 Best dewormers for dogs in 2022
Bayer Chewable Quad Dewormer for Medium Dogs, 26-60 lbs
Elanco Tapeworm Dewormer (praziquantel tablets) for Dogs
PetArmor 7 Way De-Wormer (Pyrantel Pamoate and Praziquantel) for Dogs
Safe-Guard (fenbendazole) Canine Dewormer for Dogs
Durvet 2x LIquid Wormer, 2 oz, For Puppies and Adult Dogs
Cat/Dog Deworming schedule chart
The following instructions suggest the best time for deworming cats and dogs:
Begin deworming kittens and puppies once they turn 2 weeks old.
After that, follow the deworming schedule every 2 weeks until the pet turns 3 months old.
Cats and Dogs who turn 3 months old deworm once every month.
Deworm adult cats and dogs, at least thrice a year every 3 to 4 months. Most deworming drugs ensure safety for 3 to 4 months.
Deworm an outside cat or dog at least 4 times a year.
Deworm is an inside cat at least twice a year.
Deworm a newly adopted animal immediately and then every 2 weeks, twice or thrice.
Side effects of deworming a Cat
Cat deworming drugs, though they eliminate parasites these medicines also possess certain side effects for the pet.
Cats who are under deworming treatment may experience side effects, including:
Increased Salivation.
Loss of Appetite.
Vomiting.
Diarrhoea.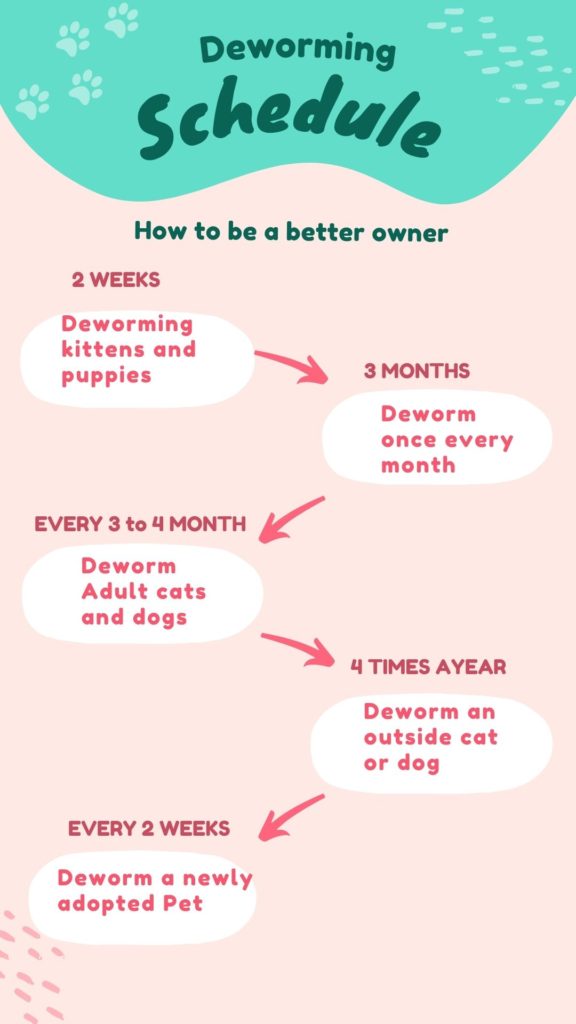 These side effects could last from 24 hours to 2 days. Though if they persist longer, then consult a Vet immediately.
Side effects of deworming a dog
Besides getting relief from worms, several dogs can also react adversely to deworming drugs.
However, it isn't something to worry about since some deworming medicines possess certain side effects.
Here are a few of them:
Increased Salivation.
Loss of Appetite.
Vomiting.
Diarrhoea.
Gastrointestinal upset
These side effects could last from 24 hours to 2 days. Though if they persist longer, then consult a Vet immediately.
When should you deworm a dog?
As an alert pet parent, you should regularly deworm your dog as a precautionary measure.
Regular deworming saves dogs from getting a parasitical infection and from suffering its painful effects.
Begin deworming your puppy from a young age and continue it for their lifetime. The pattern, frequency, and medicine will change, though.
Also, if you notice any worm infection symptoms in your dog, give him a dewormer.
These symptoms may include,
Bloating in the abdomen area.
Itching around the poop passage.
Diarrhoea and Vomiting.
Sudden increase or decrease in hunger.
Sudden increase or decrease in weight.
Stomach Pain.
How do I know if my dog has worms? What can I give my dog to deworm him?
To determine whether your dog has worms or not, look for the possible symptoms. These symptoms may include physical discomfort/ illness, including
Weight loss
Anaemia
Loss of appetite
Malaise
Lack of growth (in puppies)
Loss of condition
Weakness
Pneumonia
Changes in coat condition
Pot-bellied appearance
Coughing, lethargy (heartworms)
Skin inflammation
Dermatitis
Blood in faeces (fresh or tarry)
Inflamed rectum
Evidence of worms in vomit or faeces (roundworms)
Scooting
Or, in case you are still skeptical, take your dog's stool for a parasite diagnosis. The responsible Vet will perform a stool test by mixing the stool sample with a certain liquid.
It will further show results whether your dog is suffering from parasitical infection and with which worms particularly.
Further, for deworming your dog, either give him deworming drugs or follow the home remedies.
Can I treat my dog for worms without going to the Vet?
Yes, one can treat dogs for worms without going to the Vet.
However, since parasitical and worm infections can prove fatal, it is always a safer idea to visit Vet. 
Most intestinal worms are easily cured with home remedies and DIYs.
However, when the infection is severe, or if the home remedies aren't working, only a Vet can suggest safer and effective methods.
How to Deworm a Puppy Yourself At Home?
Though worms are common amongst puppies, treating them is fairly easy and hassle-free.
If it is the first time you are deworming your puppy, the best idea is to do so under Vet supervision.
However, if you have already done the deed twice or thrice, you can use the previous method and deworm the puppy at home.
Though do maintain a telephonic conversation with the Vet to ensure utmost safety.
What happens if I don't Deworm my dog?
If you aren't deworming your dogs even after noticing symptoms of parasitical infection, the bad and worst can happen. 
The worms inside your dog's digestive system feed on all the pet eats and drinks.
Some worms, for example, hookworms, even suck the blood of their host (dog), leaving them anemic.
Thus, while you avoid deworming your dog, the pet may feel severely sick. The suffering will begin from discomfort leading to excessive abdominal pain.
Untreated worm infection can also lead the dog to death in some cases. 
Do cats poop out worms after being dewormed?
Yes, it is very common and obvious for a cat to poop after being dewormed. It is a sign that the deworming drug is working.
The cat might poop black if she was suffering from a tapeworm infection. It happens since the deworming drugs scatter the tapeworms into smaller pieces.
The darker color in the cat's poop is due to the worm's blood. Or in some cases, the cat's poop will contain live or dead worms.
These worms possibly are hookworms, whipworms, and roundworms. The deworming drug has possibly paralyzed the worms or has killed them.
Wrapping up…
This was all about Deworming a cat or dog at home. Treating worms the natural way is a great start to ensuring your dog stays healthy and happy. However, you cannot rely upon DIYs and home remedies totally.
Always ensure two to three deworming treatments under Vet supervision for both your dogs and cats.
Even if you are regular with natural remedies, your pet has already caught an infection. And since a lot of them don't show obvious signs of infection, taking them to the Vet is what will help the most.