Birman cat adoption Basics: If you are looking to adopt a Birman cat, you should first look at the nearby shelter for adoption before purchasing from a pet store or a breeder. Adoption from a pet shelter tends to be less expensive than purchasing her from a pet store or breeder. 
Usually, the adoption fee in the shelter covers the cost of vaccination, health checkup, and neutering. The ceiling evaluates each cat's temperament and characteristics before making her available for adoption. 
Therefore, they can also help you select a suitable cat for your lifestyle, personality, and household. So, in this article, we will not only talk about how I adopted a Birman cat but also where to find Birman cats for sale near me. Many shelters offer a white range of cat breeds that differ in terms of colors, coat, pattern, temperaments, and characteristics. 
You will also find Birman cats from young to old in a pet adoption shelter. However, if you are looking for a purebred cat, then make sure to do your proper research and consult with the counselor available at the top before becoming an overwhelming adoption. This article will also discuss some guidelines to help narrow your preferences and selection and make the best match.
How Do I Adopt A Birman Cat?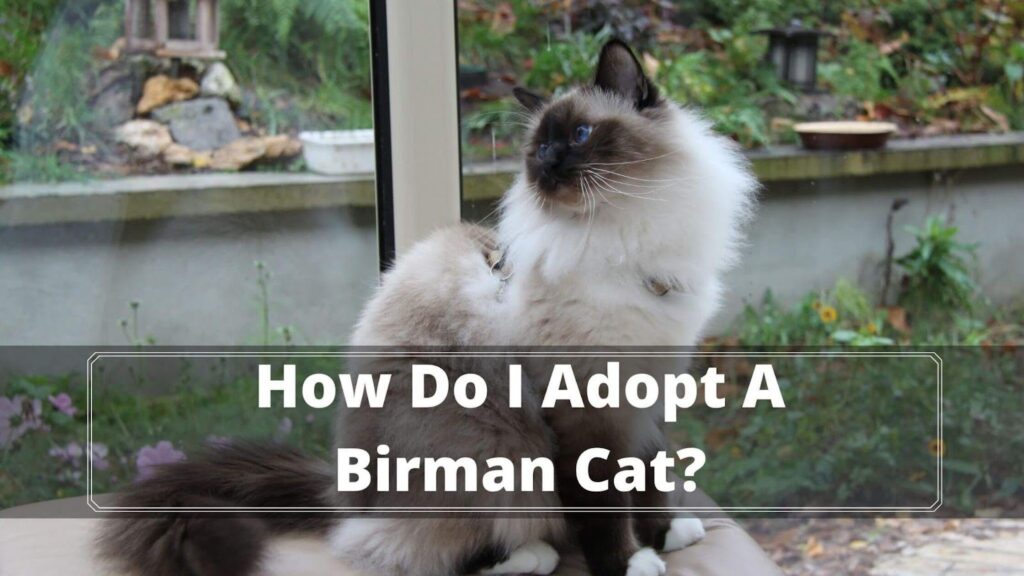 Firstly, you should research quickly to learn which breed will suit you best. If Birman is suitable, look for a pet shelter or a reputable breeder nearby who can avail you of a Birman kitten. Alternatively, there are lots of websites available that offer pet adoption. But most of these tend to be expensive options. 
You can also take a look at different adoption shelters in nearby States. If you want to adopt a Birman that Is purebred, healthy, and comes with health insurance, you might have to put in a bit of effort. 
Fortunately, we have done all kinds of analysis and research on your behalf and prepared this article offer after spending hours and hours of work. In this article, you will find the list of reputable websites and breeders who can avail you of Birman kittens for sale nearby. 
9 Do's & Don'ts of Birman Kitten Adoption
#1 Never rush kitten introduction.
Believe it or not, Birman kittens often get lost or face trouble when they are not confined to a safe room or private space. When adopting a kitten, always prepare a room, so the new baby gets used to that space and learns the location of her bed, litter box, food bowls, toys, and other stuff. It will also help you a lot when you are busy. You can confine your Kitty to her safe room when you can't watch her.
#2 Kitten Proof Your House. 
It is essential always to explore every corner of your home and learn if it is escape-proof or not. Remove any electrical cord or poisonous plant that can be chewed or clawed by a kitten. A kitten or cat can also swallow string toys.
#3 Never Feed Milk. 
Most kittens tend to eat solid food by four weeks old. Despite Queen replacement milk being available, you should avoid feeding it to your kittens as it can cause diarrhea. 
It would be best if you considered feeding your kitten 3-4 small meals a day until she is six months old. After that, you can switch it to twice a day. Continuously regulate her food and ensure a healthy diet because she is prone to obesity. 
#4 Always Visit A Vet ASAP. 
As soon as you adopt a Birman kitty, you should see a reputable veterinarian near your location. Make sure to choose a nearby vet, so your pet always has the same doctor for her routine checkups & emergency. Even kittens may seem indestructible; they can quickly get sick. 
Therefore a veterinarian's early diagnosis will continually improve the chances of speedy recovery and help your kitten acclimate fast to her new environment. Your vet may perform some quick Screening tests and give you preventive care tips. Don't be surprised if your veterinarian recommends vaccinations, flea/tick preventions, worm medications, and some supplements. There are necessities for cat adoption. 
#5 Never Delay Spaying. 
If you do not intend to breed her to give her birth, get her neutered to prevent pregnancy. A neutered kitten will help you significantly reduce health issues like breast cancer. 
And neutered cats also tend to live longer than the ones that are not. Professional breeders and shelter neuter their kittens at 12 weeks old or when they are at least two lbs. It becomes essential to fix a kitten as soon as possible. Female kittens are known to get pregnant as early as four months old, so never delay.
Birman Cats For Adoption
There are many shelters that you can find locally that have adoption counselors on staff to help you match with the right cat. If you see no counselor nearby, you can also talk with the center staff or volunteers who have spent time with each cat and know their personalities. 
Choosing a Birman cat for adoption from a pet shelter on your own can be demanding, as you won't be able to gauge a cat's true personality when meeting her for the first time. A Birman cat often experiences stressful situations around strangers, and she may adjust her behavior accordingly. 
Therefore, it is advised that you should look for a bold and friendly Birman cat who will always run over to greet you when you go back home or look into her enclosure. 
Believe it or not, a Birman cat that appears to have adjusted well to the shelter environment and surroundings usually does well with other cats and pets in your home. It becomes more critical when you have children or other pets already at your home. 
Otherwise, a shy & reserve Birman cat would be more suitable if you have a quiet home. Adopting any Birman cat from a shelter will be a rewarding experience. It will bring joy and enjoyment to your family and the happiness of rescuing a cat. Following these guidelines, you can choose the right match or cat that's truly rewarding for you and your new pet.
Finding Birman Cats For Sale In My Area
Believe it or not, more than a thousand people run a search looking to adopt a cat per hour. Cat adoption is becoming a more preferred way to find a new companion because there are many benefits. But in Shelters, it can be hard to find a purebred cat. 
Therefore, if you are looking for a pure cat for breeding or business purposes, you should look for a reputable breeder. A reputable breeder will not only help you get a purebred cat but also health insurance and the other essential information needed to care for her. 
By adopting a cat from a reputable breed, you are likely to find a pet from a healthy pure breed bloodline whose parents have already learned a few things, making the offspring easier to train.
Birman Kittens For Adoption
Millions of homeless kittens are ready for adoption from an animal shelter or rescue group. Pet stores and breeders are also reputable sources to get a kitten from, but anyone can call themselves a breeder and sell cats without having enough experience or knowledge. 
Therefore adopting from a shelter or rescue group will take a lot of steps ahead as you will not only be her new Birman kitten but also the one that has already been spayed, little trained, and vaccinated. Before you adopt a kitten, make sure you have all the accessories prepared already. 
For example, you should always have a litter box, cat carrier, kitten food, water, tags, collars, and interactive toys to entertain your new pet. Always make sure to cat-proof your home before your Kitty arrives.
In addition, kittens usually sleep up to 18 hours or even more. Therefore if you are looking for an active companion, you can get an adult cat instead of a Kitty. 
However, if you are prepared to take care of a kitten and love cuddling, you should get one. Kittens will happily curl up on a perch attached to a window or bed. If you already have a pet or large pet like a dog, make sure to have a separate room that is safe and private for your new kitten.
Finding Birman Kittens For Sale Near Me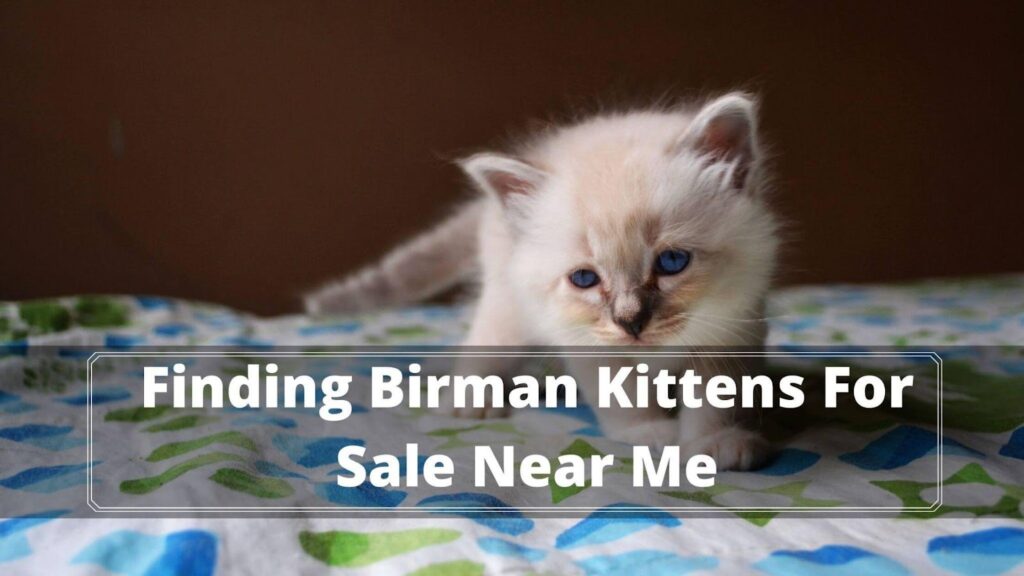 Purchasing a new Birman kitten too early also means kitty bites and clawing more often than those already trained or corrected by her mom or siblings. A newly bought Birman kitten may also be your food or less torrent of people or other cats if they are not socialized properly. The prime kitten socialization period falls between 27 weeks. 
So, always adopt a kitten from a reputable source or breeder who also offers health insurance and her parent's details. If her parents were unhealthy or suffering from any disease, she or her other offspring would likely carry the same genes or health issues in their genetics. 
Below are some reputable sources to find a kitten for sale in each state of the United States. I hope this list will help you find a suitable companion for your journey.   
Conclusion 
In a pet shelter, I would recommend you avoid picking out the kitten yourself. It is easy to get attracted to the one that is the prettiest or the cutest but may not be suitable for you. Let the kittens pick you and know you before adopting anyone. 
Only visit the pet shelter when you have a couple of hours of free time to adopt a Birman kitten. I would recommend you to sit in a chair and let the kittens come to you & see how each of them interact and which one wants the most to be with you. 
I have often experienced the prettiest ones becoming skittish or shy around people. Don't adapt too early when you are looking for a new companion suitable for your lifestyle. 
I hope you got to know all the information needed for adopting a Birman's kitten or cat in this article. If you find this article helpful, then please consider sharing it. Your one share will appreciate us to continue our effort and work to help out other people. Do check our other guides on Birman cats care. See you in the next post, till then, take care and goodbye.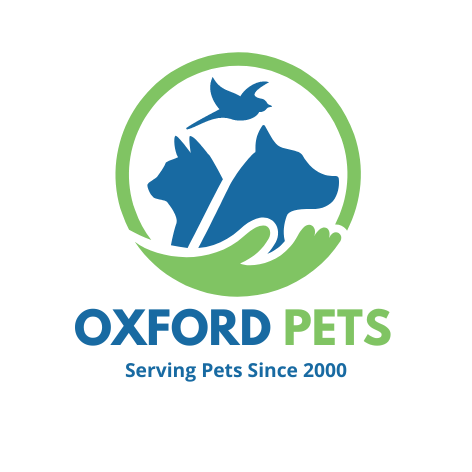 Welcome To The Oxford Family! The Website Is Run And Managed By A Community Of Enthusiasts Informative About Pets. We Hope You Find It Useful.