Why Is My Dog Dragging Its Bottom? Why do Dogs usually Rub Their Butts? Dogs Rubbing the butt and lower portion on the floor or grass is pretty common and is considered a usual behaviour Until this action is severe or aggressive in nature. Today we will talk about causes and effective home remedies to avoid /prevent dog scooting.
Many individuals believe that scooting in dogs is normal. If you witness your dog scooting multiple times, then there must be some reason. If you are a new parent, then dog scooting is very new for you.
But, we have simple and effective home remedies to stop your pooch from scooting. First of all, let us see what is the reason behind dog scooting.
15 Logical Reasons Why Dogs Scoot or Rub Their Bums.
General irritation or itching: Seasonal or Skin Allergies
Post Grooming Effects (irregular clipping can cause pain ad dogs to scratch a lot)
Pets with Food allergies are prone to scooting and itchy bottoms.
Lack of Exercise and less stimulation of bowel movements results in scooting.
Parasites such as tapeworms and pinworms in the stool.
Improper Deworming Schedules can cause worms infection and pet scoot.
Neoplasia (Unusual growth of body cells or tissues increases scooting)
Rectal inflammation (haemorrhoids) or Swelling In the Bum.
A Dirty/ unclean bottom can cause scooting.
Pets fed on low-fibre diets and with prolonged constipation.
Constipated pets with hard stools may injure and bleed while pooping.
Sac inflammation in canines (non-emptied sac triggers scooting)
Coprophagia (kop-ruh-fey-jee-uh) poop-eating habit
Rectal prolapse
Faecal contamination
Why is my dog butt scooting? 6 valid Reasons to Look for
Scooting releases discomfort in dogs. Maybe itch or more than that. Here are a few reasons behind your pooch scooting.
Sac and AnaI gland infection
When a dog excretes, sometimes the back passage gland gets blocked, implanted, and infected. This can cause your dog to scoot more frequently to relieve pain and discomfort.
Worms or Parasite infestation
Dogs carry a variety of worms, mites, and ticks, Worms are the most common reason for your pooch to scoot. Worms are present around the dog's feces or poop passage. They are itchy and make your doggy uncomfortable. 
If your dog has worms, it is best to take him to the hospital and get the deworming treatment done. 
Seasonal or Skin Allergies
Seasonal allergy, food allergy, or other pet allergies can cause itchy and dry skin. This itchy and dry skin comes along with a yeast infection. Hence, this can cause scooting in dogs.
Therefore, if your pooch is allergic to something, keep an eye on his diet carefully. 
Constipation is a condition where a dog finds it difficult to poop. Due to this, he can be seen scooting around to relieve the pain and discomfort.
A dog suffering from diarrhoea can have faces stuck in his bum.
This also causes matte hair. The feces can cause discomfort in dogs and hence can cause them to scoot.
Diarrhoea causes rectal prolapse. This is when the final end of the large intestine sticks out through the poop passage.
Hence this situation can make your dog feel uncomfortable. 
Check your pooch's poop passage and if you see the same scenario, take him to the vet for treatment.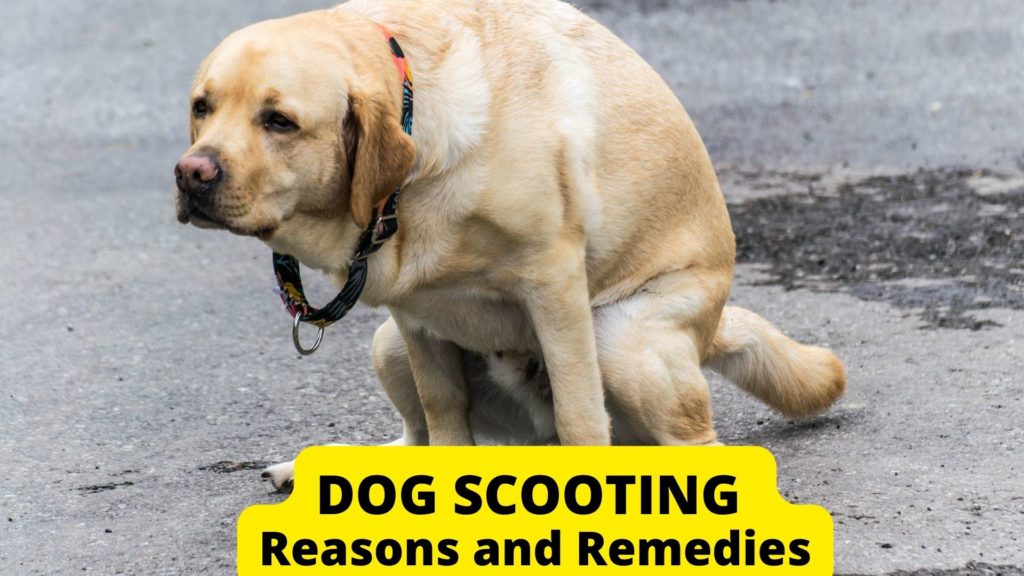 What can you give your dog to stop scooting?
Clean the butt regularly
Many times dogs scoot because their butt is dirty. Mud or poop might have stuck inside. To relieve this discomfort, dogs drag themselves to the ground.
Fleas or ticks can also cause itching. Hence, it is important to clean your pooch's butt regularly. You can clean it with freshwater or soap. You can also use pet wipes.
Make your canine drink a lot of water
Constipation is one of the most common problems in dogs. And it can be a reason for dog scooting as well. Hence, you must make sure that your dog drinks enough water.
Many dogs don't like to drink water but it is your duty to keep influencing them to drink water. You can add water to the kibble so that they can eat and drink at the same time.
Express the canine's glands with fingers
Infection can cause back passage sacs inflammation. Hence, you must know the presence of infection in the back passage sac.
In this situation, the best thing is to take your dog to the vet. But sometimes it is not possible for you to do so. Therefore you must know how to express the glands by yourself. 
To perform expression, you will need-
Clean cloths
Gloves
Alcohol
Steps to do back passage sac expression
Place the fingers outside the sacs(at 4 o'clock and 8 o'clock position)
Softly squeeze the two pouches
Wipe the skin with alcohol-soaked cloth
Performing this will relieve the discomfort instantly. If you neglect the infection for a long time, it can become complicated for you to remove the pus by yourself. Also, your canine will not let you touch him due to the pain.
Feed your dog fibre
You would possibly have watched infinite canine behaviorist and veterinarian films on the net with reference to this topic. An excessive fiber diet is useful for doggies, and in contrast to humans, they frequently enjoy it.
The shiny side of fiber-rich food for our furry pets is that this could assist your dog to empty the back passage glands, making them extra cushy and preventing them from scooting regularly.
Flax and chia seeds integrated with canine food, collectively with sweet potato or squash, can assist with bowel movement. However, endure in thoughts that every dog is unique.
So, it's far more secure to do that regularly to monitor how your canine's body reacts to the changes in their meals.
Give him a fair amount of probiotics
Probiotic supplements and treats have a good effect on your pooch's gut.
Many experts say that probiotic-rich food like yogurt helps in lowering inflammation and efficiently empties the back passage sacs.
Monitor the weight
Overnourished or malnutrition dogs are very liable to lots of metabolic illnesses.
Metabolic illnesses include overweight, underweight, and obesity can get worse due to the irritation of back passage sacs.
So it's vital that we must realize what kind of nutrients they need and how much they might want in a single day.
It is likewise critical that we're cautious approximately about the canine meals that we deliver to them. Some canine foods are saltier than the other, which might be dangerous to their kidneys; a few have greater carbohydrate fillers in them, that's horrible for your dog's health.
Healthy alternatives which include whole natural foods are nonetheless great choices for puppies, especially due to the fact they have got such tiny organs that might process something you are making them.
Warm compress
A warm compress is best to control the inflammation in your dog's butt. It is one of the best home remedies as you just need a clean cloth and warm water.
Here are the steps to follow while compressing your pooch's butt
Soak a clean cloth in warm water
Add Epsom salt in the water
Press the material and apply it to the bottom
Keep the cloth on the affected area for 5-6 minutes
Repeat the process if needed.
Keep your pooch active
It is important to keep your dog active. Exercise is a perfect way for a dog to be active. It improves joint health, lungs, and heart. Exercise also makes the digestive system healthy. 
You should take your pooch out for a walk at least. Walking is the best time for your canoe to potty. Pooping eliminates all the by-products from the back passage sacs.
How do you express a dog's glands naturally?
In a perfect world, the canine's back passage glands ought to empty naturally on every occasion they poop. However, if their glands do not express themselves, that is why problems arise. 
In those situations, it's far really well worth talking to a vet about this to seek expert assistance before seeking to express the glands naturally. However, there are some natural methods that can assist the glands to be expressed with a bit of assistance.
The high-satisfactory manner you could help your canine to express their back passage glands is to make sure that they have got proper pleasant meals. The meals ought to comprise an amazing amount of fiber.
It is this fiber that may be used to assist the stool to inspire the back passage sacks to express themselves certainly. You can also use fiber dietary supplements which are created for dogs too. 
You will even need to make sure that you aren't over-feeding your canine, and they're not overweight. In addition to this, make sure that they're ingesting sufficient water.
This will assist their stools to be softer and less difficult to pass. You can add water to their meals to grow their intake. 
Enzyme dietary supplements that permit the digestive tract to become more healthy are useful. Exercise is another useful component because it will inspire the digestive system to maintain movement. 
Lastly, you could practice a warm compress on your canine's bottom. This will assist to appease any painfulness they're experiencing.
How can I soften my dog's stool naturally?
Avoid Canned dog food
Exercise
Use Enema Occassionally
Stool laxative or softener
Pumpkin puree
More fresh water
Introduce Fibrous food
Final words
Some canines are extra vulnerable to back passage gland problems scooting. however, gaining knowledge of the way to express the back passage sacs yourself and preserving your canine healthful can move a protracted manner in the direction of solving dog scooting.
It's additionally crucial to be aware that every now and then canine scooting is just to ease themselves off, so step one should continually be to test their backside and ensure it's clean.
Hope you enjoyed the article. Stay connected to know more interesting and informative facts. Thank You.
Frequently asked questions