How much garlic is toxic to dogs? For ages, we know that garlic has many medicinal values. Hence, many of us assume that it is good for our dogs as well. However, it is depended upon various factors.
If you ask me, I'll say garlic is safe and unsafe for your dog. Let us see some of the points to prove this statement.
Many people believe that garlic is great for tick and flea repellent. This can be true as it changes the smell of the skin. It causes fleas to avoid entering your dog's fur.
From my point of view, the benefits of garlic are almost the same for humans and dogs.
Garlic Reduces and lowers-
Inflammation
Cholesterol
Blood pressure
Boosts immune system
However, the benefits of garlic depending on its quality and quantity of it. If you are planning to feed your doggo with garlic then you must consult your vet first.
Is garlic OK for dogs?
Garlic is considered toxic for many dogs. Garlic contains thiosulfate that is toxic to dogs. Therefore, it is better to take advice from the vet before giving garlic to your dog.
Consumption of Thiosulfate can cause vomiting, diarrhoea, dehydration, abdominal pain, loss of appetite, and depression.
It can also damage the red blood cells and lead to anemia.
Signs of Dog anaemia include
Rapid breathing
Lethargy
Jaundice
Pale mucous membrane
Weakness
Altogether, the toxicity and bad impact of garlic depend on the quantity you are feeding.
If garlic is toxic, why do some vets still recommend it?
There is a mixed opinion about giving garlic to the dogs. You may be wondering, if garlic is toxic then how can it be beneficial at the same time.
To clear this confusion, garlic can be beneficial but in the ideal quantity. A small quantity of garlic will not harm your doggo and its nutrients can impact positively. But it is quite difficult to know the exact ideal quantity of garlic that is safe.
Sale
Essential Pet Products Brewers Yeast Chewable Tablets with Garlic, B Vitamins & Minerals for Dogs
Features: Brewer's yeast flavored with garlic containing B vitamins and minerals with biotin, Zinc, copper, and manganese.
Benefit: Excellent source of protein, trace minerals, and B-complex vitamins that help support a healthy skin and coat.
Safe: Made with human-grade ingredients in an FDA registered facility.
Quality assured and tested: Manufactured in the USA under cGMP standards. Ingredients and finished product analyzed under validated laboratory methods at an ISO/IEC 17025:2017 Accredited Laboratory.
Flavor: Flavor profiles that pets love and beg for more.
Sale
How much garlic is toxic to a dog?
Everyone says that the toxicity of garlic depends on the amount and type of garlic consumes. But it also depends on the breed and size of your dog.
If you look at it from a holistic view, you will feel that a small amount of raw garlic is not harmful to the dog. This amount of garlic provide health benefits like-
Improving heart functioning
Boosting immune system
Reducing inflammation
Protecting from ticks and fleas
Here is the daily safe amount of garlic you can feed your doggo according to his weight.
1.       10 – 15 pounds: 0.5 clove
2.       20 – 40 pounds: 1 clove
3.       45 – 70 pounds: 2 cloves
4.       75 – 90 pounds: 2.5 cloves
5.       100 pounds +: 3 cloves
Studies state that 15-30 grams of garlic per kilogram of body weight can create harmful effects in your furry kid's body.
The average clove of garlic weighs around 3 – 7 grams, so the dog would have to consume a lot of garlic to get sick.
Some dogs are more sensitive towards garlic toxicity and consumption of garlic can lead to severe health issues.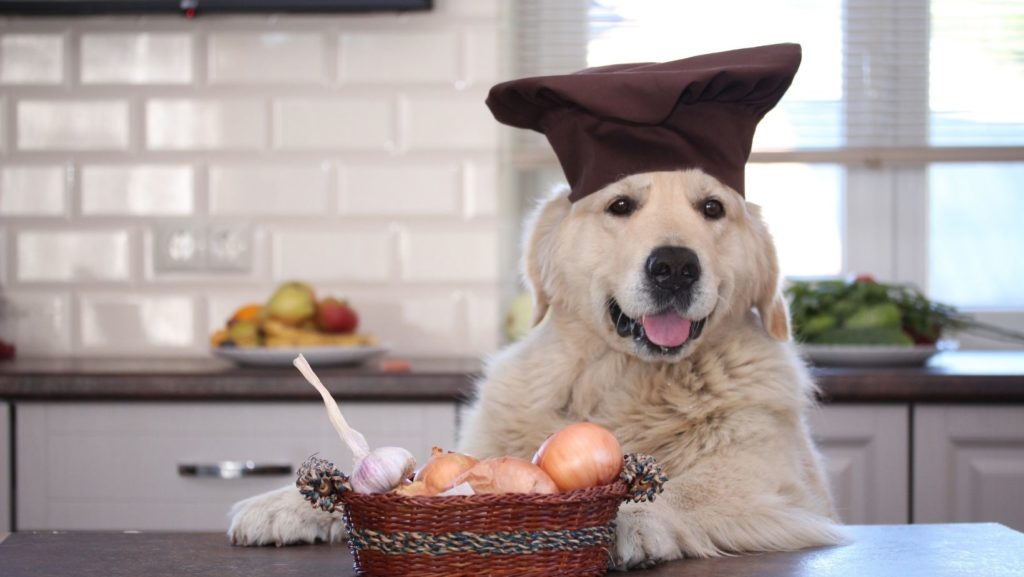 What happens if a dog eats garlic and onions?
The N-propyl disulfide is present in garlic and onion.
This compound is toxic for your dog as it surrounds the oxygen molecules of red blood cells. This makes the immune system damage the red blood cells.
As a result, oxygen supply becomes insufficient for the tissues and organs. Hence, it will make your dog very weak.
If your doggo has consumed garlic and onion, you must rush him to the hospital and make him vomit. Vomiting will remove most of the toxins from the body.
Making your dog vomit is the best to secure them from the consequences. But vomiting is only effective if ingestion was in the past 1-2 hours.
If your furry friend has brown or red urine, is panting, breathing fast or weak, take him to the vet as soon as possible.
Your dog may require oxygen supplementation, IV fluid support, and blood transfusion to make him normal.
Symptoms of toxification can develop in 24 hours but in some cases, it takes up to 7 days.
Some of the most common symptoms are:
Anaemia
Vomiting
Weakness
Blood in urine
Panting
Pale gums
Rapid heart rate
What are the benefits of garlic for dogs?
Immunity booster:
Garlic helps to boost the immunity in your doggo. It is a great food to fight against cancer.
Garlic increases the movement in killer cells by increasing the functions of the bloodstream.
Detoxification:
Your dog will be happy if he consumes the ideal quantity of garlic. Garlic is a natural detoxifier.
The compounds present in garlic increase the functioning of the liver.
This helps the liver to detoxify the toxins present in the body.
Best for fleas and ticks:
Garlic leaves a scent on your doggo's body. This scent repels the ticks and fleas from living on his body.
Blood clot prevention:
Garlic can prevent blood clots in a dog's vascular system. This special compound also has the capability of reducing the cholesterol and fat build-up in the heart
Fighting internal and external bacteria:
Garlic is a natural ingredient that helps to fight any fungal or viral infection.
BRI Nutrition Odorless Garlic - 240 Softgels - 1000mg Pure and Potent Garlic Allium Sativum Supplement (Maximum Strength) - 120 Day Supply
★WHY US: We were sick of burping up garlic so we set out to create an amazing burp less garlic supplement. With garlic being a leading super food, there are hundreds of variations of garlic supplements now available in the market. However, at BRI Nutrition, we've developed what counts, and that is sourcing the finest ingredients.
★WHAT IT IS: Studies suggest that garlic can be an effective agent in improving our overall health.* Whether with regards to cardiovascular health issues, such as high blood pressure, cholesterol, or heart attacks.* It also aids our immune system and in circulation and digestion, and provides detox and cleanse abilities.* Garlic is made up of key compounds that contribute a variety of health benefits to the body. These compounds include allicin which the active ingredient in garlic.
★PURITY: We use only the finest ingredients, all of which are manufactured in our US, GMP compliant, state-of-the-art, facility. Every batch is laboratory tested for quality assurance. OUR GUARANTEE: We're very so confident that you'll love this product that we offer a 60-day, 100% money-back guarantee.
★COMMON NAMES: In many cases, you may encounter garlic referred to as Garlicin, Camphor of the Poor, Stinking Rose, or via its scientific name, Allium Sativum. Some competitors offer aged garlic extracts, garlic drops, garlic in liquid form, odorless garlic supplements, and even garlic complex to name a few.
★SHARE: Consider ordering one bottle for yourself and another for a friend or loved one. Keep each other motivated and reach your goals together and more quickly. BRI Nutrition stands by every quality product we make. We manufacture only premium vitamins, capsules, pills, tablets, powders, multivitamins, supplements, topical liquids, serums, vegan foods and extracts for men, women, and children. Check BRINutrition out today!
How to feed garlic to your dog?
The most important component in garlic is "allicin". It is formed by two enzymes alliin and alliinase that are present in garlic. Alliin is an odorless, nonvolatile sulfur amino acid.
When garlic is cut, alliin gets mixed with alliinase. Then alliin gets volatile and pungent giving garlic its smell and taste.
Fresh garlic is the most promising form of garlic. But many people find it boring to clean and chop it for their dogs. Introducing garlic in low quantity for a week is good for your dog.
It is important to watch any change in behaviour of your dog. Though garlic is safe for dogs, still every dog has a different effect on it.
You can feed your doggo with garlic according to its breed and size.
How to prepare garlic for dogs?
Peel the garlic cloves and dice, crush or chop the fresh garlic.
Allicin degrades quickly so use garlic immediately after sitting.
Measure and chop the garlic, measure the amount of garlic and mix it in the food.
Will cooked garlic hurt dogs?
Usually, Garlic in all forms is considered poisonous to dogs. Raw and cooked garlic bulbs even with cloves are mildly toxic to dogs and vomit
Final words
Altogether, garlic has benefits and losses as well. Giving your dog an ideal quantity of garlic provides great health benefits.
Dogs are sensitive creatures and we must monitor what they are eating. An excess amount of garlic can make your doggo very ill.
If you are not sure about the quantity of garlic then don't feed it to your furry friend. It's simple. It is better to keep them far from the benefits of garlic than make them ill with it.
FREQUENTLY ASKED QUESTIONS