If you have a dog with long ears, you might be wondering what kind of bowl is best for them. Check out this article for the top five bowls that are perfect for dogs with long ears!
The Different Types of Bowls
There are many different types of bowls that you can use for your dog. Each type of bowl has its own advantages and disadvantages. Here is a look at some of the most popular types of bowls:
1. Stainless Steel Bowls – Stainless steel bowls are one of the most popular types of bowls for dogs. They are durable, easy to clean, and relatively inexpensive. However, some dogs may find that they slide around on the floor when they eat from them.
2. Ceramic Bowls – Ceramic bowls are another popular option for dog owners. They are also durable and easy to clean, but they can be more expensive than stainless steel bowls. Some dogs may also find that they break if they are dropped.
3. Plastic Bowls – Plastic bowls are a less expensive option, but they are not as durable as ceramic or stainless steel bowls. They can also be more difficult to clean if your dog makes a mess while eating.
4. Slow Feeder Bowls – Slow feeder bowls are designed to help dogs eat slower and prevent them from gulping their food down too quickly. This can be helpful for dogs that tend to eat too fast or have problems with bloat. However, slow feeder bowls can be more expensive than other types of bowls.
5. Travel Bowls – Travel bowls are convenient for taking with you on the go. They are often made from collapsible materials so that they can be easily packed up and transported. However, travel bowls are not as durable as other types of bowls and may not be suitable for all dogs.
6. Elevated bowls– They are great for dogs who have trouble bending down to eat, but they can be pricey and may not be necessary for all dogs.
Choosing the right bowl for your dog is important. You will want to consider your dog's individual needs when selecting a bowl.
If you are unsure which type of bowl is best for your dog, talk to your veterinarian or a pet store employee for help.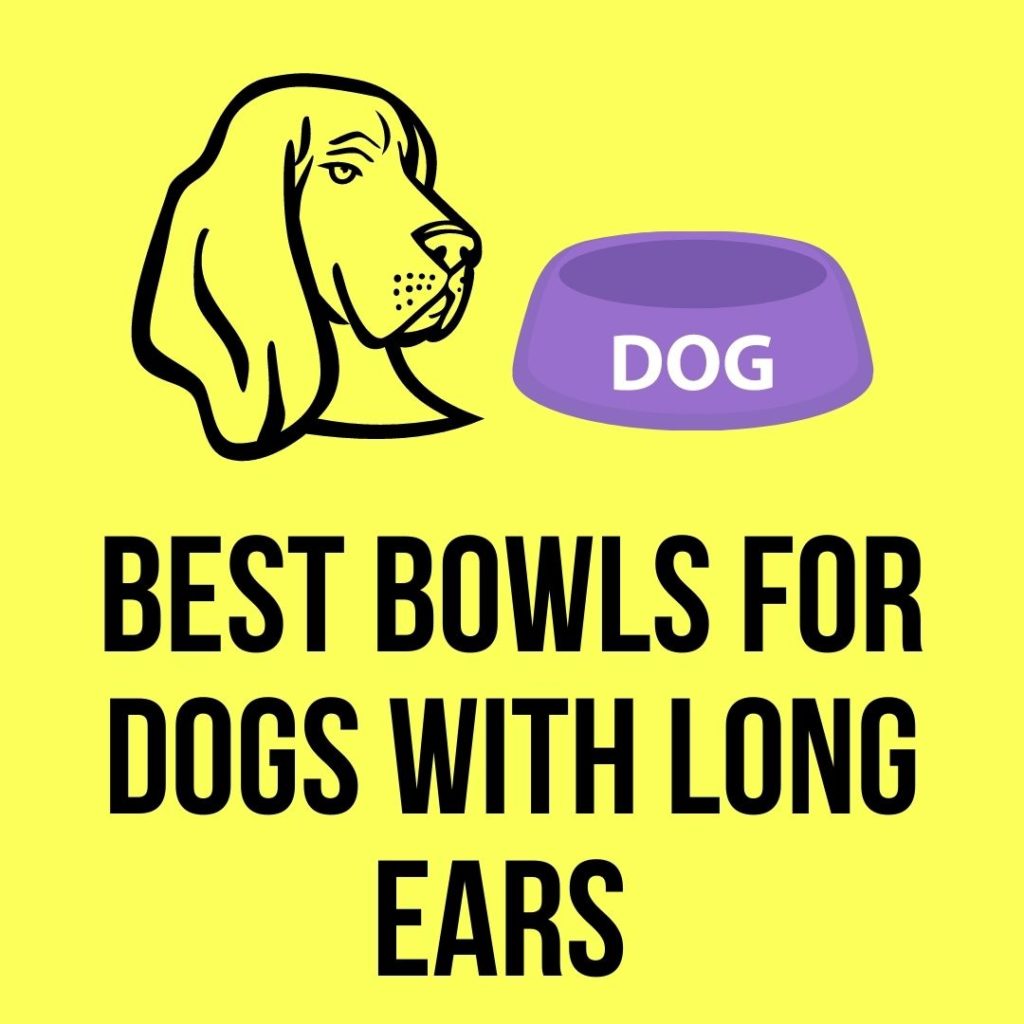 PETISH Bowl for Long-Eared Dogs
If you're constantly concerned about your canine's long ears getting wet while eating, then you must get this bowl
It is slim and barely raised to protect your canine's ears from being soaked with meals or water.
Unlike plastic bowls, which can be regularly associated with slime, this bowl is made with brushed stainless steel to keep your canine meals or water fresh for a long time.
Stainless steel is likewise smooth to clean.
The bowl additionally comes with a rubber, non-skid backside to cater to dogs who like strolling their bowls into anything stationary whilst ingesting.
The enterprise gives bowls of various sizes and heights to cater to your canine's age, size, and ingesting habits.
Bauer Pottery Spaniel/Cocker Dog Bowl
The bowl comes with heavy-duty earthenware. Therefore, you don't need to fear skidding problems common with specific plastic canine bowls.
Its glaze is lead-free to maintain your canine health.
Bauer Pottery has a wealthy record of making superb and practical pottery. Therefore, rest assured that you will buy a high-end canine bowl if you decide to shop for this canine bowl.
It is available in many canine-friendly colors to embellish your canine's consuming experience. The bowl is likewise dishwasher-safe.
Mason Cash Cane Dog Bowl
This is a heavy canine bowl crafted from ceramic so that you can relax and be confident that you're shopping for a durable, strong, and chew-proof bowl.
One of the top blessings of this bowl, besides its capacity to preserve your canine's floppy ears dry, is its weight.
It does not shift effortlessly if your canine attempts to push it around.
One drawback of ceramic canine bowls is their capacity to chip and break, mainly while being utilized by damaging dogs.
This isn't always the case with this specific canine bowl because it is designed with thick aspects to prevent useless chipping.
The bowl is microwave, dishwasher, freezer, and fridge safe.
Iconic Pet Spaniel/Cocker Bowl
Another fantastic bowl for long-eared dogs is the Iconic Pet Spaniel Bowl.
Made of stainless steel, you could ensure the bowl won't hold awful odors for your canine.
You can also wipe down this bowl fast.
Like different bowls we've reviewed, it has a non-skid rubber backside to prevent useless spills and defend your floor from mess and damage.
The bowl is appropriate for treats, moist and dry meals, and could look fantastic with any domestic décor.
Fed "N" Spaniel Bowl
This bowl is oval-shaped and slender to keep your canine's ears out of water or meals. Also, Its top is simply ideal for catering to even tall canines.
The bowl is a bit tapered in the direction of its top to prevent tipping it over.
In fact, it is also manufactured from solid material and comes in various colors to suit you and your canine's preferences.
To prevent useless falls and slips, the bowl comes with a molded, non–slip rubber base.
Ear Clear Long Eared Dog Bowl and Mat Set
It features slender and extended bowls to keep your canine's ears clean of meals or water, shielding him from ear infections.
And in case your canine is a quick eater, you don't need to fear getting him a sluggish feeder canine bowl. This is because this bowl is designed to slow down eating, preventing nausea, bloat, and weight problems in canines.
Unlike plastics that are vulnerable to chipping, this bowl is made with HDPE and will subsequently serve your dog longer.
MPP Stainless Steel Dog Bowls for Long Ear Breeds
This is another top-rated preference in canine bowls designed for puppies with long ears.
Like other canine bowls we've reviewed, its top is a bit slim to prevent your canine's ears from getting into touch with meals or water.
Its non-slip backside prevents slippage and guards your flooring against drags or slides. 
It is covered with stainless steel. Therefore, it is rust-free and puncture-free. It can hold approximately 3.75 cups of water, making it a brilliant travel preference.
The bowl's openings and height are 6" and 4", respectively.
Indipets Stainless Steel Long-Eared Dog Bowl
Another cool stainless-steel canine bowl designed for puppies with long ears is this Indipets bowl.
It is rust-resistant, dishwasher safe, and can mix properly with any décor.
Unlike other stainless-steel bowls, which can be lightweight and may be dragged around by canines, this precise bowl has a sturdy, massive base to boom its center of gravity, making it difficult for your canine to topple it over.
Most importantly, the bottom additionally features a non-skid rubber to prevent skidding.
Basis Pet bowl
A Basic pet simply gets canine owners. They promote only one product: stainless steel canine bowls. Also, they stand behind every one of them.
They test each batch of their 304 stainless steel bowls for mercury, lead, and cadmium – nasty heavy metals which can contaminate stainless steel bowls, inflicting harmful effects on the health of your canine.
But what made this canine bowl our primary advice is its size. Available in 4 sizes, from minor to extra-large, this stainless steel bowl is appropriate for every canine, from a Chihuahua to a Great Dane.
The 22-gauge metal can take a beating.
Yeti Boomer 8
From its non-slip base to its thickness, it's clear that quite a few efforts went into the design of this bowl.
It is very strong and reliable.
Weighing in at just under pounds and completed with double-walled 304 stainless steel, the Yeti Boomer 8 was created for outdoor use. This bowl must hold up for years regardless of the horrific climate and challenging play.
You can expect to pay a premium rate for this top-rated product.
Its handiest drawback is that it comes in a single size. While it's suitable for many puppies, it falls short for extra-small and extra-big breeds. While the more miniature puppies struggled with the length, the eight-cup capacity is insufficient to feed a big canine like a hungry Mastiff.
Which Bowl is Right For Your Dog? Our Recommendation
There are a few things to consider when choosing a bowl for your dog. If your dog has long ears, you'll want to make sure the bowl is deep enough so their ears don't get in the way.
You'll also want to choose a bowl that's easy to clean – since longer-eared dogs are more prone to getting food and water inside their ears.
Stainless steel bowls are a good option, or you can get a bowl with a rubber base to prevent slipping.
And finally, make sure the bowl is the right size for your dog – too small and they won't be able to eat comfortably, too large and they might make a mess.
Conclusion
If you have a dog with long ears, then you know how important it is to find the right bowl for them. We hope that our list of the best bowls for dogs with long ears has helped you find the perfect one for your furry friend. Do you have any other tips for picking out the perfect bowl for a long-eared dog? Let us know in the comments below!
Frequently asked questions
Do dogs have a preference for metal, plastic or ceramic bowls?
For the most part, no. However, each canine has its quirks. There are some canines who hate the sound of their metallic collar tags clanging against stainless-steel bowls. That didn't prevent them from eating, though. If you forgot to take off the collar They would simply carry piles of kibble to the carpet and devour it there.
What is the benefit of a slanted or tilted bowl?
Slanted and tilting bowls are appropriate for any canine that struggles to reach meals at the lowest of an everyday bowl. This may be because of their height or constrained mobility. However, brachycephalic or flat-confronted breeds like Pugs get the maximum benefit. The perspective makes it less difficult for them to breathe out of their nostril while they devour. At the same time as an everyday bowl can cause them to swallow air. 
How regularly do you need to wash a canine bowl? 
Water bowls must be washed and refilled with sparkling water daily. As for meal bowls, in case you feed wet meals, you absolutely ought to wash them after each meal. However, if it's dry kibble, you may get away with washing them simply once at the end of the day.
When is it time to replace a canine bowl?
Basically when you see any chips, scratches, or cracks. Bacteria can lurk in the crevices even after washing. Wear and tear have a tendency to take place quicker with plastic bowls. However, ceramic or even stainless steel is best scratch-resistant, not scratch-proof. Keep canine bowls in a suitable shape by washing them in the top rack of your dishwasher.