Breeding isn't easy, and if not prepared well, it can prove quite tedious, difficult, and overwhelming for both dogs and humans. As your female Labrador's pregnancy approaches, she will start looking for a cozy, comfortable, and dark place to give birth. And to make her comfortable, the best one can do, is provide a Whelping Box that can make the Lab feel comfortable and secure. But have you ever wondered what size Whelping Box would fit perfectly for your female Labrador?
Well, because Labradors are large dogs, giving them a big enough Whelping Box that can fit the entire body length comfortably is important. According to expert breeders, a 4 feet X 4 feet X 2 feet (LXBXH) Whelping box will go well enough for a birthing Labrador. Though this is an average measurement, the area must increase depending on the individual dog's size. The idea is to provide a Whelping box big enough that the Labrador can lay down, stand, sit, turn around, stretch during birth, and nurse the litter with ease. Also, it should have enough empty space for housing puppies (2 to 6 or 7).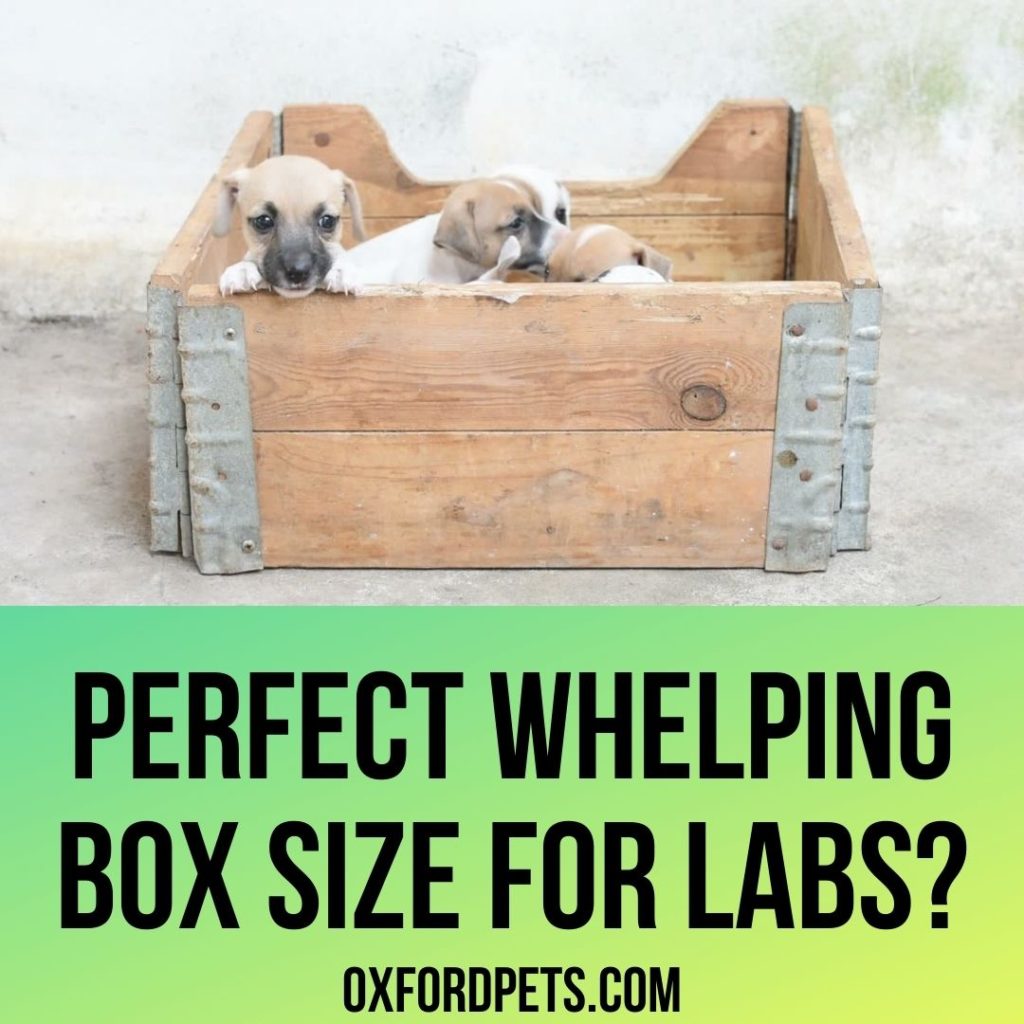 What Is A Whelping Box? Is Whelping Box Necessary?
If you are new to breeding, the phrase 'Whelping Box' may confuse you. 
A Whelping Box, known as Nursing Den/ Box, is a space where female dogs birth and raise their litter until they turn 3 to 4 weeks. A Whelping Box keeps the mother dog comfortable, whereas the litter is warm, cozy, and safe from any kind of danger. Once the puppies turn 3 weeks, or until they have opened their eyes, they shouldn't get removed from the Whelping box. The process of migrating from the Whelping box should happen naturally when both the mother dog and litter are ready to explore the outdoor world. 
Whelping Box is undoubtedly necessary for keeping the birthing dog comfortable and her litter safe. Even though dogs' can manage birthing in different outdoor and wild conditions, when at home, owners must ensure providing them services that can increase their help.
How Big Should A Dog Whelping Box Be?
A Whelping Box should ideally be big enough to allow the female dog to lie down comfortably, plus an extra foot space left. Whelping Boxes with rails or barriers should measure extra few inches long.
While measuring a Whelping box for your dog, always consider your dog's size. Depending on whether the dog is a small, medium, or large breed, the size of Whelping box will differ. The size will also depend upon the dog's weight, her temperament, and the number of puppies she is birthing (according to the ultrasound report).
For Example,
A 21 X 34 inches long and similarly deep Whelping Box is good enough for Small Breeds.
A 28 X 34 inches long and similarly deep Whelping Box is good enough for Medium Breeds.
And, a 48 X 48 inches long 34 X 40 inches deep Whelping Box is good enough for Large Breeds. For dogs who are extra large, 48 X 58 inches long and 40 X 48 inches deep, Whelping Box will provide good enough space.
What Size Whelping Box Does A Labrador Need?
Labradors are large breeds, and therefore they need a Whelping Box with a bigger frame/ space. 
The best way to measure an appropriate size is 'an extra foot than your female Labrador's length from head to rear. For Example, if the female Labrador measures 40 inches from head to toe, then the Whelping Box should be 52 inches in length. Simultaneously, the width of the box doesn't require to be very broad but good enough to allow the Lab to lie down along with her litter. If the box is extra wide, the puppies may not be able to find their mother, especially since their eyes aren't opened for the first 2 to 3 weeks. 
Suppose the Length of Whelping Box is 54 inches; then the Width of Whelping Box should be no more than 40 inches. Also, giving a certain height to the Whelping Box is important as well. For Labradors, 24 inches would be good enough. It will keep the Lab mother and her litter safe from falling out. 
Are Pig Rails Necessary In A Whelping Box?
Dog parents are often confused while layering Pig Rails in their Whelping Box. What confuses people the most is whether the Pig Rails will keep puppies safe or if it will impact them negatively.
Pig Rails are low railings inserted inside a Whelping/ Nursing Boix. Also termed as roll bars and rails, these railings are fixed inside Whelping box's perimeter and are meant for securing/ protecting puppies from being crushed or smothered by the mother. Even when the mother rolls aside while sleeping or birthing, Pig Rails will ensure litter safety and keep them from coming underneath the huge mother. 
Pig Rails aren't extremely important in all Whelping Box, but with larger breeds like Labrador, you cannot overlook its use. 
How Long To Keep Pig Rails In A Whelping Box?
Until the puppies are weaned, Pig Rails should be kept inside the Whelping Box only. However, once the puppies are big enough to crawl from under their mother or out of the Whelping Box, you can remove the Pig Rails. The best time is probably after four weeks. 
How Do You Make A Labrador Whelping Box?
Whelping Boxes can be made out of cardboard, plastic, wood, or any such robust material quite easily. 
Here are a few things you may need:
Wood Railings (Or Plastic/ Cardboard as per your wish)
Hammer
Wood glue
Something to cut the wooden panels (or take precut panels)
A Plywood for making the Base
Vinyl sheeting or something to unexposed the wood
Water absorbent bedding
Cozy bedding
Pig Rails
The Procedure
Either take precut wooden panels or cut them at home. The sizing should be: 
4 feet X 3.5 feet (LXW) for the Base.
4 feet X 2 feet (LXB) for sides. Take 4 such wooden panels.
TIP: You can find precut wooden panels at home improvement stores or with your local carpenter.
Now take one of the side panels, mark an entry/ exit and cut out the piece. The entry/ exit should be lower for the dog's comfort but big enough for a Labrador to get in and out conveniently.
Now fix all four size panels over the wooden Base. Use either wood glue or nails (or both) to ensure a secure fix.
Further, take a Vinyl sheet, self-adhesive contact paper, or something similar that can cover the entire wood section. Doing so is important since wood can develop bacteria. Or the risk of wooden hangings hurting the dog and litter too will remain prominent all the time. NOTE: Do not substitute layering with any kind of paint.
Next, line the Whelping box with an observant water sheet so no moisture enters the woods around.
Further line it with warm, cozy, and comfortable bedding. NOTE: Ensure changing the bedding frequently to maintain hygiene for the dogs.
Lastly, fix the Pig Rails as well.
How Do You Build A Big Dog Whelping Box?
The procedure for Building a Whelping Box (for small and big dogs) is one for all. The only trick is to keep the length and width of the box according to the dog's size. If the dog is a small breed, keep the box small. Picking the large one may not provide a cozy and comfortable environment for the litter. Simultaneously, for large dogs, the Whelping Box should be huge. Even after when the dog fixes inside, there must be enough room left for her to stretch, turn and lie down.
8 Whelping Box Making Tips
Prepare the Whelping Box at least three weeks before your dog's due date (Delivery date). Firstly, you never know if the dog will give birth early or not. And secondly, it is very important to make the birthing dog comfortable in the Whelping Box. Dogs are very keen on safety when it comes to giving birth, and thus they always look for a secure place in the house. The major concern of safety for them is from their fellow humans and pets in the house.
Choose a dark, secure, and warm space in the house where you can keep the whelping box. The place where your birthing dog is most comfortable is important. You can consider a dark corner of your bedroom, an empty room, a place below the staircase, or so. However, ensure that the Whelping box isn't in an uncomfortable position.
Consider covering the Whelping box with a thin cloth to avoid exposure. However, do not cover it fully.
Keep the Whelping box clean, dry, and sanitized every day before and after the dog has birthed.
Avoid using cardboard, newspapers, and other such materials that will soak liquid and go bad soon.
Always keep the Whelping box away from direct sunlight or even artificial light. 
Puppies cannot regulate their body temperature, so thus if it is the colder season, use heating pads essentially.
Lastly, if you are sceptical about building a Whelping box, consider buying a readymade one.
Best Whelping Box For Labrador Retrievers 2022
Whelping Box for Dogs | Veterinarian Approved
Artemis Whelping Box for Dogs and Puppies – Large Birthing Supplies
EZWHELP EZCLASSIC Whelping Box for Dogs and Puppies
SincoPet Reusable Pee Pad + Free Puppy Grooming Gloves/Quilted
Drymate Whelping Box Liner Mat, Washable and Reusable Puppy Pad
Whelping Box for Dogs | Veterinarian Approved | Large Medium Small Dogs Puppies | 48" x 48" x 18" | All Breeds
✅ WHELPING BOX KIT FOR DOGS – FOR LARGE, MEDIUM, & SMALL DOGS – Perfect whelping solution for professional breeders. For every breed in our 1 size fits all premium whelping box kit.
✅ VETERINARIAN APPROVED & RECOMMENDED - This whelping box has been approved and recommended by veterinarians across the country. Veterinarians have endorsed the PUPez whelping box as the safest, most hygienic, and user friendly whelping box for breeders of all levels.
✅ DIMENSIONS 48"x48"x18" – Perfect for professional breeders. Our extra large whelp box gives just about every breed tons of room for comfort and security. Our whelping box gives a new mother the perfect place to birth, rest, and nurture her new litter.
✅ EASY TO ASSEMBLE- The PUPez Whelping Pen is super easy to assemble. Everything is included with your purchase. Requires only 1 person to assemble and disassemble in just a couple of minutes.
✅ ADJUSTABLE DOOR &*BONUS* PUPez PUPPY PROTECTOR RAIL INCLUDED- Every whelping box has an entrance door with an adjustable height. This allows the mother to come and go safely as she pleases while keeping the pups secure. Also includes a 360 degree puppy protector rail ("pig rail") to keep your puppies safe and secure. The puppy protector rail is essential during birthing to ensure newborns have the protection they need.
Artemis Whelping Box for Dog, 22" High (Plus 40"x80", Grey)
ENHANCED FEATURES: The Artemis Whelping Box kit includes large, high panels to ensure the safety of your pregnant dog and her pups. This product requires no tools and is easy to assemble using the plug panels and rods, giving you the freedom to extend the box if needed.
SPECIAL DESIGN PIG RAIL: Maximize space in the box while delivering safety and support. The pig rail included with our product can withstand a strong bearing force while also providing up-down support and protection for your puppies.
QUALITY HIGH-GRADE PLASTIC: Our whelping box is made with original, high-grade plastic that ensures durability and endurance. It is created with three different molding techniques, delivering a longer-lasting product that can be used time and again.
EASY TO CLEAN: Each element of the Artemis Whelping Box is designed to be easily removed and cleaned. Simply rinse with water, or wipe clean using a cloth, and your item will be ready to use again in no time.
WHELPING BOX FOR DOGS: This whelping box measures 80 x 40 inches – 22-inch height to offer protection for mother and puppies – removable pig rail – easy to clean panels and connectors – complimentary, 4-layer pee pad included.
EZWHELP EZCLASSIC Whelping Box for Dogs and Puppies - Indoor Dog Whelping Pen with Rails - Sanitary Dog Whelping Box - Puppy Playpen for Large or Small Puppies - Whelping Supplies Kit 38"x38" Gray
QUALITY PLASTIC BUILD: The walls of our indoor dog whelping box are made of plastic injection moulding which is extremely tough and durable, but also light enough to be portable. The walls are connected with a very high-strength extruded plastic post that is tall enough to keep puppies from escaping, but still allows you to attend to the puppies easily. Under normal use, our whelping box will serve for multiple litters unlike a disposable whelping box and be part of your puppy essentials!
EASY TO MAINTAIN: Our whelping boxes are easy to wipe clean with general-purpose detergents and disinfectants, including bleach. Use it with our whelping pads to ensure that your whelping box is clean and tidy throughout the whelping process, and keep your pets clean and safe! Includes our reusable and absorbent pet pee pad and heavy duty canvas whelping box liner, which are water-resistant and machine washable.
PUPPY PROTECTOR: When it's time for your pet to give birth, be ready to keep your puppies safe. Rails, also referred to as pig rails, are used to protect the puppies should mom roll over and accidentally smother her babies. When puppies are of sufficient size and strength, the rails can be removed to increase internal whelping box space. Our whelping boxes are designed to allow the mother to come and go, while keeping the baby dogs safe and comfortable.
DOGS LOVE IT: Don't keep your doggie in a kennel, dog cage, doghouse, or fence that will make them uncomfortable. This lovely plastic box enclosure can function as a dog playpen for small dogs or medium dogs, and it's even big enough for a large dog. It has enough extra room for your dog and puppy accessories and other puppy stuff. We create our products with your pet's happiness in mind! The interior dimensions of the whelping box are 38" x 38" while the exterior dimensions are 41.5" x 41.5"
KEEP YOUR HOUSE IN ORDER: It's hard to stop newborn puppies from causing havoc, so keeping them contained is critical. Small, medium, and large dogs all need a comfy bed and safe place to recover. Our whelping box for dog birth provides both! Our EZclassic Whelping Box is sold with our new rail assembly, front panel with 2 pc door to prevent puppies from escaping, one washable & reusable pet or puppy pee pad, and one heavy duty canvas floor liner. Wall panel height = 18 inches. (Patent Pending)
Sale
SincoPet Washable Dog Pee Pads with Puppy Grooming Gloves,Puppy Pads,Reusable Pet Training Pads,Large Dog Pee Pad,Waterproof Pet Pads for Dog Bed Mat,Super Absorbing Whelping Pads
Great Material of 4 Layers - 100% polyester knitting surface for ultimate comfortable; Super absorbent high density middle layer; Breathable waterproof PUL inner layer; 100% polyester knitting fabric with anti-slip silica gel bottom.
Anti-Slip Bottom - There are a great deal of anti-slip silica gels on the bottom side of the fabric. The leak-proof, slip resistant backing will help keep your floors dry while staying in place.
Washable & Reusable -Our washable pads are durable and long lasting, multiple washes. This 36"X41" Large washable pee pads for dogs are reusable and super absorbent. The sizing is perfect for any breed or size dog.
Multiply Functions - These pet pads are more than just potty training supplies.These pee pads are great for housebreaking,dogs playpen,cat litter box,provides protection to crates and kennels, pet carriers.They are ideal for protecting carpet,woodfloor,sofa,furniture,car seat and car trunk during travel.Place one under food and water bowls for messy eaters, or use as a puppy whelping or training pad when welcoming your newest family members
Excellent Soaking Capacity - These house training and travel pads can hold up to more than 20-30 times, ensures your floor and seat dry all night dry. NOTICE: When removing from bed,gather all four corners and lift while supporting bottom of the pad./*****/ Stay Strong,We got your fur baby's back /****/
Where Do I Put My Puppies After Whelping Box?
Once the Puppies are big enough to explore the outdoor world, they will start moving out of the Whelping Box. The mother dog, too, will be less possessive about her litter now, and such behavior is completely normal. 
After Whelping Box, dog owners can keep the puppies in a cozy corner of their bedroom or drawing room. It is the right time to introduce them to the world called 'Home.' However, since they are still so small, avoid taking them to the kitchen, bathroom, garage, or other such areas.
Wrapping up…
That's all, folks. We hope that after going through this guide, you now have a better idea of 'How Should be your Labrador's Whelping Box'? Choosing the correct size, adequate safety, and appropriate comfort is all that you need to ensure while buying or building a Whelping Box. And when skeptical, go with a readymade Whelping Box. Some fine options are mentioned above.