Petco, PetSmart, and Chewy are the biggest retailers and fierce rivals in the world of pet supplies. All of them are based in America and have a tough, never-ending dog fight for the first place of being the best.
Chewy vs Petco vs PetSmart Comparison
All three retailers, including Petco, PetSmart, and Chewy, have been providing great services for years. What makes them compare is first the common field of focus and other the similarity between their products.
But to get over that and find the right answer, we took a close look at three of them—our comparison procedure when through different things, including price, popularity, selection, availability, and more. We hope we will be able to provide you with an informed decision.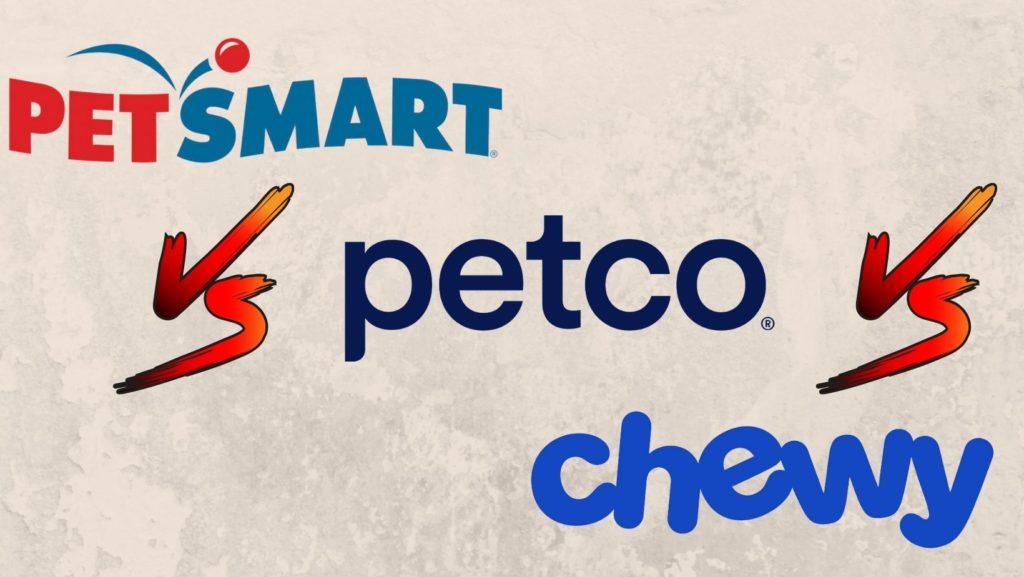 Who Is Bigger- Petco or PetSmart?
Petco and PetSmart are the two largest pet product chains in America, probably in the world as well. Both of them have been operating since the last century (Petco since 1965 and PetSmart since 1987).
Though even with a huge difference of 22 years of operations, PetSmart presently comes out as a bigger and better company.
PetSmart's latest annual revenue is $7 billion, whereas Petco's annual revenue is $4.9 billion. However, Petco stays behind PetSmart, even in terms of employees and the number of stores.
Petco vs PetSmart: Employment
Petco ad PetSmart both provide employment to several individuals across the USA. However, while the former has 27000 employees (As of January 2021), the latter has 55,000. With that, employment opportunities with PetSmart are clearly higher than with Petco.
Petco vs PetSmart: Work Ethics
The work and Business ethics of both Petco and PetSmart are neither clearly on the Positive nor on the Negative side.
Making sure their businesses appear highly ethical; both companies have their own charitable foundations.
While PetSmart has PetSmart Charities, Petco has Petco Love which earlier was known as Petco Foundation. These charitable foundations work towards animal welfare, rescue, and other betterment.
However, on the other hand, there are claims that Petco and PetSmart keep their animals in less-than-ideal conditions. For which even organizations like PETA and several animal activists have called them out.
The issue basically lies in individual stores depending on their type of employees. However, both the companies at their higher level have great management when it comes to being ethical.
Petco vs PetSmart: Prices
Since both Petco and PetSmart offer a wide range of products and services, differentiating them in the name of pricing is slightly a difficult task. According to some customers, Petco is a Dollar cheaper on similar items than PetSmart.
At the same time, a certain section of customers thinks Petsmart has significantly lower prices on its website and offline store as well.
However, since both providers have different products and services, there is no overall comparison. Both have more or less the same prices.
Petco vs PetSmart: Grooming costs
The grooming prices between Petco and PetSmart are quite similar. However, Petco has better quality services and better prices. On the other hand, PetSmart is comparatively 15% to 20% expensive.
Petco vs PetSmart: Vet Costs
Petco and PetSmart both offer Veterinary services. It includes a wide range of medical services for dogs, cats, birds, amphibians, reptiles, and all possible pets.
Similar to regular product prices, the vet service charge between the two doesn't have any comparison. For finding the best deals, consumers can take package deals since it offers higher discounts.
Also, the price range will differ on the State and City one is taking services.
Petco vs PetSmart: Training
The training programs between Petco and PetSmart have a quiet lot of differences. However, here are a few prime differences between both of them:
PetSmart has potty training classes; however, Petco doesn't provide such services.
Petco also has separation anxiety classes; however, PetSmart doesn't. These classes help pets learn to survive on their own.
Petco allows individuals to choose from private and group sessions.
Both offer online, in-person, and group classes.
Petco vs PetSmart dog training- Which one is better in 2022?
Petco has highly authoritative dog trainers. Whereas PetSmart has Certified Applied Animal Behaviorists (CAAB).
Both Petco and PetSmart involve a great deal of patience and love while training dogs.
Petco focus on behaviour, training, and positive communication. Whereas PetSmart focuses on real-time experiences.
Training a 6-week-old puppy at Petco will cost nearly $149. Whereas training a 6-week-old puppy at PetSmart will cost nearly $129.
Petco vs PetSmart: Rewards
For its regular and loyal customers, both Petco and PetSmart offer rewards. These rewards come in the form of points that customers can later use as dollars.
Petco offers 1 point per dollar you spend at their store. Whereas PetSmart offers 8 points per dollar, you spend at their store.
Barkbox vs Chewy vs Petco vs PetSmart vs Petland vs Pet Supplies Plus
The Barkbox
The Barkbox Store provides a monthly subscription for dog products, services, and experiences. Operating since 2011, its head office is in New York.
Price-wise, it offers quite decent services competing well with other leading pet brands. While individuals pay with a monthly subscription, they get better discounts at Barkbox.
Chewy
Chewy is an online retailer in America, operating since 2011. Though lately, in 2017, PetSmart acquired Chewy entirely. By 2021, it will have about 18,500.
Petco
Petco is a Health and Wellness Company operating all across the United States since 1965. It will have 27,000 employees by January 2021. Petco has stores in almost every American state, which makes it one of the leading pet brands in the west.
PetSmart
PetSmart is an American chain of pet superstores operating since 1987. It is the ultimate leading Pet company in entire North America and has direct competition from Amazon, Walmart, and Target. PetSmart has stores in all 50 U.S. States.
Petland
Petland is a private pet store operator and franchisor in Chillicothe, Ohio. The company has been running since 1967. It is currently operating 63 international stores in Canada, Japan, China, Mexico, Brazil, and El Salvador. At the same time, it has 131 stores in the United States.
Pet Supplies Plus
Pet Supplies Plus is another pet company with an office in Redford, Michigan. It is the third-largest specialty pet food retailer in the United States and has been operating since 1988. It has 3,000 employees as of 2021 and has a major presence across the U.S. with several stores.
What is considered a better pet store?
PetSmart is day, a well-known favourite when it comes to pet shopping, grooming, and more pet canine businesses. When the thought is about being the best, it has a neck-to-neck competition with Petco.
However, when asked individuals from all 50 American states, PetSmart definitely wins by a point. Its business is so big that recently back in 2017, it acquired Chewy for $3.35 billion. Back then, it was the largest-ever acquisition of an e-commerce business.
Which amongst them is bigger and better?
By companies' size, business, and revenue, PetSmart any day is far bigger than any of its competitors. However, in terms of services, every pet company comes with its own good and bad.
Note: This Comparative Review is based on information collected from social platforms, Groups and is also based on Author's Personal Experience. Some points in the article may contradict your opinions We Appreciate your Feedback
Wrapping up…
Petco, PetSmart, and Chewy are major names in the Pet company sector. While Petco and PetSmart a little affiliation with each other in terms of ownership, Chewy doesn't come in competition within this angle. Also, since PetSmart now owns Chewy, the competition between the two surely cuts down.
All in all, both PetSmart and Petco are good at their efforts. Only a customer who has experience with both of their services can make a better comparison between them. And since every individual has different experiences, both PetSmart and Petco stand out in whatever services they offer.