The ortho weed-B-Gon has chemicals that are unsafe for pets. When we talk about herbicides, you need to handle them with extra care. They contain certain chemicals that are unsafe for pets as well as humans.
epa.gov suggests that you can let your pet go to the lawn once the Ortho weed-B-Gon is dried. However, it is important to let it dry completely. Moreover, you have to pay attention to the weather as well. If it starts raining, it is better to let the chemical dry for an extra 24 hours.
How Long To Stay Off Grass After Ortho Weed B Gone?
It is recommended to let the chemical dry for at least 24 hours before letting anyone walk through the area. It is your responsibility as a pet parent to read all the instructions given on the product. It will give you all the necessary data like the ingredients list and the time it requires to dry.
Sometimes unexpected rain occurs and your weed-B-gon will not tell you what to do next. Therefore, as a standard tie, you need to additionally wait for 24 hours to let it dry again completely.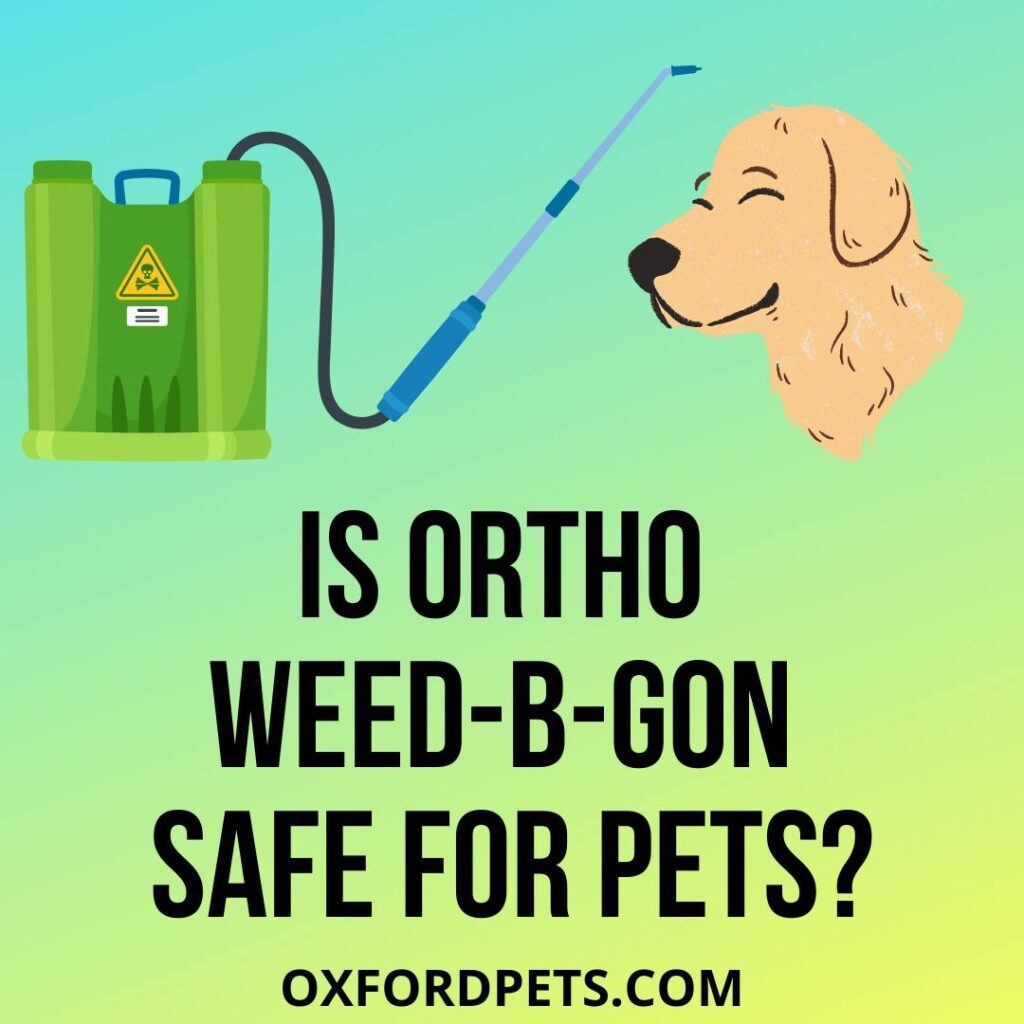 What are the symptoms of weed killer poisoning?
If your pet has gone near the Ortho Weed-B-gon just after application, the pet may display some of these listed symptoms:
Lethargy
Gastric problems
Seizures
Loss of appetite
Rashes or burns around nose and mouth
Drooling
The basic thumb rule is to keep your canine away from the area for 2 to 3 days. If your pet is showing any of these symptoms and you feel it is because of chemicals, then immediately talk to your vet about the required treatment.
What are some pet safe weed killers?
If you are looking for ways to treat your backyard, ensure that you keep an eye on the ingredients the products contain. There are a few weed killers that are pet-friendly. However, there may be some chemicals that cause health problems for pets. Avoid ingredients like:
Chloroform
2,4-D (trimec)
Carbon tetrachloride
Sethoxydim
Products Effectively Kill Weeds Without Harming Pets
Harris 20% Vinegar Extra Strength
This is one of the best non toxic weed killer
You just need to spray it on the patches of weed to kill them. However, understand that it also kills any grass or plant that comes in contact with it.
Although it is non toxic to pets still it can irritate lungs and skins
Therefore, keep your pet inside while using it.
Green Gobbler Vinegar Weed & Grass Killer
This product has 20% vinegar.
It helps to eliminate weeds like crabgrass, dollarweed, or clover within 1 day.
Green gobbler vinegar weed & grass killer is non-selective. Therefore, only spray this product on the areas where you want to kill the growth.
Best part is it does not harm your pet.
Bonide Ready-to-Use Burnout Weed and Grass Killer
It promises to kill any greenery.
This product is best if you have a sensitive nose toward vinegar.
It has citric acid and clove oil that makes its smell very pleasant.
After drying, this weed killer is safe for pets and humans.
Just For Pets Pet Friendly & Pet Safe Weed Killer
As  its name suggests, this weed killer is safe for pets
This product is a combination of ingredients like salt, citric acid, vinegar, lemon juice, and clove oil.
Still, be careful where you spray the weed killer. This is because it can kill other greenery as well
Another best thing about this product is that some portion of each product sale is donated to animal shelters
Natural Armor Weed and Grass Killer
This product is formulated with organic ingredients like citric oil and salt.
Moreover, essential oils help to stop the growth of weed in a few hours. Still, it is non-selective. Take care where you are spraying it
It is better to use it on warm and sunny days.
Once it is completely dried, you can allow your pet to go on the lawn.
Dr. Earth Final Stop Weed & Grass Killer
This pet-friendly weed killer is made of essential oils like rosemary, thyme, cinnamon, and clove.
Although this is a pet-friendly weed killer, do not allow your pet to go near the places you just sprayed it when it is still wet
The essential oils make it smell very pleasant
ECO Garden PRO – Organic Vinegar Weed Killer
This weed killer has organic Himalayan rock salt and vinegar to kill the weed without harming your pets.
It is a non-selective product. Therefore, spray it properly on the weed only. It can kill other plants as well.
Is homemade weed killer safe for pets?
There are various pet-friendly DIY weed killers that you can try. This DIY will keep your pet away from harmful chemicals. Some of them are more effective for instant treatment than whole lawn care.
However, if you want a quick treatment for eliminating weeds, here is a list of ingredients that can help you without causing harm to your pets.
Sugar: It is sweet for us, but it is bad for weeds. More particularly, it is bad for vines or killer weeds. Just put sugar at the base of the weed. To discourage pests, mix chilli pepper with it.
Salt: Salt prevents the regrowth of weeds in the soil
Cornmeal: Cornmeal acts as a pre-emergent on weed seeds. Therefore, it will not harm other plants and will prevent weed from growing
Boiling water: Boiling water can immediately kill unwanted weeds in your backyard. Moreover, it is good for large areas.
What To Ask Before You Hire A Weed Control Company?
How long do I need to keep my pets off the lawn after spraying weed control?
Is weed control safe for pets and children?
Ensure that the company puts down the sign after each application
Are your applicators certified for herbicide applications?
These are a few basic and standard things you should ask before hiring a weed control company. There are various options available for lawn care companies. Therefore, make sure you are choosing the best one to keep the process effective and safe.
Final words
In conclusion, I would say that Ortho Weed-b-Gone is not safe for pets. Moreover, most herbicides cause health problems if not handled properly. This is why it is recommended to do yard work by hand or to treat the area when it is not occupied for more than 24 hours.
Make sure you checked the label on the product. If you have any queries, do not hesitate to ask your vet about them.
I hope you enjoyed the article. I will be back soon with more interesting and informative pieces of writing. Till then, stay connected. Thank you.
Frequently asked questions
Is glyphosate harmful to dogs?
If your dog has access to a huge amount of glyphosate, there is a risk of severe and life-threatening problems. Therefore, it is recommended to keep your pets away from the reach of glyphosate.
What kills weeds but for pets?
The best vinegar solution of 1 cup of sale, 1 gallon of white vinegar, and 1 tsp of dishwashing liquid is the best and most effective weed killer. You can spray this mix on the grown weed to kill it without harming your pet and children.
How long after spraying weeds is it safe for dogs?
When you treat weeds with weed killer, keep your dog away from the lawn for around 2 days or until the chemical is completely absorbed. Moreover, it is better to choose a pet-friendly weed killer.