The ortho weed-B-Gon has chemicals that are unsafe for pets. When we talk about herbicides, you need to handle them with extra care. They contain certain chemicals that are unsafe for pets as well as humans.
epa.gov suggests that you can let your pet go to the lawn once the Ortho weed-B-Gon is dried. However, it is important to let it dry completely. Moreover, you have to pay attention to the weather as well. If it starts raining, it is better to let the chemical dry for an extra 24 hours.
How Long To Stay Off Grass After Ortho Weed B Gone?
It is recommended to let the chemical dry for at least 24 hours before letting anyone walk through the area. It is your responsibility as a pet parent to read all the instructions given on the product. It will give you all the necessary data like the ingredients list and the time it requires to dry.
Sometimes unexpected rain occurs and your weed-B-gon will not tell you what to do next. Therefore, as a standard tie, you need to additionally wait for 24 hours to let it dry again completely.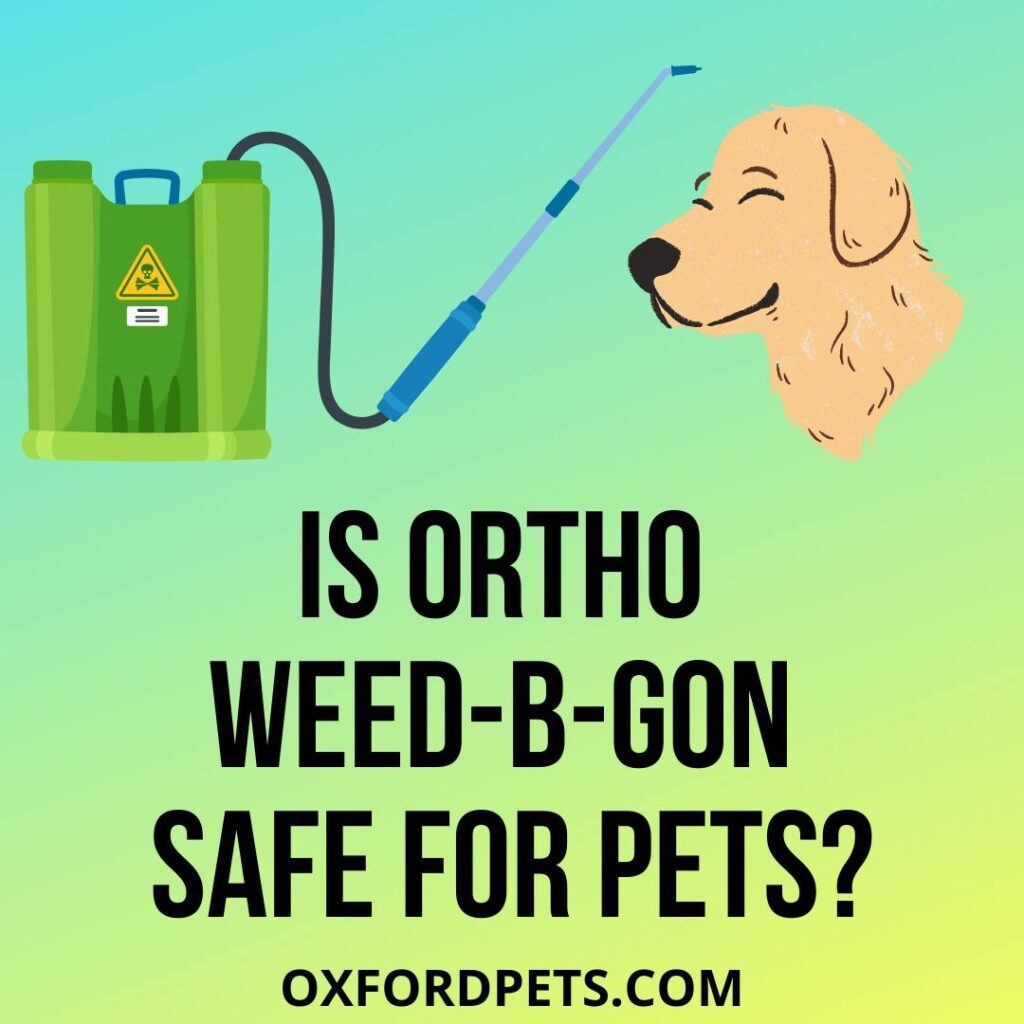 What are the symptoms of weed killer poisoning?
If your pet has gone near the Ortho Weed-B-gon just after application, the pet may display some of these listed symptoms:
Lethargy
Gastric problems
Seizures
Loss of appetite
Rashes or burns around nose and mouth
Drooling
The basic thumb rule is to keep your canine away from the area for 2 to 3 days. If your pet is showing any of these symptoms and you feel it is because of chemicals, then immediately talk to your vet about the required treatment.
What are some pet safe weed killers?
If you are looking for ways to treat your backyard, ensure that you keep an eye on the ingredients the products contain. There are a few weed killers that are pet-friendly. However, there may be some chemicals that cause health problems for pets. Avoid ingredients like:
Chloroform
2,4-D (trimec)
Carbon tetrachloride
Sethoxydim
Products Effectively Kill Weeds Without Harming Pets
Harris 20% Vinegar Extra Strength
This is one of the best non toxic weed killer
You just need to spray it on the patches of weed to kill them. However, understand that it also kills any grass or plant that comes in contact with it.
Although it is non toxic to pets still it can irritate lungs and skins
Therefore, keep your pet inside while using it.
Harris 30% Vinegar, Extra Strength with Pump Dispenser Included (Gallon (4-Pack))
Countless Home & Garden Uses - Concentrated vinegar is widely used to replace many harmful and expensive commercial cleaning products.
30% Industrial Strength - Lower pH of soil & water, clean patios & driveways, eliminate odors from laundry, and much more.
Extreme Power - 6x more powerful than standard vinegar can be used diluted with up to 60 parts of water.
Pure - Absolutely no dyes or chemicals included.
Includes Funnel and Pump - For easy dilution into a spray bottle so you can begin cleaning right away
Green Gobbler Vinegar Weed & Grass Killer
This product has 20% vinegar.
It helps to eliminate weeds like crabgrass, dollarweed, or clover within 1 day.
Green gobbler vinegar weed & grass killer is non-selective. Therefore, only spray this product on the areas where you want to kill the growth.
Best part is it does not harm your pet.
Green Gobbler 20% Vinegar Weed & Grass Killer | Natural and Organic | 2 Gallons | Glyphosate Free Herbicide
CERTIFIED FOR ORGANIC USE — Completely eliminates and desiccates weeds and grasses without using toxic chemicals. Made straight from corn grown in the USA. OMRI listed weed killer and certified for organic use.
KILLS WEEDS FAST — Eliminate any type of weed in just a matter of hours. Expect full desiccation in less than 24 hours. Green Gobbler contains 20% acetic acid. Use on crabgrass, dandelions, clover weeds, white clover, moss, etc.
POWERFUL FORMULA — NO cancer-causing chemicals. Glyphosate-free. 20% formula is four times stronger than traditional table vinegar. Made strictly from ethanol distilled from corn grain.
SAFE TO USE ANYWHERE — Perfect for residential, commercial, industrial and agricultural use. Apply where weeds and grasses are not desired. Use on driveways, sidewalks, concrete, mulch beds, pavers, flower beds, parking lots, farmlands, barns, etc. Ready to use right out the container.
30-DAY MONEY BACK GUARANTEE – If you are not pleased, call or email us with your order number and we will reimburse your entire purchase. We value our customers and we stand behind all of our products. Expect a refund with no questions asked.
Bonide Ready-to-Use Burnout Weed and Grass Killer
It promises to kill any greenery.
This product is best if you have a sensitive nose toward vinegar.
It has citric acid and clove oil that makes its smell very pleasant.
After drying, this weed killer is safe for pets and humans.
Bonide (BND0613) Ready to Use Chickweed, Clover and Oxalis Weed Killer, 1 gal
TOTAL WEED KILLER - Spray eliminates chickweed, clover, dandelions, ground ivy, oxalis, wild violet and over 100 more tough-to-control weeds. A complete list of these weeds is displayed on the label.
SAFE FOR GRASS - Designed to kill a variety of weeds, not lawn grasses. When used as directed it kills broadleaf weeds in lawns, roots and all.
READY TO USE - This product is conveniently ready to use when it arrives. We also offer a 16 oz bottle of Chickweed, Clover and Oxalis Weed Killer Concentrate (BND061) that you mix yourself.
POWERFUL FORMULA - Contains Horsepower (Triclopyr + MCPA + Dicamba). A selective herbicide trusted by landscapers and ground keepers.
FAST ACTING - Begins working overnight and is rainproof within hours of application. For best results, do not mow your lawn for 1 to 2 days before or after use.
Just For Pets Pet Friendly & Pet Safe Weed Killer
As  its name suggests, this weed killer is safe for pets
This product is a combination of ingredients like salt, citric acid, vinegar, lemon juice, and clove oil.
Still, be careful where you spray the weed killer. This is because it can kill other greenery as well
Another best thing about this product is that some portion of each product sale is donated to animal shelters
Sale
JUST FOR PETS Weed Killer Spray (128 oz Gallon) NO Glyphosate
🐶 NATURAL - NO Glyphosate. Our Product Includes Natural Ingredients.
🐱 WE'RE PET LOVERS TOO - Our Pets Are Like Our Children. Truth Be Told We Like Our Pets More Than Some People. We Will Do Anything For Them.
🐕 COMMUNITY MINDED - A Portion of Each Sale is Donated To Animal Shelters Nationwide.
🐈 ELIMINATES WEEDS FAST - EASY TO USE - Ready to Use Spray. No Mixing Necessary. Use as Directed
Natural Armor Weed and Grass Killer
This product is formulated with organic ingredients like citric oil and salt.
Moreover, essential oils help to stop the growth of weed in a few hours. Still, it is non-selective. Take care where you are spraying it
It is better to use it on warm and sunny days.
Once it is completely dried, you can allow your pet to go on the lawn.
Natural Elements Weed Killer | Pet Safe, Safe Around Children | Natural Herbicide (1 Gallon)
✅ All Natural and Safe Product- Safe for your family, safe for your pets.
✅ No Harmful Herbicides, Derived from Vinegar
✅ Effective on Most Broadleaf Weeds and Grasses- Use around lawns, gardens, flowerbeds, landscaping, trees, rock beds, mulched areas, and more. NOTE: This will kill grass so do not apply directly to lawns unless trying to kill grass.
✅ Ready to Use- No Hassle, No Mix Formula, No Drift!
✅ Spray weeds until wet, then watch them wilt away!!!
Dr. Earth Final Stop Weed & Grass Killer
This pet-friendly weed killer is made of essential oils like rosemary, thyme, cinnamon, and clove.
Although this is a pet-friendly weed killer, do not allow your pet to go near the places you just sprayed it when it is still wet
The essential oils make it smell very pleasant
Dr. Earth 8004 Ready to Spray Yard and Garden Insect Killer, 32-Ounce
Ready to spray yard and garden insect killer
Use to kill and control insects on vegetables, fruit trees, turf, ornamentals, walkways, driveways and every part of garden to control bugs
Apply early in the morning or late in the afternoon to avoid leaf burn
May be used on edible crops up to the day of harvest
ECO Garden PRO – Organic Vinegar Weed Killer
This weed killer has organic Himalayan rock salt and vinegar to kill the weed without harming your pets.
It is a non-selective product. Therefore, spray it properly on the weed only. It can kill other plants as well.
Sale
ECO Garden PRO - Organic Vinegar Weed Killer | Kid Safe Pet Safe | Clover Killer for Lawns | Moss Killer | Green Grass & Poison Ivy Killer | Spray Ready Glyphosate Free Herbicide (1 Gallon)
✔️ PET & KID SAFE HERBICIDE - Eco Garden Pro Weed Killer is designed with you and your family in mind! All of our ingredients are carefully selected to be SAFE FOR: PETS, CHILDREN, BEES, FISH, AND ANY LIVESTOCK!
✔️ ORGANIC WEED KILLER - Formulated to KILL WEEDS AND GRASS FAST. Our proprietary formula will deliver IMMEDIATE RESULTS WITHIN 24 HOURS! Perfect for all residential, commercial, industrial, and agricultural use - including: driveways, sidewalks, concrete, mulch beds, pavement, flowers beds, parking lots, and farm lands.
✔️ WORKS within 24 HOURS POWERFUL PROPRIETARY FORMULATION - Our READY TO USE (RTU) formula contains natural white vinegar, organic rock salt, biodegradable plant activators, and fermentation derived co-factors, all designed to eliminate weeds and grass effectively and quickly.
✔️ WORKS FOR CLOVER, MOSS, & POISON IVY - Eco Garden Pro Weed Killer will work to eliminate all conventional weeds and grasses, including: DANDELIONS, CLOVER, CHICKWEED, DOLLAR WEED, THISTLE, CRABGRASS, MOSS, WHITE COVER, AND GENERAL WEEDS AND GRASSES.
✔️ GREEN LAWN FOR A GREEN ENVIRONMENT - Eco Garden Pro Weed Killer is designed to work effectively without any toxic chemicals. The product is ECO FRIENDLY, PHOSPHATE FREE, 100% BIODEGRADABLE, AND SAFE FOR GROUND WATER.
Is homemade weed killer safe for pets?
There are various pet-friendly DIY weed killers that you can try. This DIY will keep your pet away from harmful chemicals. Some of them are more effective for instant treatment than whole lawn care.
However, if you want a quick treatment for eliminating weeds, here is a list of ingredients that can help you without causing harm to your pets.
Sugar: It is sweet for us, but it is bad for weeds. More particularly, it is bad for vines or killer weeds. Just put sugar at the base of the weed. To discourage pests, mix chilli pepper with it.
Salt: Salt prevents the regrowth of weeds in the soil
Cornmeal: Cornmeal acts as a pre-emergent on weed seeds. Therefore, it will not harm other plants and will prevent weed from growing
Boiling water: Boiling water can immediately kill unwanted weeds in your backyard. Moreover, it is good for large areas.
What To Ask Before You Hire A Weed Control Company?
How long do I need to keep my pets off the lawn after spraying weed control?
Is weed control safe for pets and children?
Ensure that the company puts down the sign after each application
Are your applicators certified for herbicide applications?
These are a few basic and standard things you should ask before hiring a weed control company. There are various options available for lawn care companies. Therefore, make sure you are choosing the best one to keep the process effective and safe.
Final words
In conclusion, I would say that Ortho Weed-b-Gone is not safe for pets. Moreover, most herbicides cause health problems if not handled properly. This is why it is recommended to do yard work by hand or to treat the area when it is not occupied for more than 24 hours.
Make sure you checked the label on the product. If you have any queries, do not hesitate to ask your vet about them.
I hope you enjoyed the article. I will be back soon with more interesting and informative pieces of writing. Till then, stay connected. Thank you.
Frequently asked questions
Is glyphosate harmful to dogs?
If your dog has access to a huge amount of glyphosate, there is a risk of severe and life-threatening problems. Therefore, it is recommended to keep your pets away from the reach of glyphosate.
What kills weeds but for pets?
The best vinegar solution of 1 cup of sale, 1 gallon of white vinegar, and 1 tsp of dishwashing liquid is the best and most effective weed killer. You can spray this mix on the grown weed to kill it without harming your pet and children.
How long after spraying weeds is it safe for dogs?
When you treat weeds with weed killer, keep your dog away from the lawn for around 2 days or until the chemical is completely absorbed. Moreover, it is better to choose a pet-friendly weed killer.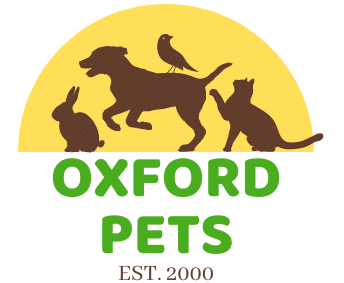 Welcome To The Oxford Family! The Website Is Run And Managed By A Community Of Pet Enthusiasts Who Are Informative About Pets. OLHS Was Initially Founded In 1982 As A Community Dedicated To Animal Welfare. We Are Simply Trying To Keep Their Vision Alive.