Craigslist is an online platform where you can place ads about anything. Moreover, talking about pet ads, the website allows you to post ads to re-home, not to sell. Hence, today's article is all about how to rehome pets on Craigslist. 
Hundreds of people visit this website daily. Therefore, this gives you huge exposure to potential adopters. You just have to carefully screen them. 
How to rehome a pet on Craigslist?
Here are a few steps and tips on how to rehome a pet on Craigslist.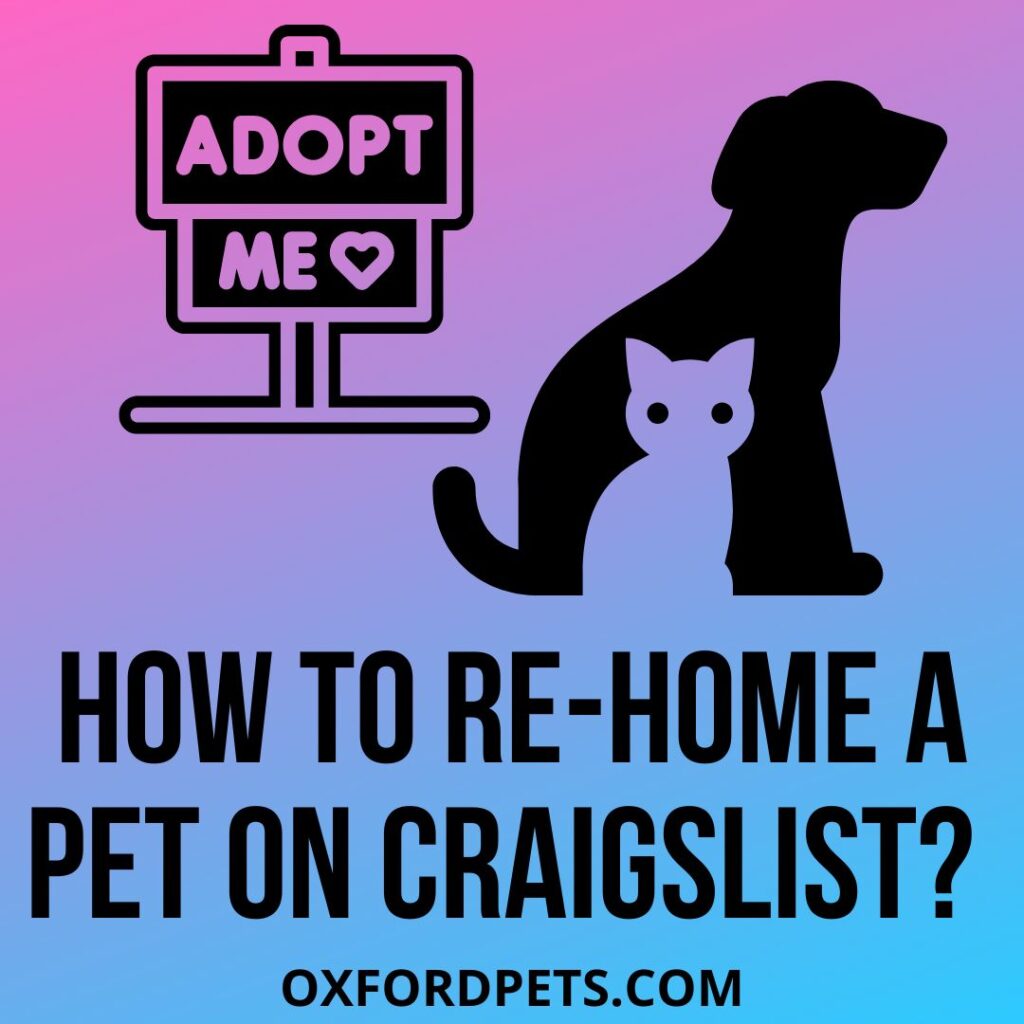 Putting an attractive pet ad
Structuring a good ad is very important here.
Try to draft an attractive ad so that people take more interest
Keep it mid-length, add a lot of pictures of your pet, and write a compiling message to attract serious owners.
Mention any temperament or health issue your pet has. Mention diet and other ideal living situations.
Mention that a house check and pet contract are required. 
Do not use old photos. Place recent photos. 
Write in bullet points about your pet's gender, age, appearance, personality, purity of the breed, etc.
You can also include some memorable moments with your pet. It helps to connect the adapter to the pet.
Mention the likes and dislikes of the pet.
If the pet is on a special diet, give every detail about it.
Highlight the medical conditions (If any)
State the re-home charges.
Also mention why you are looking to rehome your pet.
Question the adopters
Potential adopters can respond to you via phone or email.
Ask them about why they want to adopt a pet or your pet.
What kind of environment will they provide?
Any past experience with pets similar to yours
If you feel their answers are too sketchy, then rule them out.
Ask for a contract
This is the most important part to rehome your pet.
It gives you satisfaction with your pet's safety and prevents the adopter from sending your pet to a shelter. 
Here are some points you must include in the contract –
Guarantee on providing all the basic needs to the pet and access to good vet care if needed. 
Guarantee that you are allowed to check up on the pet for the duration of 6 months.
An authority of taking back the pet if not cared for properly.
Guarantee that the owner will not abuse the pet in any way.
Health guarantees that the adopter will take care of any medical condition that arises to the dog.
Guarantee that the adopter will not put the pet in a shelter where euthanization happens. 
A statement that states that the adopter will inform the owner if they are re-homing the pet.
A statement that states that the adopter will take necessary steps if the pet is stolen or lost.
Perform a house check before adoption
Request a house check.
If the adopter refuses, do not re-home the pet with them. Their refusal indicates suspicion.
Do not go alone on a house check. For safety purposes, take a friend or family member with you. 
Make sure the house is safe and clean.
Ask the adopter if they have taken approval from the landlord to have a pet.
If the adopter has other pets or kids, rehome your pet there only if you feel the pet will get gelled up with the pets or kids. 
After adoption scene
Have a backup plan in case things do not work well.
Many rehoming agreements result in a pet returning or rehoming again.
Hence, make sure you are prepared for taking back the pet and finding a new home.
Visit the pet's new home within 6 months of the adoption. This is to make sure that the pet is happy and healthy.
Keep in touch with the adopter via email or messages. 
Be available as a pet foster if the adopter goes out of the station.   
Why should you not rehome a pet on Craigslist?
Rehoming your pet on Craigslist is disturbing and frightening for the pet. There are a number of adopters who are not fake but have ill intentions. 
You are giving away your pet to a complete stranger. And if your pet's luck is not with him, he may end up in a euthanizing shelter or get badly treated in the new home.
Taking a rehoming fee can opt-out of the impulse adopters. Only the potential adopters will stay. However, still it is not enough since the adopter cannot give good care and medical attention. A Pet contract is a good option, but still, there are chances your pet can end up being ill-treated. 
If you go for the free-to-home section, there are many bad adopters who use your pet for bad activities like:
Crush and post videos
Dog fighting
Kill them inhumanely
Sell them
Use them for experiments
Injure them
Etc.
Is it really OK to get a dog from Craigslist?
Now that I have told you the bad side of Craigslist, I do want to tell you that you can surely find a good dog on the website. Just make sure you know what to do and what to avoid. 
There are pros and cons to everything. It does not mean that we neglect or ban the thing. We just take extra precautions while dealing with it.
Pros and cons associated with Craigslist include –
Pros:
Dogs listed here are often spayed/neutered and vaccinated. 
You can adopt through a rescue group on Craigslist. It is safer.
It is less expensive to adopt a dog from Craigslist than from a rescue group.
You can learn everything about the dog before adopting 
You are saving the dog from entering the shelter system.
Cons:
Some owners are difficult to deal with
The owner could change their mind 
The previous owner may not take the dog back in case it doesn't work with you.
Final words
In conclusion, I would say that a pet only needs a single forever home. If the pet needs to be rehomed you never know if he will stay happy or not. However, if you do not have any options left. It is better to rehome your pet rather than give up on him. 
Craigslist provides you with a great opportunity to find a good home for your pet. However, there are a lot of people with ill intentions of re-selling the pet or using them for fighting purposes. Therefore, be careful while rehoming your pet on Craigslist. 
I hope you enjoyed the article. I will be back soon with more interesting and informative pieces of writing. Till then, stay connected. Thank you. 
Frequently asked questions
How do you get over the guilt of rehoming a pet?
Do not be hard on yourself
Accept the situation
Give yourself time
Remember that you did your best for the canine
Find a distraction
Take out your feelings in words
Find a relating community
Is posting on Craigslist free?
All craigslist postings are free, but here are some categories that require some amount – 
Job postings in the US and CA areas—$10-75 (rate varies by area) 
Apartments in Chicago, Boston, and NYC areas—$5. 
Commercial property in the US—$5. 
All for sale by -provider classes in the US—$t3-5.
Do rehomed dogs miss their owners?
Many proprietors wonder whether or not their canines will miss them as soon as they are rehomed. The answer is yes–canines do miss their preceding proprietors. However, they may adjust and be glad for their new family eventually.
What is the 333 rule for dogs?
Rescuing a brand new canine may be worthwhile and bring pleasure to your complete family. Before you adopt shelter puppies, they say you need to understand the 3-3-3 rule. The 3-3-3 rule represents the stages of a rescue canine or common milestones your new canine or pup will undergo three days, three weeks, and three months after being adopted from a shelter
How long does it take for a dog to bond with new owners?
Understand that a few grownup dogs are capable of bonding with their proprietors almost instantly. All canines have differing temperaments. Therefore, it is constantly a case-by-case situation. Aside from bonding in general, it frequently takes canines 2 days to 2 months to get used to the presence of their proprietors general.