Pet/Dog Poop management is an important task for all canine lovers, Having a little four-legged buddy at our place sounds all cute and fun. Since forever dogs have been the favorite pet for the majority in the world, with their extremely friendly, loyal, and playful behavior, it's quite obvious. But everything about dogs isn't cute, like their poop management.
Sorry for bursting your moment, but waste management is as real as your fur ball's existence. All other responsibilities from taking care of appropriate food, environment, clean space, training, Looking after your dog's pooping habits, and managing the cleaning and disposing times and areas is crucial for their and your health as well.
Well, you might not be much thrilled to dig into the topic, but there are some facts about this nasty yet essential thing that you need to note and be aware of.
1) Do you know your dog owns a ton of landfills?
According to a dog poop management service, annually 10 million tons of dog waste is sent to landfills, equivalent to 267,500 tractors of doody.
If calculated individually then roughly a dog can produce 274 pounds of waste per year, all added up to unnatural waste management if the poop scoop service does not use the best way to decompose it.
When canine's feces is biodegradable and can be decomposed if treated in the right manner,  we need to approach the right manner to stop the pollution!
2) Picking up your dog's waste is not just a civil behavior!
Canine feces is an environmental pollutant, which means it's not at all safe for animals around as well as can pollute the water bodies if mixed in them.
There are many other harmful effects, one of them is the bacteria that the feces can be a hub for and spread in the soil or water, such as heart-worm, E.coil, giardia, tapeworm, hookworms, parvovirus, salmonella, roundworms, and many other dog worms.
You are prone to all these diseases if your dog's doo-doo is mixed with water bodies around that provide water supply, or soil that your kid plays in, it's extremely important to look after your pet's pooping habits.
3) Biodegradable is just a tag on the disposing bag
Picking up bags are one of the popular choices for dog owners to dispose of the dog's poop, to make it more efficient and environmentally friendly biodegradable bags are a way to self-appreciation for some of us.
But this is not the answer to the inappropriate treatment of dog waste, these bags that you dump in the dustbins and unload yourself from responsibility are eventually collected in the landfills with other plastic bags and left to rot for years.
Greener Walker Poop Bags for Dog Waste-540 Bags,Extra Thick Strong 100% Leak Proof Biodegradable Dog Waste Bags (Green)
Keep Your Hands Safe:Our poo bags are 100% leak-proof and extra thick,never worry about your hands when you pick the poo up.
Super Value Package:36 rolls and 15 bags per roll,total 540 bags can supply up to 7 months.
About Measures:Bag's size 13x9 inches (LxW),fits all size of dogs and each roll fits standard-size leash dispensers.
Main Material:Unlike other poo bags, ours are made with corn starch blend which more friendly to environment.
Earth Friendly:We use recycled materials in our packaging and roll cores because details matter.
Biodegradable plastic requires proper treatment to break down and mix in the environment, which they do not receive, thus they end up being the same pollutant as the non-biodegradable plastic. We need a better answer to dog waste management than plastic or grocery packaging bags.
4) Better to dump in a compost bin than a regular dustbin!
The better way to dispose of the waste is a compost bin, not the regular one but specifically designed for canine feces. If you follow the right procedure of composting the feces, you can create a great product out of dog feces. The right treatment makes it lose the harmful enzymes turning it into healthy manure for plants.
Note that you cannot use it for edible plants, it is never enough healthy or safe to be used for edible plants, you can grow only non-edible plants with the waste compost. You can always use your backyard for a few adventures, but before any such plan, go through a thorough tutorial on how to compost canine feces!
5) Let your dog use your toilet!
Dog waste management has many processes that one can adopt to make it more environmentally safe, flush being easiest. Human waste treatment can be a little more helpful in treating dog waste as well but for that, you need to go through the rules written for your locality's waste management.
This might seem a little more to the disgust that you feel while collecting it, but adding a single step of taking it out to the toilet bowl from the bag can save you and the living beings around you from so many health hazards.
Sale
PPOGOO Non-Breakable Pet Pooper Scooper for Dogs and Cats with Long Handle High Strength Material and Durable Spring for Easy Grass and Gravel Pick Up
【High-tech Environmentally Premium Materials】Lightweight,not easy to break,strong,Sturdy and durable,Anti fall,Non-stick,easy to rinse.The use experience of tens of thousands of our valuable customers proves that our products are not easy to break and durable.OUR GOOD QUALITY PRODUCT IS WORTH YOUR POSSESSION
【Foldable Portable Design】Sliding down the lock for quick and easy to use. Unlock and Fold in half for very convenient to carry and storage.It's more convenient for you who often take pets out.Fold in half design reduces the space you carry.
【Perfect Multi-Purpose POOPER SCOOPER】You can perfect reach and clean pet waste without smelling it, Large-capacity for dogs of all sizes,cat and other pets.Easy to Pick up waste from grass concrete,gravel,dirt water,etc.Clean up the backyard,pick up fruits and other items(Objects that you don't want to touch directly with your hands) for a long distance.
【Ergonomic Comfortable Design】One-handed operation,So-Easy to use,Easy-pull handle and two durable Stainless steel spring guarantee your effortless scooping action.24.3inches length pooper scooper keeps you away from all the messes and stink, long handle ensures that most people don't have to bend down to clean up easily.
【100%SATISFACTION GUARANTEED】 - If you are not satisfied with your purchase, please contact us directly
Another way is to choose flushable and water-soluble bags that are available to collect the waste material, this will save you from the gross feeling, you just have to replace bins with the toilet bowls now!
I know this is not all, you always need some creative ideas to clean up dog waste, with less mess and all healthy manner, but we might not be very comfortable asking about how the stinky job! Well, we know your hesitation, so here we are with the best cleanup ideas for you.
Outdoor ideas-
Use scoopers –
Pooper scoopers can be a great option for you to manage your dog's doo-doo outdoors. These are the scoopers with long or short handles, according to your convenience and budget, that help you collect the mess in scoopers without spilling it or making your hands get it.
The scoopers have a wide range available, with different scoop capacities, handle lengths, scoop designs, control operations, areas of cleanup. and bag applications. You have to be quite smart while picking up one, as you have to determine your dog size, pooping habits, area around you, for eg. if you pick a scooper with sharp teeth, it will work well in the grass and older dog with hard feces but fails if you choose to use it on a flat surface, or with low-density waste.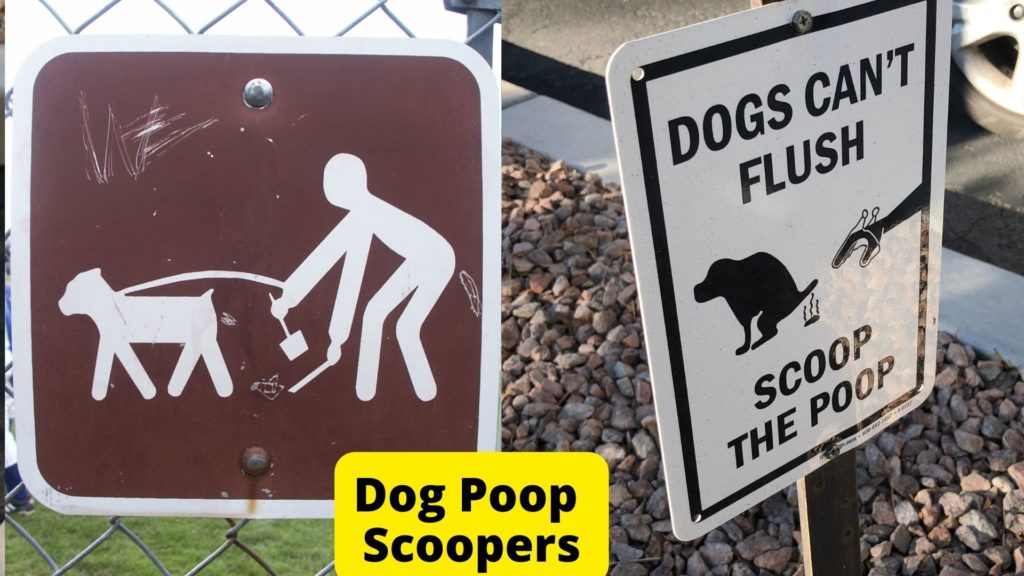 Similarly, if you decide to choose a scooper with no teeth and low capacity with a mid-aged to the older dog on grass ground, you might end up harming the grass and the scooper capacity can prove to be lesser according to the waste.
So before you invest in the equipment, know your needs well and choose wisely.
Sustainable bags –
If scoopers seem to be too much to you, as they require constant cleaning and proper handling and care, you might feel add one more task to the to-do list, you can always choose the sustainable, biodegradable bags (even though they might end up untreated in the landfills, still lessen the plastic impact on the environment). You have options varying from upcycling the bags from groceries to the bags with small wipers and tools to collect the waste.
The biodegradable packaging is clearly marked and can be safe to use, but depending on the manner you have opened it, it might not be the best fit size to collect the feces and can turn into spillage, grossing you out. You have to be quite smart if you want to choose this economical way!
Other options for dog poop bags can be the biodegradable bags with sticks and a wiper that help you keep the bag open, while the wiper collects the waste. This saves your hands from getting all messed up, while not adding to the cleaning and maintaining part. This can be a bit heavier of the pocket from grocery up-cycles or some scoopers but sure is a time saver.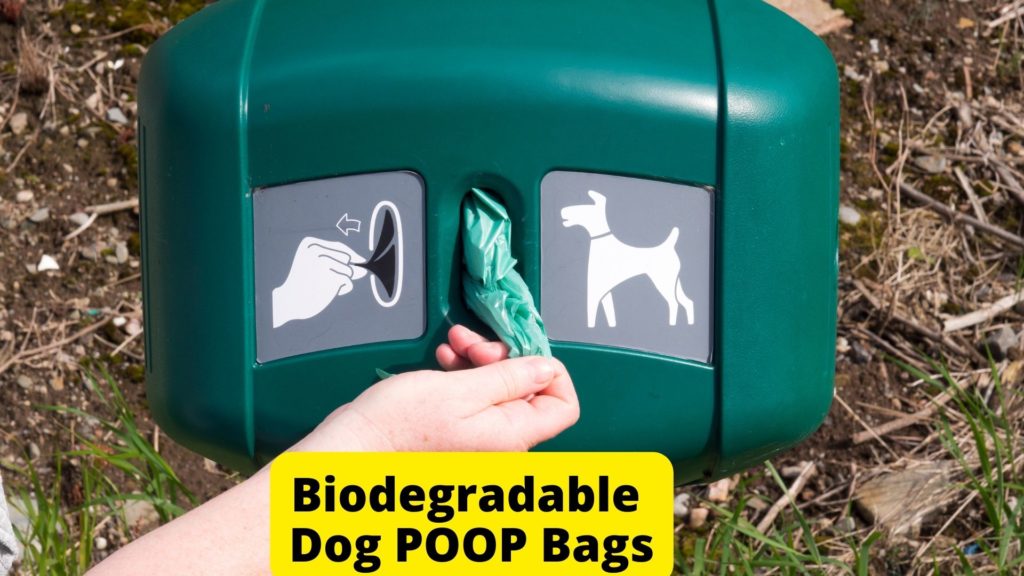 Indoor ideas-
Furniture and carpet hazards!
These are common incidents with young and untrained dogs. They can add any of your cute furniture or brand new carpet in their territory with all the pride, leaving a huge confusion behind you with cleaning and keeping it bacteria free!
Well, the answer for such mess is the cleaning solutions with different add ons, depending on the furniture, and poop density. High-density solid poop does not generally leave much behind after scooping up, but diarrhea can give you quite an adventure!
If you got in on a carpet, try to scoop as much as you can then leave it dry. Once dried, scoop it up more, the dry pieces come out faster. For the remaining stain, you can use a solution with vinegar, dow wash, and water to clean up the rest, leaving no smell or stain behind. For preventing bacteria formation, well, vinegar does work on germs pretty well, but in case you want to make double sure, you can always use sanitizer on the area.
The hard surface furniture has it easy, you can collect it, wipe with a damp cloth with soap, spray disinfectant!
If the dog loves doo-doo!
Your dog might like its doo-doo quite too much to leave it behind, have it all stained upon himself, you need to glove up. A warm water bath with dog shampoo works, if you are out of dog shampoo, you can use mild human shampoos as well.
Bacteria can be treated well with warm water and shampoo alone for your furred friend, but on your end, you need to make sure you wear proper gloves that do not pass the water through it! Sanitize after you are done with the cleaning, it is a compulsion!
in Summary
In some cases, dogs tend to eat their feces, which can be disgusting for you to observe, and hazardous for their health as well. This has many reasons behind all the ancestral trait history, to the protection of their little ones, anxiety, past experience of abuse, or an abnormality. You cannot decide which one exactly is the answer for it, the required step is to take your dog to the vet, consult your dog doctor, keep him away from the reach of doo-doo, and be patient and kind to hooman to your little doggo!
Thanks to Ecoscoopers.com for this Article About Dog Poop Management