The holidays are quickly approaching, and it is past time to begin planning who will receive our gifts and what gifts they will receive.
This is often a difficult choice to make for friends of pet lovers who don't own a pet themselves. Often, we get ahead of ourselves and get the first pet gift we see online. Usually, our top choices are toys.
However, we fail to realize that a pet owner probably has tons of toys for his pet. An additional one may or may not hurt. But a thoughtful gift can help form an unbreakable bond between you, your pet-loving friend, and our furry friend.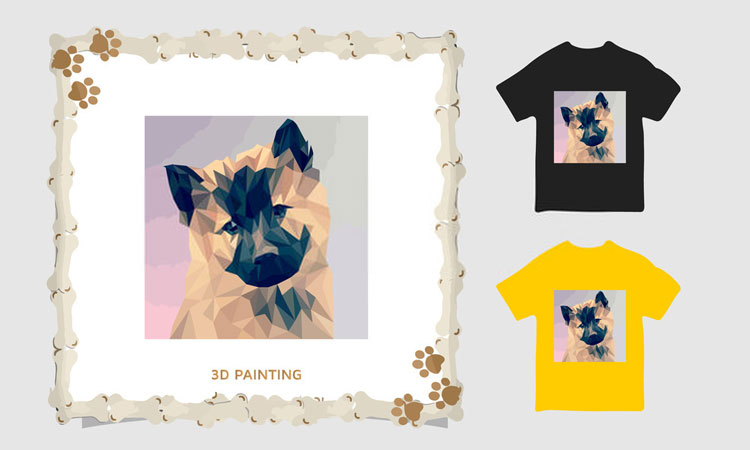 Why Custom Pet Portraits Are the Best Gifts for a Pet Lover
Custom pet portraits are one of the most expressive ways of showcasing the bond between a pet and its owner.
Neither the pet nor the owner will live forever, but your gift is likely to last several lifetimes.
Appreciate Your Pet
Pet Portraits Australia serves as a means of appreciating your favorite pet for all the love that the pet has shown the owner.
They are always at home, waiting eagerly for you, ready to shower you with unconditional love.
Pet owners are often too occupied with the mundane issues of life to show sincere appreciation to their pet for all it does.
That is why a pet lover will always appreciate a customized cat or dog portrait.
They Are Gorgeous Works Of Art.
If you need a conversation starter, get a portrait of your beloved four-legged friend. This will certainly spark comments from visitors to your home.
The aim is not to impress others but to bask in the warm feeling of owning a talking piece close to your heart. It might be the best gift they have ever received.
A portrait of your favorite pet is likely to be one of the best gifts your pet-loving friend has ever received.
It shows significant thought has been put into the gift and is always well appreciated.
Custom Pet Portrait Ideas You Will Love
Customized Pet Blankets
Imagine a cozy evening under a fuzzy blanket with your pet's face immortalized on it.
Gifting your pet lover a personalized 30 x 40, 50 x 60, or 60 x 80 pet blanket makes that a reality.
This cartoon pet portrait is perfect for owners who enjoy snuggling up with their pets or who miss the companionship of a lost pet.
A customized pet blanket will make an excellent holiday gift.
Canvas Pet Portraits
A stretched canvas painting of your friend's pet is the best way to fill the space in their home.
There are various options and sizes for this watercolor pet portrait. You can turn your furry friend into a military general or even a convict for the laughs.
Everybody loves canvas pet portraits. Your friend will have fun sharing everything about the beloved pet whenever friends come to visit.
Coffee mug portrait
Having the image of your furry friend on the mug you use every day is awesome.
Now your pet-loving friend can enjoy the warming gaze of a furry friend anytime he takes a sip from his favorite cup.
Gifting a cat portrait on a coffee mug is a great idea, especially when someone recently lost a pet.
Phone cases
Everyone gets so caught up in the activities of the day that all they need is a little reminder that they are loved.
Gifting a friend a phone case with their pet's image on it is an extremely thoughtful gesture.
The person gets a constant reminder that someone loves them unconditionally and awaits their return home.
Pillows
Need to gift your friend something thoughtful? Why not a pillow with their perfect friend's portrait on it? This gift will go a long way to renew the bond with your friend. Anytime your friend goes to bed, he is reminded of his pet and you.
Why Buy Next Gen Paws Custom Pet Portraits?
Superb quality
Hundreds of pet owners have fallen in love with their NextGen Paws portraits.
The best thing is that NextGen Paws' reviews frequently include a side-by-side comparison of the pet and the portrait, allowing you to see how realistic these paintings are.
You won't have to worry about opening your present and finding a shemozzle of an artwork.
Easy to order
Ordering a Next Gen Paws portrait is extremely easy to do. The first step is to find the perfect photo of the pet you wish to ratify.
Next, choose the preferred type of product. You may even send a gift card to your friend so they can pick a favorite instead.
Once you have chosen the product, upload a clear mugshot of your pet taken at the pet's eye level.
All features should be visible. You can send as many photos as you wish, and our team of professional artists will pick the best one.
Within 2 to 3 days of submission, Next Gen Paws team of artists will send you a preview of the final piece.
Next Gen Paws also provides you the option of having your artwork done within 24 hours.
After the buyer has approved the order, Next Gen Paws dispatches within 4 days.
By Pet Lovers, for Pet Lovers
Next Gen Paws was created for pet lovers by pet lovers. This collection of creatives love pets as much as you do and probably more.
They love the environment too. Therefore, they actively seek out printing labs across 32 different countries that employ environmentally friendly measures.
Conclusion
Custom pet portraits are a great way to remind your friend why you are a friend in the first place.
These are thoughtful gifts that remind the recipient daily of the love bond shared with his pet and you. They are a failsafe gift for any pet lover.