Can you Climb Munos with Canines? Mostly, yes. However, you need to see the difficulty of Munro first. Climbing Munros with your dog is a beautiful experience. Most canines are high-energy creatures and love to roam and walk across moorland, plateau, and ridges. Moreover, this kind of trip with your canine creates happy memories for a lifetime. 
However, you should always keep in mind that you are responsible for your canine's safety. Moreover, you are also responsible for your canine's behaviour with others. 
Let us see everything in detail about climbing Munros with dogs. 
Can Dogs Climb Munros? How High Can Dog climb?
Absolutely yes. Canines can climb Munros. However, you have to take a few precautions when taking your canine to Munros. To be honest, there have been some cases where a canine has gotten lost in the hills.
This can be due to chasing other creatures, being untrained, change in the weather, falling off an edge, etc. 
Moreover, Munros in Scotland are suitable for dogs. Any Scottish mountain above 3000 feet or equivalent altitude qualifies as a monros. Therefore, if you are thinking of climbing Munro with your dog, just be well prepared.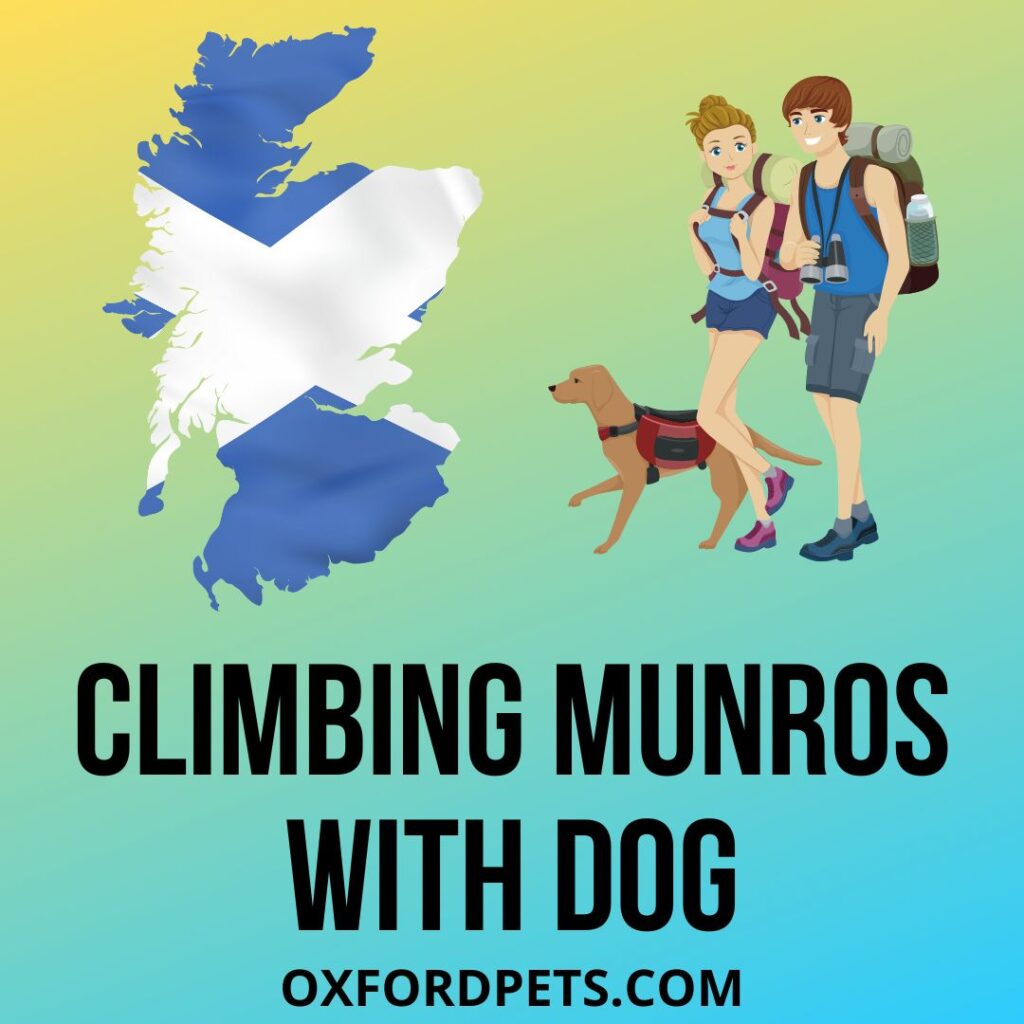 Here is the list of some dogs that successfully completed Munro climbing
Kitchy Owner –
Hamish Brown Munro – Sgurr Alasdair
Teallach Owner –
Heavy Whalley Munro – Bidein a' Ghlas Thuill
Storm Owner –
Hamish Brown Munro – Beinn Eibhinn
Crowdie Owner –
Claire Hutchings Munro – Schiehallion
Skye Owner –
John Dunbavin Munro – Ben Hope
Penny Owner –
Graeme Morrison Munro – Ben More
Kerry Owner –
Peter Sinclair Munro – Ciste Dhubh
Rabbie Owner –
Lynsey Fitzpatrick Munro – Maol Chean-Dearg
Alfie Owner –
Eric Fulton Munro – Bla Bheinn
Molly Owner –
Elizabeth McKinnon Munro – Beinn Ime
Jake Owner –
James Baird Munro – Sgurr Fiona
Betty Owner –
Shona Marshall Munro – Am Basteir
Meg Owner –
David Brown Munro – Ciste Dhubh
Genghis Owner –
Mac Write Munro – Sgurr na h-Ulaidh
Dog-friendly Munros
There are some Munros that are difficult in terms of terrain. Hence, it is better to skip those types of munros. 
Here are some of the dog-friendly Munros –
Ben Hope
Ben Wyvis
Mount Keen
Lochnagar
Ben Lomond
Stobinien
Meall nan Tarmachan
Ben More
Carn Mor Dearg
Meall Buidhe
Bynack More
Glas Chonzie
Ben Challum
Beinn Narnain
South Glen Shiel Ridge
Glas Tulaichean
Things To Consider Before Climbing A Munro With Your Dog
Breed type
Your dog's breed and its abilities are important while climbing Munros. Moreover, the thing that matters the most is your canine's health and other unique requirements.
Some brachycephalic breeds can face breathing issues while climbing as they have short noses. Therefore, it is better to consider all your canine's aspects before climbing a munro.
Fitness
Just like you need time to gain fitness for heavy climbing, your canine needs the same. Start working on your canine's fitness as well. Start with small fitness sessions and gradually increase the time of training. Moreover, it is also important to let your canine recover after a day on the hill. 
Age
This is one of the most important aspects of your canine's capabilities while climbing. It takes 6 to 24 months for a canine to fully develop its joints and skeleton.
waking pups for long can easily cause severe damage to their body. On the other hand, old dogs develop joint ailments like arthritis. Over-exercising can cause stiffness, pain, and further damage.  
Season
It is always a good option to consider the season you are planning to climb. We all know that terrains, pathways, and soil change from season to season. Therefore, it is better to check for the type of season most suited for your selected Munro. 
Paws
This is the main part that helps your dog to climb rough terrains. Usually, dogs have soft paws because of walking in parks or fields. Therefore, you need to practice walking on rough and tough surfaces. 
Equipment
Harness
Whistle
Collar with a name tag
Old towels in the car
Torch
Waterproof jacket
Poop bags
How To Prepare Your Dog For Climbing A Munro
Build up 
Canines need training for climbing a Munro. Therefore, it is very important for you to understand that your canine going to the dog park is different and climbing the terrain is different. Therefore, start taking them on long walks and then slowly increase the time. 
Preparing paws
Rocky terrain is painful. Therefore, it is very important for you to harden your canine's paw pads before taking him on the munro. You can also buy good dog boots as well.
Behaviour training
If you are taking your canine to Munro, it is very important to teach him to ignore other creatures. It is obvious that you will come across some cattle grazing on the way. If your canine goes into hunting mode, the farmers have the right to shoot. 
Hill Walking Kit List
| | | |
| --- | --- | --- |
| Summer | Sunny weather | June, July, and August |
| Warm hat  | Sunhat | Midge net |
| Map | Sunglasses | Midge repellent |
| Group Shelter | Sun cream | |
| Watch | | |
| Spare layer | | |
| Gloves or mitts | | |
| Emergency survival bag  | | |
| Mobile phone | | |
| Food & Drink | | |
| A bag to carry home any waste | | |
| Whistle | | |
| First Aid Kit | | |
| Torch | | |
| Boots  | | |
| Fleece top | | |
| Gaiters | | |
| Thermal top | | |
| General trekking trousers | | |
| Rucksack – about 35 litres | | |
| Waterproof jacket | | |
| Waterproof over trousers | | |
Is It Ok To Take A Dog Up, Ben Nevis?
The answer to this question is yes. However, your dog must not disturb other walkers. Also, take care of the other creatures around you. Keep your dog leashed till that time at least. Also, Ben Nevis is a terrain of the screen and it can be hard on your canine's pads. 
Can You Take a Dog Up Ben Lomond?
Yes, you can. In fact, Ben Lomond is one of the most popular summits in Scotland. Also, it is the most southerly Munro with wild beauty.
It is the best place for you and your canine who wants to reach the peak. Moreover, a good place to cool off is the Rowardennan car park on the eastern side of Loch Lomond. 
Can you climb a mountain with a dog?
The answer is yes. Many canines can hike up a mountain. Moreover, it is the top outdoor adventure that you can do with your four-legged best friend.
However, there are a few things that you must consider before climbing a mountain with your dog. This includes your canine's fitness level, steepness of the mountain, ruggedness, and weather. 
Which Is The Easiest Munro To Climb?
Ben Chonzie
Ben Lomond
Schiehallion
Loch Lomond
Trossachs National Park
Perthshire
Broad Cairn
Mount Keen
Ben Vorlich
Cairngorm Mountain
How Difficult Is Schiehallion?
Schiehallion is one of the easiest Munros to climb. It is 3,553 feet. Moreover, Schiehallion is a good option for first-timers. The way is very easy to follow for the first half of the hike. 
Can dogs go on the Nevis gondola?
Yes, you can take your canine on the Nevis gondola. This scenic beauty has multiple viewpoints.
Your canine can go to Snowgoose Restaurant & Bar, Pinemarten Cafe Bar and a couple more places. 
Tips For Hillwalking With A Dog
Carry a first aid kit
Give detailed information about your trip to someone
Take care of the hunting season
Check your canine's physical condition
Carry plenty of water
Check for ticks when you return home after hiking
For Further Reading