Are Mini Donkeys a practical pet to have? The world has very much evolved when it comes to keeping a pet animal. The classics like cats, dogs, and fishes, are now talks of old times for many. Instead of keeping them, pet enthusiasts are now fascinated with keeping animals like Mini Donkey.
But can you really keep a Mini Donkey as a pet?
Well, yes, if you have some grassy acres outside your house, you can definitely own a Mini Donkey. According to a survey done by the National Miniature Donkey Association, over three million people own a Mini Donkey as a pet. These masculine animals are harmless, fun, easy-going, and quite convenient to domesticate. Keeping up with their medical needs might come out costly; however, they are quite effortless to keep.
Do Mini Donkeys Make Good Pets?
Donkeys, though, have a history of being stubborn cantankerous beasts, but in reality, they are quite gentle.
Mini Donkeys make a good pet, given you already have some experience in owning a big masculine animal.
Individuals who have already owned Kangal, American pit bull terrier, American Staffordshire terrier, and other such dogs might also have it easy with Mini Donkeys.
Beyond their size, there's nothing more intimidating than keeping these cute, loyal, and affectionate animals as pets. 
Mini Donkey will make good pets for pet enthusiasts willing to give time and make a long-term commitment.
What Do Mini Donkey Evolve From?
Mini Donkey or a Miniature Donkey is a cute little masculine animal native to the Mediterranean islands of Sicily and Sardinia.
For over 2,000 years, it has been valued in the entire Mediterranean region due to its usage for transporting purposes.
Beyond that, the milk of Mini Donkey is also popular for its health benefits and curative usage for skin ailments. 
A Mini Donkey grows about 34 inches tall, whereas an ordinary donkey can grow up to 50 inches.
Their build and appearance are quite similar to donkeys except for their height, making them unique.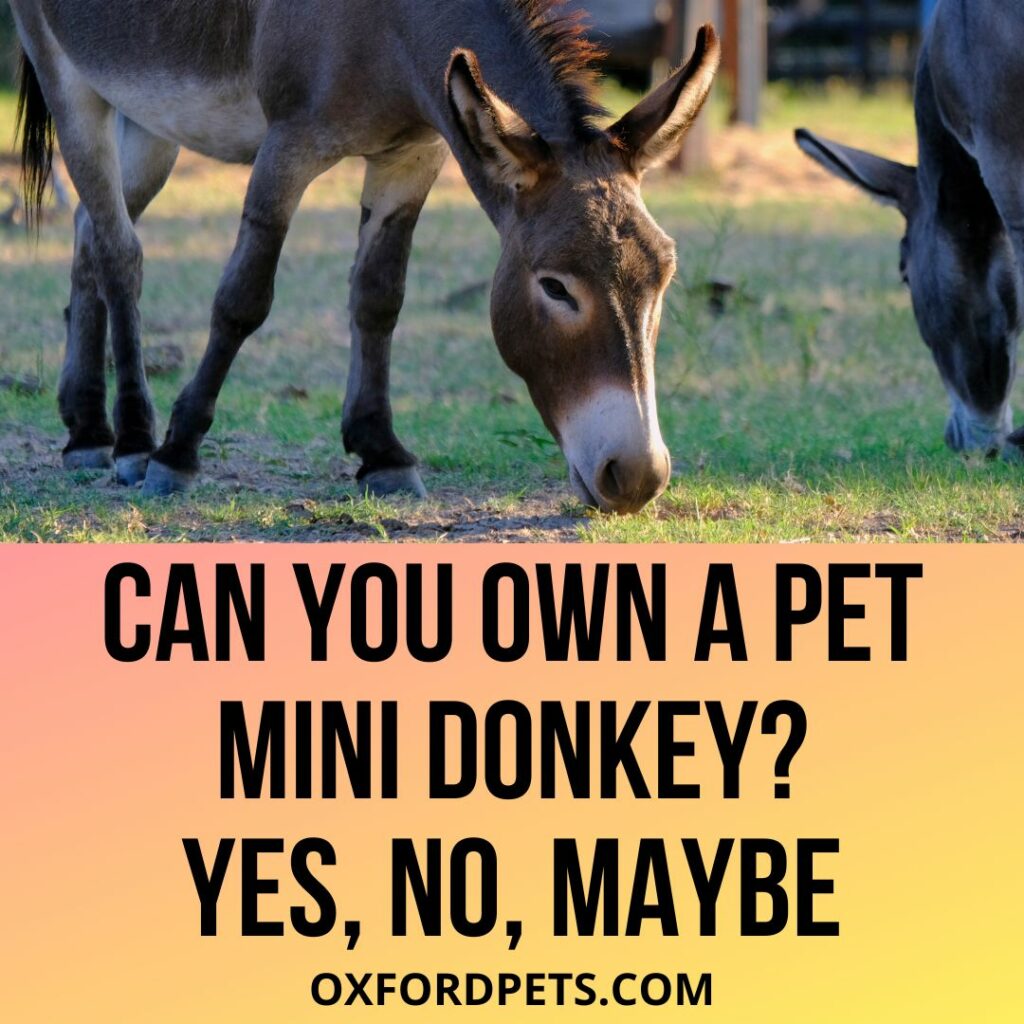 History of Mini Donkey:
Miniature Donkeys were originally found in the Mediterranean islands of Sicily and Sardinia.
However, ever since they were first imported to the United States in 1929 by Robert Green, they went almost extinct in their native land.
Since then, Mini Donkeys became American native and went popular, especially in the southern states of the United States.
Mini Donkey Species Taxonomy
Name
Mini Donkey
Other Names
Miniature Mediterranean Donkeys,
Miniature Donkey,
Toy Donkey
Scientific Names
Equus asinus
Kingdom
Animalia
Phylum
Chordata
Class
Mammalia
Order
Perissodactyla
Family
Equidae
Genus
Equus
Species and Subspecies
E. Africanus and E. a. asinus
Size 
Height: About 3 feet or 34 inches
Weight: Between 150 and 350 pounds.
Lifespan
25 to 35 years
Conservation Status
Not Evaluated
Is It Legal To Keep a Mini Donkey as a Pet in Canada?
Yes, absolutely. You can keep a Mini Donkey as a pet in Canada, and there are no laws prohibiting the same.
Even though when individuals confuse Mini Donkeys as farm-specific animals, people in cities too even can have them.
Given you have enough free space and resources to house them, no authorities in Canada will stop you.
Is It Legal To Keep a Mini Donkey as a Pet in Australia?
Yes, Miniature Donkeys as pets are common in Australia. About 20 to 30 breeding facilities breed different bloodlines of Mini Donkeys in Australia.
Purchasing costs for the same would lie between $500 to $2000 depending upon the donkey's size, age, and special characteristics.
Are Mini Donkeys legal in the U.S.?
United States residents can own a Miniature Donkey as a pet, given they have enough space to house them. At the country level, there are no laws prohibiting the possession of these cute little animals.
However, since different states and cities might have different rules on the same, it is better to check with the local legislature first.
You might not need a license or permit, but the rules can vary on what kind of area you live in (urban or rural). 
Keeping a pet Mini Donkey- All you might need to know
Even though when Miniature Donkeys are one of the easiest pets to keep, it is always better to know what it would be like. Seeing these animals in a farmer's field and having them in your space as a lifelong responsibility is a different experience. Let's explore more about the same:
Mini Donkey Housing Needs
Miniature Donkeys are outdoor animals, and each of them requires at least half an acre of space. Like regular donkeys and horses, these miniature versions also prefer a farm-like setting with grass fields for grazing.
Within their pasture, some kind of shelter is necessary for providing protection against weather considerations. 
In addition, it is essential to secure their entire enclosure with fencing, given that donkeys are excellent escape artists. Also, ensure the pet isn't standing in a wetland or muddy field since donkeys do not like getting their feet wet.
Mini Donkey Temperature and Humidity Needs
Mini Donkeys are one of the most adaptable animals who can adjust to different weather conditions. They love the sun and warmth; however, high humidity can make it difficult for them to control their body temperature.
That is why it is essential to add a sheltered space in their enclosure where they can relax during odd temperature hours. 
For winters, cover their shelter with dry grass and other resources that can keep the interior warm. Donkeys do not need heat insulation or a blanket to stay warm; however, hay bedding will definitely help them.
Mini Donkey Dietary Needs
Like regular Donkeys, Miniature Donkeys, too, are those herbivores who spend most of their time grazing. Despite their size, they will have 1.3 to 1.8% of their body mass per day.
Mini Donkeys can survive on good quality hay for most of their nutritional needs. However, you can also add quality barley straws, chaff, and dried sugar beet pulp. 
Mini Donkeys need to eat twice a day and only in a definite amount. Overfeeding can make them gain weight and develop fat rolls on their neck. 
In addition, do provide clean and fresh water to your pet Mini Donkey every day.
Mini Donkey Cleaning Needs
During the summer, Mini Donkeys need a bath once in several weeks or months. A simple water bath using a soft scrub will do the maximum cleaning job. Whereas in winters, especially in cold climatic regions, it is better to avoid a bath. 
Besides that, your Mini Donkey will require his hooves trimmed every two to three months. It is a less essential task for donkeys in rocky areas since their hooves themselves file down upon scrubbing with rocks multiple times a day.
However, if you live in plan grasslands, ensure regular trimming and cleaning of Donkey Hoovers. Ensure their hooves do not get too wet since it can lead to infection.
For cleaning their habitat, consider changing their hay bedding once in a while. Also, look for feces and other waste and remove them.
Common Health Problems with Mini Donkey
The most common health problems Mini Donkeys suffer from include
Hyperlipaemia, Laminitis, Rotavirus A, Botulism, Equine influenza, and respiratory disease.
How Much Does a Mini Donkey Cost?
Depending on age, gender, size, and special feature, a Mini Donkey will cost between $500 and $2000. Healthy female Mini Donkeys are mostly expensive, especially if they are ready to breed.
The purchasing cost of a Miniature Donkey will increase if the animal is officially recognized, measured, and approved by the ADMS or IMDR. Remember, Mini Donkeys have a different bloodline, and you can't classify all small donkeys as miniature. 
Where To Buy a Mini Donkey?
If you are looking forward to purchasing a Mini Donkey, the best place to check are Ranches or Farms. 
Where To Find a Mini Donkey Breeder?
If you reside in the United States, you have multiple options to look for while buying/ adopting a Mini Donkey.
Multiple farms, ranches, and certified breeders in the States trade registered Miniature Horses.
Here is the list of options you can consider. 
Amore Mini's
Angle Acres Farm
Love That Ass Registered Miniature Donkeys
Lucky Ass Acres
Maple Lane Farm
Marsango Ranch Miniature Donkeys
Maxwell's Silver Hammer Farm
Mel-O-Dees Miniature Donkeys
Millers Meadow
Mini Hoofs
Mini Wild Ass Acres
M.J.B. Miniature Donkeys L.L.C.
Moonshine Meadows
Morning Glory Mini-Donkey's
Mossy Oak Miniature Donkeys
O'Dell Ranch
Oakwood Farm
Assend Trading Company
Austin's Miniature Longears
B & D Enterprises
B&B Lildonks
Bainbridge's Long Ears Acres
Benson Ranch Miniature Donkeys L.L.C.
Continental Farm
Copper Star Farm Miniature and Standard Donkeys
Cotten's Half Ass Ranch
Country Cross Miniature Donkeys
Country Music Miniature Donkeys
Critter Haven Farm
Cyder Bay Farm
Dee's Blacks And Spots
Dinky Donkey's of Southwest Missouri
DOC Farms
Dog Day Acres Land & Cattle Company
Dogwood Hills Farm
Donkette Korral
Donkey Hollow Farm
DonkeyTonkAcres II
Double A Ranch
Du Plessis Farms
Pine Meadow Farm, L.L.C.
Presswood Farm
R&J Family Farm
Radar Hill Farms
Raising Assets Ranch
Rancho Rhea
Rearview Acres
Green Acre Ranch
Gusty J Ranch
Half Ass Acres Miniature Donkeys
Halfpint Hollow Miniature Donkeys
Happy Jack's Farm
Tammy's Tinys
Timber Lane Acres Miniature Donkeys
T.K.s Mountain Ridge Farm
Tojo's Legacy Mini Farm
Trails End Ranch
Hazlewood Minis
Hickory Hill Donkey Farm
Hidden ASSets Miniature Donkeys
Horse Creek Farm Miniature Donkeys
J.F. Miniature Donkeys
Kerns Bray'n Hill Farm
Kitty's Kickass Corral – miniature donkeys
Leah's Brook Farm
Legendary Farms
Lil Donkey Darlins of the Carolinas
Little Friends Ranch
Little Long Ears Farm
Lords Hill Farm
Red Moon Acres
Rocking M Miniature Donkeys
Rodeo Center Ranch
Russell Ranch
Shady Oak Farm
Shooting Star Acres
Simple Little Farm
Stalder Farms
Stoney Valley Farm
StoryLand Miniature Donkeys
Straight Arrows Ranch Miniature Donkeys
Sunny G Acres
Sweet Mini J's Farm
T & J Farm
Treasured Tyies Miniature Donkeys
W.M. Ranch
Best Friends Farm Miniature Donkeys
Brayberry Farm
Cabinwood's Northend Acres Miniature Donkeys
Camar Farms
Wee Ass Haven
Windemeer Farm
Faithful Friends Mini Donkeys & Mules
Foggy Mountain Mini Donkeys
Foster Hill Farm
G3 Miniatures
Gails Mini-Donkey Ranch
Granja Pinoenmedio
Graves Mini Farm
Old Harrisburg Farm
Wisteria Woods Miniature Donkeys
Witchavenfarm
Cedar Oaks Farm
Cedar View Miniature Donkeys
Advantages of owning Mini Donkeys
They require less space and food than regular donkeys.
They are easy to handle and safe to have around with children.
They are cute, unique, and look extremely fun to have around.
They bond well with humans.
Mini Donkeys can be used as service animals.
They are great trophy animals for display on ranches and farms.
Disadvantages of owning Mini Donkeys
Due to high demand and short supply, Mini Donkeys are as expensive (if not more) than regular Donkeys.
Dwarfism can result in several possible genetic defects in Mini Donkeys.
Finding a Vet for Mini Donkeys and bearing their medical expenses can prove a task for many.
They will live up to 25-35 years, and it is a huge commitment.
Fun Facts about Mini Donkeys for kids
A Miniature Donkey is not a breed-down version of a Standard Donkey.
Today, most Mini Donkeys are found in America but aren't native to this land. Instead, they were imported here during the early 1900s.
Mini Donkeys grow no longer than 3 feet at their maximum.
The world's shorted donkey, KneeHi, measures 24.29 inches tall.
Mini Donkeys are protective of all the animals and humans that live on their farm.
Mini Donkeys are attention seekers and do not like being ignored.
Frequently Asked Questions
Can I keep a mini donkey in my backyard?
If your backyard is at least half acres, you can definitely keep your Mini Donkey there.
Is the miniature donkey noisy?
Mini donkeys are cute, but when they feel alone and left out, they will make noises to gain your attention. As a result of less attention and involvement, they might also turn out destructive.
Can a mini donkey be house-trained?
Yes, it is easier to house train a Mini Donkey, but that's not a humane idea. Donkeys, by nature, are meant for spending an outdoor life on farms. Keeping them indoors on a concrete floor isn't the best possible care you would provide them.
Wrapping up…
Can I keep a Mini Donkey as a pet? If you have a farm and love spending time outdoors, you can keep a pet Mini Donkey. Though remember, Miniature Donkeys serve no real benefits for farming or other services in general. Even though when they are advertised for the same, having one or a pair won't help you much.