There is no doubt that blue point Birman cats are one of the most laid-back domestic cat breeds known for their extremely gentle and renowned nature and are excellent pets when it comes to loyalty and devotion. 
These are neither demanding as some cat breeds nor require heavy grooming. They are brilliant, but before adopting one, it is essential to conduct a proper search. Not all cats will be suitable for keeping pets in your family or home. 
Some may influence your lifestyle drastically. This is why in this article, we will not only learn about what precisely a blue point Birman cat is but also about its appearance, health problems, advantages, and the advantages of adoption. 
What Are Blue Point Birman Cats?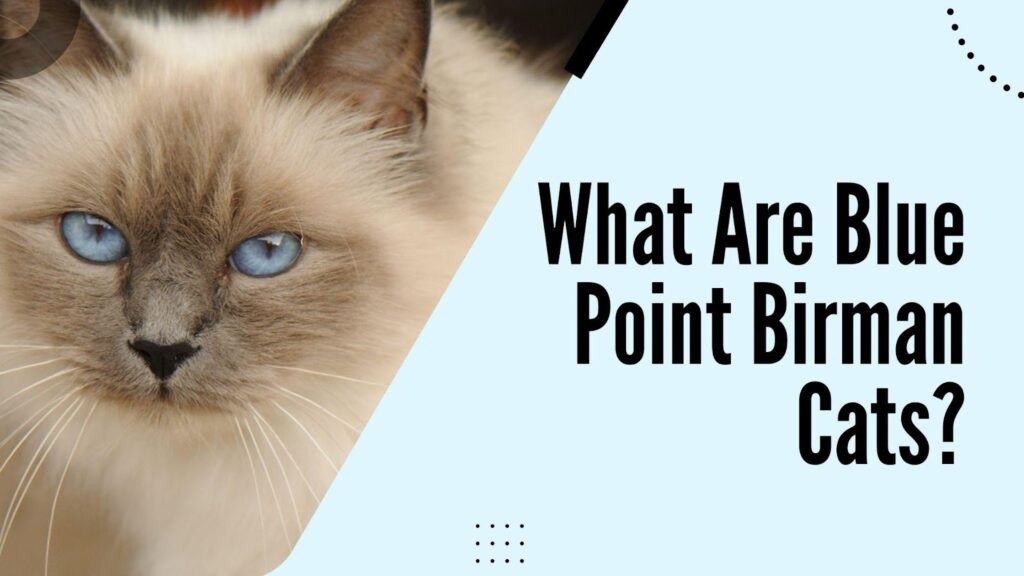 Blue Point is one type of pattern found in Birman cats that look similar to seal point, Birman. They carry blue markings on their body instead of dark seal point markings. A blue fact Birman cat's marking may also seem grey instead of blue to you.
If you are considering getting a blue point Birman cat, it's an excellent decision to make as a cat lover. However, learning about the pros and cons of owning a blue point Birman cat is essential. 
Adopting a blue point Birman cat is not only a life-changing moment but also a long-term commitment. The decision to adopt a cat should not be taken lightly. 
One should research and learn all the pros and cons before getting its first cat. This is why further we will find out the advantages of adopting a blue point Birman cat along with the downsides.
11 Pros & Cons Of Adopting Blue Point Birman Cats
Pros
Blue point Birman cats are always keen to learn tricks. 
They are very friendly with other pets and can quickly get along with cat-friendly dogs. 
Blue point Birman cats are incredibly playful and affectionate with kids making them a perfect breed for families with children. 
They are very affectionate and cuddly lap cats who will always look to spend time with you. Thus, it makes them a perfect breed for excellent companionship. 
They are not as demanding as some cats. 
Blue point Birman cats don't require heavy grooming and shed less.
Blue point Birman cats appreciate being picked up & held. They can also bravely demand it from you.
Cons
They are not very good at being alone. They are prone to separation anxiety, so it is always recommended to never leave your cat alone for more than 6-12 hours. 
They are generally healthy cats but may develop some health issues like cardiomyopathy, which is cats' primary cause of heart failure. 
Their trusting and relaxed nature makes them strictly indoor pets only. They don't have any road sense and should never be allowed outside. 
Due to having long hair, Bluepoint Birman cats may experience issues with hairballs forming in their intestinal tract. It can also cause blockages. 
Blue Point Birman Cats: Appearance, Behaviour & Characteristics 
Appearance
Just like normal Birman, blue point Birman cats will also have white color paint all over their base coat with blue marking. You must know that blue doesn't necessarily mean blue in the cat's world. 
Blue is just a fancy name given for grey color in the pet world. They will keep their unique white mittens on all their four paws. They are born entirely white and don't develop their full color until maturity. 
Blue point Birman cats will lack an undercoat, making this cat an easy-to-care breed. Plus, they come with a silky coat that will resist mating or hairball forming if weekly brushing with this soft slicker brush is provided. 
They're trendy for their glittering deep blue eyes and unusual markets. The head of a Bluepoint Birman cat is triangular with a broad skull making its face appear almost rounded. They come with medium-sized ears and feature a Roman nose.
Characteristic 
If we talk about Bluepoint Birman cat size, they will be 15-18 inches long. The males are usually more significant than females, weighing around 6-12 pounds. 
By knowing this, you can understand that and is not a tiny cat. They are long, large cats who always get attention due to their unusual markings. The blue point Birman cat has a lifespan of over 15 years.
Behavior 
Blue point Birman cats love to be with people and don't carry a strong hunting Instinct. They are perfect as indoor cats for a relaxed home. Blue point Birman cat is slightly talkative but doesn't make noise due to its soft melodious voice. 
They have their way of communicating. They love to play and always look to be involved in your daily activity. The Bluepoint Birman cat is also fairly gregarious and can quickly get along with other pets, including dogs. 
Before introducing your Blue point Birman cat to other pets, submit them sensibly. Blue point Birman cat may not be naturally loud or noisy but can be quietly chatty. 
The Bluepoint Birman cat is known for its laid-back personality and always wants to go outdoors. They are not only friendly with their owner's kids and family but also pretty good with strangers. Therefore, the Bluepoint Birman cat is unsuitable for high theft risks.
Blue Point Birman Cat Health Issues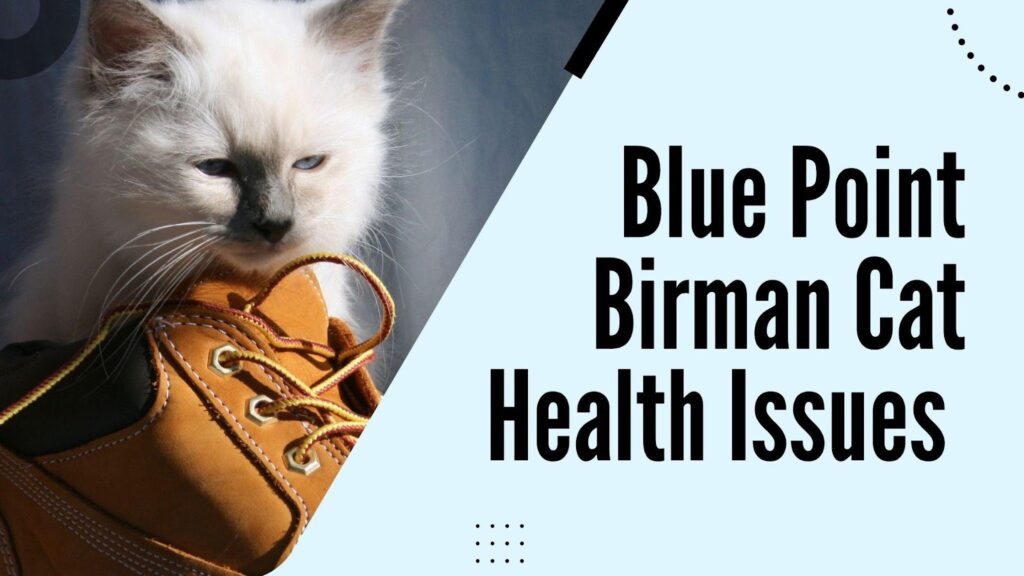 Supervising the Bluepoint Birman cat is essential as you would a young child. In today's world, DNA testing is rapidly advancing, and new tests are constantly emerging. Thus, it can help in the early diagnosis of inherited disease of Bluepoint Birman cat before it shows. 
Therefore, knowing the health issues your Blue point Birman cat is susceptible to will take you a step forward in keeping your cat healthy. Your Birman trusts and counts on you to take good care of her. So, it would help if you were looking forward to ensuring that she lives a happy, long, and healthy life. 
Being responsible pet owners, our goal must be to provide the best healthcare possible. Below are a few health issues that are found in Birman. But it doesn't necessarily mean your Blue point Birman cat is also likely to be prone to it. This is all about knowing what may come up in the future. 
The Real Problem: Obesity, Hairballs & Cardiomyopathy
The problem with Bluepoint Birman cat is obesity, hairballs, and cardiomyopathy. 
Cardiomyopathy is a fatal health issue that is a significant cause of heart failure in cats. This is why a visit to your nearest veterinarian for periodic testing must be performed. 
You should pay close attention to what you are feeding your cat. Whatever your cat eats is directly going to reflect in their health. Most of the cheap and local cat foods in the market have Nutrition. Still, they don't carry the right balance of nutrition necessary for keeping your cat healthy and all its nutritional needs fulfilled. 
This is why it is always recommended to get pure cat food that is specially designed & formulated according to the cat's age and nutritional needs. Blue point Birman cats can quickly gain weight, leading them to diabetes or fatty liver. To avoid this, always go with the right food with the right balance of Nutrition in it. 
Talking about hairballs, this is entirely preventable if you brush your cat twice a week. Blue point Birman cat naturally comes with silky hair on their coat, which prevents matting. Thus, weekly brushing would be enough to avoid hairballs.
Prevention, Care, & Treatment
Always ensure your cat gets a healthy diet, plenty of exercises, and proper grooming. It is essential to get your Blue point Birman cat vaccinated. You should always adhere to the examinations and vaccinations schedule, which your veterinarian recommends. 
Adding to this, your Blue point Birman cat will also need occasional medical tests from time to time throughout her life. Therefore, getting pet Health insurance will help you a lot in covering those costs. It is important to always visit your nearest veterinarian once every month, at least with your cat, for checkups and tests. 
Any abnormal symptom in your cat can be a minor or temporary issue and a sign of a significant illness or severe disease. So, you need to know when and how urgently to seek veterinary help. You should give call your vet if you notice any symptoms mentioned below.
Call Your Vet: 13 Unhealthy Signs
Progressive hair loss. 
Lethargy. 
Excessive sleeping. 
Aggression or other behavior changes. 
Fearfulness. 
Tatar build-up. 
Broken teeth. 
Sudden hair loss. 
Areas with shortened fur. 
Itchy skin. 
Red gums. 
Change in appetite or water consumption. 
Mental dullness.
Should You Adopt A Blue Point Birman Cat?
It would help if you never adopted a pet unless you know what you are into. Adopting a Bluepoint Birman cat means a long-term commitment. You will have to care for her and make occasional visits to the nearest veterinarian to keep them healthy. 
Blue point Birman cat is prone to common health issues like hypertrophic cardiomyopathy and hairballs. They don't require much grooming but need proper diet regulation to fulfill their nutritional needs. 
Apart from this, Bluepoint Birman cats are also perfect for a secured garden or outdoor enclosure. Other than this, some enrichments and specific needs of the Bluepoint Birman cat should never be ignored. 
Blue point Birman cat will always want to be involved in your daily activity or whatever you do. They love attention and interactive cat toys. 
If you are prepared for all these, nothing stops you from having a Bluepoint Birman cat. However, here are a few things you need to know about Bluepoint Birman cat before you adopt it. 
7 Things You Need To Know Before Adopting A Blue Point Birman Cat
Blue point Birman cats are perfect for first-time cat owners as they are beginner-friendly. 
They enjoy playing games and are active at home. 
They can be slightly talkative but not loud or noisy. 
Blue point Birman cats are highly interested and active cats who need plenty of playtime. 
Blue point Birman cats are friendly and dependent cats with an average build. Blue point Birman cats don't need grooming every day. Weekly brushing once or twice is perfect.
They are best for keeping indoor and outdoor spaces as long as there is no easy escape. 
They are excellent for a relaxed home. 
Taking Care Of A Blue Point Birman Cat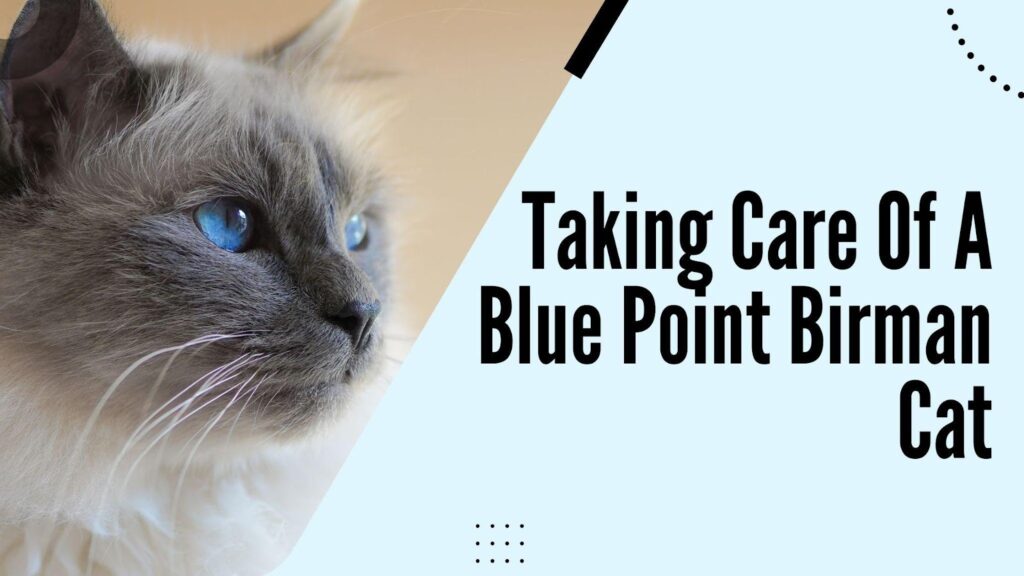 Grooming & Care
Do you know that effective and proper grooming routines make a difference in appearance and your cat's health?
Tools You Need Slicker Brush, Cat Shampoo & Conditioner, Nail Clipper, & Handheld vacuum for cleaning sofa or areas where your cat spent most of its time.
Brushing: You must brush your Blue point Birman cat once or twice a week (if needed). In the shedding season, do it twice or thrice a week.
Bathing: Even if your cat can take care of her daily cleaning needs, you will have to bathe them occasionally. If your cat was not exposed to being cleansed from kittenhood, don't bathe them.
Bathing once every couple of months is enough for a Bluepoint Birman cat. Make sure to use the right products because their natural oil will get washed away with water, leaving their skin dry. Dry skin is prone to itchiness. Therefore, always get a shampoo and conditioner formulated for Cats.
Nail Trimming: Believe it not, trimming your Blue point Birman cat's claws are integral to maintaining her health. Therefore, trim your cat's nails every few weeks to protect you and your family, including your furniture, from being scratched.
Veterinary Cleanings: you must visit your veterinarian to get your cat's year and nose clean. Other than this, your veterinarian will also offer some treatments specific to your cat's skin. 
Diet & Nutrition
Firstly, a vast difference between a domestic cat diet and a wild cat diet. In the wild, cats usually get 63% protein, 23% fat, and 3% carbohydrate macronutrients from eating dry matter or other stuff found in the surroundings. 
When we compare this to what most brands offer in their commercial cat food, there's a pretty difference. They offer 52% protein, 36% fat, and 12% carbs on a dry food matter basis.
Okay, so now what?… It's totally up to you whether you believe the data we found or the big companies claiming their food is precisely specific via marketing tactics. If we leave the marketing behind, here are a few foods that have been recommended for your cat, recording in most experts' logs and reviews.
Wet Food: This food offers many flavors, but chicken is the favorite, according to reviews. It is entirely artificial grain color or by-product free. It can be served as a meal or topper.
Freeze-Dried Food: These freeze-dried dinner morsels are made in the US and are the most rated 1 in this area. It comes in 5-6 different flavors with four different packaging sizes, and it only has the good stuff that your Blue point Birman cat craves.
Exercise & Training
As blue point Birman is prone to obesity, you will have to offer plenty of exercise to your cat. Training is not very important when it comes to a cat. But if you want your kitty to perform tricks for you, it is a must. If you want to get your cat trained, start early. 
Try to offer early socialization and proper training at an early stage when she is young. This will help you raise a well-mannered Kitty who is happy and healthy all life long.
Conclusion
By now, you should have all the ideas of what is needed and what the things you need to prepare before adopting a blue point Birman cat. Please comment below if you have any questions or recommendations on this article. I hope you liked our work. If you liked this article, then please share. Thanks for reading, and continue reading more on Birman cats.