Bird pellets are the most convenient bird food you should consider for your beloved pets. Parrots, in particular, can be sensitive to the form, shape, and sizes of feed. This is the reason why you should be careful with the choice of feed you give them.
There are lots of parrot pellets you should consider, but the best parrot pellets are just more than food.
The ideal pellet foods for parrots must have the right texture. Ideally, such pellets must be easily digested and the bird should be able to hang unto it without dropping it.
The ideal parrot pellet food must come with the right ingredients in the right proportion.
Parrot Pellets Buying Guide- Important Factors You Must Consider
As a first-time parrot pellet buyer, you might be confused about making the right decision. You don't have to panic, you should read this guide and practice recommended steps.
While there are lots of factors to consider when choosing the right product, the following factors are the most important;
The size of the Food pack.
The personality of your bird.
Ingredients
Feeding option
Budget
Expiry time
Pellet size.
Quantity
Other considerations
The Size of food pack
From an economical and cost point of view, you should consider this factor above all other factors when choosing the best parrot pellets.
Generally, the larger the size of the pellet pack, the slower the contents finish. The risk with larger pellet packs is that you may end up feeding your parrot more than necessary.
One benefit of choosing bigger pellet packs over smaller ones is that it saves you money in the long run. Most manufacturers offer discounts on larger sizes, which may not be available on smaller packs.
Personality of Parrot
Parrots can be sensitive to food, and that is why their personalities should determine the pellet feed you purchase. You should consider the age, size, medical conditions, and activity level of the parrot for instance.
Some bird food manufacturers can be specific to manufacturing standards. For this reason, you should match your parrot with the right product.
You will find a range of products made for medium and large parrots only and some for smaller birds.
Some manufacturers may put a label on their product, for instance, you may see an inscription that a product is designed for a particular age limit.
You must also consider weight formulas. Some feeds are designed for overweight and some for underweight.
It is also important that you know the taste preferences of your parrot. While some parrots prefer the nutty taste and flavor, some may prefer graining and even fruity flavor.
If you are lucky to have a parrot with variable tastes, then you may want to vary the pellet types from time to time.
Knowing the taste of your parrot will help you prevent wastage. It will also help you avoid wasting money on the wrong product.
Ingredients
The products reviewed here are organically produced feed pellets. If you want your parrot to be fed organically produced pellets, then you need to check the ingredients lists.
An organically manufactured pellet must not contain chemical additions. Any product that contains artificial flavors, preservatives, or colorants, is not considered organic food.
Some pellets may also contain fillers such as soy, husks, and shells. These may create some mess and they are added to increase volume. You must read the ingredient lists when buying a product.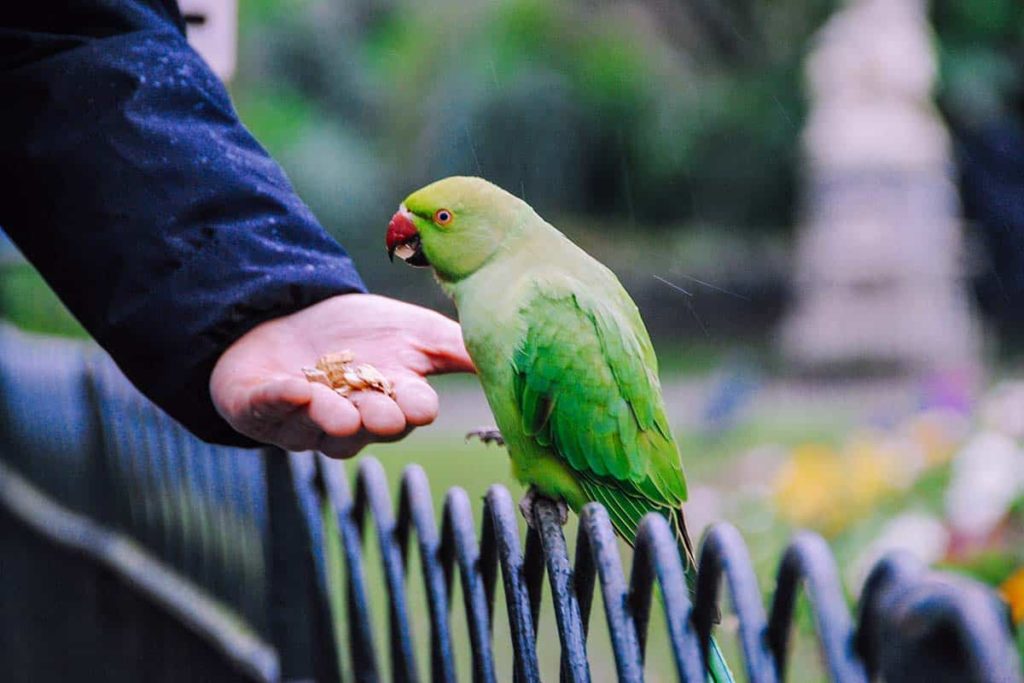 Feeding Option
The ideal pellets should be compatible with different styles. For instance, you should be able to feed the pellets to your parrot dry, or wet.
Some pellets are designed to be fed in dry conditions but oftentimes parrots may need more moisture and require wet feed.
Giving your parrots wet or dry pellets at different times will ensure that they don't get bored. Varying the texture can also help their digestive systems.
Dehydrated parrots may require wet feed sometimes to speed up digestion. Making pellets wet may also aid the absorption of nutrients. Make sure Your parrots shouldn't overeat as it may cause health issues.
Just because a feed is not recommended for wetness does not make the pellets bad, you just have to find the one that suits your parrot.
Budget
Costs of parrot pellets vary, and in most cases, premium feeds are more expensive. It is untrue that all premium feeds offer better quality than cheaper ones, you just have to get recommendations and know what your parrot wants.
You don't have to break the bank to find the best products, you just have to look beyond adverts and marketing when making final choices. In most cases, pellets with 100% natural ingredients may cost more than those with some artificial additives.
If you have a budget for a product, perhaps you should be more flexible because you may find a better product. The most important thing is to find a product that offers more nutritional value.
Pellet Size
Generally, the smaller the pellet size, the easier it is for parrots to eat and swallow. A ¼" or less pellet size is normally recommended because it can be swallowed by most small, medium and large parrots. You should get smaller pellet sizes for smaller parrots and bigger sizes for medium to large parrots.
Quantity
Many parrot owners often become confused as to whether to go for a few products at a time or purchase bulk quantities. Since the expiry dates of these products vary, you may want to buy a few quantities at a time.
For products with long expiry dates, you should consider storage in dryer and cooler places. Make sure you get a product that is re-sealable after opening, it helps in slowing down the spoilage of the product.
Expiry Dates
Regardless of how nutritive, cost-efficient, or palatable a product is, you must check its expiry date before purchase. Most parrot owners willingly or unwillingly ignore this factor. Checking the expiry date will help protect the safety of your parrot.
Keep in mind that most feeds will deteriorate faster once you open the bag. You may have to use up the feed within 30 and 45 days after opening to ensure the right state and nutrient components are available.
Parrot pellets must be stored in a cool, dry place to avoid certain reactions triggered by exposure to air. You don't want the fatty acid to become rancid and you don't want the feed to lose taste. Some parrots may not border to eat exposed pellets again and that may lead to wastage.
Other considerations
Perhaps, you may want to consider some other factors such as brand names and flavor when making a final choice. This factor should come into place when you can't choose between your top lists.
You should keep in mind that top brand names will likely cost more. This means you will end up paying extra for the name and not necessarily better quality.
You May Like This Video On How To Get Your Parrot To Eat Pellets:
Review Of The Best Parrot Pellets
There is a wide range of parrot pellets around but when it comes to choosing the best parrot pellets for your parrot, it is all about quality and not quantity. The following products have been considered to be the best choices according to customer reviews;
1. TOP's Parrot Food Pellets Hookbills, Small, Medium and Large Parrots – Non-GMO, Peanut Soy & Corn Free, USDA Organic Certified.
This product claims to be 100% organic and mostly comes in 4 lbs. pack but you can also find it in the 1lb. 10lbs. and 25 lbs. The size option you choose will depend on the size of your parrot and the portion you feed to the bird regularly.
This is the only USDA non-corn based, certified complete diet for birds. This product has been tested and proven to be one of the most suitable pellets in the world today for parrots. There is no way this review list will be complete without mention the Top's Parrot Food pellets.
While many competitors use GMO ingredients, this product is 100% organic. It is fortified with all the recommended nutrients, these included essential vitamins and minerals plus amino acids that nourish your parrot. It is preserved with natural ingredients like Rosemary, lemon peel, orange peel, and Rose Hips.
This product does not come with fillers such as soy, BHA, or BHT. Only fresh and natural ingredients are included. There are no artificial colors, sucrose, artificial flavors, and artificial preservatives. With a measurement of ¼" in diameter for each pellet, your parrot can eat as much as it can all day. Price and quantity-wise, this is one of the best bargains for your money.
These pellets have been prepared through cold-pressing to ensure that the nutrients are kept intact. This product comes with clear directions on how to apply it. It comes in a very solid pack that resists moisture and other adverse weather conditions for easy storage and longevity. You can serve it dry, sprouted, or soaked.
Pros
Ideal for all species of pellets, including the Cockatoos, Eclectus, Amazons, and Macaws.
100% organic with no traces of GMO components.
Fortified with all necessary nutrients to make your parrot grow healthy.
Naturally preserved to ensure longevity.
Great bargain for its price.
Cons
It is most suited for the large and medium parrots.
2. LAFEBER'S Premium Daily Diet Pellets Pet Bird Food, Made with Non-GMO and Human-Grade Ingredients, for Parrots, 5 lbs.
This product has a long history that dates back to the 1960s. It was discovered by a practicing veterinarian by the name Dr. Lafeber who happened to create the first bird pellet. He was treating birds in the 1960s when he discovered that most of them suffer from malnutrition and cannot survive solely on millet, sunflower and canary seeds alone. Made for parrots that know good quality pellets.
These premium, daily diet pellets were formulated by Dr. Lafeber to formulate a nutritionally-balanced diet that will keep parrots and birds in general in good health.
The blend of natural ingredients with non-GMO foods includes the most digestible natural protein alongside different grains mixed with essential amino acids, vitamins, and minerals. The inclusion of Omega 3 fatty acids boosts the immunity of the birds and improves the quality of the skin.
Premium parrot product that every parrot deserves. This product is nutritionally-balanced and it comes with natural preservatives only. It comes with recommended Omega 3 and 6 fatty acids, and it has been naturally flavored with molasses that provide a taste that parrots love. The product is highly convenient to feed your bird. Veterinarians and nutritionists recommend this product all across the nation.
Pros
It does not come with chemical preservatives.
Nutritionally-balanced.
Suitable for birds of different sizes.
No chemical preservatives included.
It can be served dry or wet.
Cons
It comes at a premium price that is slightly higher than its competitors.
3. ZuPreem Avian Maintenance Fruit Blend Premium Bird Diet for Medium & Large Birds
Mostly available in the 3.5 lbs. size but can also be found in the 12 lbs. size. This bird diet product is very pleasing to birds because it comes in a very fun fruity-shaped pellet. The vibrant colors will also entice the birds. It also comes in natural flavors.
It is formulated to provide a healthy and nutritious meal for parrots alongside other bird species such as African greys, Conures, Caiques, Eclectus, Senegal, Amazons, and small cockatoos. The product weighs 3 lbs. and measures 8 x 4.5 x 10 inches in length, width and height respectively.
Parrots will easily hang onto the pellets without dropping them, and that is one of the conveniences you can derive from the product. The pellets comprise natural blends of all ingredients that provide essential nutrients for the growth and health of birds.
You don't have to mix this pellet with other bird foods as it provides all the necessary nutrients in the right amount. It is best served dry, though you can also serve it wet, depending on your bird's preference.
It's also important to note that this product does not contain any genetically modified components, all ingredients used are 100% organic.
They usually have a crunchy feel that makes it easier for the birds to chew or swallow. It is suitable for parrots of all ages and health conditions.
Pros
Fruity shapes and natural flavor entice the birds.
Cost-friendly.
Birds can hang unto the pellets without dropping them, due to their shapes and sizes.
It can be served dry or wet.
Comprises all essential nutrients to make your birds stay healthy and filling.
Cons
Mostly suitable for the medium and large parrots.
4. ZuPreem Smart Selects Daily Bird Food for Parrots & Conures
Available in the 4lbs. size pack, this daily bird food for parrots was formulated to ensure that your bird gets the ideal balance of nutrients daily. Careful blends of vitamins and minerals ensure that your pet receives its daily doses of essential nutrients. The meal also contains essential Omega 3 and 6 fatty acids, carbs for energy, and macronutrients.
This product is also recommended for beginner pet owners making a choice of food for their beloved parrots for the first time. It can be easily fed and it does not create any mess even when mixed with water. You may want to consider some other options that offer the same quality and value but lower prices before making a choice.
Very economical, all you need is a handful of the pellets at a time and your bird will be satisfied. The item package weighs 1 lb. which is convenient enough for storage and for transportation. It contains all ingredients that will promote good health, growth, and satisfaction of the bird, these include essential vitamins and minerals, protein, carbs, and Omega 3.
The product does not contain any chemical additive nor does it contain genetically modified substances. Ingredients are sourced from the finest organically grown foods recommended for birds. Being one of the best-selling parrot diet foods, this product has received an endor$ement from veterinarians all around the world.
In addition to parrots, this product could also be an ideal food for many other bird species, including the Caciques, Conures, Amazon's African greys, Senegal's Eclectus, and small cockatoos. In addition to being easy to store, this diet can be fed to your bird dry or wet, though the dry option is mostly preferred.
Pros
Very economical in that the size of pellets is big.
Tasty and delicious, with no offensive smell.
Colorful pellets are attractive to parrots and other bird species.
Affordable price.
It can be consumed wet or dry.
Cons
Available only in the 4 lbs. size.
Item is not shipped worldwide.
5. TOP's Parrot Food Pellets Hookbills, Small, Medium and Large Parrots – Non-GMO, Peanut Soy & Corn Free, USDA Organic Certified.
This is one of the top certified and recommended USDA parrot foods. This product comes in 10 lbs. size but you can also find it in 1lb. 4 lbs. and 25 lbs. The size you choose should depend on the size of your bird and its ration. Going for smaller sizes of the product may help you avoid pellet wastes. This product is most suitable for large and medium parrots.
Aside from parrots, this bird food is also suitable for other bird species like Macaw, Eclectus, cockatoos, and Amazons. No GMO corn or other ingredients included in these food products. Essential ingredients like Vitamins, Minerals, Amino acid, and other natural ingredients to keep your bird healthy, happy and nourished.
This product is naturally preserved with natural ingredients like Rosemary, Lemon, Rosehips, and orange peel. This product does not contain fillers, including popular ones like soy, ethoxyquin, BHT, and BHA. There are also no artificial colors, flavors, sucrose, and artificial preservatives.
Each pellet measures ¼" in diameter, which means you can feed the parrot as much as it wants without feeding too much. The processing of the feed involves cold-pressing to ensure that the nutrients remain intact. As one of the best-rated products for value and convenience, you may not find it easy to avoid getting this product at the pet store.
It is recommended for all sizes of parrots. The mix itself is very easy to swallow and digest and you can serve it dry, sprouted or wet depending on preferences.
Pros
It is available in varieties of sizes.
No GMO ingredient included.
Only natural preservatives used.
Ideal for all parrot sizes.
You can serve it in different ways, most especially dry, wet and sprouted.
Cons
One of the high-cost bird foods in the market.
6. Kaytee Forti-Diet Pro Health – Parrot
This bird feed is available in 25 lbs. size though you can also find it in the 8lbs. The certified bird feed is rich in Omega 3 and 6 fatty acids for brain and heart health support. The USDA-certified bird food also contains ingredients including vitamins and minerals for enhanced and vibrant skin and healthy plumage.
With over 150 years in the business, the manufacturers of this product have constantly researched and re-formulated this product for a better and more nutritive product. A handful of these pellets or between ½ and a cup can be fed to your parrot or other bird species like Canary, Finch, Parakeet, cockatoos, and Macaws.
Once you open this bag, you have to feed all contents within 30-45 days, and you must re-seal tightly you also need to store it in a dry and cool location. Highly delicious and enjoyable, most birds will get stuck to this food and may not want to switch to any other product.
It comes with natural preservatives to keep it fresh for a long. It offers a wholesome and palatable taste that your bird will relish. This feed will also promote your bird's natural foraging behavior. Top-quality grains have been used for blending this feed.
This is one of the bird feeds that contains lots of prebiotics and probiotics for improved digestive health, strengthening of immunity and general enhancement of the bird's health. It is rich in antioxidants, and lots of fiber. The product weighs around 25 lbs.
Pros
It contains natural preservatives only.
A fine blend of all essential ingredients.
No added chemical preservatives and no GMO ingredients.
Tasty and delicious.
Suitable for small, medium, and large parrots.
Cons
High price
Once opened, you need to use up the contents within 45 days.
7. Tropimix Premium Enrichment Food for Small Parrots
Small parrots can rely on this feed for a daily supply of nutrients. This is one product that claims to be free of artificial colorings, artificial flavors, and chemical preservatives. The pellets have been fortified with the essential vitamins, minerals, and amino acids plus minerals that the body needs for survival, growth, and nourishment. It is finely ground to aid digestion.
This feed provides birds with foraging opportunities and it also stimulates eating experience. This feed can be dried or moistened before feeding the bird. This is one of the finest appetizing food mixes you can consider. It comes with a fine blend of whole grains, legumes, fruits, and nuts to produce an amazing peanut flavor that birds like. It is available in 20 lbs. but you can find it in smaller sizes of 2.4lbs and 4 lbs.
This is the feed you should give to your parrot if you want her to develop vibrant feathers and strong bones. No messy wastes included and it is 100% edible. The feed is free of husks and shells. Each bag has undergone top quality control measures to maintain its quality. In addition to parrots, this feed is mostly recommended for other birds including; Quakers, Caiques, Meyers, Senegal's, and Alexandrines.
This item weighs just 2.2 pounds and also measures 4" x 7" x 13" in width, length and height respectively. It comes with tropical granules that have been extruded to produce full flavor. One of the highly recommended products from veterinarians to help your parrot maintain optimal health.
Pros
Different feeding options, can be moistened or dried.
Highly nutritious.
The peanut taste is very stimulating to birds.
Great bargain for the price.
It comes in a very attractive package.
Cons
Mostly suitable for smaller parrots.
8. Kaytee Bird Seed Nuts and Blends
There is no doubt that this Kaytee product makes this list as it remains one of the most popular and delicious bird feeds around. It is enriched with Omega 3 and 6 fatty acids for improved heart and brain health. You will notice enhanced skin and feather for a more vibrant appearance. With lots of probiotics and prebiotics included, your parrot will enjoy a boost in digestive health.
It is 100% consumable because there are no husks and shells and seed hulls that can create messy wastes especially at the bottom of the pack. This product is also preserved naturally to keep its freshness. The feed is recommended by top avian nutritionists for optimal health in birds. This easily-digested food is convenient, only the slow processed bird foods with lower nutritional profiles.
You will need between half and a cup of this feed at a time when feeding your bird. You must also reseal the bag once opened. The content of the bag must be used within 45 days. You must store the food in a dry and cool location to extend its lifespan. With the sophistication extrusion method, the ingredients in this product have been preserved to last long.
Most suitable for parrots and other species such as African gray, Macaw, Eclectus, Cockatoo, and Amazon. This product is most suitable for parrots that prefer nutty taste and flavor to other forms.
Pros
Aesthetically appealing with lots of attractive colors.
Suitable for small and large parrots.
Great flavor and taste.
It does not produce an unpleasant smell and messy waste.
Great value for its price.
Cons
Feed must be consumed within 45 days.
Conclusion
Now that you are aware of the best parrot pellets, you should be ready to make up your mind to make your final choice. You may want to purchase as many of these top products as you can, then compare their acceptance.
Perhaps you can learn some tricks from your parrots when it comes to choosing the right product. If your parrot dislikes a product, perhaps you should consider switching to another one. For this reason, it is important to make your parrot part of the decision-making process.
It does not make any sense if you purchase the best premium parrot feed pellets and your parrot dislikes the taste. It can even take a while before you finally detect your parrot's taste but it will save you time and money when you eventually get the right option.