Grooming is an interval part of owning a cat, especially if it has long hair. All long-haired cats may need a haircut or a quick trimming in a while. In that case, regular visits to the nearest professional groomer can be a bit of an extra expense. 
Therefore, cat clippers for home use that can save your time and money are widely available. But there are a few factors you need to consider first before purchasing the best cat clippers for long-haired cats. In this article, we will first discuss the criteria for choosing the suitable Clipper for home use, and then we will find out what stands out about our pick.
Can You Clip A Long-Haired Cat?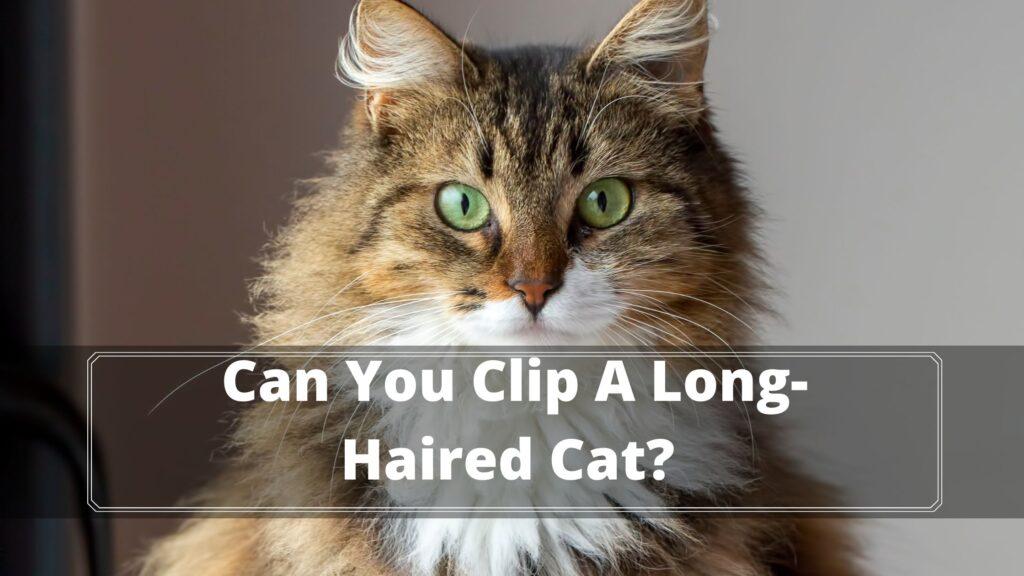 You can keep a long haircut if you are adequately trained and have experienced hands. With the right tool and little practice, your cat first should be looking at its best in no time. It is OK to give your long-haired cat a summer cut to make it more manageable. 
However, it will be best to allow a professional groomer to perform a good haircut on your long-haired cat. It would help if you never tried cutting your cat hair using scissors. In addition, never shave down to the skin also.
What Type Of Clippers Are Best For Cats?
The Clipper with a different speed option prevents overheating, is durable, quiet, offers a comfortable grip design & comes with a spare blade drive included is considered the best tool for clipping a long-haired cat. Always go with the ones that work on a thick coat and offer quiet operation and a locking power switch.
It would help if you also looked at the ease of use and the reliability of the Clipper for your cats and your safety. Therefore, knowing the criteria or the factor before purchasing a suitable clipper for your long-haired cat is necessary.
5 Factors To Look For The Best Cat Clippers For Long-Haired Cats
Ease Of Use.
Some characteristics can make a massive difference between cat Clippers that are a breeze to use versus a total nightmare. For example, if the cat clipper comes with a cord that is not long enough to maneuver quickly, it can be daunting to work with. On the other hand, for cordless clippers, you will need to look at the battery or the charging capacity. 
For example, you will have to find out how long cordless Clippers hold a charge and how long they take to recharge. Along with this, you will also have to look at the buzzing sound while turned on.
Are the Clippers you purchase quiet while turned on, or do they make noise that drives your cat crazy, especially when it's essential to stay calm or still at a time?
Functionality And Gears. 
It would help if you also looked at the multiple speed setting, which can increase the functionality of the Clippers. Always look at that tool's overall cutting efficiency and understand whether it can handle a broader coat thickness and texture range. 
Some Clipper's uses don't stop only with cats but also work with other pets, including dogs too. Other available perks you should look at include detachable blades and gears like cleaning brushes, shears, blade oil, storage, and even vacuum nozzles.
Safety
Always get a clipper with sharp blades that stay sharp even after lots of use. You don't want to invest in a clipper that holds or snags any fur while hurting your cat. Some cat owners may even prefer clippers with guard combs and guides as an extra buffer to protect their pets from nicks.
Durability
The quality of material and components that have been used to manufacture the clippers is a critical consideration to take. Since you don't want to deal with another purchase, return clippers, or have them fail midway through grooming, invest in the one that offers efficient durability.
Affordability 
Since most clippers are affordable, you should invest in the one that comes at a cheaper rate but offers excellent value. Don't just buy the cheapest one because not all clippers are suitable for all types of cat coats. Depending on your cat coat, get the clippers that will be handy through grooming.
5 Best Cat Clippers For Long-Haired Cats
Andis AGC2 Detachable Blade Clippers (Best Overall)
This product is one of our best overall cat clippers for long-haired cats that comes with detachable blades. suitable for use on any long-haired cat breed and coat type. It has two different speed settings to have great precision for hard-to-cut areas. 
usually extra quiet while reducing the stress on your cat. It has a 14-foot cord to help you work in any room area. Another advantage of having this Clipper is that it comes with cooling fans and vents installed on its motor to prevent overheating. 
You will not have to worry about burning your hand or your long-haired cat's sensitive skin. The detachable blades that come with this Clipper are made for easy cleaning. 
Despite having the cooling fans and the vents installed in clipper motors, it usually gets warm during use with blades in as little as 5 minutes. It also comes with the locking power switch to prevent accidental shut-off during grooming sessions, but it isn't beneficial. However, this unit doesn't heat up as quickly if your cat's hair is removed from the blades every few strokes.
Pros
Ultra quiet. 
Vents and cooling fans are installed in motors to prevent overheating. 
14-foot length power cord. 
Locking power switch. 
Two-speed options. 
Best overall. 
The beginner is friendly.
Cons
Clogs with hair.
Overheating if the clog persists.
Made of plastic (not so durable)
Wahl Professional Bravura Lithium Ion Clipper (High-End Professional Clipper)
If you are looking for a high-end cat clipper, then this is the one that comes with a lithium Ion battery. It is a professional-grade clipper that can also be used in groomer parlors. It is suitable for home use and commercial use both. The main advantage or difference between this & other clippers is the version coming with the lithium battery offers better battery life and shorter charge time. 
The brand also has a different version of Clipper's, but that comes at the cost of less running time and longer charging time. You can go with any version of Clipper from this brand if you are an average user. However, if you are looking for a high-end cat clipper, this is the one. 
Professional groomers who use Clippers daily look for this one that will be worth every penny. Another advantage of having this Clipper is- it is wireless. Overall, it is a tremendous professional clipper that is perfect for any long-haired cat breed.
Pros
Fast charging time. 
Cordless Clipper. 
Lithium-ion powered battery. 
More than 90-minute runtime.
Five in one blade. 
Extremely quiet in operation. 
Comes with one year warranty.
Cons
Cat Hair Trimmer For Matted Cat Hair (Value For Money)
This might not be a similar product to the rest of our list, but it offers excellent value. As these are not electric clippers, they're super comfortable to use on a long-haired cat breed that is very active. Cats usually stay calm when they're around these silent Clippers. 
When you are looking to clip a long-haired cat, you will also have to look for shedding season to keep your cat's extra fur under control. That is why you will always want to consider a pair of scissors that are not only safe but also comfortable to use and affordable. 
On this basis, I have chosen this trimmer as one of the best cat hair clippers for long-haired cats for the money. The first thing that will catch your attention is the comfortable grip design. You will need to put little time and patience while tackling the matting and clipping of your cat's fur. 
While doing so much, you will also want to be as comfortable as possible. The rounded edges and the comfy grip design help prevent sudden slips or injuries if you have uncooperative, hyperactive, and squirmy cats. It is made of stainless steel, highly durable, lightweight, and trim. 
The sleek design keeps this one very different from its competitor. I consider using scissors to groom my cats because they are incredibly safe, comfortable, and inexpensive for cat owners to use and hold. Every cat owner should have a pair of cat grooming scissors.
Pros
Made of stainless steel. 
Durable. 
Sleek Design. 
Lightweight. 
Safe. 
Inexpensive. 
Prevent injury as it has rounded edges. 
Perfect for removing mats. 
Quick at trimming.
Cons
Wahl KM5 Rotary Cat Clippers Kit (Premium)
This is the one if you are looking for a premium option with a potent motor and a long grooming time. This cat clipper has an ergonomic design that offers easy handling and usability. Due to being lightweight, your hand or wrist won't get tired after lots of use. 
As it comes with a powerful motor, the brand or company claims that this premium clipper will last up to 10000 hours. Multiple other sized blades online or offline are specially designed for this Clipper. But this one also comes with a #10 blade. 
It can give 3000-3500 strokes per minute and has detachable blades, brush, and oil. It would be tough to find fault in this tool because it's a high end & high price tagged product. The only disadvantage I see while using this blade is it can be difficult to change if you want to switch between sizes. The edges are screwed down for security, but it is tough to remove if you want or need to because the screws are tiny.
Pros
Two Speed Settings
Sleek Design with no fault.
Long cord for easy mobility. 
Heavy, long-lasting motor
Premium & Exotic option. 
Cons
Expensive
Blade changing could be complex. 
Oster A5 Two Speed Cat Clipper
This is the one if you want a powerful heavy-duty clipper with two different speeds and a universal motor. This product is easy for cats with thick, coarse, and matted fur. This two-speed Clipper answers the challenge of grooming pets with thick or matted hair. 
It comes with a patent cryogenic blade with two-speed features; it can be used to cut through mats of different animals, including cats, dogs, horses, and livestock. You should prefer low speed and full speed in delicate areas for a full body shave. Put this trimmer at full speed if you need to cut through mats. 
I appreciate this product's ergonomic Design and build quality, making it super easy to handle, hold, and use. The blade is also easy to remove when it is time to switch sizes. The only downside I find with this item is that it doesn't come with any additional product, thing, or replacement blades.
Pros
Made in the US. 
Cryogenic blades that shear mats and thick air conveniently. 
10-foot cord. 
Suitable for Cats, dogs, or any livestock.
Affordable 
Cons
Doesn't come with extra blades, oil, or guide combs.
How Do You Groom A Long-Haired Cat With Clippers?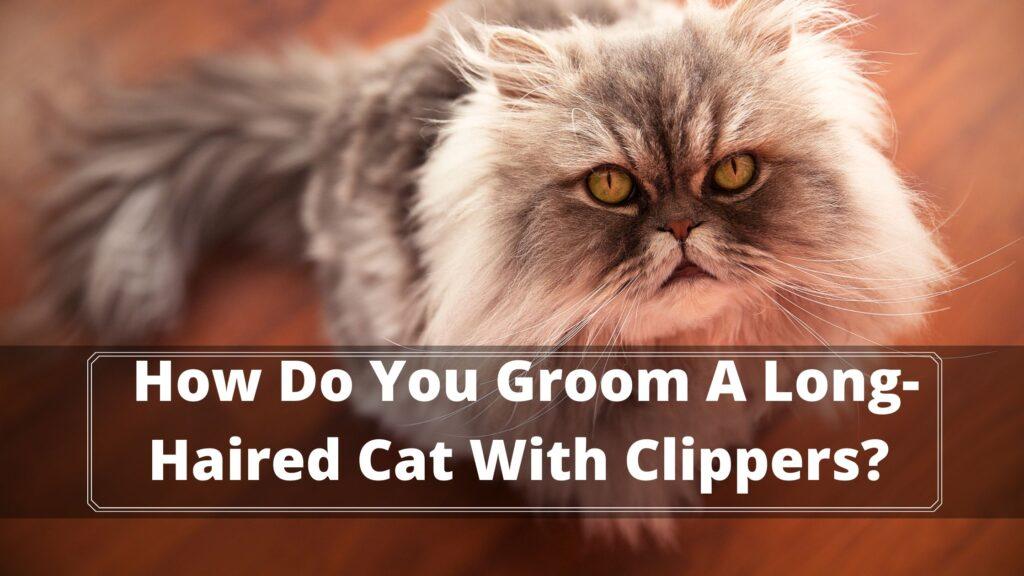 For pets, Clippers can prove to be more potent than trimmers. Most clippers are commonly used on cats and dogs. You will see many groomers using clippers with standard blades on cats of all breeds, including long-haired cats. Therefore, below is a step-by-step guide for keeping your long-haired cat's fur.
7 Steps To Clip Long Haired Cats Mats & Tangles Using "Clippers."
Before grooming, have a quick play session with your -long-haired cat to burn off her excess energy.
Now, make sure she is not overly scared or stressed. If she is comfortable, start brushing using a comb or slicker brush to remove mats and tangles. You can also take the help of our guide grooming long-haired cats with mats to learn how to detangle the mats.
Depending upon the type of coat and breed, choose a clipper to train the extra excess fur off the long-haired cat's body. Remember to keep as close to the body as desired, leaving at least half an inch or more to maintain protection.
Start clipping hair around the tail and the paws area. Also, inspect the chest area of your long-haired cat to see if clipping is needed. If any hanging fur or hair isn't uniform to the rest of the body, clip it.
Carefully clip or trim between the eyes by placing a clipper guide comb against the forehead with the blade spokes facing the nose. At last, you should also cut the head, careful of her mouth, eyelashes, nose, and whiskers.
Always be careful when trimming around the muzzle. It would help if you never cut your cat's whisker as it is necessary for them to sense their surroundings. Please the guide comb against your long-haired cat chin with the spokes facing the throat and then run the Clipper towards the throat to trim the underside of the muzzle.
Last but not least, hold the ear tip of your cat between your fingers and trim the hair that rests above your finger with no skin. It would help if you repeated along the edges of her ear. Using a small trimmer, you can also time her insides of the ear, but only if it is necessary.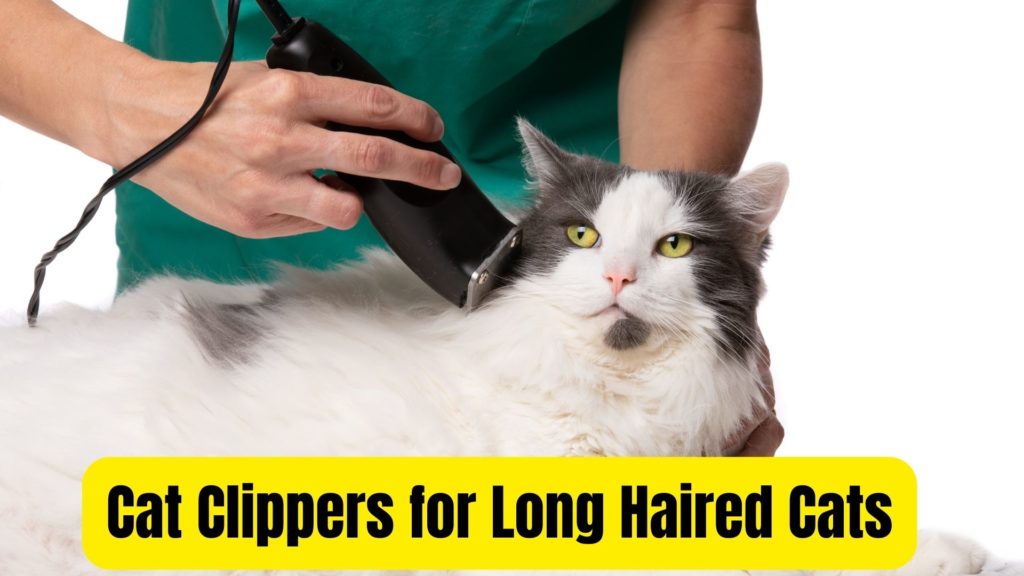 Conclusion
Keeping your cat well groomed and healthy means there should be no hanging hair or overheating during the hot summer months. Therefore, having a good pair of cat clippers can save you plenty of time and money in the long run. It may take a while or a few tries before you clip your cat, but it will soon become straightforward. 
Always remember that you will also need to clean up the clippers after each use and oil the blade to last longer. The most important thing to remember is always to check your edges and ensure it doesn't get hot with use. 
Lastly, always look for a clipper that offers a long-lasting battery. High-end professional cat Clippers will always allow you to do professional cleaning in any home area, allowing you and your dog to feel comfortable in all seasons of the year. 
As of now, you already know the essential features to look for when choosing the best cat Clippers for long-haired cats. Regarding quality, Andis, Oster, and Wahl are the top brands. 
I hope you like this article and will share this one. Please share our articles through WhatsApp, Facebook, Twitter, and Mails to appreciate our work. Do check our other guides on cat care. See you in the next post, till then take care and goodbye.
FAQs Regarding Cat Clippers for Long-Haired Cats
Can You Use Dog Clippers for Cats?
Yes, you can use dog clippers for cats. However, you have to take note of the size of your dog, the size of your cat, and the dog clippers you have. Dogs need a more powerful, larger set of dog clippers since they have thicker denser fur.
In contrast, cats mostly have very fine, soft hair, so they do not need a cat hair clipper that is quite as powerful.
How about using Human clippers on cats?
You can use human clippers on cats as long as you don't use them on humans ever again. You should also make sure that your clippers are powerful enough. It is not hygienic to use the clippers you have used on your cats.
You should know that human clippers are not exactly compatible with cutting pet hair. Cat's fur, in particular, is denser and thicker, and human clippers won't be able to keep up.
Human clippers will tend to work harder than they were designed for, and, in the end, they will have a shorter lifespan.