Are Wax Melts Safe For Cats And Dogs? People love adding scents to their homes in different forms, including Candles, Aroma diffusers, Incense Sticks, and more. Wax Melts are a very common way to add fragrance to the home.
Wax melts are aromatic pieces of Wax. They do not need a wick or an open flame to burn. Instead, Wax melts are kept over a heating device (electric or traditional) that melts the Wax and infuses a pleasant scent into the atmosphere. Though no matter how helpful they are, Pet owners are always sceptical about using Wax Melts.
Households and Individuals with Cats and Dogs often come up with questions like 'Are Wax Melts Safe For Pet Cats And Dogs?' OR 'What Dangers Does Wax melt Posses For Pet'. 
Like any other Candles or Fragrant products, Wax Melts can prove harmful to your cats and dogs. Wax Melts are not much different from fragrant candles since the former only does not have any wick. The other burning and aromatic processes are nearly very similar, and therefore the impact, good or bad too, won't differ a lot.
However, according to experts, Wax Melts are still a better (even slightly) choice than Scented Candles. If you use the right Wax, a safer fragrance for pets, and a convenient burning/ melting method, Wax Melts will do no harm to your pets.
Let's take a look in more detail.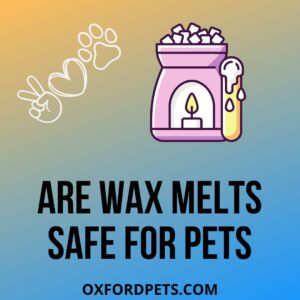 At A Glance: Are Wax Melts Safe For Cats And Dogs?
There is no definite answer to whether Wax Melts are safe for dogs or not.
If the Wax Melts contains Paraffins, Parabens, Phthalates, Formaldehyde, Dye, and Synthetic Soya Wax, it isn't the right option for a pet-friendly house.
Simultaneously, if the Wax Melts have chemical fragrances or even essential oil fragrances, they aren't appropriate for use around pets. On the one hand, Chemical fragrances are made up by using ingredients such as Benzene. Benzene, though it is a natural ingredient, it is known for causing respiratory discomfort in both humans and pets. Whereas on the other hand, even most of the purest and mildest Essential Oils can cause severe allergic reactions or minor to major liver discomfort to your dog.
So In most Wax Melts, both the Wax and type of Fragrance can pose a serious risk for your pet cat and dog.
However, Wax Melts that are made up of Beeswax and have pet-safe fragrances are appropriate to be used around cats and dogs. Cats are majorly more sensitive to smells than dogs; therefore, they catch allergies more easily and commonly.
While buying a Wax Melt for your home, always check its list of allergens section.
PLEASE NOTE: Every pet reacts individually to different kinds of fragrances and scents. If some fragrances suit a certain pooch, they might not apply to the other. 
Is A Wax Warmer Or Burner Safe For Cats And Dogs?
There is no one answer to whether Wax Warmers or Burners are safe for cats and dogs or not. The answer could be both yes or no, depending on the product and the situation.
Inherently, a Wax Warmer or Burner is safe for use around cats and dogs. Especially Electric Wax Warmer is considered safer since it has no flame or direct burning. Electric Wax Warmer can only prove dangerous if your pet accidentally touches or contact the hot device. Or, in case of an accident, the melted Wax drops on your pet's fur/ skin, which can prove extremely harmful.
Whereas Wax Burners that require keeping a candle or flame underneath aren't that appropriate. Why? Well, because they are anyway burning a candle that may have paraffin or other toxic ingredients, and even its wick can prove dangerous. They may prove safe, given you are using a Beeswax candle with a cotton wick.
What Is Better: Soy Wax Melts Or Bees Wax Melts?
Soy Wax and Beeswax are considered safer options for candles and Wax melts, especially for humans with allergies and households with pets.
The primary similarity between Soy Wax and Beeswax is that both are vegan and environmentally friendly. However, they have some major differences as well. Beeswax is completely allergen free and is produced by honeybees of the genus Apis. Whereas, Soywax contains some amount of toxin and is made with a processed form of soybean oil. Beeswax is non-toxic and completely natural, whereas Soy Wax is biodegradable and may contain some amount of toxins.
Beeswax is known for providing an absolutely clean burn since they do not emit any smoke. They are available in lesser variants (fragrances) for being considered the safest Wax to use around pets. On the other hand, Soy Wax though are safer than Paraffin wax but it still they do not provide an entirely clean burn.
Beeswax helps fight airborne allergies since it, when burned, emits negative ions that destroy positively charged allergies and contaminants from the environment. However, Soy Wax at the same time can potentially worsen allergies.
Therefore, Bees Wax Melts are a hundred times better and safer than Soy Wax Melts. Especially if you are someone with respiratory allergies or have pets at home, always pick Bees Wax Melts over Soy Wax Melts.
5 Best Wax Melts For Households With Pets

1 Pack Beeswax Melts, Midnight Obsidian, Coffee, Caramel & Coconut, Wax Melts, Opulent Brilliance
Pure Beeswax Melts From Generic
One Fur All 100% Natural Soy Wax Melts, Pack of 2 by Pet House
Silly Kitty Cat – Pet Odor Eliminator Scented Melt
 Sky Organics Organic Yellow Beeswax Pellets
CAUTION: Before using any of the above products, please check for allergens. Also, consult a Vet about the fragrances, wax type, and your pet's allergy for safer operations.
5 Best Wax Melt Warmers/ Burners 2022
Mocosa Ceramic Wax Melt Warmer
Bobolyn Wax Melt Warmer Burner Electric Scented Candle Wax Warmer
kobodon Wax Melt Warmer, Candle Wax Warmer for Scented Wax Burner
TT & MM Scented Wax Melt Warmer Electric, Fairy Candle Wax Warmer
Bobolyn Ceramic Electric Wax Melt Warmer Candle Waxing Warmer Burner
mocosa Ceramic Wax Melt Warmer,Candle Wax Warmer for Scented Wax,Wax Melt Wax Cubes Melter Fragrance Warmer Gift for Wedding Spa and Aromatherapy (Round)
【Unique Design】-Wax melts warmer designed with classic black forest. Wax replacement silicon tray and Durable metal material. The electric heating plate acts as a safe heat source (No soot. No smoke. No flame) illuminated soft light provides a gentle glow. You will be able to relax peacefully and enjoy this aroma oil warmer.And scented wax warmer is a best gift for women.
【Easy And Safe Operation】-Wax melter simply plug in power, turn on the switch. The soft glow of the halogen warming bulb will create the ambiance and fragrance of a lit candle, The wax burner without flame, soot, or other pollutants.
【Eliminate Odor】-Scented Wax Melts can freshen up your room, home, office, garage, kitchen, basement, or any of your other frequently visited spots. Stop accepting bad smells and attack them head on with fragrance oils, beautifully smelling candles, & pressed wax cubes.
【Easy Maintenance And Energy Save】-The stylish bowl on the top of Wax Warmer can be without difficulty lifted off to clean or to gain get admission to to the opposite parts of the electrical candle wax warmer. The glass panel may be eliminated for dusting and the metal from is a snap to wipe down.Including 25W, 120V light bulb in candle melter. Temperature stability, durability, without flame, soot, or other pollutants.
【Pride Guaranteed】-This Candle Warmer has CE certification, ETL certification. In case you aren't absolutely satisfied with our premium wax warmer for scented wax, clearly contact us within 30 days of purchase and we will easily solve the difficulty. We provide a threat- free 45 days assure with every purchase!
Sale
Bobolyn Wax Melt Warmer Burner Electric Scented Candle Wax Warmer, 3-in-1 Scented Wax Fragrance Melter for Home Office Bedroom Living Room Decor
Unique More Elegant Design: Our wax melts burner is made of high-quality whitesmoke ceramic, the colour and outlook is specially designed by the art decoration master, which is a perfect addition to any contemporary home, office, gym, spa or studio. The wax warmer shows the design concept of "Beauty and fragrance, all in one".
Eliminate Odor and Freshen Air: This electric oil burner can be used with essential oils or wax tart, choose your favorite scents to fill your home with relaxing and aromatic scents to delight you and your guests and eliminate the worst smells such as smoke, tobacco, pet urine, garbage, and unpleasant bathroom aromas. Please note wax tart and essential oils are not included.
Energy Saving and Environmental Protection: Our ceramic wax warmer inside is heated by iron plate, that will melt the wax quickly. The wax melts warmer has all--- Temperature stability, durability, without flame, soot, or other pollutants. Works with wax cubes/melts, tarts, fragrant oil.
2-in-1 Fragrance Warmer: You can add your favorite candle to the warmer or wax melts to the dish; our wax melter warmer burner is easy to operate. Plug in power, turn on the switch, the fragrance spreads all around the room soon, creating a pleasant and relaxing atmosphere.
The Most Special Gift Choice: Are you looking for a gift that will thrill a loved one on his/her birthday, at anniversaries, at Christmas or Valentine's? Well, look no further! This stunning wax melts burner will make an eloquent token of your feelings on all occasions, showing off your excellent taste and deep love for the special one.
Sale
kobodon Wax Melt Warmer, Candle Wax Warrmer for Scented Wax Burner, 3-in-1 Ceramic Wax Melter Warmer Electric Wax Melts Wax Cubes for Home Office Decor
【3-in-1 FRAGRANCE WARMER】: You can add your favorite candle or jar candle to the warmer or essential oil to the dish; With the 3-in-1 fragrance, the choice is always yours .Also Includes a 39" long cord with easy on-off roller switch, a removable dish for wax melts, and a 3" diam. warming plate for candles.
【ELECTRIC WAX MELTER】: Warm & burn your favorite candles and wax cubes or countless hours. We engineered our premium fragrance warmer to safely heat your favorite fragrances without having to light .It can also be given as a Christmas gift for men or women.
【ODOR ELIMINATING DIFFUSER】: Turn your fragrance warmer on and freshen up your room, home, office, garage, kitchen, basement, or any of your other frequently visited spots. Stop accepting bad smells and attack them head on with fragrance oils, beautifully smelling candles, & pre
【SAFE ECONOMICAL AND VERSATILE】:Eliminates fire hazard, smoke damage, and indoor pollution caused by burning candles indoors; This warmer also fits large and small candle sizes.
【100% SATISFACTION GUARANTEED】: If you aren't completely satisfied with our wax warmer, simply contact us within 30 days of purchase and we will easily resolve the issue. We offer a risk-free 30 day guarantee with each and every purchase!
Sale
TT & MM Scented Wax Melt Warmer Electric,Fairy Candle Wax Warmer,Metal Steel Candle Warmers Burner with Cord,Vintage Fragrant Wax Electric Heater to Freshen Home Birthday Decor Gift Idea
[Rustic Style Design] - Fusion the appearance of unique and eye-catching hollowed-out cute fairy pattern design, this electric oil burner made of stable iron support and metal warming plate. Suitable as a perfect addition to home spa, meditation, yoga or a christmas gift for loved one. 5.9"(H)*4.33"(W) inches, Weight:1.12lb.
[Rust-proof Wax Melts Liners] - The electronic heater is topped with the fourth-generation wax melter made of excellent matel, which material used is able to withstand high temperatures, can be left as is.
[Energy-Saving & Eco-friendly] - Inculed a bulb. The upgraded high-quality bulb(25w) can keep the temperature stablity, providing a long life. But just in case, if you want to replace the wax melt warmer bulb, you can comply with the instruction. That's very easy.
[Easy to Use] - Put a piece of you favorite melt wax melt(not included) and place it in the removable tray, turning on the switch(there is a easy on-off roller switch), then the fragrance diffuses all around the room after 10 minutes.
[Night Light & Air Freshener] - This warmer for candle wax melts has 2in1 Functions that can spreading fragrance and puts off warm glow. Enjoying the moment that belongs to you, making the night more wonerful. Very suitable for use as a bedside lamp. Please feel free to contact us if you have any questions about the warmer for wax cubes. 24 Months worry-free guarantee.
Sale
Bobolyn Ceramic Electric Wax Melt Warmer Candle Waxing Warmer Burner Melt Wax Cube Melter Fragrance Warmer- Ideal Gift for Wedding, Spa and Aromatherapy
SPECIAL DESIGN WITH CARVED HALO PATTERN - Carving ceramic, a special and contemporary design, illuminates the environment with a starry sky illusion. The Bobolyn wax melts warmer goes with various home or office furnishings.
ENERGY SAVING AND ENVIRONMENTAL PROTECTION - The wax melts warmer uses halogen bulbs. The halogen bulb is a heating bulb with energy saving, environmental protection and high safety performance, and the heat gathering effect is better than that of ordinary bulbs. It melts wax blocks quickly and evenly, creating a perfect atmosphere in your home.
EASY AND SAFE OPERATION - Simply plug in power, turn on the switch. You can enjoy the fragrance without flame, soot, or other pollutants.
ELIMINATE ODOR - Freshen up your family kitchen, office, basement, etc. with fragrance oils or scented wax melts. And allow the fragrance overflows to optimize the air.
NIGHT LIGHT - At night, it emits a warm light and the fragrance to help you fall asleep better and relieves the daytime fatigue. Our wax warmers can be used as night lights to illuminate your room.
Safety Tips While Using Wax Melts Around Pets
Always keep Wax Warmers/ Burners away from your pet's reach.
Consider using Wax Melts in rooms where your pet doesn't frequently visit.
Choose the right wax type and fragrance, keeping your pet's allergies in mind.
Go for Beeswax Melts for utmost safety.
While using Wax Melts always keep your house well-ventilated.
If your pet starts showing any sign of discomfort, discontinue usage of the Wax Melts right away. Consult a Vet for added safety.
Wrapping up…
While using Wax Melts or any other fragranced products around cats and dogs, moderation is encouraged. These products will definitely eliminate the bad odor and make your home fragrant, but they may also create discomfort for your pets.
In addition, even if you are using safe Wax Melts and your pets are doing ok around, be cautious while storing these products. Make sure all the Wax Melts are far away from your pet's reach. Do not allow them to sniff or lick any of these.