A cat has captured your heart, and now you want to spend the rest of your life with him or her. You're lucky if you can whisk them away in a spacious castle, but what if you only have a small apartment?
Many apartment dwellers would choose cats over any other type of pet because cats are generally independent and have no inclination to go out, wander, and get lost like dogs.
An average cat will be contented inside an apartment waiting for the master or the mistress to come home.
If you leave cats with treats and toys, they can spend the entire day fulfilled and busy. Cats do have requirements so you need litter box solutions for small apartments.
Cats naturally look for one special and specific place to do their dirty deed, and it is important that you provide them with their own space to help them with their needs as well as maintain the hygiene of your apartment.
The following is a guide for litter box solutions for small apartments.
Litter Box Solutions for Small Apartments: How many do you need?
Do you have a heart for more than one cat? In this case, the general rule should be one litter box per cat plus one extra. If you have only one cat, you can have one litter box in a small house or apartment provided that you clean it frequently.
If you know you can't maintain one litter box's upkeep, you should get two. Cats tend to be sensitive and finicky, and if they find that one litter box is too messy and unclean, they will need an alternative.
If you have plenty of cats in a small apartment, litter box solutions for small apartments can be a challenge. You can get away with fewer litter boxes, but you have to do maintenance more often, preferably cleaning scooping waste, once in the morning and once in the evening.
Cleaning several litter boxes every day may seem like a big hassle, but one thing you can do is invest in a self-cleaning litter box.
As the description suggests, automatic litter boxes clean up after your cat so you won't have to hunch down and scoop poop. Plus, your cat gets to have a clean place to go to every time.
Best places for litter box solutions for small apartments
The best place litter box solutions for small apartments is a place where it is out of the way and yet is easily accessible.
This feature should apply to you and for your cat since your cat will be using the litter box and you will be cleaning it.
Your cat should know where the litter box is and should have no trouble getting to it when it is time for them to go.
If you conceal the litter box and put it out of sight, it may confuse your cat and cause more hassle.
Litter box solutions for small apartments and privacy
Give your cats some privacy because they do want some secrecy when they are doing their deed. Provide a curtain, cover, or dome.
Putting the litter box in your own bathroom will be the best decision, especially if you are struggling with space.
Always make sure, however, that the bathroom door is wide open so your cat can have easy access to the litter box.
Some people put the litter box next to the toilet or next to the bathtub. If you have space under your sink, this is a good place for litter box solutions for small apartments. It all depends on what works for your bathroom space.
Guest Bedrooms
If your apartment has a guest bedroom putting the cat litter, there will also be a good choice since guest bedrooms are not often used. In a studio apartment or small home, there may not be such a thing as a spare room.
However, your dwelling may be equipped with one of those hallway closets. The space would be enough for litter box solutions for small apartments and offer privacy.
You can modify these closets by cutting a hole on them, but make sure you have permission to do so if you are renting. 
Laundry Room
If you have the luxury of having a laundry room or mudroom, this is a great place to put litter box solutions for small apartments.
Many cat owners put litter boxes in laundry rooms because it is private and far from the main living area. However, laundry rooms become noisy and busy places when you are using the washer.
The sound of tumbling clothes and buzzers can frighten your cat. If you put cat litter in these places, try to put it behind a screen or curtain or place it inside a box to make your cat feel comfortable.
Litter Box solutions for small Apartments must work for your cat
If you have found the perfect spot for litter box solutions for small apartments, observe how your cat behaves.
Make sure your cat can access the litter box without a hitch, and that nothing obstructs the opening. Laundry, shoes, and grocery bags should be put away neatly and not block your kitty's litter box.
If the location is working out, then it is great. In case your cat encounters some problems, you may have to move the litter box elsewhere.
If you have to do this, you have to plan a strategy to make your cat adjust to the new location, such as letting waste accumulate on the old litter box until they find it unattractive.
Cats would prefer a newer and cleaner litter box and will eventually choose the newer location to the old one.
Highly-ventilated-areas
One of the challenges of finding the perfect spot for Litter box solutions for small apartments is how to control odors. If you live in a small apartment, the odors will tend to linger all over the place.
A smaller space means more challenges on where to find the perfect litter box spot. A good spot, however, is somewhere near the ventilation area, putting the litter box there allows the fumes to go out. You will have fresher and cleaner indoor air as a result.
Well ventilated places include spots near the window or on a balcony if you have one. If you have to put a litter box inside a bathroom, make sure it has an exhaust fan.
More Tips for litter box solutions for small apartments
Remember that cats are sensitive and fastidious, so you should choose a place that is quiet, calm, and has low traffic. The litter box should be placed where your cat feels secure and safe.
In a small apartment, finding the right spot for the litter box may be a challenge, so think of ways on how you can utilize every inch and corner of your home.
It would help if you reconfigured and repurpose furniture that already occupies your space to accommodate the litter box. You can retrofit sideboard and side tables to accommodate your litter box and supplies.
You can modify these spaces and furniture so your kitty will have easy access to them. There are many DIY projects you can do on how to make your litter box integrate into your interiors and not be an obtrusive eyesore.
Top Three Best Cat Litter Boxes for Small Apartments
Pet Mate 42036 Arm & Hammer Large Sifting Litter Pan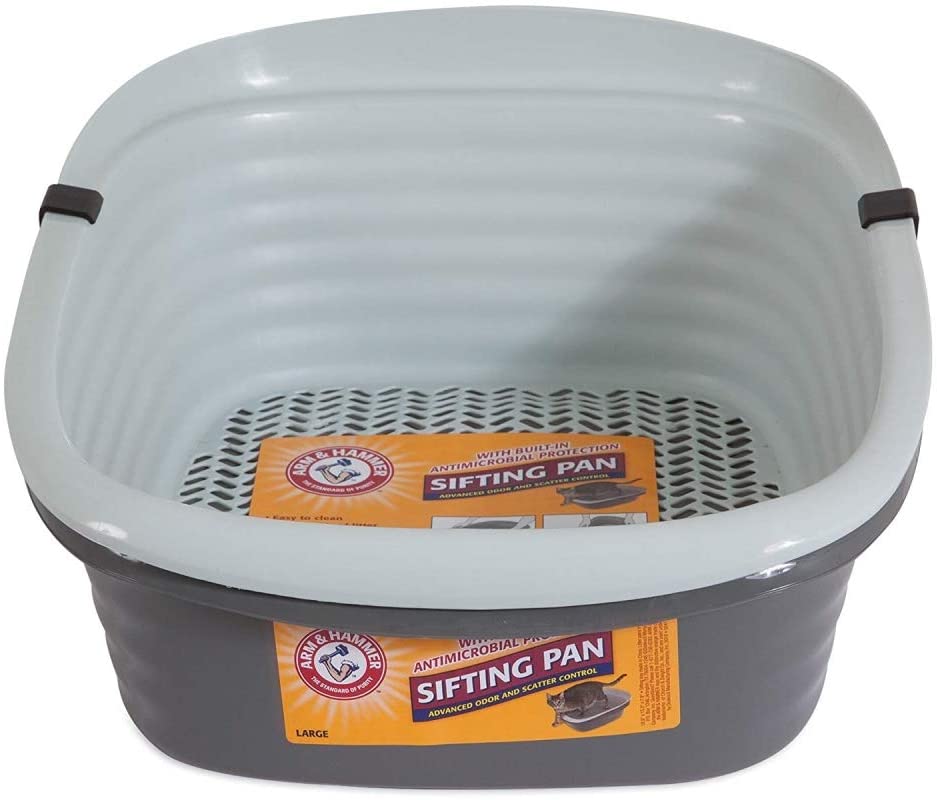 Product Description:
Make cleaning litter an easy chore. You don't have to hunch down and spend a long time reaching for cat waste to scoop. The sifting pan makes scooping easy.
Shake the pan and get the poop out. This is an efficient way to keep your cat's litter fresher for longer. Simply lift the pan to separate soiled and clean litter. There is also antimicrobial protection, which helps prevent odor-causing bacteria and stains.
Sale
Petmate Arm & Hammer Large Sifting Litter Box with Microban for Odor Control (Scoop Free Cat Litter Box or Dog Litter Box Made from Recycled Materials)
LIFT TO SIFT. NO SCOOPING REQUIRED: Easy to use, durable, large cat litter box comes with 1 sifting box and 2 regular boxes. When cleaning, the patented sifting technology lets litter pass through easily, leaving clumps behind, so no scooping is required.
MADE WITH RECYCLED MATERIALS: Petmate is not just a friend of furry family members, but the environment too. We produce eco-friendly, sustainable, recyclable products from kennels to litter boxes and many in between.
ARM & HAMMER ODOR CONTROL: Made with built-in Microban protection to inhibit the growth of odor-causing bacteria. Always replace ANY cat litter box every 12 months to maintain maximum odor control.
USE YOUR FAVORITE LITTER: Great for pine litter, crystal cat litter, pellets for cat litter box and clumping cat litter. We suggest Arm & Hammer Slide.
FOR ALL PETS AND SIZES: Ideal for dog litter box, puppy litter box, rabbit litter box, ferret litter box. A must have for your litter supplies for any indoor pet that is house training or potty trained. Less expensive than potty pads.
Cat Washroom Bench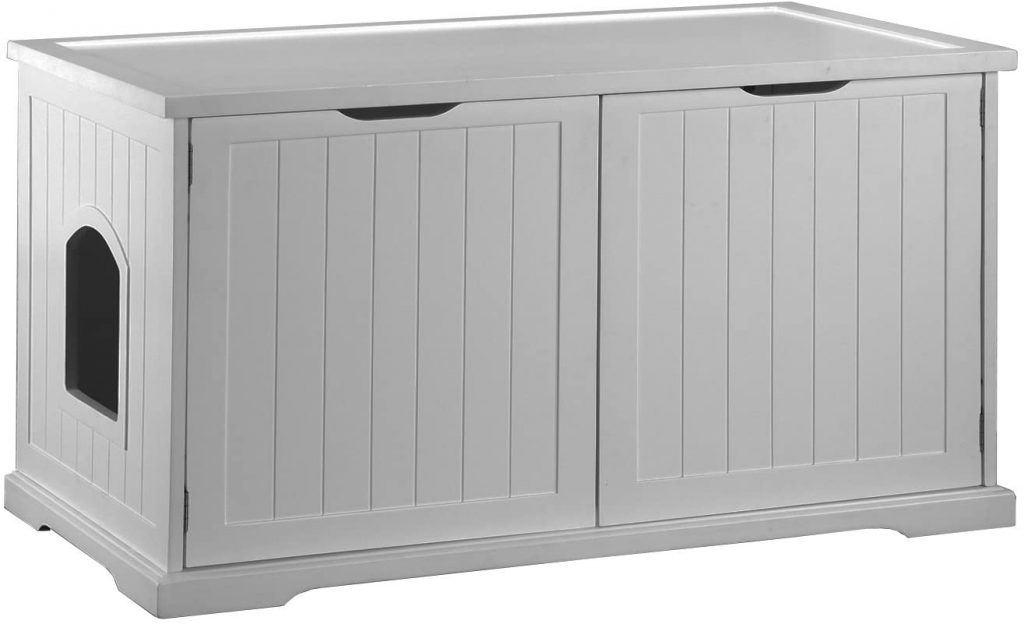 Product Description:
This elegant piece of furniture looks like it's made for humans, but it is for your beloved cats. Nothing camouflages away all those dirty litter than this pristine white washroom bench.
It confines all the litter mess inside while providing useful space for many organizing options. The box is designed to fit any size litter box, including the extra-large automatic litter boxes.
It comes with a removable partition wall creating a space to store litter, scoop, and other supplies. The entrance to the cat washroom bench can be placed on either side of the unit to suit the room it is used in. This is great for apartments where everything needs to be functional and aesthetic.
Sale
Merry Products Cat Washroom Bench, White
Your purchase includes One Merry Pet Cat Washroom Bench (two boxes) in White color
Cat Washroom Bench dimensions – 21.26" D x 37.40" W x 22.64" H | Door measurements – 7" W x 8" H | Product weight – 57.4 lbs. | Max weight capacity – 80 lbs.
ENTRANCE: Versatile entrance that can be installed on either end of bench
LOOKS GREAT IN ANY HOUSE - Features wainscoting details and natural wood grains
FITS ANY LITTER BOX - Designed to fit any size, including the extra-large automatic boxes
Different Types of litter box solutions for small apartments
The type of litter box you will choose for your cat must cater to their individual needs. If they have any special conditions, such as an older cat with arthritis, they must have a litter box that is easy to step into. 
Multiple cats—open litter pans
Cats are known to be territorial; that is why it is a better practice to have a one litter box per one cat rule.
However, there are some instances where you have a crazy number of cats and limited space, and this just can't happen.
Open litter pans are a great way for cats to get some relief. The open pans allow the cats to see each other, so they will know when it's safe to do their business.
However, with this type, odors can be a problem, and you may have to constantly deal with the lingering smell of a cat litter box.
Covered boxes
If you can afford it, covered boxes are great for keeping odors away and concealing the litter as well as giving your cats privacy. You may have to do more cleaning, though, because the covers or hoods concentrate the odors. Luckily there are covered litter boxes with built-in ventilators, so this can be a better option.
Self-Cleaning boxes
Cleaning cat poop can be tiresome, so self-cleaning boxes are a definite convenience. These are a great investment if you are a cat parent who is always on the go and can only give a few minutes of your time to cleaning litter boxes.
These new-fangled items have a built-in system that disposes of the litter in a bag or container so you can go on with your day.
Best Cat Litter Box for Small Apartments
Sale
Bestseller No. 1
Good Pet Stuff Hidden Litter Litter Box, Gray, Large (HL3)
Large-capacity cat litter box looks like a real clay pot. The plants and the parts are nested between the top and bottom section of the litter box.
Made of durable polypropylene
Filtered vented system works to control dust and odor
Designed for large cats and multi-cat households
Measures 42 inches high with included plant
Sale
Bestseller No. 2
Litter Genie Cat Litter Box
Made of flexible plastic, allowing it to fit in small spaces
Integrated handles easily come together to facilitate transport and easier emptying of soiled litter
High walls prevent litter from scattering while providing privacy for your cat
Sale
Bestseller No. 3
Sale
Bestseller No. 4
Sale
Bestseller No. 5
Bestseller No. 6
zoovilla Kitty Litter Loo – Hidden Litter Box Furniture, Black
Classically stylish framed panels, hides all litter messes, keeps your kitty litter box hidden
Designed to fit cat litter boxes and cat pans up to 18.50" wide x 16.00" deep
Elegant and functional litter box furniture, minimizes odor and prevents litter from spilling out
Door Dimensions: 7.00" x 8.00". Age range description: All Stages
Easy assembly; hardware and instructions included
Bestseller No. 7
PETMATE Dome Litter Box
DOME LITTER BOX: This cat litter box with dome lid encloses cats on all sides, ensuring privacy while keeping floors litter-free. The grooved clean-step entrance gently wipes cats' paws as they exit.
CONTAIN ODORS: This kitty litter pan features a charcoal filter for the dome that absorbs odors so it can be placed in any room of your home. Perfect for multicat homes & larger cat breeds. 21" x 21".
PET CLEAN UP: Swiftly clean up after your dog or cat while at home or on walks with a variety of waste management products. From waste bags, rakes, pans, trainings pads to poop scoopers, litter boxes & litter, we've got you & your pet covered.
Petmate: For over 50 years, we at Petmate are passionate about our dogs, cats & furry friends in general. Starting with the very first dog kennel, we've produced plenty of eco-friendly products that pets will love.
JUST FOR PETS: Petmate makes a variety of pet products for dogs, cats, chickens & other small furry friends! Check out our brands such as Aspen Pet, Arm & Hammer, Booda, Chuckit!, Jackson Galaxy & more!
Sale
Bestseller No. 8
Instant HEPA Air Purifier for Home Allergens & Pet Danders, Removes 99.9% of Dust, Smoke, & Pollen with Plasma Ion Technology, AP 300 Pearl
ADVANCED AIR CLEANING TECHNOLOGY: HEPA-13 and Activated Carbon work together so you can breathe easier
PURIFIES HOME AIR: Filters up to 1,850 Square Feet Per Hour, or 388 Square Feet 5 Times Per Hour, Based on AHAM verified clean air delivery rate filtering pollen, tobacco, smoke, and dust
COMPLIES WITH MAX OZONE: Instant air purifiers comply with the maximumm allowable concentration of ozone of 0.005 parts per million by volume (ppmv) in a 24-h period
24/7 AIR QUALITY MONITORING: Our intelligent sensor monitors air quality 24/7 and adjusts fan speed in Auto Mode to make the air in your home cleaner
WHISPER-QUIET NIGHT MODE: Light sensor automatically turns off displays and lowers noise to whisper-quiet levels when it is time for bed
Sale
Bestseller No. 9
Petree Self Cleaning Cat Litter Box, No More Scooping Automatic Cat Litter Box with APP Control, Safety Protection, Odor Removal, Large Space for Multiple Cats
SAFETY IS OUR TOP PRIORITY: PIR Pyroelectric, infrared sensor, mocrowave radar, current protection, kitten protection system, power on self-check system, remote alerts. Protect your cat at all times.
WORKS WITH ALL CLUMPED CAT LITTER: Support most cat litter on the market (except crystal cat litters).
ODOR REMOVAL: Double purification and deodorization. After the cat goes to the automatic cat litter box, it automatically releases ozone to deodorize, farewell to odor.
APP CONTROL&MONITOR: App remote control, one-click replacement of cat litter and more. Monitor cat defecation in real time. Supports siri shortcuts, google assistant and amazon alexa.
LARGE SPACE: High space utilization, Internal space reaches 56L. Suitable for cats under 18 lbs, also suitable for multi-cat families.
Bestseller No. 10
IRIS 589630 Top Entry Cat Litter Box with Cat Litter Scoop, Large, Gray/White
TOP ENTRY: Litter box features a large top entrance to for easy entry and exit
FILTERED SNAP ON LID: Small holes on the lid of the large cat litter box help to remove cat litter from the cat's paws
HIGH SIDES: Kitty litter box features high sides to contain spraying and prevent litter on the floor
LITTER SCOOP INCLUDED: Cat litter scoop is included and conveniently hangs on the side of the covered litter box for storage
EASY TO CLEAN: Rounded kitten litter box with lid with high polish finish makes cleaning easy
Final Thoughts
Cats are beloved pets, and they are treated like family and are loved at the same level as humans by their pet parents.
Make their home with you comfortable and stress-free by providing them with a litter box solution for small apartments. Your cat will love sharing your home with you all the better.